Featured Cookbooks with Over Thirty Recipes, Giveaways and EYBDigital Updates
April 12, 2019 by Jenny
Eat Your Books (EYB) is a website for people who love cookbooks and want to make better use of the great recipes from those books. With EYB, a member can create their own personal Bookshelf and quickly find recipes from their cookbooks, food magazines, food blogs, personal recipe clippings, and favorite online recipes. New cookbooks (as well as older titles) are indexed every week. For more information on what we do here, please see our Help pages.
Today let's talk about searching for recipes on your bookshelf. For instance, a member wants to find a recipe for Coconut Cake in their cookbook collection. The member goes to their Bookshelf, selects Recipes and types in the search "Coconut Cake". You will note that the results shown below are recipes found in my own Bookshelf – depending on the books in your collection the results will vary. I sorted these results by "buzz" or popularity.
EYB is NOT a recipe site, so the recipes are not available, but members will be able to determine what books contain recipes for Coconut Cake and if there is an online version of the recipe approved by the publisher there will be a link to it. The top recipe is the Coconut, almond and blueberry cake from Sweet by Ottolenghi & Goh. Instead of searching through your cookbook collection manually, you can search your virtual Bookshelf to find the right recipe.
When the member pulls up the recipe, they can see that only the major ingredients are listed for that recipe and what page the recipe can be found on in their copy of the book. You will note in the photo below that there are five photos for this cake as members share their photos to encourage others to try the recipe and also by sharing photos, notes and reviews, we build a sense of community.
Lastly, please note in the photo below the tabs for Ingredients, Notes, Reviews. The notes and review tabs can be helpful to members who are making the recipe for the first time. Members share their suggestions, what worked and what didn't, in these sections of the site.


Additional helpful links: How to add books to your bookshelf and understanding and filtering your book search results.
In each weekly roundup we will bring you additional information on other features here at EYB. If you have any questions, please email us at info@eatyourbooks.com and we will be happy to help!
The team at Eat Your Books
In case you missed it!
IACP Cookbook Award Nominees
Fortnum & Mason Cookbook Award Nominees
April 2019 Cookbook Preview
Updated – Looking forward to 2019 Cookbooks
Have you joined our Eat Your Books Cookbook Club?


Member Photo of the Week:


Forager's chicken from Jamie Cooks Italy: From the Heart of the Italian Kitchen by Jamie Oliver
Photo submitted by member raybun
Have you uploaded any of your own photos yet? Learn more!
Featured Online Recipe: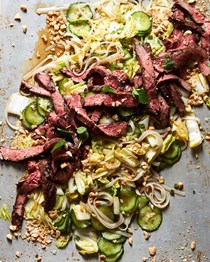 Rice noodle salad with steak from indexed blog What's Gaby Cooking by Gaby Dalkin
More EYBDigital Titles Have Launched!
Our new EYBDigital platform allows us to provide EYBDigital Previews (sample pages from cookbooks) and EYBDigital Books (complete digital cookbooks you gain access to when you buy a print book). More information can be found on our EYBD Page.
(Note: Some members have been asking why they cannot add all EYBDigital Preview recipes to their Bookshelf. Please read this Help page for an explanation.)
The next batch of EYBDigital Books is now available! If you order Ramen: 50 Classic Ramen and Asian Noodle Soups or My Bangladesh Kitchen: Recipes and Food Memories from a Family Table during the EYB promotion period, you will have access to a digital version on your EYB Bookshelf after signing up on our registration page. Click on the link below for more specific information. Learn more about EYBDigital Books and see our list of upcoming titles here.
3 recipes from Ramen: 50 Classic Ramen and Asian Noodle Soups by Heather Whinney
Learn more about this title and enter our giveaway for Ramen (US/UK/CA)
3 recipes from My Bangladesh Kitchen: Recipes and Food Memories from a Family Table by Saira Hamilton
Learn more about this title and enter our giveaway for My Bangladesh Kitchen (US/UK/CA)
More EYBDigital Previews:
A selection of full sample pages is available for the following cookbooks. Learn more about EYBDigital Previews.
5 recipes from Chicken and Charcoal: Yakitori, Yardbird, Hong Kong by Matt Abergel
Enter our giveaway to win a copy of this title (US/CA/AU/UK)
6 recipes from Simple Cake by Odette Williams (Author events) – Promotion coming soon.
1 recipe from A Work in Progress: A Journal by René Redzepi
Please remember Eat Your Book members receive
30% off Phaidon titles when using the link provided.
4 recipes from Simply Ramen: A Complete Course in Preparing Ramen Meals at Home by Amy Kimoto-Kahn (please note the author's Simply Hot Pots is an EYBD Book)
3 recipes from Batch Cocktails: Make-Ahead Pitcher Drinks for Every Occasion by Maggie Hoffman – Promotion coming soon!

Cookbooks with GIVEAWAYS!
We currently have nearly 30 giveaways open and in the next few weeks we will be sharing have a selection of contests featuring some of our favorite products Le Creuset, John Boos, Emile Henry and more!
Each of these featured titles has a current giveaway. Click on the blue link for more information on how to enter. For titles that also have an EYBDigital Preview, click on the orange button to view the available full sample pages.

1 recipe from Bottom of the Pot: Persian Recipes and Stories by Naz Deravian
Learn more about this title and enter our giveaway open to US
3 recipes from French Appetizers by Marie Asselin
Learn more about this EYBDigital Book and enter our worldwide giveaway.
3 recipes from Salsas and Tacos: The Santa Fe School of Cooking by Santa Fe School of Cooking and Susan Curtis
Learn more about this EYBDigital title and enter our worldwide giveaway
Other giveaways ending soon (expiry date is US zone):
Carbs (EYBD title) (US/UK/AU/NZ) expires 4/14/2019
The Mezze Cookbook (US/CA/UK/AU) expires 4/14/2019
Crockpot Ladies (EYBD title) (US/CA) expires 4/14/2019
Pleesecakes (EYBD title) (US/UK/AU/NZ) expires 4/15/2019