Bake – Rory MacDonald – Author Interview and Giveaway
April 3, 2019 by Jenny
Rory Macdonald's debut cookbook Bake: Breads, Cakes, Croissants, Kouign Amanns, Macarons, Scones, Tarts is a baker's dream. The cover is brilliant: "bake" and a listing of those delights you will find inside, and the content is thoughtful, beautifully photographed and detailed.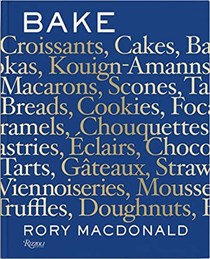 Rory is the creator of Chanson & The Dessert Bar in New York City and was voted one of the top 10 pastry chefs in 2017. He was gracious enough to take some time to answer a few questions for our members.
EYB:  Congratulations on your stunning book, Bake. I just received my copy and am quite taken with its depth and beauty. I love that it is detailed and my first recipes to try are your macarons and Kouign-Amann, two of my favorite treats!
Can you tell our members a little about yourself? When did you
first fall in love with baking?
Author: Firstly, thank you for your kind words, it makes all the hard work worthwhile to hear that! So I am originally from the UK. I have been in New York for almost 10 years now. My wife is also from the UK and we have two beautiful little New Yorkers, Matilda and Archibald.
My first memories of baking and cooking were with my Granny who like most, was an amazing cook, so I did a great deal of cooking and baking throughout my childhood. I was never particularly academic, so the kitchen seemed a natural destination after school. I enrolled in a four-year apprenticeship, very French classical training. The last year of school I focused solely on pastry and that's when I really fell in love with baking. So, throughout my career I have done savory for long periods, but always had a foot in the pastry department.
EYB:  I am thrilled to see sandwich, pizzas and other savory recipes in Bake. Often, one is either a pastry or savory chef, do you enjoy savory cooking as well?
Author: I do, for me food is food, it doesn't have to be sweet vs savory. I like to try and blur the lines of both because at the end of the day it is all about flavor. I think for me what I love most about my job is that it's an endless list of possibilities. When it comes to pastry, for me, my first thought is how can we make this less sweet, and that's where having a background in savory helps. As much as I love pastries and desserts, I wouldn't say I have a sweet tooth.
EYB: On Chanson's webpage it states, "Chanson celebrates the art of dessert making and it's orchestral process; A song or symphony. A patisserie by day and a dessert bar by night, Chanson is a distinct concept inspired and led by Rory Macdonald." I do love this concept – often times while in New York (I lived in NY for 15 years and want to go back!), I want to try something new
after dinner – and Chanson sounds like the perfect spot. Tell us how this idea came about?
Author: There are a few reasons why we created this concept. First. it was my dream to have this, I have spent my whole career in fine dining restaurants and hotels, working 16-18 hour days, behind the scenes, in the back. There you never get to see people's reactions or feedback and really that's why people cook to make people happy. And when you work the back for so many years, it can almost become robotic, you lose the love for it. I
wanted to get out of my comfort zone, and wanted to be right in front of everyone and see their reactions and hear their feedback.
In the bar, we are an open/live kitchen where the tasting menu is prepared in front of you (think sushi bar but with desserts) and upstairs is a European style patisserie with the kitchen all behind glass. You walk in and you can see the bread coming out of the oven, the chocolate bonbons being made and more. I wanted to be totally transparent on both levels, our product doesn't come from a commissary. It is all made in house in front of you.
EYB: Tell us about the book writing process, what was the hardest obstacle?  What was easier than you thought it was going to be?
Author: Time was the hardest obstacle, we own two restaurants, and with two kids time is somewhat of a rarity. I think if I had been given another year, I would of still missed the deadline – I don't think I'm ever satisfied with anything I do (even though thanks to Rizzoli the book came out amazing!) so choosing the recipe and then leaving it alone was another challenge for me – I am always looking to improve or tweak something, so
learning to let things be, was also a challenge for me. But we did
not compromise with Bake, I am really happy with everything.
EYB: For a novice baker, which recipe would you recommend our members try first from your book? Which recipe is your favorite?
Author: Try the sweet pastry, make a tart, the lemon/yuzu/matcha or raspberry pistachio, and perhaps the base bread recipe and the three variations. Hopefully, this will give the baker the confidence to try the more complex recipes, like the croissants or the Kouign Amann. My hope with Bake is that the reader can grow with it. 
EYB: What are your top three tips for someone that wants to dive into pastry?
Author: Stay clean in your work which is so important. Keeping a clean work station is a fundamental aspect in the professional kitchen but it should be true at home. This practice keeps stress levels down by cleaning as you go and not ending up with a massive pile at the end which it takes the enjoyment out of it.
---
Our

  takes you inside this title and features the following 

When I first received the book, I was drawn to the Kouign-amann chapter. Yes, a whole chapter on my favorite pastry that not only shares instructions along with process photos but several recipes for various flavors and combinations. Each pastry is covered thoroughly – from macarons to croissants, from sweet to savory. It is brilliant – there is simply no other word that adequately describes how I feel about this book.
Special thanks to Rizzoli for sharing the materials for our EYBD preview and for offering two copies of this title in our giveaway below. My thanks to Rory Macdonald for not only creating a gorgeous book but for taking the time to tell us a bit about himself and Bake. 
The publisher is offering two copies of this book to EYB Members in the US. One of the entry options is to answer the following question in the comments section of this blog post.
Which recipe in the index would you try first?
Please note that you must be logged into the Rafflecopter contest before posting or your entry won't be counted. For more information on this process, please see our step-by-step help post and this forum post.
Once you log in and enter your member name you will be directed to
the next entry option – the blog comment. After that, there are additional options that you can complete for more entries.
Be sure to check your spam filters to receive our email notifications. Prizes can take up to 6 weeks to arrive from the publishers. If you are not already a Member, you can join at no cost. The contest ends at midnight on June 2nd, 2019.