Carbs – EYBD Promotion
February 19, 2019 by Jenny
Now with EYBDigital, if you buy a print book within the promotional period, for the first time you will have access to the full EYBD cookbook wherever you can access EYB – on vacation, at work, in the grocery store, etc. In addition to the digital book, all the features of EYB will be included in the access, at no cost to the book purchaser. For more information see our EYBD Page.
• Recipe search
• Bookmarks
• Recipe ratings and reviews
• Photo upload (personal photos of dishes cooked)
• Shopping lists
We are pleased to share a promotion for our next EYBD Book, Carbs by Laura Goodman.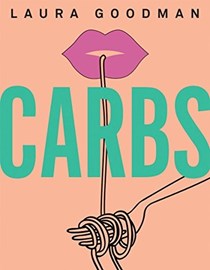 Who is Laura Goodman? From her award winning blog She is Butters, she tells us: "I'm Laura Goodman and I like making pound cakes and silk pies and trifles layered with Swiss Roll. Puddings made of cream cheese and vanilla and custard. Big old bangerz that make everyone feel a bit drunk. "Sorry, it sounded like you said you made the frosting out of Crunchies and mascarpone?"… Food that makes you feel alive."

Even though the She is Butters' blog hasn't been updated since December of 2016, Laura continues to write about food and travel for the Sunday Times, Lucky Peach, Foodism, The Pool, Eater, and Food52. Carbs is her debut cookbook.
Carbs are what makes life worth living. Pasta and bread are a match made in culinary heaven. With a healthy sprinkling of humor, Laura delivers 85 recipes from rice bowls, pizzas, muffins and more. Retro-spired photographs accompany many of the recipes add a touch of whimsy. Measurements for ingredients are given in both weight and volume.

Dishes that I have marked to make (I just received the book) include: Bread gratin, Roast potatoes with crunchy rice and Marmalade bread pudding. Dr. Atkins is rolling over in his grave (take note, he's dead and we're eating all the pasta!) Of course, I make that statement in jest.
This isn't a cookbook filled with butter laden, guilty pleasures. Laura shares recipes for making homemade pasta and pizza doughs, risottos and vegetables play heavily in many of the recipes. This is a cookbook that embraces the comfort found in carbohydrates and transforms them into go-to dishes that will please everyone gathered around your table.
Our
takes you inside this title and features the following
If you order this title before our promotional period ends, register here (be sure you have a photo of your receipt or screenshot from your online order ready to upload). Once your purchase has been verified, this button
will appear on the book on your Bookshelf next to the title and will take you to the digital access for this book.
Below are screenshots showing how these features will appear.
Special thanks to the publisher, for working with us to bring this exclusive incentive to our members as well as for providing three copies of in our giveaway below.
The publisher is offering three copies of this book to EYB Members in the US, UK, AU and NZ. One of the entry options is to answer the following question in the comments section of this blog post.
Which recipe in the index would you try first?
Please note that you must be logged into the Rafflecopter contest before posting or your entry won't be counted. For more information on this process, please see our step-by-step help post. Be sure to check your spam filters to receive our email notifications. Prizes can take up to 6 weeks to arrive from the publishers. If you are not already a Member, you can join at no cost. The contest ends at midnight on April 14th, 2019.