April 2019 Cookbook Previews
April 8, 2019 by Jenny
It happens every time. Every month, the anticipation of new cookbooks arriving builds and I am amazed by the "must have" designation I assign to many of them. But in the same measure, I have a tiny wish that so many of the new releases wouldn't be keepers. Why would an avid cookbook junkie say such a thing? It is simple, I long to spend time with them all, I need to cut back on my collection for my husband's sanity. But I can't. Cookbook publishers and authors are on their A game, releasing one fascinating title after another.
Late last year when I started my 2019 Preview post, I was overwhelmed with the wealth of interesting books coming our way and today I realized it will be a blink of an eye before I am preparing my best books of 2019 list and my 2020 Preview post. Cookbook time goes fast. It is faster than ordinary time.

Let's try to enjoy and savor April's titles before another month rushes by. Please note, if I have the book, I will share a blurb – if I do not have the book, I hope to bring you more information at the end of the month in the Cookbook Review.
Lastly, please note, I have recently updated our calendar of author events and our EYBD pages – be sure you check those pages frequently for updates. Any author with current events are noted.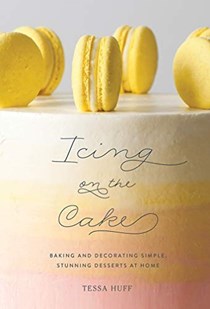 Tessa Huff's first book, Layered, is one of my all-time favorite baking books. To say I was excited to learn she was working on book two, is an understatement. Icing on the Cake: Baking and Decorating Simple, Stunning Desserts at Home is a testament to the writer behind Style Sweet CA's talent for all things dessert.
What's to love? Step-by-step technique photos that guide us through creating a classic lattice pie crust to decorating a show-stopping cake. Tutorials such as "getting to know genoise sponge cakes" to piping buttercream flowers. One decadent recipe after another: Pistachio truffle cake, Rainbow no-bake cheesecake and a Berry pistachio pavlova cake. Bonus: Tarts, macarons, mirror glazes, pastries, cupcakes and more are covered. Tessa's events are shared on our calendar.
République in Los Angeles has been named one of the best restaurants in Los Angeles (Eater) and also is the recipient of countless accolades from Bon Appetit to Forbes. Margarita Manzke's Baking at République: Masterful Techniques and Recipes for Bakers provides a guide to doughs and batters that make the baked goods and desserts of this restaurant shine. There are 100 recipes geared to elevate the home baker's skill.
What's to love? The stunning cover is reflected of the 125 photographs contained inside. Margarita is a four-time semifinalist for the James Beard Foundation's Outstanding Pastry Chef award, has been named LA's best pastry chef by LA Weekly and co-owns three restaurants in LA plus eight other cafe/bakeries in her native Manila. Recipes that include Banana-nutella crostatas, Florentine croissants, and the Brioche fruit tarts from the cover.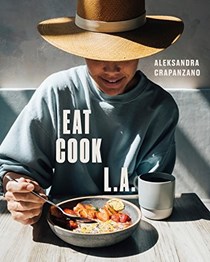 EAT COOK L.A.: Recipes from the City of Angels by Aleksandra Crapanzano shares 100 recipes from Los Angeles' restaurants to food trucks. The author hand selected the chefs and recipes to feature because the food is fresh, simply prepared, and packed with flavor, texture and nuance.
What's to love? A book that highlights a city through its food and people is always a keeper in my estimation. Profiles of greats such as Nancy Silverton or Suzanne Goin, spectacular photos and approachable recipes round out this book.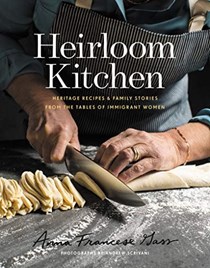 Heirloom Kitchen: Heritage Recipes and Family Stories from the Tables of Immigrant Women by Anna Francese Gass is thoughtful, important and timely.
What's to love? Anna weaves together forty strong, exceptional women, all immigrants to the United States, whose heirloom recipes have helped shape the landscape of American food into one stunning book. Fall in love with Gina and her Bocconotti Calabrese (Italian hand pies) or Bea's Swedish Palacinka torta and soak up their experiences through their recipes and stories. This is a book you will cherish. Anna's events are on our calendar.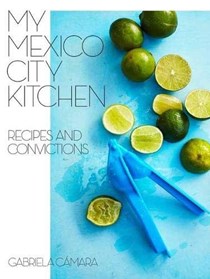 My Mexico City Kitchen: Recipes and Convictions by Gabriela Camara brings the vibrancy and flavors of Mexico alive in a beautifully photographed and approachable cookbook.
What's to love? Gabriela for starters. The love of her heritage and cuisine shines here. From her no-waste philosophy and passion for sustainable food, you will immediately respect this chef. The photographs of family, young and old, creating meals and memories, fills the reader with promise and hope. The Lemon and ricotta tart is on my menu for Easter.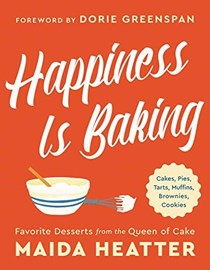 Happiness Is Baking: Favorite Desserts from the Queen of Cake by Maida Heatter is a beautiful tribute to the recipes of the baking icon. Filled with illustrations and Maida's best recipes, it is a true collector's item and must have for bakers, both novice and experienced.
What's to love? Dorie Greenspan opens the book with her recounting of attending a James Beard award ceremony where Maida was being honored that ended with the famed queen of cake tossing brownies into the adoring crowd. Dorie swears by Maida's recipes as do countless fans. The bonus here are the lovely illustrations and "keeper" recipes.
The Power of Sprinkles: A Cake Book by the Founder of The Flour Shop by Amirah Kassem presents an multi-colored explosion of joy all featuring sprinkles! Amirah is the founder of Flour Shop and here she encourages bakers to explore and create, and even make a mess!
Hero Dinners: Complete One-Pan Meals That Save the Day by Marge Perry and David Bonom: A full promotion (coupled with Anolon products can be found here). Events.
Kevin Belton's New Orleans Celebrations by Kevin Belton is an EYBD title. For more information on this book, see our promotion and worldwide giveaway.
Secrets from My Vietnamese Kitchen: Simple Recipes from My Many Mothers by Kim Thuy will be featured in my Mother's/Father's Day gift guide coming this week. Here, seven extraordinary women, Kim joined by her mother and five aunts, share their stories and their culinary secrets, accompanied by stunning photographs, charming descriptions and evocative extracts from Kim's novels.
The Brisket Chronicles: How to Barbecue, Braise, Smoke, and Cure the World's Most Versatile Cut of Meat by Steven Raichlen will be featured in my aforementioned gift guide coming this week. It's brisket!
Steak and Cake: More Than 100 Recipes for the Best Meal Ever by Elizabeth Karmel gives us permission to have our cake (and steak) and eat it too. Promotion coming soon. Events
The Garden Chef: Recipes and Stories from Plant to Plate by Phaidon Editors is being released this month. Please remember Eat Your Book members receive 30% off Phaidon titles when using the link provided.
Chefs Eat Breakfast Too: A Pro's Guide to Starting the Day Right by Darren Purchese contains more than 50 breakfasts to help readers lift their breakfast game, from toast to tacos to breakfast dessert. Plus, of course, all forms of egg-based delights.
Sugar Rebels: Pipe For Your Life – More than 60 Recipes from Instagram's Kween of Baking by Nick Makrides is an EYBD title and look for a full promotion and giveaway coming on April 16th, pub date.
Franklin Steak: Dry Aged. Live-Fired. Pure Beef. by Aaron Franklin and Jordan Mackay will be featured in my gift guide mentioned above. The authors of the popular Franklin Barbecue cookbook are back and better than ever. Events
Let Me Feed You: Everyday Recipes Offering the Comfort of Home by Rosie Daykin will be the feature of a promotion coming soon that features a gorgeous braiser from Le Creuset. Rosie is the author of several baking books that are favorites and here she brings home dishes that provide nurturing comfort.
Bazaar by Sabrina Ghayour features vibrant vegetarian feasts. Released in the UK this month, it comes to the US in May. These are dishes that will please everyone in the family from the vegetarian to the staunch carnivore. Events
Family: New Vegetarian Comfort Food to Nourish Every Day by Hetty McKinnon delivers the author's typical vibrant and beautiful vegetarian feasts that bring together family and friends. Events
Bake the Seasons: Sweet and Savoury Dishes to Enjoy Throughout the Year by Marcella DiLonardo is inspired by the abundance of the author's farms, orchards, and gardens of her childhood. With a few quality pantry essentials and seasonal fruit and vegetables, Marcella focuses on simplicity with over 100 sweet and savoury recipes. These homey favourites are often modern twists on familiar classics.
The Food in Jars Kitchen: 140 Ways to Cook, Bake, Plate, and Share Your Homemade Pantry by Marisa McClellan is the canning guru's latest featuring recipes that utilize those homemade ingredients from our larders. Events
The Prairie Homestead Cookbook: Simple Recipes for Heritage Cooking in Any Kitchen by Jill Winger is a lovely title by the popular blogger behind The Prairie Homestead. This book includes 100+ delicious, wholesome recipes made with fresh ingredients to bring the flavors and spirit of homestead cooking to any kitchen table. Jill is the health focused pioneer woman of today.
The Turkish Cookbook by Musa Dagdeviren is being released this month. Please remember Eat Your Book members receive 30% off Phaidon titles when using the link provided.
A Basket by the Door by Sophie Hansen is an EYBD title. For more information on this lovely book, see our promotion and giveaway.
Healthy Hormones: A Practical Guide to Balancing Your Hormones by Belinda Kirkpatrick and Ainsley Johnstone is an EYBD title.

French Toast

by Donna Kelly is an

EYBD

title. For more information, please see our promotion and

worldwide giveaway

.

The Bacon Bible

by Peter Sherman and Stephanie Banyas is a holy book devoted to man's favorite pork product. With a textured black cover and gold accents, you may just grab this volume rushing out on a Sunday morning. While the recipes will prove there is a God and he wants us to be bacon happy, your fellow church goers may not approve – unless, of course, you invite them back for brunch.

Historic Cookery: Authentic New Mexican Food

by Fabiola Gilbert is an

EYBD

title. For more information, please see our promotion and

worldwide giveaway.

Diner à la Maison: A Parisian's Guide to Cooking and Entertaining at Home by Laurent Buttazzoni brings the beauty and delicious cuisine of Paris to our kitchens. This title may not keep you from boarding a plane to get your France fix but it may help put some distance in between those trips.
My Bangladesh Kitchen: Recipes And Food Memories Form A Family Table by Saira Hamilton is an EYBD title.
Eat What You Love: Restaurant Favorites: Classic and Crave-Worthy Recipes Low in Sugar, Fat, and Calories by Marlene Koch is a collection of make-overs (or make better) of those dishes and drinks we all love when eating out without the excess calories (sugar, fat). The bonus here is the nutritional and "dare to compare" information that is provided. For instance, a typical order of General Tso's chicken serves up 1,300 calories including 3,200 milligrams of sodium, over 70 grams of fat, and 3 days' worth of added sugar! Marlene's equally crave-worthy version is just 300 calories with 80% less fat, 85% less sodium, and 90% less sugar!
Other titles of interest: