Hero Dinners by Marge Perry and David Bonom and Anolon Promotion
April 8, 2019 by Jenny
Every cook, myself included, has moments of panic when it is time to get a meal on the table. I confess to often wishing a donut could be dinner. Whether you work from home, work outside the home, are raising children or any combination of scenarios, there are times we wish dinner would take care of itself. And those of us who live for cooking can't claim to finding enjoyment in cleanup duties, right? When we find ourselves lacking inspiration and motivation at meal time, look to Marge Perry and David Bonom's new book
Hero Dinners: Complete One-Pan Meals That Save the Day
.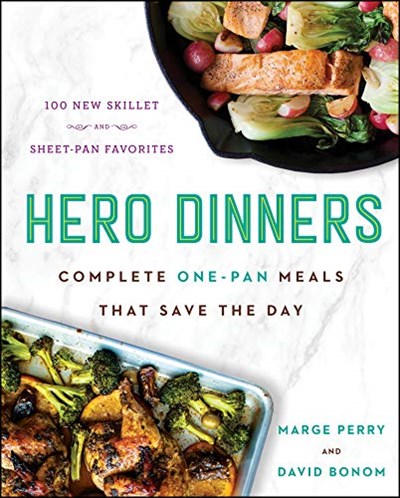 Hero Dinners
is the cook's resource for amazingly delicious complete meals made in just a single skillet or sheet pan, created by the food-world favorite husband-and-wife team who develop recipes for major magazines. From Hoisin-marmalade chicken to Peanut-coconut noodles with tofu, you will find a wide range of dishes to please everyone in the family. One hundred recipes and full color photography, all of which, but one was taken by Marge herself, fill this book. The authors are touring and we have shared their events on
our calendar.
Armed with this book and a solid skillet and sheet pan. a hearty meal can be yours with little fuss and minimal clean up. To celebrate
Hero Dinners
publication, our wonderful friends at
Anolon
wish to help us make hero dinners in style with their quality cookware. Anolon is offering in our giveaway below a set of the following cookware: an
Anolon Vesta Cast Iron Cookware 12″ skillet, in umber
and an
11-inch x 17-inch cookie pan in bronze
– three winners each get a set! I'll be preparing my gift guide for mothers and fathers, this week and a copy of
Hero Dinners
with a skillet and sheet pan from Anolon would be a great gift, especially for those new moms and dads!
Anolon Vesta Cast Iron Cookware 12″ Skillet, Umber
11-inch x 17-inch cookie pan, bronze
Special thanks to Marge and David's publisher, William Morrow, for allowing us to share a recipe with our members today and for offering three copies of this book in our giveaway at the end of this post.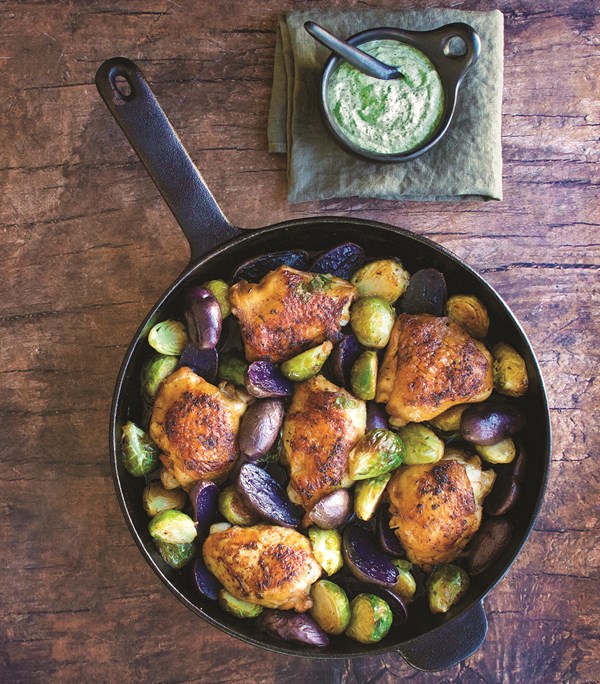 Peruvian Chicken with Ají Verde Purple Potatoes + Brussels Sprouts Add this recipe to your Bookshelf (click the blue +Bookshelf button).
When David came back from a business trip to Peru (training chefs there for the United States Poultry and Egg Export Council), he raved about the food. Ají verde, the ubiquitous green sauce he had eaten so often at Peruvian restaurants in the States, had a brighter, more vivid flavor in its homeland. The savory rub (with just a hint of sugar) on the chicken is also based on the flavors David experienced in Peru. The ají verde keeps well for several days in the refrigerator. It makes a great dip and pairs as well with fish as it does with poultry. Makes 4 servings
2 tablespoons lower-sodium soy sauce
2 teaspoons sugar
1 teaspoon garlic powder
½ teaspoon chipotle chile powder
½ teaspoon dried thyme
1 teaspoon salt, divided
2½ pounds bone-in, skin-on chicken thighs (4 to 6 thighs)
12 ounces baby purple potatoes, halved lengthwise
12 ounces Brussels sprouts, trimmed and halved lengthwise
2 tablespoons olive oil, divided
½ cup unsalted chicken broth
AJí Verde
½ cup fresh cilantro leaves
1 jalapeño pepper, seeded
1 small garlic clove
¼ cup sour cream
¼ cup canola mayonnaise
1 tablespoon olive oil
1 teaspoon white wine vinegar
¼ teaspoon salt
Skillet Chicken Thighs
Preheat the oven to 425°F.
Combine the soy sauce, sugar, garlic powder, chipotle powder, thyme, and ½ teaspoon of the salt in a small bowl to form a paste. Rub the mixture all over the chicken to coat.
Combine the potatoes, Brussels sprouts, and 1 tablespoon of the oil in a large bowl. Toss with the remaining ½ teaspoon salt.
Heat the remaining 1 tablespoon oil in a large ovenproof skillet over medium heat. Add the chicken, skin side down, and cook until well browned, about 4 minutes. Remove the chicken from the skillet and add the potatoes and Brussels sprouts. Place the chicken, skin side up, on top of the vegetables and pour in the broth; cook for 2 minutes. Transfer to the oven and roast until the vegetables are tender and an instant-read thermometer inserted into the center of the largest piece of chicken registers 170°F, 23 to 25 minutes.
While the chicken roasts, make the ají verde: Puree the cilantro, jalapeño, garlic, sour cream, mayonnaise, olive oil, vinegar, and salt in a blender.
From
Hero Dinners
by Marge Perry and David Bonom. Copyright © 2019 by Marge Perry and David Bonom. Reprinted by permission of William Morrow, an imprint of HarperCollins Publishers.
The publisher is offering three copies of Hero Dinners and Anolon is offering three winners a cast iron skillet and sheet tray (as described above) to EYB Members in the US. Two of the entry options are to answer the following questions in the comments section of this blog post.
Which recipe in the index would you try first?
Which product at Anolon would you like to have for your kitchen?
Please note that you must be logged into the Rafflecopter contest before posting or your entry won't be counted. For more information on this process, please see our step-by-step help post and this forum post. Once you log in and enter your member name you will be directed to the next entry option – the blog comment. After that, there are additional options that you can complete for more entries. Be sure to check your spam filters to receive our email notifications. Prizes can take up to 6 weeks to arrive from the publishers. If you are not already a Member, you can join at no cost. The contest ends at midnight on June 8th, 2019.