What's New with EYBDigital – Update
September 26, 2018 by Jenny
For the most recent EYBD information, please see our EYBD Page.
*******
Earlier this year, EYB launched
and
a feature which allows you to view a selection of pages from a cookbook – including photographs, illustrations, and complete recipes – with just a click. Since the launch, we have 280 titles available for preview and we are adding more each week. To continue our efforts to bring our members cutting edge features, last month we announced EYBDigital Books. For more information see our EYBD Page.
What are EYBD Books?
The EYBD platform will provide digital access to the complete book when a member has pre-ordered a print copy of the title before release date (or during the promotional period after release). You do not need to be a paid member to access this feature and EYBD Books are in addition to the 5-book limit for Free memberships.
The EYBDigital Book is a conversion of the book to a digital format hosted on EYB much like our EYBDigital Previews. The EYBD Book will not be available on the site until publication date and will require proof of purchase to access the book. It cannot be copied, downloaded, printed or saved.
Features
For the first time you will have access to the full EYBDigital Book wherever you can access EYB – on vacation, at work, in the grocery store, etc. In addition to the digital book, all the features of EYB will be included in the access, at no cost to the book purchaser.
• Recipe search
• Bookmarks
• Recipe ratings and reviews
• Photo upload (personal photos of dishes cooked)
• Shopping lists
Currently, we have the following titles slated for EYBD Books. We are adding more cookbooks as we go forward. Please note, if you have already pre-ordered one of these books, you still qualify for EYBD access and will follow the same procedures mentioned above.
Our table has been updated to include links to promotions (both active and inactive), specific registration links for each title, as well as links to previews and events.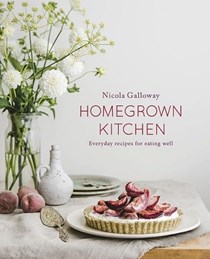 We are pleased to announce that Nicola Galloway's
Homegrown Kitchen: Everyday Recipes for Eating Well
which was published last year in New Zealand is our latest EYBD book.
Nicola's book is stunning and guides us through the steps to better eating beginning with stocking your pantry with staples made from scratch and creating meals that are comforting, nutritious and beautiful. Please note – for those 27 members who have already purchased
Homegrown Kitchen
and have it on their bookshelf, Potton & Burton is graciously offering you digital access as well. If you still have your receipt and can upload it, please do so at the
registration page
. Once the digital book is complete it will appear on your shelf. (If you do not have the receipt, please upload a photograph of the book. Please note this is only valid for those 27 members who currently own the book). The
publisher
is providing a $15 reduction in freight charges for orders outside of New Zealand. This title would make a lovely holiday gift this season. Head to our
promotion post for more information
on this title and to enter our giveaway.
EYBD Titles to be published in October include: