September 2018 New Cookbook Review
September 25, 2018 by Jenny
It's the most wonderful time of the year. It's not yet the holiday season but this month and next make me believe the line "Yes, Virginia, there is a Santa Claus."  When I set up this review post, I told Jane "oh, it shouldn't take long I have it about 75% done already". Ha! Little did I know at that time I only had about a quarter of this behemouth complete. 

It's a fabulous month for new cookbooks and whets our appetite for the Holy Grail of new cookbook releases – October! 

Before I get to our cookbook summary, a few housekeeping reminders for new members:
Please make sure you have entered all our giveaways – there are some exciting promotions up and more are coming! You will note extra entries in the Rafflecopter form such as visiting our publishers' and authors' social media pages, so please show our appreciation for their efforts by paying those sites a visit. If you have any trouble entering the contests, see our step-by-step help post.
Have you joined our cookbook clubs? Read our latest summaries and come have fun with us while we cook and bake from new selections each month. We offer blast-from-the-past favorites and online recipe options so that everyone can participate.
Have you been enjoying our and ? Find out more information on this new exciting feature here and be sure to look for these buttons throughout our posts.
EYBDigital Books is in full swing. For more information see our EYBD Page.
If an author has events on our calendar, please look for "Events" linked at the end of each blurb. 
Lastly, each Sunday, I compile a listing of Kindle cookbook deals and I update that post throughout the week when additions are made and/or deletions. Having a Kindle version available to read while traveling or making a decision to buy the hard copy is wonderful, especially at such great prices.
Now let's talk about this month. Check the blog frequently as promotions are planned for many titles and be sure to follow us on social media (buttons on right lower side bar on the home page – photo right) and don't forget about Google+ too. If you would like to order any of these titles, using our affiliate links (right beneath the social media buttons) or the
button on the book details page, you will help to support EYB and our indexing efforts (as well as help us to include worldwide options in some promotions). Each author that has events scheduled has a link at the end of the book blurb. Most of our titles are released in multiple regions and worldwide sellers such as Book Depository make more of these titles available to more members.

September, as I stated above, is packed with greatness. We have new books from Rose Levy Beranbaum, Yotam Ottolenghi, Julia Turshen, Gill Meller and other member favorites. New kid on the block, Rebecca Firth, has written an amazing cookie book and French cookware maker, Staub, has a beautiful book highlighting their cookware. There are many other titles to inspire us to try new recipes and experiment in the kitchen. This is a great cookbook month for me as many hit on my favorites – international cuisines and baking.
Since there are so many new books this month (and next month as evidenced by my Fall preview post), blurbs will be short and sweet, EYBD Previews will be highlighted as well as events. Other titles of interest are added to the end of each country for books I may not have reviewed yet or may be of interest to others. 
US
Rose's Baking Basics: 100 Essential Recipes, with More Than 600 Step-by-Step Photos by Rose Levy Beranbaum guides us through every streamlined recipe that has been simplified and documented with more than 600 mouthwatering and instructive photos. Rose is a must-have author and I will have the pleasure of interviewing her on October 1st at Tattered Cover in Denver. Events. 
Cravings: Hungry for More by Chrissy Teigen is the celebrity's new edible diary: recipes for quick-as-a-snap meals; recipes for lighter, brighter, healthier-ish living and more. Her first cookbook Cravings is killer good and I'm sure this will be as well but I haven't had a look at it yet.
Now & Again: Go-To Recipes, Inspired Menus + Endless Ideas for Reinventing Leftovers by Julia Turshen may be my favorite title from the author to date. Beautiful comforting recipes fill this book. Events.
Authentic Italian Desserts: 75 Traditional Treats for the Non-Italian Baker by Rosemary Molloy presents authentic recipes passed down from her Italian relatives. The author brings authenticity to each creation, drawing on her experience as a Canadian living in Rome for the past 20 years. This book is beautiful and I cannot wait to make Rosemary's versioin of the Tosca cake.
The Cookie Book: Decadent Bites for Every Occasion by Rebecca Firth will be flour stained within a month. It's unique, fun and begs to be splattered and covered in dough and we will be baking from it later this year in the EYB Cookbook Club.
Catalan Food: Culture and Flavors from the Coast of Spain by Daniel Olivella delivers the author's accessible recipes which bring together both tradition and his modern culinary perspective. A delicious book that brings flavors from Spain into our homes. 
Season: A Year of Wine Country Food, Farming, Family, and Friends by Justin Wangler, Tracey Shepos Cenami and Jackson Family Wines is about crafting food with what's growing in the soil, grazing in the fields, and swimming in the sea – food prepared with a light hand, seasoned with confidence, and served with casual sophistication. A stunning, high-end cookbook. 
The Bread Collection: Recipes for Baking Artisan Bread at Home by Brian Hart Hoffman is a another must have from the Bake from Scratch team. I want to make everything in this stunning book and will have a promotion for this title coupled with a fantastic Emile Henry bread pan coming soon. 
The Staub Cookbook: Modern Recipes for Classic Cast Iron by Staub is filled with comforting, tempting recipes all using beautiful Staub cookware. The folks at Staub will be providing a piece of their cookware in a giveaway sometime in October.  
French Cooking at Home by Marianne Megnier Moreno simplifies the art of French cooking. The author carefully and clearly takes you step by step, beginning with fundamental recipes for basic stocks (chicken, beef, fish), sauces (roux, béchamel, hollandaise), and preparations (cutting onions, cooking eggs, preparing clarified butter). She then teaches you the techniques that are the heart of French cooking: sautéing, roasting, grilling, braising, poaching, and more.
Food52 Genius Desserts: 100 Recipes That Will Change the Way You Bake by Kristen Miglore is another stunner of a title from Food52. For more information on this book see my review and be sure to enter our giveaway. This book is one of our selections for next month in the EYB Cookbook Club. 
Rich Table by Sarah and Evan Rich, the proprietors of Michelin-starred Rich Table, brings recipes from the restaurant together with the food the Riches cook for friends and family at home. Beautiful does not adequately describe this book. Events.
Cuba Cooks: Recipes and Secrets from Cuban Paladares and Their Chefs by Guillermo Pernot and Lourdes Castro is not your typical Cuban cookbook and proves there is more to this cuisine than guava and plantains. Black bean gnocchi with culantro butter sauce, Cream of malanga soup with serrano ham crisp and Blood sausage ravioli with blue cheese sauce are a few examples of the recipes you will find here.  Events
Sous Vide for Everybody: The Easy, Foolproof Cooking Technique That's Sweeping the World by America's Test Kitchen Editors is an approachable cookbook that demystifies sous vide cooking and demonstrates how it can make your life easier, while also giving you the tools to try exciting new dishes. I have been experimenting with Instant Pot's Sous Vide and love it. 
Cooking in Color: Vibrant Plant-Forward Recipes from the Food Gays by Adrian Harris and Jeremy Inglett is one of our EYBD books. For more information on this title please see our promotion post which shares a worldwide giveaway. This title was also released in Canada.
The Bread and Salt Between Us: Recipes and Stories from a Syrian Refugee's Kitchen by Mayada Anjari and Jennifer Sit offers over forty recipes that recall the flavor and comforts of Mayada's home in Syria. From the fresh tabbouleh she learned to prepare alongside her mother and sisters to the rice pudding that won over her future husband, these easy-to-approach dishes tell the story of a family whose culinary traditions have sustained them as they build a new life in the United States.
Menus: A Book for Your Meals and Memories by Jacques Pépin is being republished by Houghton Mifflin Harcourt this month. For more information on this special volume see my promotion from last year. 
Cooking from Scratch: 120 Recipes for Colorful, Seasonal Food from PCC Community Markets by PCC Community Markets shares 120 simple and delicious recipes that's chock-full of nutritional information and expert advice from Seattle's popular grocer, PCC Community Markets. The recipes are organized for every meal of the day, including many of PCC's most popular dishes, such as their treasured Emerald City Salad. The book also includes cooking, storing, and shopping tips -everything you need to know to make the most of the local bounty offered in your area, wherever you live.
Waste Not: How To Get The Most From Your Food by James Beard Foundation is a comprehensive book on full-use cooking, how to use all the food you buy and avoid food waste, that features innovative recipes and tips from chefs across the country. Sur la Table is hosting various events to celebrate this book. For members interested in the reduced waste and leftover category, we have tagged those books in the library. Events
Almonds, Anchovies, and Pancetta: A Vegetarian Cookbook, Kind Of by Cal Peternell is a charming vegetable-focused cookbook with sixty recipes that add depths of flavor using three key ingredients: almonds, anchovies, and pancetta. 


Jia!: The Food of Swatow and the Teochew Diaspora by Diana Zheng is a title that was funded by a Kickstarter campaign. I was a backer and received the electronic copy a few months ago and am pleased. I love that Diana wrote a book about an area of the world that so few people know about. Teoswa is the local pronunciation of Chaoshan, the region in China's eastern Guangdong Province. "Jia" is how you say "eat" in Teoswa and this cookbook is filled with recipes from China, Southeast Asia, the US, and even Paris. Diana has an event planned at Now Serving in LA.
The Essential Plant-Based Pantry: Streamline Your Ingredients, Simplify Your Meals and The Essential Pantry: Streamline Your Ingredients, Simplify Your Meals by Maggie Green are two new titles that will help you revamp your pantry. Maggie includes recipes for homemade condiments, pantry staples and dishes to use those staples. 
Basque Country: A Culinary Journey Through a Food Lover's Paradise by Marti Buckley unlocks the mysteries of this culinary world by bringing together its intensely ingredient-driven recipes with stories of Basque customs and the Basque kitchen, and vivid photographs of both food and place. And surprise: this is food we both want to eat and can easily make. It's not about exotic ingredients or flashy techniques. It's about the just-right fish or cut of meat or peak-of-ripeness tomato and coax forth its inherent depth of flavor. It's the marriage of simplicity and refinement, and the joy of cooking for family and friends.


Bottom of the Pot: Persian Recipes and Stories by Naz Deravian shares over 100 recipes that introduces us to Persian food made from a global perspective, at home in an American kitchen. Events.

Modern Greek Cooking by Pano Karatassos is a fresh, exciting approach to Greek cuisine. Just as Cuba Cooks, above, redefines Cuban cuisine, this stunning book does the equivalent with dishes that today's cook will find inspiring. Events
Apples: Sixty Classic and Innovative Recipes for Nature's Most Sublime Fruit by Christophe Adam arrives just in time for North America's fall harvest. Adam creates works of edible art all highlighting the humble apple. With classics such as the Apple pie on one page and a few pages away a showstopping Trompe l'oeil apple "ice cube", there is enough here to appeal (pun intended) to the novice and those who wish to spread their culinary wings. 
Instantly French! Classic French Recipes for Your Electric Pressure Cooker by Ann Mah is the first electric pressure cooker book devoted specifically to French food, bringing you the scrumptious flavors of traditional French cuisine to your table without the hours of slow cooking French food normally requires.
Ham: Prime Hams of Europe Stories and Recipes by Stefaan Daeninck explores the world-renowned European ham culture; a fascinating journey from the Spanish Pata Negra to the French Jambon de Bayonne and from the Italian Prosciutto di Parma to the German Schwarzwaldschinken and the Flemish Gandaham. Stefaan Daeninck tells the full story from pig to ham, with meticulous attention to the specific production and maturation processes, as well as the differences in smell, texture, appearance and taste. What's more, he provides the reader with several delicious recipes, specifically tailored to each kind of ham. This title is being released in Belgium, the US and UK.
Casablanca: My Moroccan Food by Nargisse Benkabbou was released in May in the UK and comes to the US and Canada this month. The author shares recipes for modern and traditional dishes in this beautifully photographed book. I particularly love the bread and desserts section as most international books are lacking in those courses.
Together: Our Community Cookbook by The Hubb Community Kitchen is being released in the US, CA and UK this month. Darcie wrote about this title earlier this month. 
The New Essentials Cookbook: A Modern Guide to Better Cooking by America's Test Kitchen Editors presents a new approach to building skills and gaining confidence in the kitchen with a lineup of what we consider today's essential dishes, from Fish tacos to One-pot "baked" ziti to Olive oil-yogurt cake, each paired with insightful, practical lessons designed to help in your larger culinary life as you tackle all kinds of recipes – that is, to help you think like a cook. 
Taste of Eastern India: Delicious, Authentic Bengali Meals You Need to Try by Kankana Saxena is the debut cookbook from the voice behind the blog, Playful Cooking. The author stays true to the authenticity of the cuisine and has organized this book in the traditional order of the Bengali meal. Vivid photography and dishes that can easily be prepared in our kitchens make this a winner.   
Seasons at the Farm by Shaye Elliott follows the success of Family Table and shares her family's celebrations year-round. With her engaging storytelling and gorgeous full-color photos, Shaye brings to life how to entertain simply yet beautifully without mortgaging the farm. Simple recipes, decorating advice, and projects make this an inspirational and aspirational sequel to her beloved previous books
The Christmas Chronicles: Notes, Stories and 100 Essential Recipes for Winter by Nigel Slater (previously released in the UK last year) and is the book that spurred me to order many of Slater's older titles. It's glorious. 


Wine Food: New Adventures in Drinking and Cooking by Dana Frank and Andrea Slonecker is the wine lover's and food lover's playbook, with 75 wine styles and 250 producers to try with 75 recipes that go with them perfect.
All-Time Best Dinners for Two by Cook's Illustrated Magazine remedies the dilemma for couples cooking. For more information and to enter our giveaway,  see our promotion
All-Time Best Brunch by Cook's Illustrated Magazine is a perfect collection of recipes for all your brunch needs. For more information on this title and to enter our giveaway,  see our promotion
Whiskey in a Teacup: What Growing Up in the South Taught Me About Life, Love, and Baking Biscuits by Reese Witherspoon shares recipes from the author's grandmother Dorothea, as well as her favorite southern traditions, from midnight barn parties to backyard bridal showers, magical Christmas mornings to rollicking honky-tonks.
Roots: Farm to Table Recipes from England's Michelin-Starred Pub, The Black Swan by Tommy Banks was previously released in the UK and is being published by Rizzoli this month. It is gorgeously photographed and shares restaurant worthy dishes that are approachable and inspirational.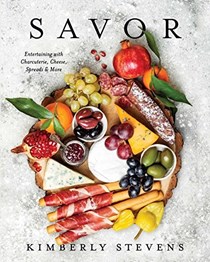 Savor: Entertaining with Charcuterie, Cheese, Spreads & More by Kimberly Stevens. This title takes your entertaining to the next level, going far beyond the old standards of crackers and cheese. From casual, small get-togethers and intimate cocktail parties to large gatherings and formal celebrations – no matter the occasion or dress code, there is a charcuterie board here that fits the bill perfectly. There are dozens of options within each category – meats, cheeses, breads, condiments, fruit, preserves, and more making a myriad of amazing possibilities for your finished culinary creation.
Other titles of interest:
CANADA
Vancouver Eats: Signature Recipes from the City's Best Restaurants by Joanne Sasvari is one of our EYBD Books and a must-have from Figure 1's cooks and eats series. For more information on this title please see our promotion and giveaway post.  
Seattle Cooks by Julien Perry features the best of Seattle's top chefs and bartenders. For more information on this EYBD Book see our promotion and giveaway post.
David Wood Cooking for Friends by David Wood is written with the idea in mind that it's not what you eat but how you make it that matters. Former owner of the prestigious David Wood Food Shop in Toronto, David has spent over two decades on the West Coast cultivating acclaim for his cheese-making (as owner of the Salt Spring Island Cheese Company), as well as for his unique understanding of the elemental role food plays in daily life.
The Complete Indian Instant Pot Cookbook: 130 Traditional and Modern Recipes by Chandra Ram shares 130 recipes from all over India, specifically designed for the Instant Pot®, that meld Indian ingredients and American sensibilities for novices and experts alike. Recipes range from traditional to modern and go beyond the greatest hits that you see in Indian restaurants.
Brunch Life: Comfort Classics and More for the Best Meal of the Day by Matt Basile and Kyla Zanardi brings that bigger-than-brunch restaurant experience home with mouth-watering recipes that will ensure every day gets off to a great start.
UK
Cooking South of the Clouds: Recipes and Stories from China's Yunnan Province by Georgia Freedman has me as gobsmacked as I was/am about Carolyn Phillips' All Under Heaven. Georgia has woven together the perfect tapestry of story-telling, recipes and photographs (by Josh Wand) that bring the Yunnan Province to life. 
Simple by Yotam Ottolenghi shares 120 brand-new dishes that contain all the inventive elements and favour combinations that Ottolenghi is loved for, but with minimal hassle for maximum joy. This title comes to the US next month. I am anxiously awaiting my copy ordered from the UK. Check out Darcie's post about Ottolenghi's new podcast. Events
Rogan: The Cookbook by Simon Rogan showcases recipes using beautiful ingredients that are accessible to people everywhere. It combines vibrant recipe pictures with photography that captures the life and landscapes of Our Farm in Cumbria. Breaking the boundaries of how people use their ingredients and cook their food, this will be one of the top books of the year.
The German Cookbook by Alfons Schuhbeck is a comprehensive collection of German recipes – from authentic traditional dishes to contemporary cuisine. Remember EYB members can save 30% at Phaidon using our code.
Time: A Year and a Day in the Kitchen by Gill Meller is the highly anticipated follow-up to the award-winning Gather (a favorite in my collection). In Time, Gill distills the essence of his approach to food and cooking – time spent in the kitchen, with good ingredients, makes for the best possible way of life.
The Mezze Cookbook: Sharing Plates from the Middle East by Salma Hage shares more than 135 home-cooking recipes exploring the regional diversity of Middle Eastern cuisine. Please remember Eat Your Book members receive 30% off Phaidon titles when using the link provided.
The Modern Italian Cook by Joe Trivelli, co-head chef of the River Cafe, features over 150 original recipes that cater for quick dinners right up to family feasts, Joe's focus is on fewer ingredients, exquisitely prepared.
Strudel, Noodles and Dumplings by Anja Dunk is a cookbook about Germany's varied culinary heritage seen through the eyes of the author's family recipes, most of which have been given a new life in her young family kitchen.
Prue: My Favourite Recipes from a Lifetime of Cooking and Eating by Prue Leith draws on a life-long passion for food with 100 recipes from her own kitchen table. Whether it's Halibut with green linguine, Fast roast teriyaki lamb or Slow-cooked rat-a-tat-touille, these are delicious, fuss-free dishes that Prue has cooked countless times for family and friends.
Vegan Christmas: Over 70 Essential Vegan Recipes for the Festive Season by Gaz Oakley promises that vegans and vegetarians will have the best holidays ever. Find out more about this title in our promotion post which shares a giveaway. Events


Just a French Guy Cooking: Easy Recipes and Kitchen Hacks for Rookies by Alexis Gabriel Ainouz, journals the cooking exploits of Alex who just wants us to have fun cooking. For more information on this EYBD Book see our promotion.
The Jewelled Table: Cooking, Eating and Entertaining the Middle Eastern Way by Bethany Kehdy shares over 80 ancient and everyday recipes from the Middle East that are reinterpreted and made accessible for cooking in a Western kitchen without losing integrity for the classics.
Together: Our Community Cookbook by The Hubb Community Kitchen is being released in the US, CA and UK this month. Darcie wrote about this title earlier this month.
Feed Me: 50 Home Cooked Meals for Your Dog by Liviana Prola Please remember Eat Your Book members receive 30% off Phaidon titles when using the link provided.


Etxebarri by Jon Sarabia and Juan Pablo Cardenal is the highly anticipated first book devoted to the Etxebarri restaurant, considered one of the best grills in the world. This restaurant is owned by grill genius, Bittor Arginzoniz and is located in the farming community of Axpe, a tiny village nestled beneath mountains an hour's drive southeast of Bilbao. With no other reference than the oldest culinary technique in the world – fire – he grills using utensils designed by himself, uses specific woods and has an obsessive search for the best product, Arginzoniz has revolutionized the way people roast meat, fish or vegetables and even grills dessert. This promises to be a beautiful book.
From a Persian Kitchen: Authentic Recipes and Fabulous Flavours from Iran by Atoosa Sepehr incorporates her mouthwatering traditional Iranian recipes with her own sumptuous photography. Born and brought up in Iran she came to work in the UK in 2001, but she never left behind the wonderful flavours of her family and childhood. Cooking these dishes for her family and friends over here has given her the passion to share the authentic, home cooked Persian cuisine with an international readership. The book contains traditional recipes handed down the generations, but converted to fit into Atoosa's busy life. They are delicious and easy to prepare, using ingredients you can get in any supermarket.
Simply Delicious The Classic Collection: 100 Timeless Tried & Tested Recipes by Darina Allen comes nearly 30 years after the original Simply Delicious book and TV series. Here she brings together 100 of her timeless, tried and trusted recipes. This title will be released in the US early next year. 
Sight Smell Touch Taste Sound: A New Way to Cook by Sybil Kapoor is essential reading for anyone who loves to cook. Sybil Kapoor leads the reader through simplified kitchen theory and a selection of tempting recipes reveal how we can unlock the power of our five senses to make amazing meals. Cooking is the creation of dishes using different techniques and ingredients. Underlying any recipe are five fundamental elements that form the five chapters of the book: Taste, Flavour (smell), Texture (touch and sound), Temperature (touch) and Appearance. Integral to our experience of eating, these are the building blocks of cookery throughout the world, whether you are making lemon pickle in India or porridge in Scotland. This book explains how these five elements work together and shows the reader how best to use them in everyday cooking to produce simple, delicious dishes. The book is designed so that the reader first understands a little theory, then by cooking the recipes and conducting easy practical tests suggested throughout. Carefully cross-referenced, over 125 recipes ensure a good breadth of ideas for the domestic cook.
Meals in Minutes: 90 Suppers from Scratch, 15 Minutes Prep by Donal Skehan is all about real, honest, fast food made with simple ingredients and clever cooking methods that are the building blocks for delicious home-cooked suppers.
Salt, Butter, Bones: Mastering the Art of Great Cooking by Nicole Pisani, head chef at Ottolenghi's Nopi turned head chef at a London primary school, is one of the most exciting food talents around today. In this vibrant and beautiful cookbook she shares a treasured collection of recipes influenced by the many countries she's cooked in and the many chefs she's cooked with.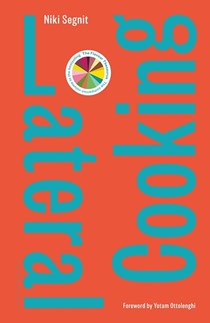 Lateral Cooking: One Dish Leads to Another by Niki Segnit is a companion to Niki's best selling The Flavor Thesaurus. Niki strives to teach us the fundamentals of flavors so that we can be less dependent on recipes and become a more intuitive cook.



Other titles of interest:
Khazana: A Treasure Trove of Modern Mughal Dishes by Saliha Mahmood Ahmed
Where the Wild Cooks Go: Recipes from my Travels in Food & Music by Cerys Matthews
The Seven Culinary Wonders of the World: A History of Honey, Salt, Chile, Pork, Rice, Cacao, and Tomato by Jenny Linford (being released in US next month)
Nordic Bakery Cookbook by Miisa Mink 
The Modern Multi-Cooker Cookbook: 101 Recipes for Your Instant Pot by Jenny Tschiesche 
The Roasting Tray Cookbook: 101 Recipes for Simple and Nutritious Meals Straight from the Oven by Jenny Tschiesche 
Mob Kitchen: Feed 4 or more for under GBP10 by Ben Lebus 
My Asian Kitchen: Bao, Salad, Noodle, Curry, Sushi, Dumpling by Jennifer Joyce 
Cook Slow: 90 Simple, Chilled-Out, Stress-Free Recipes for Slow Cookers & Conventional Ovens by Dean Edwards 
Shetland: Cooking on the Edge of the World by James Morton and Tom Morton 
Root & Leaf: Big, Bold-Flavoured Vegetarian Food by Rich Harris 
The Art of the Party: Drinks & Nibbles for Easy Entertaining by Kay Plunkett-Hogge 
New Zealand
Always Delicious: Favourite Recipes from the New Zealand Listener by Lauraine Jacobs is a beautiful book published on September 24 and is one of our EYBD Books. More information on this must-have title can be found on our promotion and giveaway post. The publisher is providing a $15 reduction in freight charges for orders outside of New Zealand. Events.
Kiwi Baker at Home by Dean Brettschneider is our second EYBD book from New Zealand. I have nearly all of his books and Lauraine's. They are filled with creations that inspire. The publisher is providing a $15 reduction in freight charges for orders outside of New Zealand. For more information on this book see our promotion and giveaway post.  
Wild Delicious by Amber Rose has the author returning to her roots, preparing simple, nutritious recipes with ingredients gathered from the gardens, orchards, farms and ocean of her homeland, New Zealand.
Feel Great & Live Longer: A New Zealand Handbook for Exceptional Health by Jason Shon Bennett delivers the best of the author's advice and philosophy into one easy-to-follow handbook. Jason believes our health is in our own hands and that many of the illnesses and diseases we are dying from are preventable through a life of healthy eating and positive lifestyle choices.
Australia
Adriatico: A Food Journey Down Italy's Eastern Coastline by Paola Bacchia is a beautifully crafted cookbook that charts the food traditions in the towns that skirt the coastline of Italy's striking Adriatic Sea.
Curry 101: 100+ Delicious Curry Recipes from Kitchens Around the World by Penny Chawla is a beautifully packaged cookbook that brings together the very best curries from throughout Asia and Africa – some of them famous, some of them little-known, but all of them delicious. Whether it's a simple dal served with warm and buttery naan bread, a serving of the famous South African bunny chow, a fiery jungle curry from Northern Thailand, a filling laksa from Malaysia or Singapore, a mild Japanese katsu curry or world-famous Indian classics such as madras, jalfrezi, tandoori, or biryani, there really is a curry out there for everyone.
Pizza De Luxe: Deliciously Authentic Recipes for the World's Favourite Fast Food by Stefano Manfredi shows you how to use wholewheat flour, fresh toppings and tried-and-tested methods to create the healthiest, tastiest pizza this side of Naples. Here are 45 deliciously luxurious pizzas for cooking and sharing – from the classic Margherita and Marinara to Sicilian capers and anchovies or Prawns, zucchini and mint and even sweet pizzas oozing with chocolate and cream – demonstrating just why pizza continues to be the world's favourite fast food.
Joe's 30 Minute Meals: 100 Quick and Healthy Recipes by Joe Wicks features more than 100 nutritious recipes that are perfect for sharing. Proving once again that you don't need loads of time to co ake, time and time again.
The Nacho Manifesto: 40 Plus Recipes that Prove Nachos Rule the Snack World by Jack Campbell shares fifty-two of the best nacho recipes using a variety of bases including tortilla chips, sweet potatoes, chunky fries and tater tots (aka 'tochos') and diverse and delicious toppings including pulled pork, beer-braised beef, cola chicken, and smoky black beans. Andyou'll find a bunch of breakfast and dessert nachos too!
Other titles of interest: