June 2019 New Cookbook Review
June 26, 2019 by Jenny
It's cookbook review time (yes, already). Below you will find a brief summary of titles that I have had the pleasure of reviewing. If I am not in possession of the book, you may click on the book record for more information. For some UK/AU/NZ books, I have added a blurb even if I have not received the book yet.
Before we dig into June, I would like to highlight several titles, I reviewed after their publication month.
A few housekeeping reminders for new members:
Now let's talk about this month. Check the blog frequently as promotions are planned for many titles and be sure to follow us on social media (buttons on right lower side bar on the home page – photo right). If you would like to order any of these titles, using our affiliate links (right beneath the social media buttons) or the
button on the book details page, will help to support EYB and our indexing efforts (as well as help us to include worldwide options in some promotions). Most of our titles are released in multiple regions and are available locally and through worldwide sellers – the Book Depository make more of these titles available to more members with free international shipping.
I have been tagging books as EYB Picks: USA Pick, UK Pick, Canada Pick, Australia Pick, and New Zealand Pick. These search links will direct you to books that are favorites. I will continue to add these designations as I come across beloved titles or new additions to the library.
USA
Vegetarian 101 Recipes by Alice Hart is an EYBD title released in the US, UK and AU this month. For more information on this book and to enter our giveaway, see our promotion post.
Gloriously Gluten Free by Frederique Jules is an EYBD title released in the US, UK and AU this month. It's a gorgeous book that any baker would love. For more information and to enter our giveaway, please see our promotion post.


The Peach Truck Cookbook: 100 Delicious Recipes for All Things Peach by Stephen K. and Jessica N. Rose shares peachy dishes from breakfast to dessert. The authors co-founded The Peach Truck which delivers Georgia peaches around the country. Fried chicken and waffles, Lemon peach pound cake and a Peach basil spritzer are just a few of the recipes that will be headed to my table soon. Now I just need some Georgia peaches! Events

Fish: The Lake-to-Kitchen Cookbook by Jon Wipfli is an EYBD title. For more information and to enter our giveaway, please see our promotion post.
Sushi Master: An Expert Guide to Sourcing, Making and Enjoying Sushi at Home by Nick Sakagami is an EYBD title. For more information and to enter our giveaway, please see our promotion post.


Andalusia: Recipes from Seville and Beyond by José Pizarro is an EYBD title being released in the US this month (released in the UK last month). For more information and to enter our giveaway, please see our promotion post.


Rice. Noodles. Yum.: Everyone's Favorite Southeast Asian Dishes by Abigail Raines is a title I am obsessed with this month. The recipes here include Fried pork balls wrapped in noodles, Crispy noodles in sweet and sour sauce, and Japanese-style spicy fried rice and I want to make them all!

The Chilango Burrito Bible by Eric Partaker (May UK release; July US) shares an explosion of colorful dishes served at the London eatery. The restaurant is not a stickler for tradition. They are always experimenting with new flavors and combinations. I want to make every recipe in this book from the Chilango fried chicken to the S'murros with chocolate chili sauce. I have a feeling I'll be doing a load of rolling in the months to come. Absolutely ga-ga over this book!
We Are La Cocina: Recipes in Pursuit of the American Dream by Caleb Zigas and Leticia Landa looks like an exciting book. I was able to take a quick peek at the title while out shopping one day. It is on my wish list. Events
Every Day is Saturday: Recipes + Strategies for Easy Cooking, Every Day of the Week by Sarah Copeland is another title I had a quick peek and it looked very interesting. We all can use extra help to get dinner on the table and Sarah provides excellent advice and tips. Events
Incredible Vegan Ice Cream: Decadent, All-Natural Flavors Made with Coconut Milk by Deena Jalal is filled with luscious recipes for summer's favorite treat – all vegan!
Eat Like You Give a Fork: The Real Dish on Eating to Thrive by Mareya Ibrahim delivers crave worthy plant-forward recipes that sprinkle healthy animal proteins in for good measure. Gorgeous photography and the author's advice on retraining our taste buds and improving the way we eat is shared throughout.
Other titles of interest:
UK
Saffron in the Souks: Vibrant Recipes from the Heart of Lebanon by John Gregory-Smith explores the cuisine of Lebanon from both a home cook aspect and tempting street food. As is typical with Gregory-Smith's titles, this book is a gift with stunning photographs and inspirational recipes.

Jude's: A Celebration of Ice Cream in 100 Recipes by Chow Mezger and Alex Mezger shares recipes for classic and more unusual ice-cream flavors as well as sorbets and vegan options. This photo-filled cookbook shares ice-cream desserts and celebration recipes, decadent desserts, sundaes, shakes and cocktails giving inspiration for all-hours entertaining. Toppings are showcased, with sauces, chunky honeycomb, homemade waffle cones, marshmallows and salted pecan brittle to adorn your creations.
Mandalay: Recipes and Tales from a Burmese Kitchen by MiMi Aye is a title I had to order. It is being released in the UK this month and comes to the US in August. I love MiMi's first book Noodles. The book is filled with stunning photography and dishes that are calling to me: Coconut chicken noodles, BFC – Burmese fried chicken, and Burmese chicken nuggets (I must be craving chicken) along with Creamed corn with onions, Citrus and shallot salad and Braised butter beans are all marked to make.
Sardine: Simple Seasonal Provencal Cooking by Alex Jackson (see also Provençal) is breathtaking. I've only had a chance to review the electronic galley but I am super impressed with the photography and recipes. Rhubarb and strawberry mille feuille, Socca with artichokes, Rum baba with roast Reine Claude plums and so many more dishes await you here.


Provence: The Cookbook: Recipes from the French Mediterranean by Caroline Rimbert Craig, a London woman exploring her French heritage, is both a tribute to a disappearing way of life and a practical guide to cooking delicious Provençal recipes wherever you live.
One More Croissant for the Road
by Felicity Cloake follows 'the nation's taster-in-chief's' very own Tour de France, cycling 2,300km across France in search of culinary perfection; from Tarte Tatin to Cassoulet via Poule au Pot, and Tartiflette. Each of the 21 'stages' concludes with Felicity putting this new-found knowledge to good use in a fresh and definitive recipe for each dish – the culmination of her rigorous and thorough investigative work on behalf of all of our taste buds.
Other titles of interest:
AU
Flavours of Australia: Eat Drink and Travel delivers over 500 pages of stunning photography and unique stories about the best places to eat and drink throughout Australia. Read the stories of some of Australia's most decorated chefs and rediscover some of their oldest family institutions. Recreate your favourite meals at home and relive your most memorable food experiences with the signature recipes of our most coveted restaurants.
Of interest:
South Africa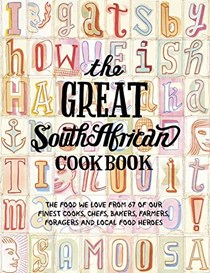 The Great South African Cookbook: The Food We Love From 67 of Our Finest Cooks, Chefs, Bakers, Farmers, Foragers and Local Food Heroes (The Great Cookbooks) features over 130 recipes, from tried and true classics to contemporary fare, The Great South African Cookbook showcases the diversity and creativity of South Africa's vibrant, unique food culture. There are easy index listings of dairy free, gluten free, and vegetarian dishes. Includes metric measures.