Featured Cookbooks & Recipes
April 21, 2017 by Christine
Finding the best recipes amongst the millions online is not easy – but you don't have to! The team here at Eat Your Books, searches for excerpts from indexed books and magazines and every week we bring you our latest finds. Every day recipes are added from the best blogs and websites.

As a member, you can also add your own favorite online recipes using the Bookmarklet. With EYB, you can have a searchable index of all your recipes in one place!

Happy cooking and baking everyone!

From websites: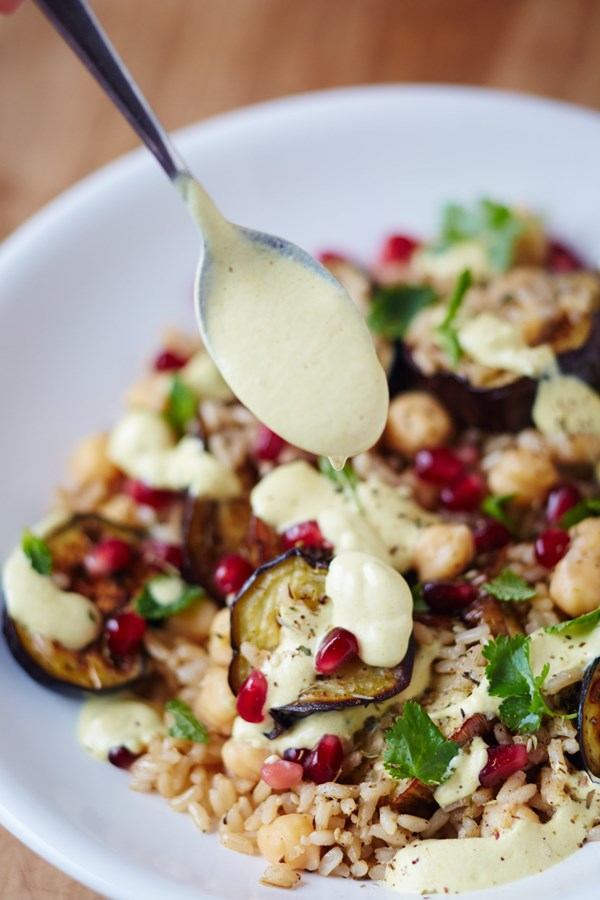 Roasted Eggplant and Brown Rice Bowl with Turmeric Tahini from indexed The Kitchn

From AUS/NZ books:
3 recipes from The Best of Gretta Anna by Gretta Anna & Martin Teplitzky, indexed by an EYB member
From UK books:
5 recipes from Healthy Baking: Nourishing Breads, Wholesome Cakes, Ancient Grains and Bubbling Ferments by Jordan Bourke
Enter our Healthy Baking giveaway — open WORLDWIDE!

From Canadian books:
3 recipes from Chicken in the Mango Tree: Food and Life in a Thai-Khmer Village by Jeffrey Alford
Enter our Chicken in the Mango Tree GIVEAWAY! (US/CAN only)
From US books:
1 recipe from Dinner: Changing the Game by Melissa Clark
Enter our Dinner GIVEAWAY! (US only)
10 recipes from Vibrant India: Fresh Vegetarian Recipes from Bangalore to Brooklynby Chitra Agrawal
Enter our Vibrant India GIVEAWAY! (US only)
1 recipe from Hello, My Name Is Ice Cream: The Art and Science of the Scoop by Dana Cree
Enter our Hello, My Name Is Ice Cream GIVEAWAY! (US only)