August 2019 New Cookbook Review
August 26, 2019 by Jenny
My favorite months are just around the corner ready to make their entrance with cooler temperatures and a whirlwind of cookbook releases. The fall and winter months here in the US are my favorite. The arrival of the months ending with "ber" signifies more baking and hours spent by the fireplace reading cookbooks. In preparation, I've spent a few hours the last week purging my shelves in an effort to share the wealth with others as well as make room for new books. 
This month EYB turned ten! To celebrate there are almost a dozen special promotions available on our blog including those with cookware and kitchen appliances. Be sure you have entered these fantastic promotions. Two additional promotions will be up before the end of the week.
Don't forget to check out:
Now let's talk about this month. August's cookbook review provides a brief summary of titles that make their debut this month. We are excited about Kim-Joy's baking book, Jamie Oliver's new Veg cookbook and many others listed below. I cannot believe that my first book was released this month and appreciate the support members and friends have given this offering. I thank you.
Check the blog frequently as promotions are planned for many titles and be sure to follow us on social media (buttons on right lower side bar on the home page – photo right). If you would like to order any of these titles, using our affiliate links (right beneath the social media buttons) or the
button on the book details page, will help to support EYB and our indexing efforts (as well as help us to include worldwide options in some promotions). Most of our titles are released in multiple regions and are available locally and through worldwide sellers – the Book Depository make more of these titles available to more members with free international shipping.
I have been tagging books as EYB Picks: USA Pick, UK Pick, Canada Pick, Australia Pick, and  New Zealand Pick. These search links will direct you to books that are favorites. I will continue to add these designations as I come across beloved titles or new additions to the library.

US
Sunny-Side Up: More Than 100 Breakfast & Brunch Recipes from the Essential Egg to the Perfect Pastry by Waylynn Lucas (pastry chef and Cupcake Wars' judge) is a delight. Filled with recipes from egg dishes to pastries to cocktails, there is something for everyone. Find out more about this title in our promotion which also includes a CrateChef box.
The Deep End of Flavor: Recipes and Stories from New Orleans' Premier Seafood Chef by Tenney Flynn shares delicious recipes and tips to help home cooks master cooking all kinds of seafood from the chef of the GW Fin's Restaurant. Flynn's easygoing, engaging style gives readers a tour of his hometown along with a toolkit for cooking seafood, from testing freshness at the market to pairing delicious fish recipes with sides and wines to create a finished menu. I am awaiting my copy of this title and we will be sharing a worldwide giveaway soon. 


The Farmhouse Culture Guide to Fermenting: Crafting Live Cultured Foods and Drinks with 100 Recipes from Kimchi to Kombucha by Kathryn Lukas and Shane Peterson provides history, health information, and safest methods for preserving, along with 115 recipes for krauts, pickles, kimchi, fermented vegetables, hot sauces, preserved fruits and jams, yogurt, kombucha, and even hard ciders and mead. I hope to have this book soon.

101 Things to Do with a Bundt® Pan by Jenny Hartin (that's me) shares recipes for sweet and savory dishes all made in a Bundt® Pan. The Bundt has made a comeback. Find out more about this title and enter to win a copy along with a gorgeous Bundt® Pan in our promotion (3 winners receive both the book and pan). 
The Royal Touch: Simply Stunning Home Cooking from a Royal Chef by Carolyn Robb is being released in the US this month (previously released in the UK in 2015).  This gorgeous book shares recipes from the former personal chef to TRH The Prince and Princess of Wales, Prince William and Prince Harry and presents the food that Carolyn loves to serve to her family and friends. I am smitten by this title with recipes from simple Coffee-caramel-pecan streusel triangles to elegant Potato and sage torte with lamb and apricot ragout along with beautiful photography.
Dinner Just for Two: Meals to Cook Together
by Christina Lane shares simple meals to celebratory dinners, comfort food to healthy but hearty options and features 100 dishes. I haven't seen this title but Christina's
Dessert for Two
 is wonderful so I have no doubt this title is as well.
Cork and Knife: Build Complex Flavors with Bourbon, Wine, Beer and More
 by Emily and Matt Clifton shares recipes that are enhanced by alcohol and are upscale while approachable. The book is filled with gorgeous photos.  
My Spiced Kitchen: A Middle Eastern Cookbook
 by Yaniv Cohen provides approachable information on the colors, scents, origins and properties of spices as the ultimate reference guide to the flavors of the Middle East. Seventy-five recipes in the book highlight each spice. 
Food You Love But Different: Easy and Exciting Ways to Elevate Your Favorite Meals
 by Danielle Oron transforms well-known dishes by adding unexpected flavors and ingredients that take recipes from simple  to exciting new dishes to try. 
Fried Rice: 50 Ways to Stir Up the World's Favorite Grain
 by Danielle Centoni shares 50  recipes that are inspired from all over the globe. These recipes will expand your fried rice repertoire well beyond the usual Chinese takeout staple. A promotion is coming soon.
Girl on the Block: A True Story of Coming of Age Behind the Counter
by Jessica Wragg, top female butcher at London's acclaimed Ginger Pig, is a memoir of coming of age behind the counter, exploring butchery as an art form and taking an incisive look at an industry on the brink. 
Eat More Plants
by Molly Krebs turns everyday veggies into meals you'll crave. Vegetarians and vegans will find inspiring new meal ideas, and meat-eaters will discover the variety of tastes and textures that creative combinations of veggies can bring to the table.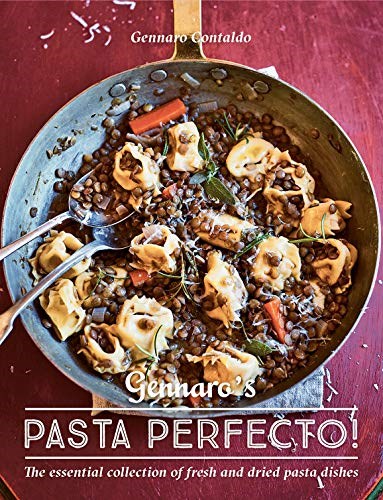 Gennaro's Pasta Perfecto!: The Essential Collection of Fresh and Dried Pasta Dishes by Gennaro Contaldo is being released in the US (Interlink) and UK (Pavilion) this month. This book hares over 90 recipes for fresh and dried pasta creations. Contaldo starts with lessons on how to cook perfect pasta, matching pasta shapes to sauces (providing a guide to popular combinations), and then provides tempting recipes utilizing dried pasta. After this, he teaches us the art of creating fresh pasta dough including tips for making pasta and suggestions for the equipment we need to do so. After providing us with these tips, he offers several dough recipes followed by a nice selection of fresh pasta dishes.
Other titles of interest include: