April 2018 Cookbook Roundup
April 24, 2018 by Jenny
Does it seem to you, as it does to me, that the previous month's roundup was just published and here I am already rounding up another? Sometimes keeping up with it all feels like I'm herding cats. Publication dates change, titles change, covers change and I strive to make sure it is all correct and fresh and interesting for our members. I love my job and to be honest I love the fast pace and fluidity of the work – it keeps me on my toes. And in the cookbook publishing world, each month brings more titles that are as exciting as the previous month's, so it is never boring.
This year has already brought, and will continue to bring, some highly anticipated cookbooks. My preview post contains a breakdown of the titles by month and I frequently update it in an effort to keep on top of what's to come.
Before I get to April's books, a few housekeeping reminders:
Please make sure you have entered all our giveaways, there are some exciting promotions up and more are coming! I am working hard to include as many regions as possible and again we are at the mercy of our publishers. You will note extra entries in the Rafflecopter form such as visiting our publishers' and authors' social media pages, please show our appreciation for their efforts by paying those sites a visit. If you have any trouble entering the contests, see our step-by-step help post. I am also aware that often pinning the book cover image is being met with a "spam type" error. I am working with Pinterest to resolve that issue but right now I am not one of their priorities. Try to pin the image and if you have a problem, go to the blog post and pin from that photo or note in the collection field "attempted".
Have you joined our cookbook clubs? Read our latest summary and come have fun with us while we cook and bake from new selections each month. We offer online recipe options as well so that everyone can participate.
Last month, we launched and . Find out more information on this new exciting feature here and be sure to look for these buttons throughout our posts.
If an author has events on our calendar, please look for this icon which will take you to that author's particular events.
Lastly, each Sunday, I compile a listing of Kindle cookbook deals and I update that post throughout the week when additions are made and/or deletions. Like most of you, I love the book in my hand, but I also like having a Kindle version available to read while traveling, especially at such great prices.
Now let's talk about this month. Over 130 titles are featured or mentioned here today. Check the blog frequently as promotions are planned for most of these titles and be sure to follow us on social media (buttons on right lower side bar on the home page – photo right). If you would like to order any of these titles, using our affiliate links (right beneath the social media buttons) or the
button on the book details page, you will help to support EYB and our indexing efforts (as well as help us to include worldwide options in some promotions). Each author that has events scheduled has a link at the end of the book blurb. Most of our titles are released in multiple regions and worldwide sellers such as Book Depository make more of these titles available to more members.
Some highlights in a month of exciting titles include: Former White House food policy advisor and chef to the Obamas, Sam Kass, has Eat a Little Better, EYB favorite Diana Henry's How to Eat a Peach, Joanna Gaines' Magnolia Table, Jenn Segal's Once Upon a Chef, Nigella Lawson's At My Table (US release), Nancy Singleton Hachisu's Japan and Will Goldfarb's Room for Dessert, Eddie Hernandez's Turnip Greens & Tortillas, and I could go on but I need to stop so I can get to the roundup. Sit back and relax.
US
DaVittorio: Recipes from the Legendary Italian Restaurant by Enrico & Roberto Cerea is a must-have cookbook for lovers of fine Italian cuisine. Founded in 1966 by Vittorio Cerea, Da Vittorio is today one of the most beloved restaurants in Italy. The first-ever cookbook from the Michelin three-star institution, this volume presents fifty never-before-published recipes adapted for discerning home chefs. This title was published in Italy in November and is being released here in the US and Canada and my copy is coming – I can't wait!
The Magnolia Table: A Collection of Recipes for Gathering by Joanna Gaines is infused with the author's warmth and passion for all things family, prepared and served straight from the heart of her home, with recipes inspired by dozens of Gaines family favorites made famous by Joanna's bakery, the Silos Baking Co., and classic comfort selections from the couple's new Waco restaurant, Magnolia Table, which opened last month. I am really impressed by this title while it has many dishes that are familiar to most of us, those recipes do have Joanna's spin on them. I love her style as well as the selection of recipes she has included in this book – including some dishes inspired by her Korean roots such as her mom's Bulgogi. Other recipes that caught my eye were her Fried chicken with sticky poppy seed jam, Gaines brother burgers with jalapeno drip jam, and White cheddar bisque and Herbed cheese scones. Full of inspiration and beautiful food, I cannot find fault here.
The Cook's Atelier: Recipes, Techniques, and Stories from Our French Cooking School by Marjorie Taylor and Kendall Smith Franchini chronicles the mother and daughter's life in their charming French village and their relationships with the region's artisan food producers and winemakers. Featuring more than 100 market-inspired recipes, the book teaches classic French techniques in a beautiful, approachable just like the school. With more than 200 enchanting photographs, this beautiful book is a richly illustrated presentation of the family's delicious world, and a practical primer for adopting elements of the French lifestyle at home, no matter where you live. We will have a promotion for this book coupled with a piece of Mauviel cookware.
Favorite Recipes from Melissa Clark's Kitchen: Family Meals, Festive Gatherings, and Everything In Between by Melissa Clark curates more than 100 dishes, hand-selected by Clark herself, from her two previously published books, In the Kitchen with a Good Appetite and Cook This Now. This compilation will also include more than 40 full-color photographs, specially shot for this release. In addition, it features an "Occasion Chart" that cross-references recipes into situational categories including weekday staples, perfect for 2, family meals, and company's coming, making it easy for the reader to select the perfect recipe for any occasion. Melissa's books are member favorites and we will be cooking through this title in the Eat Your Books Cookbook Club in July. Eat Your Books has a complete index of all Melissa's published recipes.
What's Gaby Cooking: Everyday California Food by Gaby Dalkin shares more than 125 of her favorite simple and fresh recipes and offers a glimpse into what it's like to "go coastal." It's about always having something tasty to eat, thanks to handy and delicious pantry staples such as avocado oil, quinoa, limes, and dark chocolate as well as an arsenal of easy and healthy recipes. All of Gaby's books and blog recipes are indexed.
Turnip Greens & Tortillas: A Mexican Chef Spices Up the Southern Kitchen by Eddie Hernandez and Susan Puckett mixes one part southern cuisine with one part Mexican flavors and several parts of brilliance and talent. Throughout the title "Eddie's Way" sidebars show how to make each dish even more special. Recipes include Chicken-green chile potpie in puffy tortilla shells, Blue cornmeal-crusted chicken with mint-jalapeno drizzle and Pan-fried pork chops with ranchero brown gravy. For more information see our promotion and giveaway.
At My Table: A Celebration of Home Cooking by Nigella Lawson has been released in the US this month (UK release was in September of 2017). This title is one of our selections for the Eat Your Books Cookbook Club for June and is Nigella's most personal cookbook to date. Look for a special promotion for our members with a Q & A from the Domestic Goddess herself.


Buttermilk Graffiti: A Chef's Journey to Discover America's New Melting-Pot Cuisine by Edward Lee is a riveting memoir complete with recipes from the talented chef behind several hot restaurants.
Once Upon a Chef: The Cookbook: 100 Tested, Perfected, and Family-Approved Recipes by Jennifer Segal delivers recipes that combine her chef background and her practical busy-mom schedule. Jenn Segal went to culinary school and worked in fancy restaurants then one marriage and two kids later she created Once Upon a Chef, the popular blog that combines her chef skills with delicious, fresh, and accessible ingredients for family-friendly meals. Her debut cookbook shares 100 recipes that will up your kitchen game and surprise you with their ease and bold flavors.
My American Dream: A Life of Love, Family, and Food by Lidia Matticchio Bastianich is Lidia's long-awaited memoir. Here she tells in vivid detail the fulfillment of her American dream: her close-knit family, her dedication and endless passion for food that ultimately leads to multiple restaurants, many cookbooks, and twenty years on public television as the host of her own cooking show. An absolute must-have for the millions of Lidia fans.
Repertoire: All the Recipes You Need by Jessica Battilana, the writer of the "Repertoire" column for the San Francisco Chronicle, delivers 75 trustworthy, versatile, and above all, delicious recipes that can stand alone or be mixed-and-matched into extraordinary meals.
Michael Symon's Playing with Fire: BBQ and More from the Grill, Smoker, and Fireplace by Michael Symon and Douglas Trattner is his first cookbook focused on barbecue and live-fire grilling, with 150 recipes inspired by his newest restaurant, Mabel's BBQ, in his hometown of Cleveland. Here, Michael offers expert guidance on working with different styles of grills and smokers, choosing aromatic woods for smoking, cooking various cuts of meat, and successfully pairing proteins with rubs, sauces, and sides. If you are looking for a new guide to classic American barbecue with the volume turned to high, look no further.
The Margaret Palca Bakes Cookbook: Cakes, Cookies, Muffins, and Memories from a Famous Brooklyn Bakery by Margaret Palca is a charming book that shares the recipes from baker and owner of Brooklyn's Margaret Palca Bakes. Margaret Palca shares practical baking tips and step-by-step techniques to make eighty of her bakery's most popular recipes. Butter, eggs, and sugar (she accepts no substitutes) help make her delicious recipes foolproof. Recipes include Margaret's famous rugelach, blueberry muffins, incredible carrot cake, and much more!
Gather & Graze: 120 Favorite Recipes for Tasty Good Times by Stephanie Izard and Rachel Holtzman shares recipes that hit all of the right salty, savory, tangy, and sweet notes. Izard's craveable, knockout food pairings – the ones her fans have been clamoring for Banh Mi burgers, Duck breast with brown butter kimichi, Roasted shishito peppers with sesame miso and parmesan, and Sticky sweet potato cake with blueberry-tomatillo jam.
Eat a Little Better: Great Flavor, Good Health, Better World by Sam Kass lays out the former chef to the Obamas and White House food policy advisor's plan to eat a little better. Knowing that sustainability and healthfulness come most, well, sustainably when new habits and choices seem appealing rather than drastic and punitive, Kass shares his philosophy and methods to help make it easy to choose, cook, and eat delicious foods without depriving yourself of pleasure.
The Graham Kerr Cookbook: The Galloping Gourmet by Graham Kerr is a new edition of a beloved cookbook celebrating the classic dishes and witty humor that were signature to TV chef Graham Kerr's The Galloping Gourmet. With his hallmark joyous abandon, British-born chef Graham Kerr was a pioneer of food television, hosting the popular series The Galloping Gourmet from 1969 to 1971. Kerr presented approachable, step-by-step instructions for recipes packed with personality and flavor. A bible for generations of fans, this classic cookbook is now reissued, with new commentary from Kerr and an introduction by the Lee brothers.
Great Tastes: Cooking (and Eating) from Morning to Midnight by Danielle & Laura Kosann is the debut cookbook from the sisters behind the favorite online magazine, The New Potato. Readers have come to love the sisters for how they present the world through the lens of food, featuring interviews with celebrities about their favorite meals, restaurants, and recipes. Millenials will love this title for its hip style and nod to fashion, while cooks will appreciate the thoughtful recipes.
The Freds at Barneys New York Cookbook by Mark Strausman invites you into the kitchen of this restaurant institution and teaches you how to bring a piece of New York chic into your own home. Whether it's the Belgian fries or Estelle's chicken soup, or Cheese fondue scrambled eggs, this cookbook commemorates all of the delicious recipes Freds has served over the years at the Madison Avenue, Chelsea, Beverly Hills, and Chicago locations.
Vegetariano: 400 Regional Italian Recipes by Slow Food Editore is packed with the exhaustive research that readers worldwide have come to expect from Slow Food. This title collects over 400 of the best vegetarian (and frequently vegan) recipes from home cooks in every region of Italy – all approachable, cookable, and full of the rustic Italian spirit of abbondanza and gracious hospitality.
Something Old, Something New: Classic Recipes Reinvented by Tamar Adler, the award-winning, bestselling author of An Everlasting Meal revives and improves classic recipes in a new gorgeously illustrated cookbook. Adler continues her preservative quest by rekindling classic recipes. There were times past when cooking was careful, important, economical, inspired. Other than occasional kitschy throwbacks, however, like Deviled eggs or Oysters Rockefeller, many dishes that first excited our palates have disappeared. Beneath their fussy garnishes, gratuitous sauces, and outmoded techniques, Adler unearthed good recipes worth reviving.
Edna Lewis: At the Table with an American Original by Sara B. Franklin was covered in Darcie's post earlier this month. Darcie wrote: This is the first critical appreciation of Lewis's groundbreaking work, and it features an impressive list of essayists, including Natalie Dupree, Vivian Howard, Francis Lam, Deborah Madison, Kim Severson, Toni Tipton-Martin, Michael W. Twitty, among other noteworthy writers. Lewis's contributions to the culinary world have been overlooked for decades, but this book should begin to amend that oversight.
The Family Table: Recipes and Moments from a Nomadic Life by Jazz Smollett-Warwell, Jake Smollett, Jurnee Smollett-Bell and Jussie Smollett is a warm and personal book, that invites us all to take a seat at their butcher-block table, and enjoy the good times and good food that have shaped their lives. 125 recipes that pay tribute to their past and present, to food traditions across the country, and to the global cuisine they've encountered in their travels.
Breakfast with Beatrice: 250 Recipes from Sweet Cream Waffles to Swedish Farmer's Omelets by Beatrice Ojakangas shares recipes drawn from the author's storied career and honed in her home kitchen. Beatrice prepares the cook – seasoned veteran or novice – to make breakfast the perfect start to every day.
At Home with Natalie: Simple Recipes for Healthy Living from My Family's Kitchen to Yours by Natalie Morales shares easy and delicious recipes for busy families from the TODAY show's West Coast anchor and host of NBC's Access Hollywood.
Korean BBQ: How to Master Your Grill in Seven Sauces by Chandra Ram and Bill Kim is a vibrant cookbook covering one of my favorite cuisines. I shared a #flipthecookbook post on Instagram that takes a look inside. This is a casual and practical guide to grilling with Korean-American flavors from chef Bill Kim of Chicago's award-winning bellyQ restaurants, with 80 recipes tailored for home cooks with suitable substitutions for hard-to-find ingredients.
Dinner Special: 150+ Recipes for a Great Meal Any Night of the Week by The Editors of Food & Wine presents delicious menus featuring one classic recipe with two ultimate sides, complete with wine pairings, tips for leftovers, and a technique for each main recipe in one essential volume. Each recipe is gorgeously photographed and each technique is clearly illustrated.
The Minimalist Kitchen: 100 Wholesome Recipes, Essential Tools, and Efficient Techniques by Melissa Coleman, the creator of The Faux Martha, is a guide to paring down our tools and ingredients, building a successful pantry and utilizing efficient cooking techniques so that dinnertime feels doable again. The bonus to this beautiful book is that there are also 100 approachable and delicious recipes.
Siriously Delicious: 100 Nutritious (and Not So Nutritious) Simple Recipes for the Real Home Cook by Siri Daly was created with three goals in mind: to create food that is delicious and satisfying for both kids and adults, to prepare dishes packed with traditionally comforting flavors and ingredients (think cheese, avocado, chocolate!), and to make each recipe approachable for even a novice cook with no trips to specialty food stores are required.
Windows on Provence: Musings on the Food, Wine, and Culture of the South of France by Georgeanne Brennan gives readers an insider's look at the unique markets, landscapes, scents, foods, wines, textiles, fabrics, and literature found in the sun-drenched southern region of France. Through twelve essays, full of descriptive, visual text and dense with photographs, the author brings to life the special elements that make up the enduring essence of Provence. From the white sandy beaches of the Côte d'Azur to the craggy mountains of Haute Provence; lavender, poppy and wheat fields; markets full of richly hued fabrics, antiques, and seasonal specialties; harbors filled with fishermen selling the morning's catch; centuries-old buildings and castle ruins are all lovingly brought to life through the author's eyes.
Family Table: Farm Cooking from the Elliott Homestead by Shaye Elliott shares 70 recipes of the author's favorite dishes that nourish her hardworking farm family every day. From Dry-cured bacon made from pigs raised on the Elliott Homestead to Sizzling steak with vinegar and tomato dressing, each recipe is about reviving easy, traditional food preparations for a more flavorful and healthful future.
Southern from Scratch: Pantry Essentials and Down-Home Recipes by Ashley English is another stunner from the author of A Year of Pies, A Year of Picnics and other books that focus on homesteading and preserving. Her new title shares 50 essential recipes that can be used with ingredients from your pantry to create 100 additional recipes for fresh takes on Southern favorites. Learn how to make the most of local ingredients with recipes for pickles and relishes, jams and spreads, sauces and vinegars, and more that use whole, natural, and in-season produce. With these flavorful bases and embellishments on hand, this book will open up a world of Southern cuisine by sharing ideas and recipes that incorporate classic staples.
My Lisbon: A Cookbook from Portugal's City of Light by Nuno Mendes shares recipes inspired by the dishes that the author grew up eating. Try his recipes for delicious Bolas de Berlim (fluffy doughnuts often sold on the beach), Sizzling squid with coriander, and Roasted orange-rub pork belly with fennel. This is a heart-warming and intimate look at a city with a modern, bustling food scene that is nevertheless steeped in centuries-old traditions. This title was previously released in the UK in October of 2017 under the title Lisboeta.
More with Less: Whole Food Cooking Made Irresistibly Simple by Jodi Moreno bridges the gap between quick, everyday cooking and elegant, healthy food. Using simple equation-like combinations, this book inspires readers to make luxurious meals with very few ingredients and very little time. Unlike the time-saving cookbooks that rely on processed ingredients and unhealthy shortcuts, Jodi makes beautiful ingredients and simple cooking techniques the focus of your everyday meals.
Pizzapedia: An Illustrated Guide to Everyone's Favorite Food by Dan Bransfield is a book for the pizza obsessed, with 80 charming illustrations and information about the history, ingredients, and lore of everyone's favorite food.
Poulets & Legumes: My Favorite Chicken & Vegetable Recipes by Jacques Pépin was published this month by Houghton Mifflin Harcourt. It is a reissue of the Sur la Table release.
Booze & Vinyl: A Spirited Guide to Great Music and Mixed Drinks by André & Tenaya Darlington is the ultimate listening party guide, showing you how to set the mood for 70 great records from the 1950s through the 2000s. From modern craft cocktails to old standbys, prepare to shake, stir, and just plain pour your way through some of the best wax ever pressed. Each entry has liner notes that underscore the album's musical highlights and accompanying "Side A" and "Side B" cocktail recipes that complement the music's mood, imagery in the lyrics, or connect the drink to the artist. This is your guide to a rich listening session for one, two, or more.
Bistro: Classic French Comfort Food by Alain Ducasse is an all-new collection of hearty, homey bistro recipes. Recipes include the French country cooking we all love to order in family eateries, including Oeufs cocotte, Pâté en croute, Blanquette de veau, Sole meunière, Classic French onion soup, and of course Mousse au chocolat and Poires belle-Hélène. Expert instruction for approachable recipes will have you cooking like a French chef, delighting family and friends with delicious, modern versions of classic bistro fare.
Cake by Maira Kalman and Barbara Scott-Goodman is a book devoted to the authors' favorite desserts. Here, renowned artist and author Maira Kalman and food writer Barbara Scott-Goodman bring us a beautifully illustrated book dedicated to their mutual love of cakes. Kalman's enchanting illustrations, in her inimitable style, and Scott-Goodman's mouthwatering recipes complement each other perfectly, making this a joyful whimsical celebration of a timeless dessert.
Dinner Illustrated: 175 Complete Meals, Prep to Table in 1 Hour or Less by America's Test Kitchen Editors is a modern approach to weeknight meals, with a revolutionary layout that makes it easy to open to any page and jump right into making one of theirr simple, globally inspired dinners. Each recipe appears as a fully illustrated roadmap to producing fantastic, fresh meals (salad and sides included) in an hour or less. No advance prep required; just gather your ingredients, pick up your knife, and follow along with the step-by-step photos until dinner is on the table. Side dishes are built right into the recipes. Along the way you'll pick up a helpful technique or two and learn about new ingredients to expand your culinary imagination.
From the North: A Simple and Modern Approach to Authentic Nordic Cooking by Katrin Bjork celebrates the classic dishes of Nordic countries, while making them more accessible and approachable. The recipes come from Iceland, Sweden, Norway, Finland and Denmark among others.
Feast by Firelight: Simple Recipes for Camping, Cabins, and the Great Outdoors by Emma Frisch offers solution-oriented recipes that make cooking outdoors feel effortless and downright fun and it shows how to utilize clever cooking methods, prep food at home, and pack smart. The book includes recipes for camp cooking as well as detailed menus, shopping and equipment lists, and tips showing how to prepare before you leave. Featuring 70 accessible recipes, it is the first of its kind in the outdoor-cooking niche to pair useful information with evocative photography of finished dishes and useful illustrations (such as how to pack a cooler and how to build a fire), setting a new standard for camping cookbooks.

Canada
UK
How to Eat a Peach: Menus, Stories and Places by Diana Henry is being released in the UK this month and the US in May. More information can be found on my earlier post highlighting this title which may be my favorite Diana Henry to date. Full of the charm and recipes that we've come to expect, this new title does not disappoint.
Room for Dessert by Will Goldfarb is a definitive guide to perfect pastry from the acclaimed former elBulli pastry chef and his destination restaurant in Bali, Room4Dessert. His debut cookbook showcases a menu of desserts and fine pastry work with an approach inspired by local ingredients and stunning surroundings. Home cooks can master basic recipes with the aid of step-by-step photography, then enter his creative world to see how staples can be turned into stunning masterpieces. This is high-end pastry at its finest. Please remember Eat Your Book members receive 30% off Phaidon titles when using the link provided.
Lucy Carr-Ellison and Jemima Jones, the pair behind Tart London, peerless boutique caterers, pop-up kitchen pros and ES Magazine columnists have written their first book, A Love of Eating: Recipes from Tart London. The duo have been bringing bold and bright food to the London scene since they first started in 2012. This book is about their approach to cooking and eating – creating colourful, fresh and wholesome meals to share and enjoy, always with a fun and fuss-free attitude.
Japan: The Cookbook by Nancy Singleton Hachisu is brilliant. The iconic and regional dishes of Japan's traditional cuisine are made available to home cooks with this authoritative collection from this acclaimed food writer. Read more in our promotion and be sure to enter our giveaway open to US/UK/CA/NZ and AU. Please remember Eat Your Book members receive 30% off Phaidon titles when using the link provided.
Roots: Recipes Celebrating Nature, Seasons and the Land by Tommy Banks is a beautifully photographed book shot throughout the year at the author's restaurant in Oldstead, Yorkshire. It shares stories and ideas about growing, foraging and preserving each 'root' ingredient. This title will appeal to home cooks, professional chefs and keen gardeners alike. The author states, 'At the Black Swan we cook seasonally, but we do not cook around the seasons. Our menus are inspired by our ingredients. These key ingredients become the roots of our food. In this book I aim to show you how these 'root ingredients' inspire our food all year round.'
Mazi: Revolutionizing Greek Food by Adrien Carré and Christina Mouratoglou was released in March (the publication date changed so I'm including it this month) and is available on Amazon UK and Amazon. Mazi is a hip London restaurant that is on a mission to revolutionize Greek cuisine. With a strong emphasis on sharing a feast of small dishes, the chefs bring a trendy tapas vibe to recipes exploding with flavor yet relying only on the finest fresh ingredients and simple techniques to achieve the best results. The restaurant has a preview of this book on their site. I've ordered my copy and look forward to receiving it.
Mowgli Street Food: Authentic Indian Street Food by Nisha Katonah delivers real Indian food; the bright, fresh, light, herb- and spice-lifted food that Indians eat in their own homes. Extremely healthy, often vegan, and packed with fresh flavour, it's not your parents' Indian food. In 2014, the author had a nagging obsession to build a restaurant serving the kind of food Indians eat at home and on the street. The first Mowgli restaurant opened in Liverpool in late 2014, blowing away the critics and forming legions of fans.
Masala Mamas: Recipes and Stories from Indian Women Changing Their Communities Through Food and Love by Elana Sztokman and Masala Mamas is a title I have been excited about. I've written about this heartfelt cookbook several times.
Britain's Best Home Cook: Great Food Every Day: Simple, Delicious Recipes from the New BBC Series by Jordan Bourke is the ultimate collection of delicious, inspiring, achievable recipes from Britain's most talented everyday home cooks – those who make great food for their family and friends day in, day out.

Beautifully Real Food: Guilt-Free, Meat-Free Recipes to Indulge in by Sam Murphy brings all of the author's best recipes together. This incredible collection includes delicious, healthy options for breakfast, lunch and dinner, as well as sides, salads, sauces, smoothies and desserts.

BOSH! The Cookbook: Simple Recipes, Amazing Food, All Plants by Ian Theasby shares more than 100 of the authors' favorite go-to breakfasts, crowd-pleasing party pieces, hearty dinners, sumptuous desserts, and incredible sharing cocktails. The book is jam-packed with fun, unpretentious and mega satisfying recipes, easy enough to be rustled up any night of the week. It's enough to convince the staunchest of carnivores to give plants a whirl.

Gennaro's Fast Cook Italian: From Fridge to Fork in 40 Minutes or Less by Gennaro Contaldo is packed full of enticing, authentic and, most of all, quick-to-prepare recipes. Contaldo's new book demonstrates how to whip up a delicious Italian feast in 40 minutes or less. From lightning-fast risottos to perfectly pronto pastas, speedy soups and delightful desserts, these recipes showcase the very best Italy has to offer, while requiring very little time in the kitchen. Featuring food from all the major regions of Italy, these quick recipes really make the most of the amazing fresh produce for which Italy is renowned.


The Little Viet Kitchen: Over 100 Authentic and Delicious Vietnamese Recipes by Thuy Pham-Kelly offers a fresh approach and insight into how to make the best of classic dishes and Vietnamese family favourites. Thuy's expertise and memories are the heart of each and every recipe. This book delves into Thuy's journey from Vietnam to England, celebrating her love of Vietnamese cooking, culture and way of life and tantalizing the reader's tastebuds alongside their imaginations. This title will be released in the US in June.
Other titles of interest include:
Ireland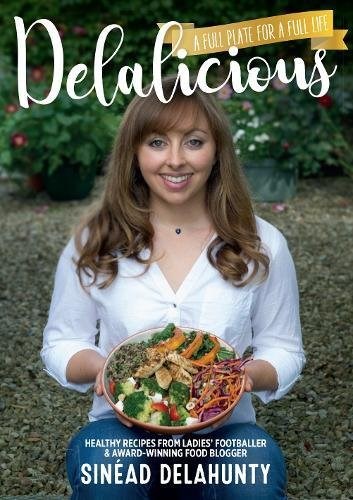 Delalicious: A Full Plate for a Full Life by Sinead Delahunty shares over 80 recipes that are bursting with flavour and nutritional value to keep you ready for whatever life may throw at you. Juggling a full-time job as a physiotherapist, an inter-county football career and a food blog, Sinead knows the pitfalls of being under time pressure. Here she shares her tips and tricks for keeping meals healthy and delicious.
Australia
Los Angeles Cult Recipes by Victor Garnier Astorino delivers 100 iconic recipes that capture the spirit of Los Angeles. From food trucks and vegan coffee shops, doughnuts, hot dogs and noodles, to the original Californian roll – this is where food fusion began.
Wholefood Simply: Natural Indulgence by Bianca Slade is the ultimate cookbook for anyone who wants to feed their family delicious treats use natural ingredients. Bianca's passion is to recreate traditional desserts, treats, snacks and sweets to suit her wholefood ways, minimising processed ingredients, maximising raw ingredients and avoiding refined sugar, gluten and dairy. The 100 recipes in this book, accompanied by delectable photographs, cater for all kinds of food intolerance and include low fodmap.
Other titles of interest:
New Zealand
Seen anything interesting?
Let us know
& we'll share it!