October 2015 cookbook roundup
October 29, 2015 by Jane
Mark Bittman's Kitchen Matrix by Mark Bittman: For years, Bittman shared his formulas, recipes, and kitchen improvisations in his popular New York Times Eat column, in which an ingredient or essential technique is presented in different variations in a bold matrix. In this book, Mark's matrices come together to create a large collection of flexible recipes. Once indexed, this book will add over 400 recipes to the complete Bittman recipe index on EYB.
The Free Range Cook: Simple Pleasures by Annabel Langbein: Langbein is New Zealand's leading celebrity cook, food writer, self-published cookbook author, and the star of her own successful international television series. Now she is bringing her acclaimed television program to US audiences through PBS stations across the country. The Free Range Cook: Simple Pleasures is the US version of the show's companion cookbook. You can read our author interview with Annabel, enter our contest for your chance to win a copy of this book, and view the dates for the PBS show in the World Calendar of Cookbook Events. And we also have a complete recipe index (5,279) of Annabel's recipes.
Food Gift Love by Maggie Battista: This is the first cookbook from Maggie Battista, founder and director of Eat Boutique, an award-winning online boutique and story-driven recipe site. Food Gift Love is perfect for making meaningful gifts for the holidays and all year long. You can read about Maggie's inspiration in our author Q&A, enter our contest for your chance to win a copy of the book, and view cookbook tour dates in the World Calendar of Cookbook Events.
Soup for Syria by Barbara Abdeni Massaad: Last month we wrote about this cookbook project from Interlink Publishing aimed to help food relief efforts for Syrian refugees. Profits from the book will be donated to the refugee agency UNHCR. The book, edited by food writer and cookbook author Barbara Abdeni Massaad, features recipes from world-famous personalities including Mark Bittman, Yotam Ottolenghi, Claudia Roden, and Paula Wolfert.
Hartwood by Eric Werner and Mya Henry: This book is the kickoff in this month's trend of chef/restaurant books. Werner and Henry gave up their restaurant jobs in New York City to start anew in the one-road town of Tulum, Mexico. They have made a big splash, evidenced when Noma chef René Redzepi called Hartwood's food "addictive." See book tour events.

Tacos: Recipes and Provocations by Alex Stupak and Jordana Rothman: This chef-driven book hails from Empellón Taqueria in New York City. In Tacos, Stupak, a Michelin-starred chef, makes the case that Mexican food should be as esteemed as the highest French cooking.
The NoMad Cookbook by Daniel Humm and Will Guidara: From the authors of acclaimed cookbooks Eleven Madison Park and I Love New York, this book continues the chef/restaurant trend. What appears to be a traditional cookbook is in fact two books in one: upon opening, readers discover that the back half contains false pages in which a smaller cocktail recipe book is hidden.
This is Camino by Russell Moore and Allison Hopelain: We travel across the US to the West Coast for this fourth chef book. This is Camino focuses on the fire-based cooking approach and ingredient-focused philosophy of Camino restaurant in Oakland, California. Book tour events.
Crossroads by Tal Ronnen: At Ronnen's Los Angeles restaurant, vegans, vegetarians, and carnivores sit side by side and eat dishes that satisfy each of them. Ronnen's cooking is Mediterranean first – think warm bowls of tomato-sauced pappardelle, plates of spicy carrot salad, and crunchy flatbreads piled high with roasted vegetables – and vegan second.
Rice Noodle Fish: Deep Travels Through Japan's Food Culture by Matt Goulding and Nathan Thornburgh: From the co-founders of the popular James Beard Award-nominated website Roads & Kingdoms comes this book that is part travel guide, part cultural celebration. Rice, Noodle, Fish includes in-depth narrative, insider advice, and practical information, along with lots of color photographs.
Lucky Peach Presents 101 Easy Asian Recipes by Peter Meehan and the Editors of Lucky Peach: If you are a fan of the ground-breaking magazine, brainchild of Meehan and chef David Chang, you'll appreciate this book. Its recipes are described as "beholden to bold flavors and not strict authenticity."
Mexico From the Inside Out by Enrique Olvera: The debut book from Mexico's best chef, whose Mexico City restaurant Pujol was ranked first in Mexico and twentieth in the world at the World's 50 Best Restaurant Awards. Olvera recently discussed his vision for food at The Splendid Table 20th Anniversary Celebration. Mexico from the Inside Out is part of Phaidon's 35% discount for EYB Members.
Olympia Provisions by Elias Cairo and Meredith Erickson: What began as Portland, Oregon's first USDA-certified salumeria has grown into a mini-empire, encompassing two restaurants and a robustly expanding mail order business. This book is a cookbook-slash-scrapbook featuring techniques, recipes, and essays about the history and personalities behind the top-notch meat company. Book tour events.
Gjelina: Cooking from Venice California by Travis Lett: Traveling back down the West Coast, we find another restaurant book from one of Los Angeles's most talked-about eateries, renowned for its seductive simplicity and eclectic Cal-Med menu from chef Travis Lett.
Zahav: A World of Israeli Cooking by Michael Solomonov: Back to NYC for this book from Zahav, a restaurant that Eater says "defines lsraeli cooking in America". Zahav showcases the melting-pot cooking of Israel, especially the influences of the Middle East, North Africa, the Mediterranean, and Eastern Europe.
Sea and Smoke by Blaine Wetzel and Joe Ray: From the 2015 James Beard Award winner for Best Chef: Northwest, Sea and Smoke is as much a culinary adventure as it is a serious restaurant book. After working at Noma in Copenhagen, Chef Blaine Wetzel took the principles of hyperlocalism stateside to celebrate what was good and nearby and tasty, off the rugged coast of Seattle.
The Nordic Cookbook by Magnus Nilsson: Acclaimed Swedish chef Magnus Nilsson traveled extensively throughout the Nordic countries – Denmark, the Faroe Islands, Finland, Greenland, Iceland, Norway and Sweden – collecting recipes and taking photos of the finished dishes, as well as the landscape and its people.The Nordic Cookbook is also included in Phaidon's 35% discount for EYB Members.
Battersby: Extraordinary Food from an Ordinary Kitchen by Joseph Ogrodnek and Walker Stern: Cooks with tiny kitchens may appreciate this book. Award-winning chefs Ogrodnek and Stern, of Brooklyn's Battersby and Dover fame, cook the restaurant's stellar meals in a small (4 x 6 ft) open kitchen.
Lidia's Mastering the Art of Italian Cuisine by Lidia Basitianich and Tanya Bastianich Manuali: With a title like this, you expect a comprehensive book, and you're getting one. Teaching has always been Lidia's passion, and in this magnificent book she gives us the full benefit of that passion and of her deep, comprehensive understanding of what it takes to create delicious Italian meals.
Mamushka: Recipes from Ukraine and Eastern Europe by Olia Hercules: Hercules formerly worked with Yotam Ottolenghi and was named the Rising Star of Food 2015 by the Observer in the U.K. Mamushka is a celebration of the food and flavours of the "Wild East" – from the Black Sea to Baku and Armenia to Azerbaijan. This is the US edition of the book published in the UK in June.
Fire & Ice: Classic Nordic Cooking by Darra Goldstein: Another take on Nordic cuisine, this time from the foremost American authority on the subject. The book features personal essays about each country, as well as information on the history of foraging, the iconic ingredients of the north, and regional cooking techniques. Book tour events.
Essential Turkish Cuisine by Engin Akin: Akin shares her culinary expertise while describing the evolution of Turkey's complex culture of food. The cookbook includes traditional dolmas, kebabs, halva and more, as well as offering insight into the diverse influences on modern Turkish cooking.
Indian Harvest by Vikas Khanna: Another chef book from a Michelin-starred chef at one of New York's most highly regarded Indian restaurants, Junoon. Khanna brings together traditional recipes, handed down over generations, alongside exciting new ones for all meal courses.
Donabe: Traditional and Modern Japanese Clay Pot Cooking by Naoko Takei Moore and Kyle Connaughton: Donabe focuses on authentic Japanese clay-pot cooking, showcasing beloved recipes and updates on classics, with background on the origins and history of donabe.
Hot Bread Kitchen Cookbook: Artisanal Baking from Around the World by Jessamyn Waldman Rodriguez: Hot Bread Kitchen is a bakery that employs and empowers immigrant women, providing them with the skills to succeed in the culinary industry. Featured in some of New York City's best restaurants and carried in dozens of retail outlets across the country, these ethnic gems can now be made at home with The Hot Bread Kitchen Cookbook.
Theo Chocolate: Recipes & Sweet Secrets from Seattle's Favorite Chocolate Maker by Debra Music and Joe Whinney: Theo Chocolate is North America's first organic and Fair Trade chocolate factory. This book not only shares Theo's story and their passion for doing the right thing, but also celebrates the decadent pleasure of enjoying excellent chocolate.
Fresh Made Simple by Lauren K. Stein: Every recipe in this book begins with one ingredient and builds around it to make a simple, yet elegant, creation: an avocado, seasoned with lime and salt, elevates a fried egg on toast; fresh-picked blueberries and a leftover ear of steamed corn add sweetness and texture to pancakes. Book tour dates.
The Four Seasons of Pasta by Nancy Harmon Jenkins and Sara Jenkins: Acclaimed food writer Nancy Jenkins teams up with her master chef daughter Sara for this seasonal pasta book. The Jenkins' draw on their own background in Italy, where they've lived, cooked, studied, and worked for many years.
Vegetarian India by Madhur Jaffrey: Jaffrey has been writing about Indian food for over 40 years and has introduced two generations to its wonders. In her latest cookbook, the seven-time James Beard Award-winning author shares vegetable- and grain-based foods enjoyed around the Indian subcontinent. This book was published in the UK as Curry Easy Vegetarian.
The Vitamix Cookbook by Jodi Berg: Despite a variety of books devoted to the Vitamix, this is the first cookbook from the machine's manufacturer. The book is aimed at healthy eating, explaining simple ways to incorporate more whole foods into your daily diet. This book is also being published in the UK this month.
Thug Kitchen Party Grub: Another book also out in UK in October, this is the second book from the LA-based blogging duo that brought us the irreverent Thug Kitchen. Like the first book, it features plant-based foods, bold flavors and (of course) salty language.
Heart & Soul in the Kitchen by Jacques Pépin: Heart & Soul is the companion cookbook to the chef's most recent, and last, PBS television series. It features food that Pepin cooks at home with family and friends. Book tour dates.
Dinner Pies by Ken Haedrich: Pie expert Haedrich includes updated and perfected versions from the great savory pie traditions, including British, New England Yankee, and Southern, and branches out from there. The recipes span a variety of diverse cuisines, from French to Scandinavian to Middle Eastern and more.
The hardworking crew at America's Test Kitchen has three new releases this month. The first is 100 Recipes: The Absolute Best Way to Make the True Essentials by America's Test Kitchen. These are the "real keepers" type of recipes, the ones that "inspire us to get into the kitchen." It's one of several books this month that tout having 100 recipes.
Next up is The Best of America's Test Kitchen 2016, the yearly companion book to the Test Kitchen's magazines, books, and television shows.

Finally we have The How Can It Be Gluten Free Cookbook Vol 2. The name pretty much says it all. The book includes recipes for breads, cakes, cookies, tarts and more. All recipes use the Test Kitchen's All-Purpose Gluten-Free Flour Blend.
Everyone Is Italian on Sunday by Rachael Ray: The perky television host invites you into her home to share her family's culinary history and the recipes that have shaped her life and career. Book tour dates.
Cooking Like a Master Chef by Graham Elliot: The first cookbook from the cohost of MasterChef and MasterChef Junior represents Elliot's philosophy that, while there is no right or wrong when it comes to creativity in the kitchen, you will benefit from knowing some basic time-honored methods. Book tour dates.
The Homemade Kitchen by Alana Chernila: The popular blogger's second cookbook follows up The Homemade Pantry, focusing on how to make staples like as chèvre, tofu, kefir, kimchi, preserved lemons, along with recipes and ideas for using them. Book tour dates.
The Chickpea Flour Cookbook by Camilla V. Saulsbury: This book explores the great variety available for chickpea flour, also known as besan or gram flour, widely used in many world cuisines. In addition to being gluten-free, all of the recipes are free of nuts, grains, and soy, and most are also vegan or have a vegan option.
Phoenix Claws and Jade Trees: Essential Techniques of Authentic Chinese Cooking by Kian Lam Kho: This book focuses on technique, outlining the differences among processes like pan-frying, oil steeping, and yin-yang frying. The theory is that if you correctly learn the technique you can apply it to various foods.
Joon: Persian Cooking Made Simple by Najmieh Batmanglij: Najmieh's fans have been making meals from her Food of Life for more than 30 years. For Joon she has simplified many of her favorite dishes and shows how, with the right ingredients and a few basic tools and techniques, authentic Persian food can easily be prepared at home.
V is for Vegetables by Michael Anthony: From the Gramercy Tavern's Executive Chef, this book is arranged in an A to Z format and includes illustrations, techniques, and recipes for salads, sauces, gratins, stews, and veggies with meat and fish, too.
Home Baked by Yvette van Boven: The food stylist and cook follows up her previous works with a tome focused on baking. Complete with her signature illustrations and scenic photographs of Ireland and Paris, Home Baked is a beautiful collection of van Boven's favorite baked goods.
Sarabeth's Good Morning Cookbook by Sarabeth Levine: Legendary New York City baker and restaurateur Sarabeth Levine shares her most beloved breakfast and brunch recipes that she serves to family and friends.
The Pioneer Woman Cooks: Dinnertime by Ree Drummond: The popular blogger and Food Network personality returns with a book filled with easy comfort classics.
Gluten-Free Wish List by Jeanne Sauvage: Many people who have to give up gluten lament the loss of their favorite foods. Sauvage attempts to recreate gluten-free versions of these favorites like pizza crust and bagels.
Fast Food, Good Food by Andrew Weil, MD: The health food author returns wtih a book for those who are convinced they don't have enough time to cook well. Weil wants to reminds us how fast, simple, and satisfying it can be to prepare delicious meals at home.
Mastering Sauces by Susan Volland: A comprehensive book that takes a fresh look at an old topic, Mastering Sauces expands the definition of sauce to include meatless reductions, broths and condiments made with fruits and vegetables.
Baking With the Brass Sisters by Marilynn and Sheila Brass: The sisters, on a mission to bring back old-fashioned American home baking, follow up their first two books with another that pulls from their collection of manuscript cookbooks and handwritten recipes.
Le French Oven by Hillary Davis: The companion to French Comfort Food, this cookbook showcases authentic French recipes that can be created in the cocotte – the French version of a Dutch oven – in all of its shapes, from mini to large.
Farmhouse Rules: Simple, Seasonal Meals for the Whole Family by Nancy Fuller: The host of the #1 in-kitchen show on Food Network delivers a cookbook promising to "fill America's yearnings for authentic comfort food."
Essential Emeril by Emeril Lagasse: It's been a couple of years since Emeril's last book. In Essential Emeril, the iconic chef goes back to basics, presenting recipes that defined his award-winning career. The book also contains anecdotes on the recipes' inspirations (including appearances from many A-list names), making this book the chef's most personal yet.
We close out the US list with a slew of books previously published in the UK:
Macaron by Pierre Hermé: The US finally gets an edition of the book published in the UK in 2011. Hermé's original and inspired flavour combinations–such as cucumber and tangerine, wasabi cream and strawberry, and hazelnut and asparagus–make it clear why his macarons are famous the world over.
Rachel Khoo's Kitchen Notebook by Rachel Khoo: US fans of Rachel Khoo didn't have to wait quite as long as for their edition of the popular UK book, which was published in February. The cookbook, a tie-in to her UK television show, combines recipes, travel notes, and Khoo's own sketches.
Scandinavian Baking by Trine Hahnemann: The US edition of a 2014 UK book, Scandinavian Baking features authentic recipes with a modern twist, shot on location in Scandinavia. Scandinavian crispbreads abound, as do savoury tarts and recipes from the smorrebrod, plus every kind of Danish pastry you could ever wish for, cookies, cakes and more.
The Essence of French Cooking by Michael Roux: This US edition only follows a month behind its UK counterpart. In this very personal book, Michel Roux distills a lifetime's knowledge into a definitive work on French food and cooking. Based around 100 classic recipes that have stood the test of time, for which Michel gives modern interpretations.
Pasta: The Essential New Collection from the Master of Italian Cookery by Antonio Carluccio: The US edition of a book published in UK in 2014, this is a comprehensive tome on pasta, imagined, created and cooked by the master of Italian cookery. It covers making fresh pasta as well as providing recipes for many sauces.
CANADA
Homegrown: Celebrating the Canadian Foods We Grow, Raise and Produce by Mairlyn Smith: Homegrown is a celebration of the food Canadians grow, produce, manufacture and consume. The recipes are sourced from the members of the Ontario Home Economics Association and make use of Canadian ingredients ranging from the Pacific coast to the Maritimes.
The Deerholme Vegetable Cookbook by Bill Jones: Another tome dedicated to vibrant vegetables. Jones, renowned chef and award-winning author of 12 cookbooks, has had a lifetime love affair with garden fare since he was a teenager. These recipes are a love letter to vegetables, borne from his travels and his experiences living the professional growing and cooking lifestyle. See cooking classes at Deerholme.
True to Your Roots by Carla Kelly: Sticking with vegetables, we go underground to root vegetables (along with tubers and rhizomes), which finally get the love and attention they deserve in this inventive and far-reaching vegan cookbook.
The Butcher, the Baker, the Wine and Cheese Maker by the Sea by Jennifer Schell: A celebration of British Columbia's coastal cuisine with recipes and forklore from the region's farmers, artisans, fishers, foragers, and chefs. In addition to delicious recipes, this collection features the stories of more than 150 of the area's experts.
Butter Celebrates! by Rosie Daykin: From the acclaimed Butter bakery in Vancouver, this book provides celebratory recipes for sweets that home bakers will return to year after year until they become family traditions.
Montreal Cooks: A Tasting Menu from the City's Leading Chefs by Jonathan Cheung and Tays Spencer: This cookbook presents recipes from 40 of Montreal's most talented and unique chefs. Written with the home cook in mind, Montreal Cooks is designed to make recipes from fan-favorite restaurants achievable for everyone.
Three Times a Day by Marilou: Quebec pop sensation Marilou always loved food and cooking, but suffered from anorexia for six years in her late teens and early twenties. Now twenty-four, Marilou created a blog as a form of healing so she could start testing recipes, and designing table settings. The aim was to transform the relationship people have with food for the better.
Canadian Living: The Ultimate Cookbook: To celebrate 40 years of culinary creativity and recipe precision, the Canadian Living Test Kitchen have assembled a large
collection of their must-have, must-cook recipes. In addition to recipes from appetizers to desserts, you'll find a helpful resource section, with lists of substitutions, temperature and doneness charts, along with cooking and shopping tips.
A Field Guide to Canadian Cocktails by Scott McCallum and Victoria Walsh: Authors Walsh and McCallum have dedicated countless hours and covered thousands of miles foraging, travelling and experimenting, in order to instill their own brand of northern spirit into the existing cocktail canon. They add to the proud tradition of ensuring Canadian drinks, history and lore, in all their glory, are served at the global bar. The book features recipes inspired by a bounty of homegrown ingredients and spirits that will appeal to armchair bartenders and professionals alike.

UK
Simply Nigella by Nigella Lawson: Feel good food for the different ways we eat, from quick and calm work-day suppers, to catering for a crowd, to cosy nights on the sofa. Simply Nigella will be published in USA and Canada on November 3. Book tour dates.
River Cottage: Love Your Leftovers by Hugh Fearnley-Whittingstall: Don't feel guilty about food that's languishing in your fridge or pantry: the bendy carrots, the wilting salad, the foil-wrapped roast chicken, the rock-like bread…this new pocket bible offers nifty and creative ideas to transform leftovers into irresistible meals.
Soup for Syria edited by Barbara Abdeni Massaad: This is the UK version of the book we wrote about last month aimed to help food relief efforts for Syrian refugees. Profits from the book will be donated to the refugee agency UNHCR. The book features recipes from the world's most famous chefs, including Mark Bittman, Yotam Ottolenghi, Claudia Roden, and Paula Wolfert.
Sweet by James Martin: Martin's Desserts established this much-loved TV chef as the authority on puddings, patisserie and home-baking. His latest collection ranges from simple classics to sophisticated showstoppers and will delight anyone with a passion for the sweet things in life.
Rustic by Jorge Fernandez and Rick Wells: Proving that delicious food doesn't have to take hours to be a success, Rustic offers honest and wholesome recipes that are the perfect antidote to fast-paced urban living. Featuring stunning photographs of London's Soho throughout, the book captures the essence of an exciting food scene.
The Vibrant Table by Anya Kossoff: Anya's family-focused food blog, Golubka (Russian for "dove"), has a well-earned reputation for unique recipes that please the palate and senses. Her recipes are healthy by most standards–always vegetarian, mostly vegan, gluten-free, and often raw. This is the UK release of a book published in the US in 2014.
Baklava to Tarte Tatin: A World Tour in 110 Dessert Recipes by Bernard Laurance: This English-language book is actually published in France. French food blogging sensation Bernard Laurance takes the reader on an international culinary tour of authentic world desserts. The dishes are organized by geographic region, and Bernard introduces each dessert, offering context about its origins or a personal anecdote relaying his quest for the quintessential recipe.
Primrose Bakery Everyday by Martha Swift: Primrose Bakery latest book has an 'everyday' theme. This is a book for anyone who wants fun, great-tasting recipes that genuinely work. Everyday is full of the quirky playfulness that is the hallmark of Primrose Bakery.
The Claire MacDonald Game Cookbook by Claire MacDonald: Once the prerogative of country dwellers, game is now found in butchers' shops and supermarkets all over the country. This book aims to dispel any apprehension about cooking with game, featuring a wide and varied selection of recipes for pheasant, wild duck, partridge and snipe, woodcock, venison, hare, wild boar and wild salmon. The Game Cookbook also provides tips on what combines well with different types of game.
Inspired by… by Stephen Terry: Multi-award-winning chef Stephen Terry is one of the founding fathers of modern British gastronomy and his debut book has been long-awaited by diners. The star of BBC TV's Great British Menu charts his rise from talented up-and-comer, working under Marco Pierre White, in an extensive autobiography. Inspired By… also features contributions from the UK's finest chefs, who describe what inspires them, providing flavour combinations and step-by-step techniques.
The Great British Bake Off: Another Slice: What's a cookbook roundup without a GBBO offering? This book provides a show-stopping selection of your favourite Bake Off moments, giving fans a glimpse behind the scenes along with the recipes.
Winter Cabin Cooking by Lizzie Kamenetzky: Winter is the perfect time to take a break from the pace of modern life, slow down and savour a nourishing home-cooked meal. For this book, Lizzie Kamenetzky has taken inspiration from snow-covered mountains and Alpine chalets, with all her favourite food from ski towns and winter holidays. Many of the recipes are hands-off, combining a bit of prep with a long slow simmer.
Food for Thought: Changing the World One Bite at a Time by Vanessa Kimbell: Inspired by ethically sourced, sustainable ingredients available from your local suppliers, Vanessa shows how what you cook can make a real difference to those who produce it and to the environment with simple, easy recipes.
Sex & Drugs & Sausage Rolls by Graham Garrett: This book couldn't be more different than the previous. The debut cookbook from Graham Garrett at The West House Restaurant, written with food writer Cat Black, features creative recipes and the extraordinary story of Graham's transformation from a stadium-filling rock star in the eighties to a groundbreaking Michelin-starred chef.
Pimp My Rice by Nisha Katona: From sex and drugs to pimping, oh my! Katona, who runs a fantastically popular Curry Clinic on Twitter, is a rice evangelist on a mission to demystify rice and to show the enormous breadth of rice recipes that can be created simply and quickly. As a second generation Indian, she shows how to marry different cuisines together to create vibrant, exciting dishes.
The Cook and the Baker by Cherie Bevan and Tass Tauroa: The UK edition of a September Australian publication, The Cook and Baker is a collection of tried-and-tested recipes from the bakery that the best chefs turn to for a sugar hit or perfect pie. The recipes are a bold take on traditional baked goods.
Falafel for Breakfast by Michael Rantissi and Kristy Frawley: Another UK edition of last month's Australian version, Falafel's Israeli-born chef Michael Rantissi puts ingredients first and foremost, opening the door to a greater understanding and appreciation of the Middle East's hidden treasures.
My Family Table by Eleanor Ozich: Eleanor's hugely successful blog Petite Kitchen is all about natural food – where it comes from, how it's grown, it's health benefits and how to make it taste amazing. In her second book, she presents simple, nourishing and wholesome recipes featuing natural and unprocessed ingredients that can be loved and prepared by the whole family. My Family Table is also out in Australia this month.
The Italian Cooking School: This is a collection of books from The Silver Spoon Kitchen (and as such eligible for Phaidon's 35% discount for EYB Members). First up is Pasta, where readers learn to make basic pasta and then develop their cooking repertoire with more challenging techniques as they advance through the book. Next is Pizza, which features not only pizza but also focaccia and calzone, again guiding cooks from basic to more complicated recipes. We end, fittingly, with Desserts. From cookies and cakes you advance to pies and tarts, with recipes for classics like Amaretti Biscuits, Strawberry Custard Tart, and Chocolate and Hazelnut Cake.
IRELAND
Cooking at the Ballymore Inn by Georgina O'Sullivan: For the thousands of people who pack out The Ballymore Inn in County Kildare every week, arriving with expectant appetites to enjoy the food in the restaurant and in the back bar, O'Sullivan is a culinary hero. This book celebrates 20 years of Ballymore Inn and contains recipes showcasing O'Sullivan's focused and clean cooking style.
Home: Recipes From Ireland by Trish Deseine: Another English language book published in France, in which Deseine re-visits classic recipes from her childhood which have shaped her tastes and her cookery, and invents many others, dismissing cliches about Irish food as she explores traditional Irish ingredients like oats, kale, cream, apples, bacon and bread.
Sea Gastronomy: Fish & Shellfish of the North Atlantic by Michael O'Meara: O'Meara is the chef/proprietor of Galway's renowned seafood restaurant, Oscars Seafood Bistro. Sea Gastronomy explores the diversity of seafood in the North West Atlantic, with recipes, cooking tips and scientific knowledge and facts behind each variety. The book also features many elegant yet simple recipes for what used to be called 'by-catch' – fish netted from the depths and then discarded. Book event dates.
Festa: A Year of Italian Celebrations by Eileen Dunne Crescenzi: In Festa the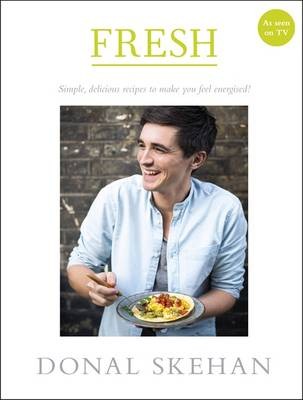 renowned restaurateur shares the recipes and memories that defined her many happy years living la dolce vita. For every occasion there is a recipe, and for every recipe there is a story about the trials and triumphs of an Irish food lover's life in Italy.
Fresh! By Donal Skehan: Skehan is known for easy, fresh, home-cooked food, and his new TV series will focus on a subject close to his heart – eating for energy. The recipes in Donal's cookbook are all about maximising your health through eating delicious and nutrient-packed food rather than any sort of deprivation.
AUSTRALIA & NEW ZEALAND
Luke Nguyen's France: A Gastronomic Adventure by Luke Nguyen: Luke steps out of the familiar landscape of Vietnam to France to discover the flavours, ingredients and dishes that have influenced Vietnamese cooking. From Paris to Marseilles, Luke meets the chefs and locals to hear their stories and passion for good food, and sample their regional specialities. Luke learns the secrets behind much-loved French dishes, and discovers how their flavours have influenced his home country. Luke also shares his own interpretations of French-Vietnamese fusion food: from Vietnamese steak tartare and salt and pepper squid, to crispy skin chicken with master stock and pan-fried baby sole.
Greek by George Calombaris: George loves to cook the food he grew up with and loves to share his enthusiasm for all things Greek, adding modern tweaks to stamp his adventurous culinary spirit on traditional recipes. He has created dishes that you know and love and given them a modern twist, such as baklava cocktail, taramosalata popcorn, ouzo-soaked cucumbers, slow-cooked lamb and miso eggplant souvlaki and prawn saganaki tortellini with tomato and mustard seed vinaigrette.
A Personal Guide to India and Bhutan by Christine Manfield: Christine has spent years exploring India, the Himalayas and Bhutan India, and now we can benefit from this wonderful experience to find the really special places to eat and stay. Or just live vicariously through Christine! This isn't a recipe book – you'll need to buy Tasting India for her recipes, but for anyone travelling to India and interested in food (all EYB members!) this is would be a wonderful companion to ensure you have a great eating (and shopping) experience.
Spice Temple by Neil Perry: Neil shares his knowledge and love of Chinese cuisine in his latest book with 130 recipes from his Spice Temple restaurants. For anyone who loves to cook and eat modern Asian food, this is a wonderful collection of recipes from the provinces of Sichuan, Yunnan, Hunan, Jiangxi, Guangxi and Xingjiang. The book includes information on Asian ingredients and specialist techniques.
Cornersmith: Recipes from the Cafe and Picklery by Alex Elliott-Howery and James Grant: The Cornersmith café customers can swap home-grown produce for a coffee or a jar of pickles – which says a lot about the owners Alex and James, who make everything from scratch using local, in-season produce. This book brings together favourite dishes from the award-winning cafe, covering everything from breakfasts, lunches and dinners to desserts, as well as recipes for their most popular pickles, jams, compotes, chutneys, relishes and fermented foods.
Homemade Takeaway by Julie Goodwin: Homemade Takeaway doesn't give you a night off cooking, but it does claim to offer you meals that are cheaper, healthier, and even faster than waiting for your order! Julie will teach you how to make 150 recipes using seasonal produce – including Thai and Indian favourites and pies from the bakery.
The World's Best Pizza by Johnny Di Franceso: As summer approaches – I could do with a few tips on improving my pizza making skills. The 2014's Pizza World Champion, Johnny Di Francesco is sharing his recipes and knowledge with step by step instructions for 45 Pizzas and Calzone recipes, both classic and creative and including dessert pizzas.
A Free Range Life: Endless Summer by Annabel Langbein: This wonderful collection of recipes and ideas for meal planning, shopping, gardening and barbecues, even a modern turkey menu, is all you need this summer – whether you're staying at home or off to the beach. Includes portable jar salads, super-power snacks, one-pot beach meals and a cake that transforms into 10 delicious variations with bonus cooking tips and tricks on Annabel's website at annabel-langbein.com.
Homemade Happiness by Chelsea Winter: Popular Masterchef winner, Chelsea shares the recipes she loves to cook for family and friends – from speedy weeknight dinners to special celebrations. The book features simple recipes that don't use hard-to-find ingredients or complicated cooking techniques.
My Family Table: Simple Wholefood Recipes from Petite Kitchen by Eleanor Ozich: Eleanor's hugely successful blog Petite Kitchen is all about natural food – where it comes from, how it's grown, it's health benefits and how to make it taste amazing. In her second book, Eleanor presents loads of simple, nourishing and wholesome recipes that can be enjoyed by the whole family. This book is also out in the UK this month.
Bluebells Cakery: Sweet & Savoury by Karla Goodwin and Tam West: Her café is a huge success, as was her first cookbook; now Karla shares her favourite recipes for tasty brunch dishes, snacks, finger foods and lunches. Including show-stopping cakes, sweets, slices and biscuits, decorated with flair and full of flavour, from a Lemon and Orange Macaron Cake to Cherry and Raspberry Slice and Edible Flower Lollipops.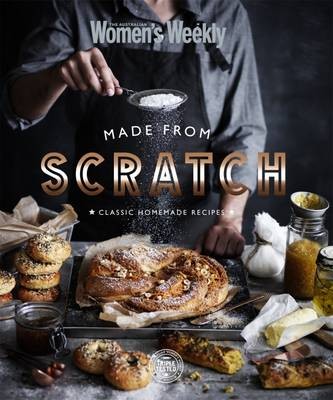 The latest from Australian Women's Weekly:
The Retro Cookbook: Then and Now
Made from Scratch: Classic Homemade Recipes
The Christmas Table