May 2015 cookbook roundup
May 26, 2015 by Jane
Every month Jane and Fiona wade through hundreds of cookbooks, selecting and reviewing all the best new releases of U.S., Canada, U.K., Ireland, Australia, and New Zealand cookbooks. The only thing left for you to do is to add them to your Bookshelf.

US
The Broad Fork by Hugh Acheson: In The Broad Fork, James Beard Award winner Acheson narrates the four seasons of produce, inspired by the most-asked question at the market: "What the hell do I do with kohlrabi?" And so here are 50 ingredients–from kohlrabi to carrots, beets to Brussels sprouts–demystified or reintroduced through 200 recipes. Visit our World Calendar of Cookbook Events for details on Hugh's book tour.
Feeding the Fire: Recipes and Strategies for Better Barbecue and Grilling by Joe Carroll and Nick Fauchald: Joe Carroll makes stellar barbecue in Brooklyn, New York, at his acclaimed restaurants Fette Sau and St. Anselm. In this book, Carroll proves that you don't fancy equipment to make succulent barbecue and grilled meats.

The New Mexico Farm Table Cookbook by Sharon Niederman: Long before eating "farm to table" was de rigeur, New Mexico's small farms and ranches provided its families and communities with homegrown vegetables, fruit, milk, meat, and eggs. The book provides an insider's knowledge of the state's unique traditional cuisine, a mixture of Indian, Spanish, and Mexican flavors. In addition to recipes, the book includes profiles of New Mexico's best food producers and purveyors. See Sharon's appearances in our Events Calendar.
Mr Wilkinson's Well-Dressed Salads by Matt Wilkinson: Following the success of the IACP-winning Mr. Wilkinson's Vegetables, chef Matt Wilkinson returns with delicious recipes for salads and dressings. Far more than a collection of green salads, this cookbook pairs produce with grains, beans, cheeses, fish, and meat. (This is the US release of an Australian book.)
Yogurt by Janet Fletcher: Drawing inspiration from the culinary traditions of Greece, Turkey, Lebanon, Syria, Iran, India, and beyond, this useful handbook includes a guide to purchasing yogurt, advice on choosing a yogurt maker, and easy methods for making yogurt at home. Janet's book tour dates are listed here.
The Boozy Blender by Mark Scarbrough and Bruce Weinstein: The duo, known for their appliance cookbooks and the best-selling ULTIMATE cookbook series, return with a tome dedicated to using the blender to concoct adult beverages. This whimsical salute to flavor and ice reinvents 60 classic cocktails using fresh ingredients and tailored to suit any occasion and fit every season.
Fried Chicken by Rebecca Lang: Southern chef Rebecca Lang collects dozens of crowd-pleasing variations on the classic fried chicken platform. In addition to perennial favorites like Buttermilk-Soaked, Bacon-Fried Chicken Smothered in Gravy and Tennessee Hot Chicken, she expands to gluten-free and internationally-inspired recipes. Rebecca's book tour dates are in our Events Calendar.
Linda Lomelino's Ice Cream by Linda Lomelino: Hot on the heels of last year's cake cookbook, the stylish blogger at the helm of Call Me Cupcake! follows up with cake's perennial companion, ice cream. In addition to recipes for smooth ice cream, the book offers cool sorbets, chunky-nutty-chocolaty frozen treats, ice-cream cakes, floats, sauces, meringues, and crumbles to top it all off.
The Negroni by Gary Regan: In The Negroni, cocktail guru Gary Regan – author of several highly-regarded cocktail tomes – delves into the three-ingredient cocktail's fascinating history (its origin story is still debated, with battling Italian noblemen laying claim) while providing modern updates.
The World on a Plate by Mina Holland: Released as The Edible Atlas in the UK to rave reviews, the award-winning cookbook was renamed for its American debut. The World on a Plate combines recipes, history, and culinary wisdom in a global quest to discover what people eat and why in 39 different cultures. Bubbling over with anecdotes, trivia, and lore – from the role of a priest in the genesis of Camembert to the Mayan origins of the word chocolate – The World on a Plate serves up a delicious mélange to be savored by food lovers and armchair travelers alike.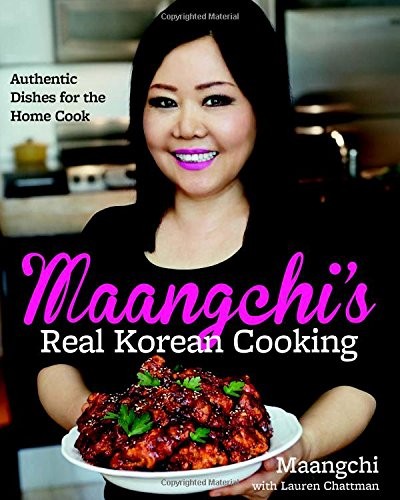 Maangchi's Real Korean Cooking by Maangchi: A complete course on Korean cuisine for the home cook by the YouTube star whose fans compare her to Julia Child. An Internet sensation, Maangchi has won the admiration of home cooks and chefs alike with her trademark combination of good technique and good cheer as she demonstrates the vast and delicious cuisine of Korea.

This month's non-cookbook food books are heavily tilted to large animals and a focus on ethical eating:
Pig Tales: An Omnivore's Quest for Sustainable Meat by Barry Estabrook: An investigation of the commercial pork industry that draws on the author's personal porcine-raising experience that offers alternatives to the way pigs are raised and consumed in America.
A Bone to Pick by Mark Bittman: Since his New York Times op-ed column (the only one dedicated to food matters) debuted in 2011, Mark Bittman has emerged as one of our most impassioned and opinionated observers of the food landscape. Here his most memorable and thought-provoking columns are compiled into a single volume for the first time.
Year of the Cow by Jared Stone: The theme of large farm animals continues this month with a nose-to-tail bovine experience. Amateur chef Stone purchased an entire grass-fed steer and resolved to make the best use of it that he possibly could. Year of the Cow follows the trials and tribulations of a home cook as he and his family try to form a more meaningful relationship with their food and the environment.
Gubbeen: The Story of a Working Farm and Its Foods by Giana Ferguson: Following the theme but moving across the pond, The US release of a previously published UK book, Gubbeen provides insight into the running of a farm that follows traditional ways of growing food and rearing animals. The Ferguson family produces more than 50 different types of foods off the West Cork Gulf Stream, Ireland, where their farm is located. The book chronicles the family's sixth generation of toil and labor on the scenic farm.
UK
The Oxford Companion to Sugar and Sweets by Darra Goldstein: This comprehensive tome explores questions about humans' collective sweet tooth from both scientific cultural perspectives utilising the collective knowledge of 265 expert contributors. More than just a compendium of pastries, candies, ices, preserves, and confections, this reference work reveals how the human proclivity for sweet has brought richness to our language, our art, and, of course, our gastronomy.
Home Bake by Eric Lanlard: Master patissier and television personality Lanlard turns to home baking in this new paperback edition of his latest cookbook, focusing on simple desserts like genoise, sticky toffee pudding, cheesecake, and Tarte Tatin.
Spring by Skye Gyngell: Published to celebrate Skye Gyngell's groundbreaking London restaurant, Spring presents a collection of original recipes from the restaurant's menu. More than a collection of recipes, the book also provides a fascinating insight into the creation of the restaurant itself, from Skye's first visit to the space at Somerset House, through the design and development of the site to the opening of the restaurant.
Gennaro's Italian Family Favourites by Gennaro Contaldo: Renowned chef Gennaro shows that good family cooking doesn't have to be complicated with this collection of everyday dishes and special occasion meals. The book contains plenty of recipes for kids, including pizzas and simple pasta dishes, and lots of ideas for getting the children involved with the cooking.
Eat the Week: Recipes for Every Meal, Every Day by Anna Barnett: Some days you feel more like cooking than others, and Anna Barnett has designed a cookbook to follow those moods. Some days it's all about simple dishes, healthy-eating resolutions, minimum fuss and robust flavours; when you have more time to shop and cook, things get a bit more extravagant.
The Zumbo Files by Adriano Zumbo: For his third cookbook, top Sydney pastry chef Adriano Zumbo recreates some of the classic desserts we all grew up drooling over, adding his unique spin to each recipe. Previously released in Australia, the book makes its UK debut. You can learn more about the book in our author Q&A and enter our contest for a chance to win a copy.
The Skinnytaste Cookbook by Gina Homolka: The popular blogger lives by the principle that low calorie food doesn't have to be light on flavor. In this UK version of last fall's US book, she provides flavour-full, "skinnified" versions of family favourites and hearty yet healthy dishes. The Skinnytaste blog is indexed on EYB; add the blog to your Bookshelf to instantly access over 1,000 recipes.
Indian Kitchen by Maunika Gowardhan: Another book based on cooking moods, Indian Kitchen features dishes and menus to reflect the four main moods we cook in: hungry, lazy, indulgent and celebratory. Here you'll find spice blends, family recipes and techniques for modern Indian cooking.
Prestigious London cooking institution Leith's School of Food and Wine has just released four new volumes in its popular How To series:
How to Cook Pastry: This volume takes you from simple shortcrust, hot watercrust and suet pastry, through enriched French pastries and choux, to puff and streusel.
How to Cook Desserts: This book provides instruction on a host of desserts from puddings, crepes, creme brulees, jellies, souffles and meringues, to effortless ice creams and sorbets.
How to Cook Cakes: You guessed it, this volume is all about cakes: creamed cakes and whisked sponges, teabreads and traybakes, cupcakes, muffins and scones. In addition, there is a selection of gorgeous cookies and biscuits.
How to Cook Bread: Turning to more savoury baking applications, How to Cook Bread takes the reader through every aspect of preparation and cooking. Skills are comprehensively explained and illustrated with step-by-step photographs throughout to allow the reader to identify the correct texture at every stage of the recipe. Classic loaves, sourdoughs, enriched breads, sweet yeast breads and layered doughs are all featured.
Vanilla Black by Andrew Dargue: From the restaurant of the same name, chef Dargue and his partner Donna Conroy put their restaurant's philosophy on paper: to reinvent expectations about what it means to eat vegetarian food. From the start, Andrew and Donna's rule was, no pasta bake and no vegetable curry. Instead, expect to find things like Jerusalem artichoke, white wine and thyme pie and Savoy cabbage pudding.
Peru the Cookbook by Gaston Acurio: The definitive Peruvian cookbook, featuring 500 traditional home cooking recipes from the country's most acclaimed and popular chef. Acurio guides cooks through the full range of Peru's vibrant cuisine from popular classics like quinoa, ceviche, and lomo saltado to lesser known dishes like amaranth and aji amarillo. Peru is also being released in the USA this month.
Teatime in Paris by Jill Colonna: Colonna shows you the easiest way to make many French pâtisserie classics, while keeping it authentic, full of flavour and creative. Not only has Jill cracked how the French create such tantalising cakes but she claims to have discovered how they can eat these beautiful pastries and still stay slim! Watch for a promotion on this book in the near future. Teatime in Paris will be issued in the US this month as well.
At My Table: Vegetarian Feasts for Family and Friends by Mary McCartney: Food plays a huge part in celebrating special occasions with friends and family. Traditionally, many of these occasions call for meat – whether it's roast beef for Sunday Lunch, or burgers at a BBQ – but Mary wants to show us that vegetarian cooking can be just as celebratory and special.
Two classic cookery books are being re-released this month. First up is The Best of Jane Grigson: The Enjoyment of Food. After being been out of print for more than a decade, the ultimate compendium of Jane Grigson's recipes is being reissued by Grub Street to coincide with the anniversary of 25 years since Grigson's untimely death.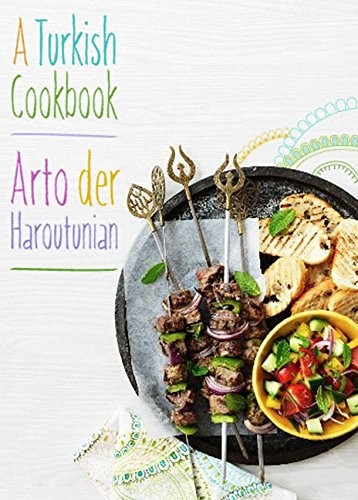 A Turkish Cookbook by Arto der Haroutunian is also being republished by Grub Street. Each of Arto der Haroutunian's twelve cookbooks written in the 1980s became classics; it was his belief that the rich culinary tradition of the Middle East is the main source of many of our Western cuisines and his books were intended as an introduction to that tradition. A Turkish Cookbook is regarded as the seminal work on the subject but has been out of print for over twenty five years.
Australia & New Zealand
A Free Range Life: Winter Goodness by Annabel Langbein: Following her successful summer annual, Annabel now brings us 150 new recipes with weekly meal plans, tips and inspiration for great winter food. You can enter our contest for a chance to win a copy of A Free Range Life: Winter Goodness.
Easy Weeknight Meals Simple, Healthy, Delicious Recipes from My Food Bag and Nadia Lim by Nadia Lim: Nadia's background as a dietitian and her simple and nutritious approach to food has been the inspiration and success of My Food Bag in New Zealand and now in Australia. The recipes, organised by season, have been rated as favourites by their customers.

Bake Me Home: Treats to Show You Care by Alice Arndell: From the work shout and the school morning tea, to welcoming new neighbours or impressing family and friends with a delicious afternoon tea, baking is a great way to show you care. Alice Arndell shares her expertise and passion in this new collection of creative ideas and recipes to suit every home baker and every occasion.
Primal Kitchen by Dueweke Sarah: Sarah's Wellington restaurant delivers primal food, which offers the benefits of a paleo diet with fewer restrictions. Full-fat dairy products, including butter, cheese, yoghurt and milk, are allowed in limited quantities, as is alcohol and some starchy fruit and vegetables. Sarah's innovative recipes show how you can enjoy home baking and treat foods and still find weight maintenance easy.
The New Nordic: Recipes from a Scandinavian Kitchen by Simon Bajada: With the current interest is Scandinavian cooking, this new book helps demystify classic techniques such as pickling and smoking. The chapters are divided into different food groups including ingredients found 'from the forest', 'from the sea', 'from the land', and 'in the larder'.
The Salad Kitchen by Courtney Roulston: Known on MasterChef as the 'salad making goddess' Courtney shows how easy it is to recreate some of her most sought-after salad recipes, using fresh ingredients. You'll find over 100 recipes using combinations of soft gooey eggs, roasted nuts, middle-eastern spices, thick yoghurts, sweet fruits and zesty dressings
Raw: 150 Dairy- and Gluten-Free Vegan Recipes by Omid Jaffari: If you're interested in exploring raw food, this book contains everything you need to get started. Raw includes sections on essential kitchen tools and pantry items; step-by-step instructions on making up a range of key basics that can be prepared in advance ('dairy' basics, salts, sauces, sprinkles, infused sweeteners); and recipes for every meal course including dessert.
Superlegumes by Chrissy Freer: If you ever thought beans and legumes were boring, this book will dispel that notion with its delicious yet healthful recipes. The book includes vegetarian, meat- and fish-based recipes that rely on legumes and pulses – cannellini beans, broad beans, lima beans, kidney beans, adzuki beans, borlotti beans, lentils, chickpeas.
The Chef Gets Healthy by Tobie Puttock: When his partner asked for a more healthy diet, Toby wasn't going to compromise flavour. After perfecting his Italian dishes over 20 years he has come up with just as satisfying but healthy alternatives using fresh produce and fuss-free cooking techniques. The result is healthy, low-fat, low-carb, gluten-free recipes that easily hold their own in the flavour stakes.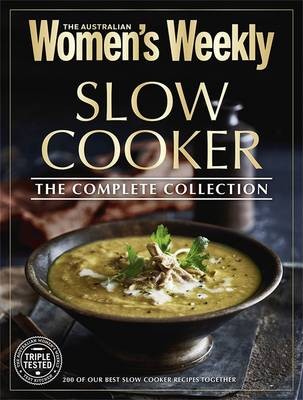 The latest from Australian Women's Weekly