This week: Dumplings, dumplings, and more dumplings recipes, baking previews and online classes, EYBD previews and giveaways
January 22, 2021 by Jenny
My mother's version of a dumpling was a canned biscuit tossed on top of a simmering stew. Those same canned biscuits would be fried in hot oil, sprinkled with cinnamon and sugar and called homemade donuts for a treat on Friday night. And, of course, those versatile machine pressed rounds of dough were turned out as biscuits to go with sausage gravy on weekend mornings. Canned biscuits were popular in our home.
Dumplings are cooked balls of dough based on flour, potatoes or bread. Every culture has some form of a dumpling as a part of their cuisine. A few examples include Japanese gyoza (online), Polish pierogi (online), Chinese pot stickers (online), Eastern Europe's kreplach (online), Jewish knish (online), and in England dumplings are a small ball of suet dough poached in water, milk, stock, soup or stew. Dumplings have been around for a while and started life just a mixture of flour and water.
The dumpling may include meat, fish, vegetables, or even a sweet filling or there may be other ingredients mixed into the dough. Methods of cooking include boiling, steaming, simmering, frying, or baking.
Let us not forget dumplings that take on desserts. The apple dumpling (online) is one of my quintessential autumn/fall treats with its cinnamon and caramelly goodness. While I am not a fan of apple pie, these individual desserts are not safe around me. Dessert dumplings (online) are unexpected and crowd pleasing. One of my fast and easy go-to desserts is made by placing a tablespoon of chocolate hazelnut spread into the middle of store-bought wonton wrapper (lightly dampen the edges of the wrapper to seal) and then fry them until golden brown. Sprinkle with a dusting of powdered sugar to serve.
No matter which type or ethnicity of dumplings you tackle there are enough varieties and recipes to keep everyone in your circle happy.
And while not technically a dumpling, my favorite noodle to add to a soup or stew is the noodle recipe in Irvin Lin's Turkey and noodles (my favorite turkey leftover recipe). Yes, it reads noodle but these tender strips plump up and have a dumpling-like texture and are so simple to make.
The EYB Library, at this time, contains 62 books with dumpling in the title. A few of my favorites are: Dumplings All Day Wong, The Dumpling Galaxy Cookbook, Hey There, Dumpling!, The Dumpling: A Seasonal Guide and be sure to check out our promotions for the following books: Dumplings = Love and Dumpling Cooking Set Giveaway and Dumplings and Noodles – Cookbook Giveaway.
Please leave a comment with any of your favorite dumpling recipes.
The last week on the blog
Since our last roundup, Darcie has written these articles:
Darcie's weekly food news antipasto is shared every Sunday #foodnews brings up these information-packed posts from the most current to the first one.
This week I have posted:
Be sure to check out the February Great Big Cookbook Club Summary which contains a few new groups. As always I continue to update our Kindle deals post so check the blog for new sales.
Jenny and the EYB Team
Featured Recently Indexed Titles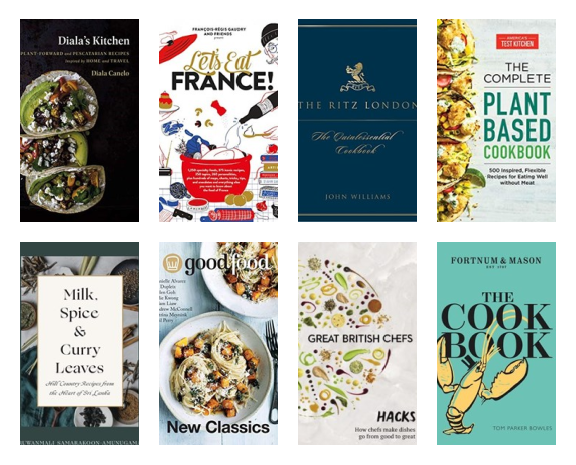 ---
Member Photo of the Week
Apple with cinnamon streusel [custard crumble pies] from Beatrix Bakes by Natalie Paull submitted by member Astrid5555
Have you uploaded any of your own photos yet? Learn more! Please remember to update your profile with your Instagram name if you would like to be tagged in any photos that we share!
---
Featured Online Recipe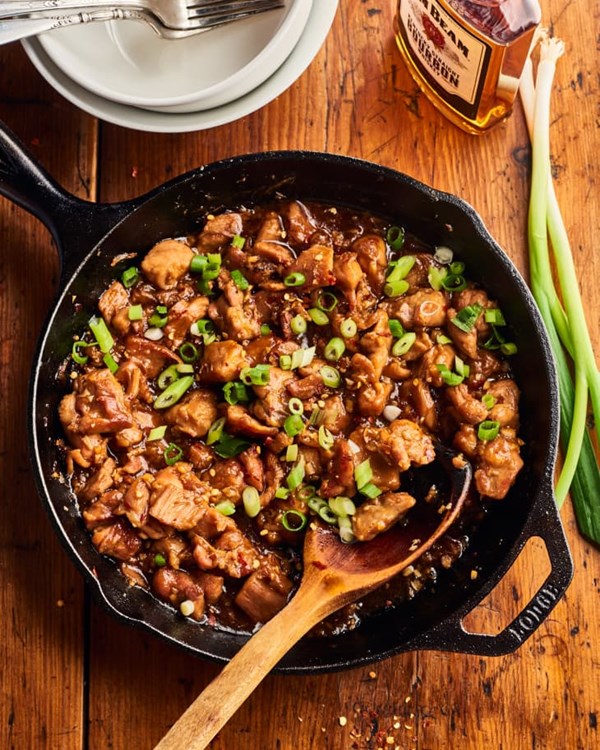 How to make bourbon chicken from The Kitchn
---
EYBDigital Previews
Recently we uploaded our 870th EYBDigital Preview where a selection of full sample pages is available for the following cookbooks.
Learn more about EYBDigital Previews.
Note: To learn why you cannot add all EYBDigital Preview recipes to your Bookshelf, please read this Help page.

---
Cookbook Giveaways
Click on the Bold Blue Link Below to Enter
Enter our US giveaway to win one of three copies of Dumplings = Love: 40 Innovative Recipes from Around the World by Liz Crain with one US winner receiving a Chinese Soup Dumpling Kit from Cooking Gift Set Co.! – Expires January 29th, 2021
Enter our US/CA/UK giveaway to win one of three copies of Fermentation: How To Make Your Own Sauerkraut, Kimchi, Brine Pickles, Kefir, Kombucha, Vegan Dairy, And More by Åsa Simonsson with one US winner receiving a fermentation crock from Humble House. – Expires January 30th, 2021
*Publishers thank us for our continued patience while awaiting the arrival of prizes as warehouses are not operating at full capacity yet and it appears things will only get slower as the winter season takes hold. The cookbook giveaway roundup shares all current giveaways.