This week: 2021 cookbooks, recipes, giveaways, previews and more
January 15, 2021 by Jenny
2021 is looking like another stellar year for cookbook lovers. This year we have books coming from Julia Turshen, Dorie Greenspan, Eric Ripert, Rose Levy Beranbaum, Zoë François, Pepper Teigen (Chrissy's mom), Carla Lalli Music, Joshua McFadden, Giada De Laurentis, Sybil Kapoor, Rosie Birkett, Mary Berg, Emma Galloway, Ross Joseph Dobson, Tom Parker Bowles, Michael Smith, Chetna Makan, Bobby Flay, Heidi Swanson, Anna Jones, Abigail Johnson Dodge, Pippa and Michael James and many more! My 2021 Preview post shares the releases by month!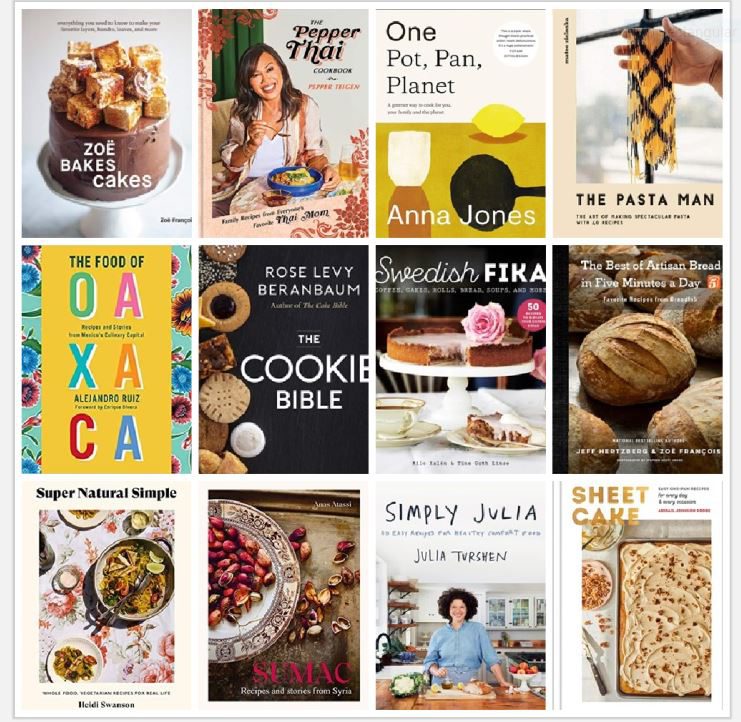 There are titles in the works for Ruby Tandoh (title: Cook As You Are), Cathy Barrow (a bagel book), Amy Thielen (a book focusing on menus and entertaining) and others. As soon as we have all the details, I will add those to the preview post which I update almost every week.
2021 is the year of plant-based cookbooks, international cuisines and baking – bread and desserts! The caliber of last year's baking books will be hard to beat but with titles coming from Dorie, Zoë, Rose and Michael and Pippa James – it will be a tight race.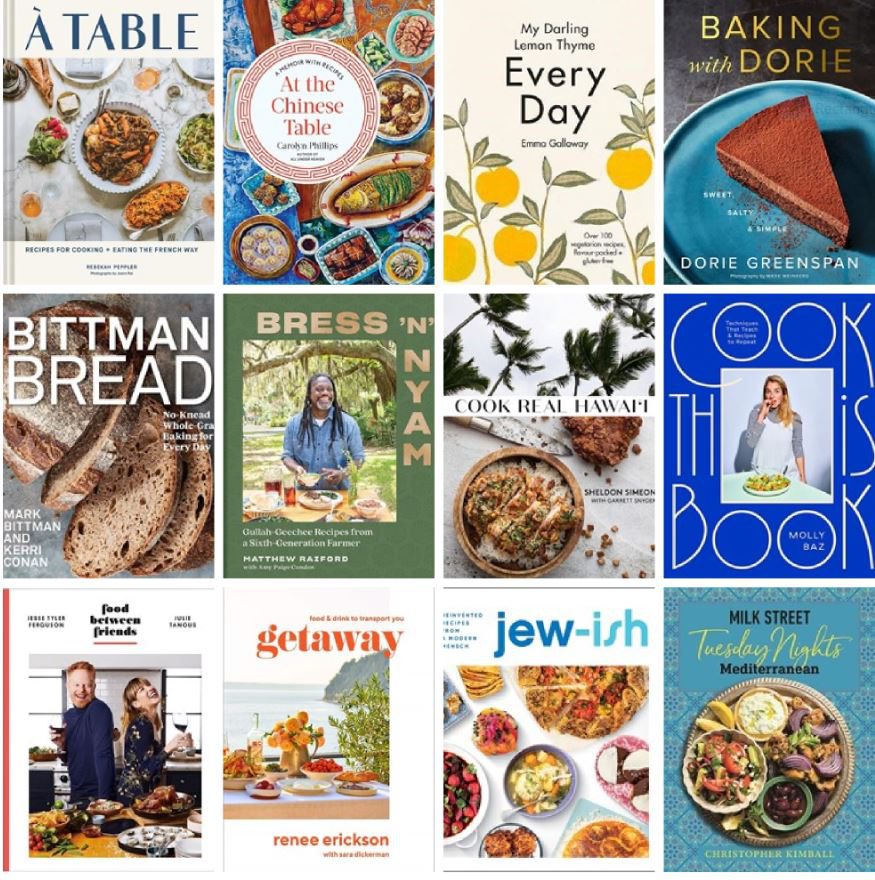 Which books are you most excited about? Just looking at 2021's preview gives me cookbook anxiety. What is that? It is equal parts excitement, dread and jittery nerves. I want them all but I don't know where I am going to put them and I worry that my husband's head will explode as they begin to arrive. As Scarlett O'Hara famously said in Gone with the Wind, "I won't think about that today – I'll think about that tomorrow."
The last week on the blog
Since our last roundup, Darcie has written these articles:
Darcie's weekly food news antipasto is shared every Sunday #foodnews brings up these information-packed posts from the most current to the first one.
This week I have posted giveaways for
I also shared the February Great Big Cookbook Club Summary which contains a few new groups. As always I continue to update our Kindle deals post so check the blog for new sales.
Jenny and the EYB Team
Member Photo of the Week
Pork souvlaki with light salsa verde from The Hairy Dieters, Book 3: Good Eating by Dave Myers, Si King and Hairy Bikers submitted by member Ro_
Have you uploaded any of your own photos yet? Learn more! Please remember to update your profile with your Instagram name if you would like to be tagged in any photos that we share!
---
Featured Online Recipe
How to make double-decker decorated cookies from Bake at 350 by Bridget Edwards
---
EYBDigital Previews
Recently we uploaded our 869th EYBDigital Preview where a selection of full sample pages is available for the following cookbooks.
Learn more about EYBDigital Previews.
Note: To learn why you cannot add all EYBDigital Preview recipes to your Bookshelf, please read this Help page.

---
Cookbook Giveaways
Click on the Bold Blue Link Below to Enter
Enter our US/UK/NZ/AU giveaway to win one of three copies of The Wicked Baker: Cakes and Treats to Die For by Helena Garcia – Expires January 29th, 2021
Enter our US/UK/NZ/AU giveaway to win one of three copies of Home Cookery Year: Four Seasons, Over 200 Recipes for All Possible Occasions by Claire Thomson – Expires January 29th, 2021
*Publishers thank us for our continued patience while awaiting the arrival of prizes as warehouses are not operating at full capacity yet and it appears things will only get slower as the winter season takes hold. The cookbook giveaway roundup shares all current giveaways.