November 2019 New Cookbook Review
November 24, 2019 by Jenny
After October's windfall of cookbooks, November's offerings pale in comparison but just in the number of releases, not in the quality of those books. This month we have titles from Joanne Chang, Nancy Singleton Hachisu, Toni Tipton Martin and the revised and updated edition of The Joy of Cooking along with two titles from Great British Bake-Off contestants.
We have published two gift guides to offer inspiration during the season, first the gift guide for cookbook lovers and secondly the gift guide for bakers which shares a giveaway.
Be sure to follow us on social media (buttons located on right lower sidebar on the home page). If you would like to order any of these titles, using our affiliate links (right beneath the social media buttons) or the BUY BOOK button on the book details page, will help to support EYB and our indexing efforts (as well as help us to include worldwide options in some promotions). Most of our titles are released in multiple regions and are available locally and through worldwide sellers such as the Book Depository that make global titles available to more members with free international shipping.
If there is an

available for a cookbook, look for the orange icon in the blurb. Clicking on that icon will take you directly to the preview. Also, please note that author events are indicated at the end of each paragraph where applicable. (Events).
Pastry Love: A Baker's Journal of Favorite Recipes by Joanne Chang includes 125 dessert recipes for many things the James Beard award-winning pastry chef could never serve in the setting of a bakery. For example, items that are best served warm or with whipped cream on top. The recipes start off with simpler options such as Lemon sugar cookies and build up to showstoppers like Passion fruit crepe cake. The book also includes master lessons and essential techniques for making pastry cream, lemon curd, puff pastry, and more, all of which make this book a must-have for beginners and expert home bakers alike. Joanne's books are definite keepers!
The Last Course by Claudia Fleming is finally available after being out of print for what seems like forever. This highly sought after brilliant book has been reprinted by Random House this month. This edition is the exact replica of the original but with a different cover (as the reprint and original share the same ISBN you will find the book in our library with the original cover). We will have a promotion and interview with Claudia very soon. While I have the first edition, I love having a backup copy because this book is fabulous and is our baking option in the Eat Your Books Cookbook Club next month.
The New Way to Cake: Simple Recipes with Exceptional Flavor by Benjamina Ebuehi is the intriguing debut cookbook from one of our GBBO favorites. I am most impressed with the content here. Recipes include Bitter chocolate and rosemary tortes, Malted chocolate cake with Bailey's Irish cream ganache, and Lemon ricotta thyme mini-loaves. For more information on GBBO titles, see this post and we will be sharing a full promotion on this title.

Jubilee: Recipes from Two Centuries of African-American Cooking by Toni Tipton Martin is a celebration of two hundred years of African-American cooking. The author's vast research is shared in the stories and recipes developed by the black professional culinary class from butlers to ranch hands to classically trained chefs. Toni is a story-teller and Jubilee is a treasure to read and to cook from as every page brings more knowledge, history, and great food.

Events
All About Dinner: Simple Meals, Expert Advice by Molly Stevens, two-time James Beard award-winning cookbook author, has spent her life teaching others how to cook. Here the beloved Stevens offers 150 recipes that will bring new life to our menus while building our culinary know-how. Events
Essential Ottolenghi: A Collection by Yotam Ottolenghi is a deluxe boxed set of the New York Times bestselling cookbooks, Plenty More and Ottolenghi Simple, now in paperback for the first time to inspire a new generation of cooks.
Joy of Cooking by Irma S. Rombauer and Marion Rombauer Becker and Ethan Becker (new and revised this year). Here readers will find many popular recipes from previous editions retested and updated, as well as over 600 new recipes geared to modern tastes and the way we cook today. From quick, weeknight-friendly recipes and meals you can cook ahead to show-stopping, celebratory dishes and DIY projects such as fermenting foods and making sausages, the new Joy has dishes for every occasion, whim, and skill level. Events
Chocolate: Recipes and Techniques from the Ferrandi School of Culinary Arts by Ferrandi Paris is a complete chocolate course for the home chef from the world-renowned professional culinary school Ferrandi Paris and presents comprehensive techniques for working with chocolate, from tempering and decorative flourishes to recipes such as the Opéra pastry or Molten chocolate cake. This title is being released in France and the US.
Pardiz: A Persian Food Journey by Manuela Darling-Gansser is a stunningly photographed book. The author's goal is to show how seamlessly Persian food fits with trends of today: flourishing food markets; the primacy of local ingredients; the health-giving aspects of vegetable-centric dishes; and the joys of a shared table. As with most titles that feature Middle Eastern cuisine, the community aspect of meals is a dominant force throughout the book. This title is also being published in AU and UK.

Japanese Home Cooking: Simple Meals, Authentic Flavors by Sonoko Sakai is a guide to Japanese home cooking covering the ingredients, techniques, and core recipes. Appealing to both seasoned cooks and beginners who are craving authentic Japanese flavors, it is beautifully photographed with 100 recipes.
Fire Islands: Recipes from Indonesia by Eleanor Ford is being published in the US this month and was released in the UK in May. This title is as beautiful and inspirational as the author's first book, Samarkand. Filled with gorgeous photography, Eleanor transports the reader to faraway lands like no other. We are indexing the title and will have a promotion soon.

The Essential Air Fryer Cookbook: The Only Book You Need for Your Small, Medium, or Large Air Fryer by Bruce Weinstein and Mark Scarbrough shares 300-plus recipes and gives ingredients and timings for every size of air fryer (from small 2-quart models to 10-quart ones), plus extra recipes to make each dish a complete, delicious meal.
The Side Dish Bible: 1001 Perfect Recipes for Every Vegetable, Rice, Grain, and Bean Dish You Will Ever Need by America's Test Kitchen Editors is what every cook needs in their arsenal. While this beautifully photographed title has many of the classic side dishes, it also shares recipes for twists on those classics. Potato-artichoke gratin, Brussels sprout and kale slaw with herbs and peanuts, and Farro and broccoli rabe gratin are a few examples of new sides to bring to your table. Packed with helpful tips from how to cut lemongrass and oranges, to extra blocks of information that teach us how to take it up a notch with a spice blend or sauce, to detailed instructions for even the humble baked potato – every level of cook will appreciate the thought and detail that is packed into this 500 plus page book.
Story On A Plate: The Delicate Art of Plating Dishes introduces world-renowned chefs and food stylists to guide us through the process of plating, step-by-step, from main dishes and appetizers to desserts. This gloriously photographed book opens up this gastronomic art form for both the amateur chef at home and the professional and allows us to imaginatively and skillfully serve our own culinary creations. This book is being released in Germany and the US.
Wine Simple: A Totally Approachable Guide from a World-Class Sommelier by Aldo Sohm and Christine Muhlke is an essential guide that begins with the fundamentals of wine in easy-to-absorb hits of information and pragmatic, everyday tips.

Simply Real Eating: Everyday Recipes and Rituals for a Healthy Life Made Simple by Sarah Adler shares more than 100 easy #antidiet recipes. Chapters include "Weekday Work It" breakfasts and snacks in "Aperitifing Is a Verb." Recipes are all gluten-free, many with five ingredients or fewer, and have options to customize for other dietary needs.
Foxfire Living: Design, Recipes, and Stories from the Magical Inn in the Catskills by Eliza Clark and Tim Trojian includes thirty recipes and details the renovation projects that capture the Foxfire Mountain House in New York. Brimming with photos that are as full of wonder as the drive up the hill that leads to the inn, Foxfire Living is the story of paint colors, light fixtures, materials, and furnishings. But it is also about writing your own home's story and creating a personal narrative that reflects your truest desires.
Food Artisans of Japan by Nancy Singleton Hachisu is a stunner from the respected expert on Japanese cuisine. In her latest book, she digs deep into Japan's rich food landscape with 120 recipes from seven compelling Japanese chefs and two dozen stories of food artisans. This book is also being published in the USA and Australia.

The Couple's Cookbook: Recipes for Newlyweds by Cole and Kiera Stipovich is not one of those cookbooks for those new to cooking, it is far more than that. While it is perfect for the novice cook as it covers setting up a pantry, basics and more; the book is filled with incredible recipes throughout. Chicken katsu with Hawaiian mac salad, Bourbon risotto with pan-fried mushrooms, and Crepes with brown butter, bourbon apples and lemon sauce are just a sampling of the fantastic dishes in this beautiful book.
The Adventurous Eaters Club: Mastering the Art of Family Mealtime by Misha and Vicki Collins chronicles the authors' story of transformation: how they went from harried parents squeezing processed yogurt into their two-year-old's mouth to parents whose children eat salad as comfort food, and how they created a home where mealtime doesn't involve coercion, trickery, or tears. Filled with funny stories, tips that work, beautiful full-color photographs, and over 100 creative, delicious, whimsical recipes little hands will love to eat and help prepare, it is a must-have for parents everywhere and has over 127 positive reviews on Amazon!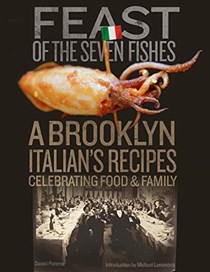 Feast of the Seven Fishes: A Brooklyn-Italian's Recipes Celebrating Food and Family by Daniel Paterna takes us on a magical journey into a hidden world. Through recipes handed down in his family, stunning photos taken by the author himself and three-generations of memories, Paterna reveals the soulful, humorous and always delicious history of Italian-Americans in Brooklyn. It is a beautiful book that will capture your heart.
Other titles of interest include:
United Kingdom
Fitzbillies: Stories & Recipes from a 100-Year-Old Cambridge Bakery by Tim Hayward and Alison Wright features over 50 recipes from the century-old bakery that has welcomed students, dons and residents of the city, who flock to the cafe to tuck into their celebrated Chelsea buns, fancy cakes and afternoon tea.
Sizzle & Drizzle: Tips for a Modern Day Home-Maker by Nancy Birtwhistle is the book that the GBBO winner's followers requested! Join Nancy as she guides you through each page, having fun along the way. There are around 100 recipes including a whole section of 'free-from' – gluten-free, fat-free, low sugar, dairy-free, vegetarian and vegan options. Also, a chapter devoted to eco-friendly natural cleaning solutions and alternatives to single-use plastic.
The Quality Chop House: Modern Recipes and Stories from a London Classic by William Lander, Daniel Morgenthau, and Shaun Searley celebrates the legendary restaurant that has stood proudly on the corner of Farringdon Road and Exmouth Market since 1876. One of London's best-known, best-loved restaurants, its famous confit potatoes regular topping lists of 'dishes you can't miss in London' on websites across the globe. This is British cooking written with accessibility and precision, that will make itself at home in any kitchen.
Leon Happy Curries by Rebecca Seal and John Vincent shares more than 100 new recipes inspired by dishes from Sri Lanka, India, Thailand and Burma, as well as Kenya, Somalia, and the Caribbean. Find fiery, speedy, warming or creamy curries, plus everything you might want on the side, from fluffy flatbreads and perfect rice to crunchy relishes, garlicky greens, and tangy pickles. If you want fast fixes with easy wins from a supermarket, or something more fancy for when you have a little more time, you will find them all here.
A Taste of Scotland's Islands by Sue Lawrence delivers over 60 recipes, mainly created from ingredients and produce the author came across in her travels. Some of the recipes are traditional, for example using seaweed or reestit mutton (Reestit Mutton is a variation of the Scandinavian skerpikjøt, an air-dried mutton, or vivda, Norse for 'leg meat') in a soup; others are more contemporary, like Shetland salt fish cakes with romesco sauce. This celebration of the landscape and history of the Scottish islands is illustrated with photos of some of the most beautiful scenery in the world and with mouth-watering pictures of the islands' best cooking.
Black Axe Mangal by Lee Tiernan is the much-anticipated first cookbook from one of London's most-loved cult restaurants. Chef Lee Tiernan's ability to fuse myriad on-trend tastes and underused ingredients with open-fire cooking techniques has quickly reached catapulted this restaurant into cult status. This much-awaited cookbook celebrates Tiernan's innovative food as well as his bold aesthetic, influenced by his love of heavy metal and skate culture. Please remember Eat Your Book members receive 30% off Phaidon titles when using the link provided.
The Atlas Cookbook by Charlie Carrington explores twenty countries across four regions, with recipes that celebrate each location but embrace seasonal local ingredients. This is easy, vibrant food that reminds us of all that we have in common. It is filled with gorgeous photographs and the perfect book to share with our children to teach them the beauty that is out there in our world.
Le Cordon Bleu Chocolate Bible: 180 Recipes from the Famous French Culinary School is a gorgeous book filled with chocolate delights from Chocolate meringues to a Chocolate-orange tart with a hint of coriander. This is a chocolate lovers dream!

Big Mamma's Cucina Popolare: Contemporary Italian Recipes by Big Mamma is being published in the UK this month and will be released in the US, CA, NZ and AU in January 2020. This title features more than 120 delicious, easy-to-prepare, imaginative recipes. Created in collaboration with one of the most exciting and successful Italian restaurant groups in the world, the dishes in this vibrant and accessible book include true classics such as Risotto alla Milanese and Tiramisù, while others reflect the most creative Italian food today, with such intriguingly named dishes as Burrata Flower Power and Double Choco Love.

Rose Elliot's Complete Vegan by Rose Eliot, who has been at the forefront of vegetarian and vegan food writing for over 35 years, delivers easy-to-follow recipes and warm writing style guiding readers through exciting new flavours and methods of cooking. In this book, Rose gives readers a masterclass on vegan cookery, with over 200 recipes from basics including vegan milks, butters, cheeses and creams she continues with full recipes for breakfasts, soups, light meals and lunches, and simple main courses. There are also recipes for special occasion dishes, side dishes, delicious desserts, and foolproof dairy-free baked goods.
Five Ingredient Vegan: Simple, Fast, Modern Recipes by Katy Beskow is the latest from the author of the 15-minute vegan series. Katy now brings us five-ingredient recipes for the vegan diet in her usual fun and easy to follow style.
The Instant Pot Bible: The Only Book You Need for Every Model of Instant Pot – With 300+ Recipes by Bruce Weinstein and Mark Scarbrough is being released in the UK this month. The US edition was published in October of 2018.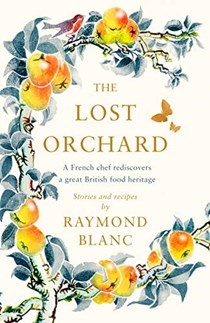 The Lost Orchard: A Celebration of Our Heritage Through Stories of Fruit and Their Recipes by Raymond Blanc is a love letter to an orchard. Over the past seven years, Blanc has planted an orchard of 2,500 trees in the grounds of his hotel-restaurant in Oxfordshire. Yielding about 60 tonnes of fruit for his kitchen each year, it is full of ancient and forgotten varieties of British apples and pears, along with walnut trees, quince, medlars, apricots, nectarines, peaches, plums, damsons, and cherries. A further 600 heritage fruit trees have been added from Raymond's home in the Franche-Comté region of France. This book is complete with beautiful black and white drawings, fascinating information and anecdotes about each fruit, along with recipes and stories.
Australia
The Commons: A Year of Living, Cooking and Eating on Fat Pig Farm by Matthew Evans is a book inspired by the hit SBS television show Gourmet Farmer. It's part how-to, part evocative diary, part cookbook (with more than 100 recipes). It's the perfect inspiration for those about to embark on a simpler life, a handy reference for those who already have done just that, and a vicarious solution for those who just want to dream the dream without leaving home.
Pardiz: A Persian Food Journey by Manuela Darling-Gansser is a stunningly photographed book that is also being published in the UK and US. See the US section for more information.

Bake Australia Great: Classic Australia Made Edible by One Kool Kat by Katherine Sabbath has every occasion covered in this collection of cutting-edge designs. Think biscuits shaped as flip-flops or a Glamington cake and advance to a Great Barrier Reef cake. This is a fun, vibrant book for all ages.

Under the Mediterranean Sun: A Food Journey from Spain to Northern Africa and Lebanon by Nadia Zerouali and Merijn Tol is a personal food odyssey to find the people, places, and dishes that unite the Mediterranean and the Arabic world. This book's 125 recipes are separated by region: Morocco, Tunisia, Libya, Algeria, Lebanon, Syria, Palestine, Israel, Turkey, Sicily, Andalusia, Sardinia, and Catalonia. What unites each of these distinct regions are the incomparable colors, textures, and sun-dappled spirit of the Mediterranean.
New York Christmas Baking by Lars Wentrup and Agnes Prus explores everything New York has to offer. Let the magical spirit of snowy New York in winter enter your kitchens through recipes for cookies, cakes, and the perfect Christmas breakfast.

The Healthy Slow Cooker: Smart Carbs, Vegetarian and Vegan Choices by Ross Dobson gives 100 recipes a healthy makeover and guarantees you'll want to cook them again and again. Acclaimed food writer Ross Dobson has compiled his very favourite family pleasers that are packed with vegetables, using smart carbs and with lots of flexibility for when you need to cater for those with dietary restrictions.

Cooking with the Oldest Foods on Earth: Australian Native Foods Recipes and Sources by John Newton is a short companion book to the award-winning The Oldest Foods on Earth shows you how to cook with Australian ingredients, where to find them and how to grow them. Organised by ingredient, each chapter includes a brief history, a practical guide, and recipes for you to make in your very own kitchen. It promises to broaden Australians' culinary horizons in every way.
Festive Table: A Practical Guide to Celebrating the Festive Season in Style by Australian Women's Weekly shares simple easy-to-follow recipes plus clever tricks and quality shortcuts, we show you how to create spectacular festive dishes with minimum fuss. There are also menu ideas, time plans, and a countdown guide to help you get organised, making this book the perfect gift for those who love all the trimmings but not the time it takes to pull it off.
Food Artisans of Japan by Nancy Singleton Hachisu is being published in the US this month as well. See our listing there for more information.

New Zealand
Summer with Simon Gault: Simple, Sensational Food for the Beach, Bach and BBQ shares Gault's favourite recipes for the summer months, offering quick fixes for the BBQ, picnics at the beach, stints at the bach, keeping the kids happy and exploiting the best produce of the season. With a focus on healthy, tasty and stress-free eating, it's mouth-watering food for everyday people – a book to make summer entertaining easy.
Cook: Food to Share by Dean Brettschneider features an exciting range of dishes with both Eastern and Western flavours and ingredients; some inspired by renowned guest chefs from around the world. With nutrient-packed breakfasts, tasty light bites, hearty one-pot wonders and the best flavours from East and West, this collection of more than 70 tried-and-tested recipes is a must-have for anyone who enjoys cooking and eating good food. Carefully written with clear and detailed steps, the recipes will guide home cooks to recreate these dishes to share with family and friends.
Coastal: Living the Coastal Life, Cooking for the Coastal Table by Deborah Hide-Bayne is overflowing with stunning photography, easy seasonal recipes and projects to inspire (following the successful Coromandel Flavour: A Year of Cooking at the Bach.