Gift Guide for the Baker & Giveaway!
November 16, 2019 by Jenny
Today, I have compiled a list of gift ideas all geared toward the baker. My gift guide for cookbook lovers was posted earlier this week. The tag #giftguide will bring up all past compilations which include classic cookbook suggestions and past years' recommendations.
For the purposes of this guide, I'll be including titles from 2019. Prior gift guides as linked above will include older titles in the various genres. Another great source for ideas is our monthly cookbook reviews, these information-packed posts highlight all cookbook releases by month and my best books of 2019, first half shares highlights of January through July of 2019. Also these articles: a list of cookbooks that cookbook authors use and cookbooks for home cooks might provide some additional help.
Of course, a gift certificate for Eat Your Books is always a thoughtful present for the baker to utilize their baking cookbooks. If you need help purchasing a gift certificate, see this help section or email info@eatyourbooks.com.
As always, we appreciate our members using our affiliate links that can be found on the home page (lower right corner) or using the BUY BOOK button provides the same action. Using our links, helps us to earn a small commission and allows us to make site improvements and index more cookbooks!
---
I love baking. There is something special about pulling something hot and comforting out of the oven for your friends and family. I love to gift baked goods as well as bundling cookbooks and baking products for the ultimate gift. Just this week, I wrapped up in a ribbon a Nordic Ware embossed sheet tray (see below) along with a few holiday baking magazines and a cookbook for a neighbor who had provided us with a tray of leftover croissant sandwiches and salad.
Any of the items below would make wonderful hostess gifts – a cookie press, sheet tray, and a cookie cookbook would make any baker happy (include a batch of fresh-baked cookies for someone extra special). Try a Bundt® pan (with or without a baked cake), spatula and a copy of 101 Things to Do with a Bundt® Pan 🙂 or a batch of muffins delivered in a Silpat mould as a hostess gift is a stellar idea. Not having to make breakfast, will be sure to get you invited back again! The options are endless – scones in a scone pan or a loaf of banana bread in a nice loaf pan – all make thoughtful gifts for a dinner party host. Be sure to check out my cookie post for more holiday gift ideas.
---

I love Nordic Ware! From their cookie stamps (I want them all!), their embossed cookie trays (I just picked up an ornament and tree embossed tray for my cookies this year, to their Bundt® collections, there is something for everyone at Nordic! If you order directly from their website, shipping is free when you spend over $35.00 (the continental US only) and they offer percentages off if you spend more (20% off of $50 and 30% off of $100)!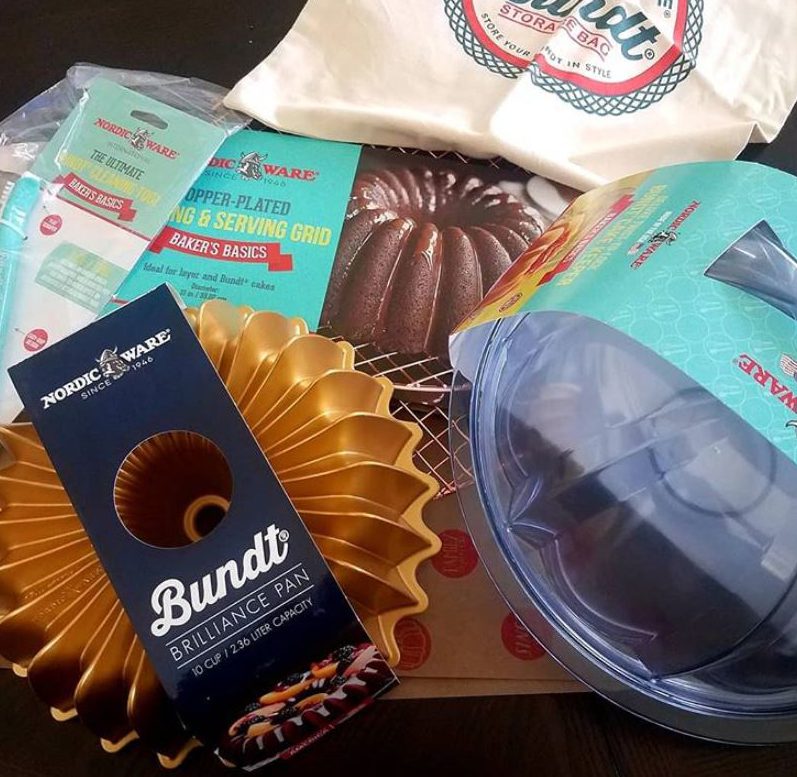 Pictured above is a Bundt® bundle which features the Bundt ® brilliance pan, Bundt® cake keeper, Bundt® storage bag, Bundt® cleaning tool, and copper cooling rack. Nordic Ware is offering one Bundt® bundle to one US member in our giveaway below and I am offering one copy of my cookbook 101 Things to Do with a Bundt® Pan (which Nordic Ware stocks in their outlet store!).
---
Another company I can always rely on for baking products is Oxo. My kitchen pantry is filled with the OXO POP containers especially all my baking ingredients. Their 3-piece starter set is the perfect companion to the POP containers and contains a scoop, brown sugar saver, and a set of 36 labels.
This busy baking season is the perfect time to stock up on containers and products from OXO to make our baking more organized and fun. When you order directly from OXO, shipping is free if you spend over $19.00.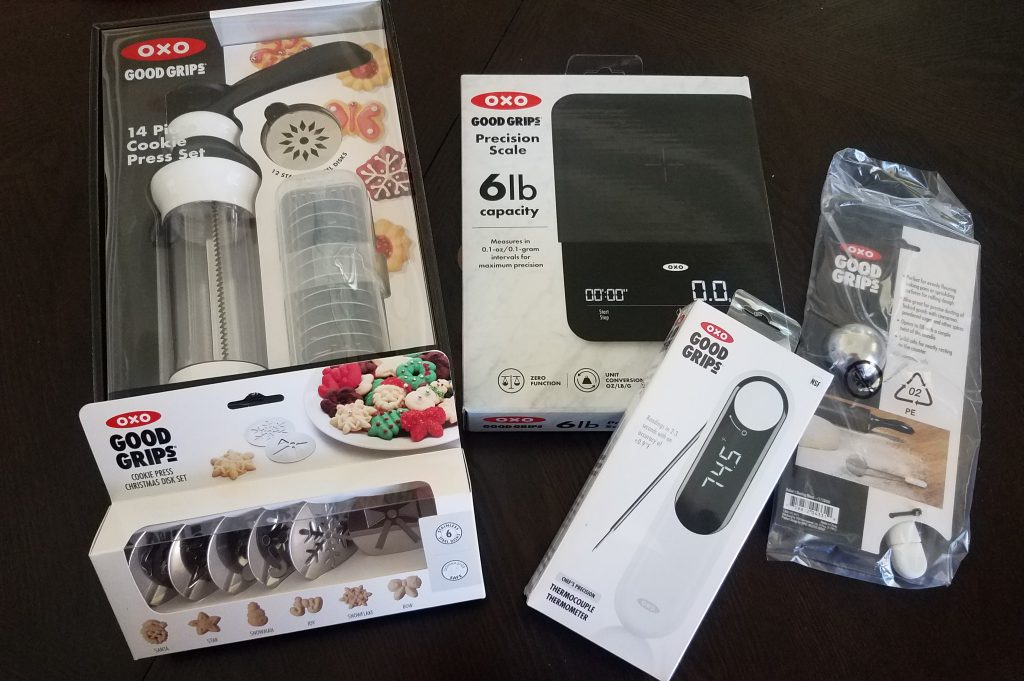 To help us with our baking this year, OXO is providing one US member the following tools (pictured above): OXO cookie press and holiday disks set, a precision scale with timer, the OXO thermocoupe thermometer, and a baker's dusting wand in our giveaway below.
---
A few other baking tools that I love include:

Rose Levy Beranbaum's Signature Series. I use my Magic Dough Pastry mat and rolling pin all the time! Rose's products are tested and created from her decades of baking experience.
---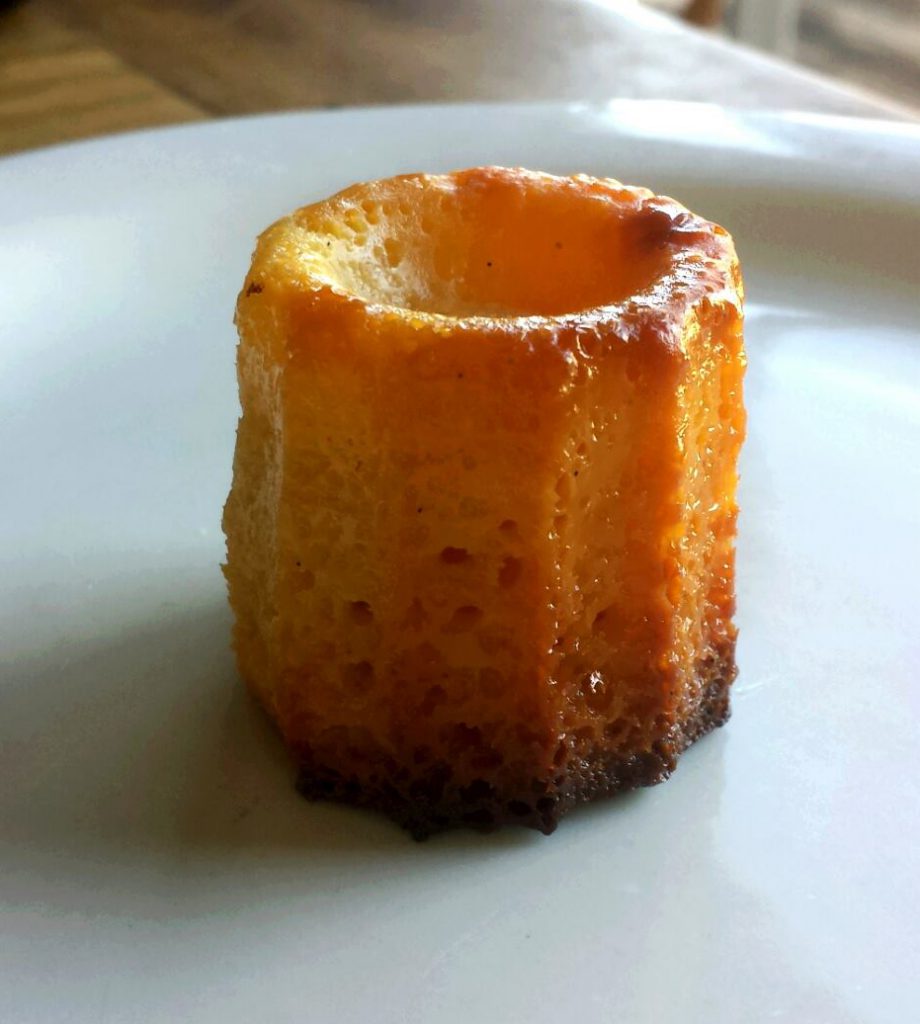 Copper canele molds are a treasure for the serious baker to own and make the best canelés. They are quite expensive but worth it. If the copper molds aren't in your budget, great results can be had with a silicone mold. (I made the above canelés with a silicone mold and will be trying these pastries soon with the Matfer Bourgeat copper molds.) Buy a mold and couple it with Scott Davis' Cannelés de Bordeaux: Make them at Home for an unexpected gift for the baker in your life. We have several indexed canele recipes here at EYB and I have found this article on preparation using a silicone mold to be very helpful.
---

Silpat. The newest thing from Silpat is their baking mould line and I have slowly ordered them all over the last year. I use the muffin pan every week and the others when I need to make mini loaves, tarts (the tartlette mould is coming soon) and more. They take far less space and clean up is fast and easy. Williams-Sonoma exclusively sells the Silpat Perforated Aluminum Tray for Baking Mats which is a genius product. Designed to maximize the performance of Silpat bakeware, this nonstick tray is extensively perforated to promote even underside heating while supporting Silpat's flexible pans and mats. The commercial-grade aluminum heats evenly, while elevated sides keep pans steady and allow the tray to be inverted for use as a cooling rack. I have used the trays (I ordered two) to bake puff pastry for Mille Feuille. Silpat provided me with a tarlette mould for review because it isn't out yet but I have purchased each mould and tray and more myself and I recommend them highly.
---
Now, to the cookbooks that are new this year for the baker:
For the bread baker:

Poilâne: The Secrets of the World-Famous Bread Bakery by Apollonia Poilâne is a stunning book from the must-visit bakery in Paris lauded by the likes of Ina Garten and Martha Stewart. For the first time ever, the bakery is sharing detailed instructions so that bakers everywhere can reproduce its unique "hug-sized" sourdough loaves at home, as well as the bakery's other much-loved breads and pastries.
Bread on the Table: A Top Texas Baker Shares His Favorite Recipes by David Norman, the owner of Austin's Easy Tiger Bake Shop & Beer Garden, features recipes from the author's time spent exploring bread traditions throughout Europe and North America. Find out more in our promotion and giveaway post.

Lavash: The Bread That Launched 1,000 Meals, and Other Recipes From Armenia by Kate Leahy and Ara Zada is a bible to the soft, thin unleavened flatbread. Everything one needs to know to make this global bread including recipes to accompany lavash are shared. The photographs are impressive from the bread itself to the people making it and those shown gathering together in celebration
Living Bread: Tradition and Innovation in Artisan Bread Making by Daniel Leader and Lauren Chattman is a masterpiece devoted to bread. From sourdough to recipes using the leftover starter, the pioneer from Bread Alone, who revolutionized American artisan bread baking, delivers 60 recipes inspired by bakers from around the world. Find out more in our promotion.
Super Sourdough: The Foolproof Guide to Making World-Class Bread at Home by James Morton, GBBO finalist, talks the home baker through everything from starters, flours, and hydration, to kneading, shaping, rising, scoring and baking, explaining how to achieve the perfect crust and crumb. With more than 40 sourdough recipes including basic loaves and rolls, baguettes, bagels and buns, clear step-by-step instructions, troubleshooting tips and explanations of what works and why, this title is the new, accessible guidebook that bakers everywhere have been waiting for.
Desserts, cakes, pastries
Pastry Love: A Baker's Journal of Favorite Recipes by Joanne Chang is the James Beard award-winning pastry chefs most personal yet. It includes 125 dessert recipes for many things she could never serve in the setting of a bakery – for example, items that are best served warm or with whipped cream on top. The recipes start off with simpler options such as Lemon Sugar Cookies and build up to showstoppers like Passion Fruit Crepe Cake. The book also includes master lessons and essential techniques for making pastry cream, lemon curd, puff pastry, and more, all of which make this book a must-have for beginners and expert home bakers alike. Joanne's books are definite keepers!
The New Way to Cake: Simple Recipes with Exceptional Flavor by Benjamina Ebuehi is an intriguing debut cookbook from one of our GBBO favorites. I am most impressed. For more information on GBBO titles, see this post.

The Last Course by Claudia Fleming is finally available now to bakers everywhere! The highly sought after title was reprinted by Random House this month and is the exact replica of the original but with a different cover.
The Joys of Baking: Recipes and Stories for a Sweet Life by Samantha Seneviratne is the third book from the author of Sugar & Spice (a favorite of mine). This book is delightful and filled with glorious flavor combinations and interesting new twists on desserts. Neopolitan ice-cream cake, Roasted plum cloud cake, Hidden heart biskvi cookies, and Pistachio praline puffs are recipes that show Samantha's range.
Dappled: Baking Recipes for Fruit Lovers by Nicole Rucker is a stunner, filled with dessert recipes that bakers will flip over. Recipes include Tomato pudding, Sour lemon cakes (which I made and were delightful) to Honey glazed strawberry pie. Nicole is the chef and owner of Los Angeles' Fiona restaurant and has an impressive resume. Find out more about this title in our promotion post.
Midwest Made: Big, Bold Baking from the Heartland by Shauna Sever rediscovers the simple pleasures of home baking in her Midwestern kitchen. This unique collection of more than 125 recipes includes refreshed favorites and new treats such as Rhubarb and Raspberry Swedish Flop, Danish Kringle, German Lebkuchen and Smoky Cheddar-Crusted Cornish Pasties. It is a gorgeous book and one each baker will appreciate. Events
Aran: Recipes and Stories from a Bakery in the Heart of Scotland by Flora Shedden is a beautiful cookbook from an artisan bakery in the heart of Scotland with the same name. In it, the Great British Bake Off star shares her simple, modern recipes and a window onto a picturesque life below the highlands, with stunning location photography and stories about the people and the place that inspire her creations. I have this title on order because I loved Flora's first title, Gatherings: Recipes for Feasts Great and Small
Weeknight Baking: 75 Time-Saving Recipes to Make Any Night of the Week by Michelle Lopez, author of the blog, Hummingbird High, wants to make baking more approachable and not something saved for weekend marathon bakes. Michelle covers it all with variations on recipes, how to grind your own spices and so much more. There are so many baking books this month and all are worthy of our attention.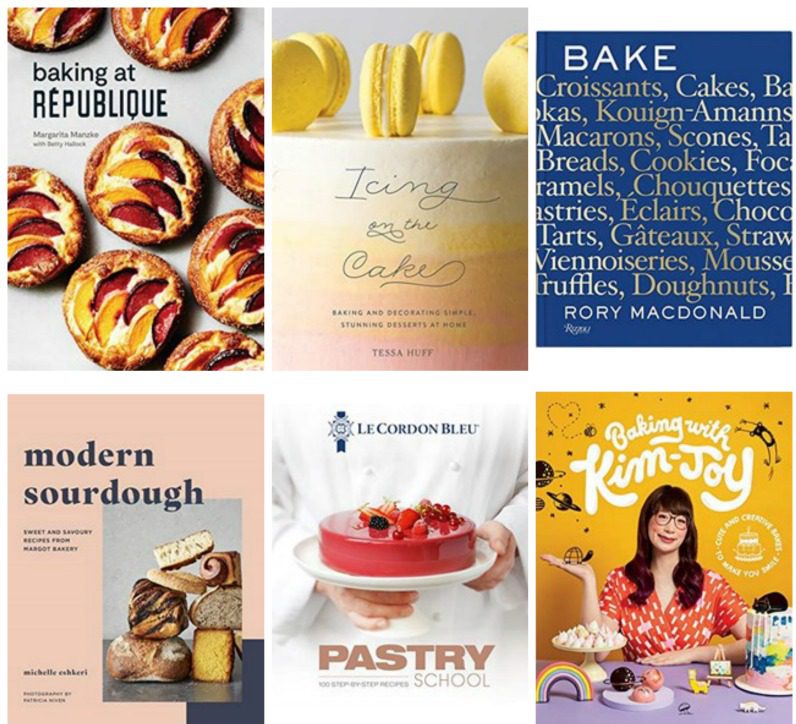 Icing on the Cake: Baking and Decorating Simple, Stunning Desserts at Home by Tessa Huff is the second book from the writer behind Style Sweet CA. Step-by-step technique photos that guide us through creating a classic lattice pie crust to decorating a show-stopping cake are included. Tutorials such as "getting to know genoise sponge cakes" to piping buttercream flowers and more make this title a baker's dream. Full review.
Margarita Manzke's Baking at République: Masterful Techniques and Recipes for Bakers provides a guide to doughs and batters that make the baked goods and desserts of this restaurant shine. There are 100 recipes geared to elevate the home baker's skill. Full review.

Bake: Breads, Cakes, Croissants, Kouign Amanns, Macarons, Scones, Tarts by Rory Macdonald is brilliant. Exquisite photographs and painstaking instructions are featured here. Find out more in my interview with the author and review post.

Modern Sourdough: Sweet and Savoury Recipes from Margot Bakery by Michelle Eshkeri is filled with a treasure trove of recipes from London's Margot Bakery from breads to pastries. Find out more about this book in our promotion.

Pastry School: 100 Step-by-Step Recipes by Le Cordon Bleu is a brilliant title. You can find more details about this book in our promotion.

Baking with Kim-Joy: Cute and Creative Bakes to Make You Smile is guaranteed to bring happiness to our baking. Filled with adorable and tasty bakes, bakers of all ages will love spending time in Kim-Joy's kitchen. Find out more in our promotion.

Chocolate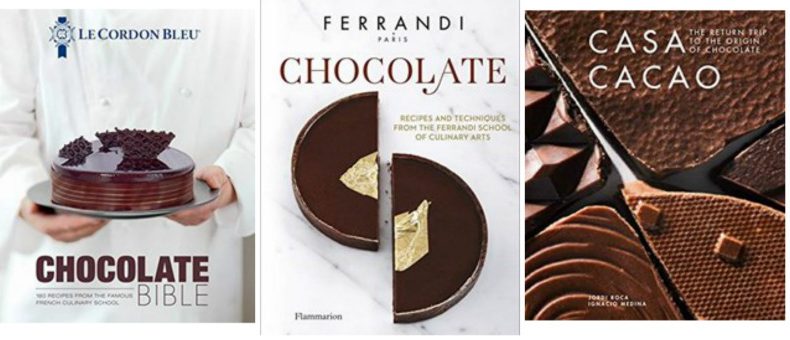 Le Cordon Bleu Chocolate Bible: 180 Recipes from the Famous French Culinary School is a gorgeous book filled with chocolate delights from Chocolate meringues to a Chocolate-orange tart with a hint of coriander.

Chocolate: Recipes and Techniques from the Ferrandi School of Culinary Arts by Ferrandi Paris is a complete chocolate course for the home chef from the world-renowned professional culinary school Ferrandi Paris and presents comprehensive techniques for working with chocolate, from tempering and decorative flourishes to recipes such as the Opéra pastry or Molten chocolate cake.
Casa Cacao: The Return Trip to the Origin of Chocolate by Jordi Roca and Ignacio Medina includes 40 recipes, formulas and totally new creative ideas with cocoa as the mainstay of desserts, chocolates and ice cream.

Cookies

The Cookie Collection: 128 Recipes for the Cookie Enthusiast edited by Brian Hart Hoffman is a stellar compilation from the minds behind Bake from Scratch with recipes that include Cranberry pecan maple shortbread, Glazed Campari and strawberry cookies, and Chocolate bourbon peanut butter cookies. We will be cooking through this title in the EYB Cookbook Club in November.
Martha Stewart's Cookie Perfection: 100+ Recipes to Take Your Sweet Treats to the Next Level by Martha Stewart Living guarantees that we will have the perfect recipe for all our cookie baking. Martha has chapters devoted to perfecting sugar cookies, biscotti, macarons and more complete with full-page photographs. There are brilliantly weaved Brown-butter honey cookies that are sure to wow and a Russian pastry cookie called Goose feet. Martha ends the book with a large chapter devoted to celebration cookies complete with a page of templates for the gingerbread cookies.
Cookie Class: 135 Irresistible Decorating Ideas for Any Occasion by Jenny Keller, owner of Jenny's Cookies Bake Shop in Washington state, shares her no-fail, easy tried-and-true recipes for cookies and a basic buttercream icing that can be turned into a variety of different treats with just a few tweaks and adjustments. This title is the perfect hostess gift for the upcoming holiday season as well as a perfect stocking stuffer.
Betty Crocker Cookies: Irresistibly Easy Recipes for Any Occasion (Betty Crocker Cooking) by Betty Crocker covers tips and tricks for making, storing, and gifting cookies of all kinds. With chapters organized by baking circumstances, bakers can quickly find a cookie recipe right for them.
Pies

The New Pie: Modern Techniques for the Classic American Dessert by Chris Taylor and Paul Arguin is everything a baker could ask for: unique recipes, twists on the classics, detailed instructions and beautiful photography. Find out more in my preview post and interview with the authors. Full review.

Elegant Pie: Transform Your Favorite Pies into Works of Art by Karin Pfeiff-Boschek is the debut cookbook from one of Instagram's pie stars. Karin resides in Germany where she spends her days creating pie masterpieces that not only look beautiful but are delicious as well. With Karin's careful instruction, we too can create elegant pies.

The Perfect Pie: Your Ultimate Guide to Classic and Modern Pies, Tarts, Galettes, and More by America's Test Kitchen Editors is a must-have. Three books that will never leave my collection are The Perfect Cake, The Perfect Cookie and now The Perfect Pie. As a baker, there are certain cookbooks that set the bar and America's Test Kitchen's titles do just that. Gorgeous photographs, step-by-step technique photos, classic recipes, and new exciting pie recipes are shared here. Try a Strawberry galette with candied basil and balsamic, Roasted plum and mascarpone tart, or a Banana-caramel pie in a jar along with a classic Apple pie.
When Pies Fly: Portable Pastries from Empanadas to Strudels, Hand Pies to Knishes by Cathy Barrow, the author of the recent James Beard-nominated Pie Squared, is back with a book packed with portable pies. Find out more in our promotion which includes a trio of fantastic OXO products.

With regard to the products I have recommended, I have spent small fortunes on OXO, Nordic Ware and Silpat products. OXO and Nordic Ware were gracious enough to send me a bundle package to try out and Silpat sent me a tarlette mould. I wholeheartedly recommend the products and books I have shared here today and hope that you find some holiday inspiration from this guide.
Thanks to Nordic Ware and OXO for providing the bundles above in our giveaway open to EYB Members in the US. One winner will receive the Bundt® bundle and a second winner will receive the OXO baking package.
Three of the entry options are to answer the following questions in the comments section of this blog post. Please leave three separate comments.
Which cookbook in our bakers' guide would you like to find under your tree?
Which product from OXO would you like to find under your tree?
Which product from Nordic Ware would you like to find under your tree?
Please note that you must be logged into the Rafflecopter contest before posting or your entry won't be counted. For more information on this process, please see our step-by-step help post and this forum post. Once you log in and enter your member name you will be directed to the next entry option – the blog comment. After that, there are additional options that you can complete for more entries. Be sure to check your spam filters to receive our email notifications. Prizes can take up to 6 weeks to arrive from the publishers. If you are not already a Member, you can join at no cost. The contest ends at midnight on January 16th, 2020.
a Rafflecopter giveaway