Featured Cookbooks, Recipes, and the Latest EYBDigital Books & Previews
November 9, 2018 by Christine
EYB wants to make your cooking life easier. Our main focus has always been indexing cookbooks and magazines so you can efficiently search your own collection instead of paging through individual indexes. We also aim to keep members up to date on the best new titles being published. Our new EYBDigital platform allows us to provide EYBDigital Previews (sample pages from cookbooks) and EYBDigital Books (complete digital cookbooks you gain access to when you buy a print book).
Below you'll find our latest EYBDigital Previews and EYBDigital Books, plus GIVEAWAYS and more!

(Note: Some members have been asking why they cannot add all EYBDigital Preview recipes to their Bookshelf. Please read this Help page for an explanation.)
In case you missed it!
November Cookbook Previews
Giveaway Round-up (two giveaways ending tonight)
10 new titles added to our EYBD program – please see our updated EYBD page for more information.
Member Photo of the Week:
Bacon, lettuce, and tomato panzanella with basil salsa verde from Tartine All Day: Modern Recipes for the Home Cook by Elisabeth Prueitt, Jessica Washburn, & Maria Zizka

Photo submitted by mllamas
Have you uploaded any of your own photos yet? Learn more!
Featured Online Recipe: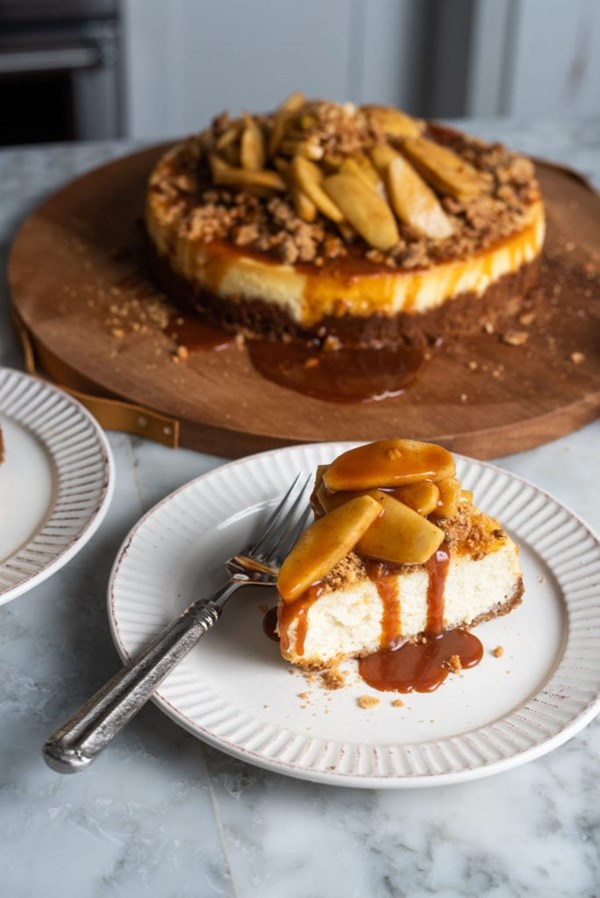 Caramel apple cheesecake from indexed blog Joy the Baker

Three More EYBDigital Titles Have Launched!
The next three EYBDigital Books are now available! If you order 12 Bones or The Japanese Larder before December 31st or Bourke Street Bakery: All Things Sweet before February 4th you will have access to a digital version on your EYB Bookshelf after signing up on our registration page. Click on the book cover or the link below for more specific information. Learn more about EYBDigital Books and see our list of upcoming titles, including 10 new ones just added today!
4 recipes from 12 Bones Smokehouse: An Updated Edition with More Barbecue Recipes from Asheville, NC by Bryan & Angela King, Shane Heavner, & Mackensy Lunsford
EYBDigital Book information + GIVEAWAY! (US, CAN, UK only)
3 recipes from The Japanese Larder: Bringing Japanese Ingredients into Your Everyday Cooking by Luiz Hara
EYBDigital Book information + GIVEAWAY! (US, CAN, UK only)
5 recipes from Bourke Street Bakery: All Things Sweet: Unbeatable Recipes from the Iconic Bakery by Paul Allam and David McGuinness
EYBDigital Book information + GIVEAWAY! (US, CAN, UK, AUS only)
EYBDigital Previews:
A selection of full sample pages are available for the following cookbooks. Click the book cover or orange EYBDigital Preview button to view. Individual recipes from already indexed titles can be added to your EYB Bookshelf now.
Learn more about EYBDigital Previews.
And we've reached a milestone! There are now more than 300 EYBDigital Previews in the Library!
3 recipes from The Tart Tin by Matt Cross

3 recipes from Catalan Food: Culture and Flavors from the Mediterranean by Daniel Olivella with Caroline Wright
3 recipes from The Best Comfort Food on the Planet by Kerry Altiero with Katherine Gaudet
3 recipes from Comfort in an Instant: 75 Modern Recipes for Classic Favorites for Your Pressure Cooker, Multicooker, and Instant Pot® by Melissa Clark
3 recipes from Skinnytaste One and Done: 140 No-Fuss Dinners for Your Instant Pot®, Slow Cooker, Air Fryer, Sheet Pan, Skillet, Dutch Oven, and More by Gina Homolka
3 recipes from Bestia: Italian Recipes Created in the Heart of L.A. by Ori Menashe & Genevieve Gergis with Lesley Suter
3 recipes from Skillet: Over 70 Delicious One-Pan Recipes by Anna Helm-Baxter
Cookbooks with GIVEAWAYS!
Each of these featured titles has a current giveaway. Click the photo or blue button for more information on how to enter. For titles that also have an EYBDigital Preview, click on the orange button to view the available full sample pages.
Also make sure you've entered the giveaways for Vancouver Eats and Cooking in Color which end tonight!
9 recipes from Eataly: All About Pasta: A Complete Guide with Recipes by Eataly and Natalie Danford
Enter the Eataly: All About Pasta GIVEAWAY! (US only)
3 recipes from Simply Vibrant: All-Day Vegetarian Recipes for Colorful Plant-Based Cooking by Anya Kassoff
Enter the Simply Vibrant GIVEAWAY! (US/CAN only)
3 recipes from The Cookie Book: Decadent Bites for Every Occasion by Rebecca Firth