January 2018 Cookbook Roundup
January 21, 2018 by Jenny
I've said it before and I'll say it again, the scope and breadth of 2017's cookbooks were epic. Both authors and publishers muscled through with Herculean efforts to deliver titles that were both beautiful and engaging. My love of cookbooks is my strongest weakness and our 2018 Preview Post has me, as always, looking forward.

As humans, we prepare ourselves for what lies ahead – case in point – try to find a pair of gloves at the department store in January. Gloves were available in August and if you didn't purchase them then, your hands will be cold in January. With cookbooks we are never too late and never too early – we have access to older titles as easily as we can preorder and anticipate upcoming releases. Just a few things I am excited for are books from Christina Tosi, Dorie Greenspan, and Michael Solomonov among a host of others. Nigella will be touring in support of the US release of At My Table (we will update when more dates are confirmed) and a host of other unknowns that even I, the Cookbook Stalker, are unaware.
January's titles aren't all health related, but those that are look beautiful and include Healthyish, The Complete Plate, The Modern Vegetarian, and Vegan 100. In the not-your-typical new year, new diet category Hawker Fare and Chinese Soul Food arrive this month to balance the load.
As always, the monthly roundup shares new releases from around the world that caught my attention and I feel would interest our members (the other titles that may be of interest sections at the end of each region). If you are planning to purchase any of these books for yourself or as gifts, please use the Buy Book link as we will receive a small affiliate fee that will allow us to index more books. You don't even need to buy the book you clicked from, we get affiliate revenue for anything you buy from Amazon over the next 24 hours after clicking the link. You will find the Buy Book link (pale blue box to the right of +Bookshelf) when you click on the book titles highlighted in this post (or any post) – your support is very much appreciated. Please remember us during your online shopping, you can access our affiliate stores through these direct links Amazon US, Amazon CA and Amazon UK with the same result.
As books are often released in multiple countries you may wish to browse through the entire roundup (especially as this month's roundup is quite compact). The Buy Book button will show you the options available for online booksellers including Book Depository which offers free shipping worldwide. Look for promotions soon on many of these cookbooks.
Let's dig in and begin!
United States
Healthyish: A Cookbook with Seriously Satisfying, Truly Simple, Good-For-You (but not too Good-For-You) Recipes for Real Life by Lindsay Maitland Hunt is a gorgeous book filled with tasty and appealing recipes such as the cover dish, the Quick rotisserie chicken tacos with smashed avocado. The dishes in this book will leave us feeling satisfied and not the least bit deprived even at those times when we are crunched for time.
Hawker Fare: Stories & Recipes from a Refugee Chef's Isan Thai & Lao Roots by James Syhabout is one of those books I know will just be amazing. James is the chef of Commis and Hawker Fare in San Francisco and in this, his debut book, he delivers dishes which are inspired by the open-air "hawker" markets of Thailand and Laos as well as the fine-dining sensibilities of James's career beginnings. Each chapter opens with stories from Syhabout's beginnings starting with his mother's work as a line cook in Oakland, and moving toward the turning point of his culinary life, including his travels as an adult to his parents' homelands. From building a pantry with sauces and oils, to making staples like sticky rice and padaek, to Syhabout's recipe for instant ramen noodles with poached egg, this cookbook explores the many dimensions of this chef's cooking and ethos on ingredients, family, and eating well. James has a number of events scheduled to celebrate this release. You want this book.
Masala & Meatballs: Incredible Indian Dishes with an American Twist by Asha Shivakumar is a beautiful book filled with recipes that bring Indian flavors to American classics. Apple-pistachio waffled French toast; White chicken curry pot pie, and Nut-crusted halibut with green onion sauce are a few examples of what you will find here.

One Knife, One Pot, One Dish: Simple French Feasts at Home by Stéphane Reynaud and Marie-Pierre Morel is teeming with one pot wonders done elegantly. From Pork with green peppercorns and shiitakes to Pineapple with hazelnuts and vanilla, the offerings here will provide inspiration for one pot meals. If you have a pot, a knife and this book you will eat well.
Chinese Soul Food: A Friendly Guide for Homemade Dumplings, Stir-Fries, Soups, and More by Hsiao-Ching Chou draws cooks into the kitchen with recipes for traditional Chinese fare including the dumplings the author is known for in her cooking classes in Seattle. Helpful tips and techniques, such as caring for and using a wok and how to cook rice properly, as well as a basic Chinese pantry list with acceptable substitutions, make it even simpler for the busiest among us to cook their favorite Chinese dishes at home. Hsiao-Ching has a few events planned and more will be added.

Noodle Soup: Recipes, Techniques, Obsession by Ken Albala offers the recipes and techniques for mastering noodle soup, of course. Albala made a different noodle soup every day for two years and his obsession yielded all we need to know about making stock bases, using dried or fresh noodles, and choosing from a huge variety of garnishes, flavorings, and accompaniments. I just received this book and am excited to dive in as lately I've been all about noodles.

Short Stack Vol 31: Cauliflower by Kristin Donnelly is the newest addition to the Short Stack family which shares tips about buying, preparing and making tasty recipes for this versatile vegetable.
Food for Life: Delicious & Healthy Comfort Food From My Table To Yours! by Laila Ali delivers knockout meals in a way that works with your busy and demanding life, so you can eat healthy, delicious food without feeling hungry! Recipes include Stovetop ratatouille, Oven fried chicken, West Coast Southern greens and the Greatest of all time burger (her father's favorite)
Power Plates: 100 Nutritionally Balanced, One-Dish Vegan Meals by Gena Hamshaw shares 100 recipes for wholesome and nourishing vegan food from the blogger, nutritionist, and Food52 author. She helps you make delicious vegan meals that deliver balanced and sustained energy. Every recipe contains the key macronutrients of healthy fats, complex carbohydrates, and proteins.
The Southern Sympathy Cookbook: Funeral Food with a Twist by Perre Coleman Magness brings "funeral food" which is having a moment at present. Comforting casseroles; jugs of sweet tea; creamy, cheesy potatoes – all these foods provide sympathy and sustenance for the bereaved served with unexpectedly humorous obituaries and anecdotes.
Speaking of funeral food, how many Bundt cakes have you spied on a buffet table for a funeral after-party? The New Bundt Pan Cookbook: Over 100 Classic Recipes for the World's Most Iconic Baking Pan by Editors of Tide & Town collects fantastic recipes, both classic must-knows and delicious modern innovations, tailored for new or experienced bakers alike to create delicacies to devour – whether it be for a funeral or a fun event. Packed with information such as the ideal pan to buy, a history of this classic pan that almost wasn't to be, the most famous or collectible designs featured throughout the years, and the best ways to use and clean your Bundt pan.
Tonic: Delicious & Natural Remedies to Boost Your Health by Tanita de Ruijt will have you pillaging your kitchen cupboards to make surprisingly effective – and inexpensive – remedies to cure whatever ails you. Inspired primarily by traditional medicine and wisdom from the East, these recipes have been carefully crafted to support your body's natural defences, and keep you feeling good on a daily basis. This title was released late last month in the UK and is being released in the US this month.
Cookie Remix: An Incredible Collection of Treats Inspired By Sodas, Candies, Ice Creams, Donuts and More by Megan Porta, creator of the blog Pip and Ebby, loves to bake but struggled to find a refreshing approach to an age-old favorite: cookies. This cookbook is her answer. Each recipe is easy to make and uses minimal ingredients for hassle-free cookies with a punch of flavor. With just some brown sugar, coca cola and maraschino cherries, you can create Cherry Coke cookies. Combine cinnamon sugar and cream cheese and you get decadent French toast cookies. Recipe flavors also include Moscow Mule, Cookie dough cheesecake, Mango pineapple smoothie, Banana cream pie, Cadbury® egg and many more.
The Art of the Perfect Sauce: 75 Recipes to Take Your Dishes from Ordinary to Extraordinary by Lorilynn Bauer and Ramin Ganeshram will help breathe new life into your dinners with tasty sauces that are a breeze to make. Using traditional and modern twist recipes for gravies, glazes, compound butters, syrups, aioli and so much more, you'll be able to add depth to everything from meat and poultry to vegetables and fish.
Other titles that may be of interest include:
Taste of Home Healthy Family Favorites Cookbook by Editors at Taste of Home
Mom's Sugar Solution: 150 Low-Sugar Recipes for Your Kids' Favorite Foods, Sweet Treats, and More! by Laura Chalela Hoover MPH RDN
Better Homes and Gardens Wonder Pot: One-Pot Meals from Slow Cookers, Dutch Ovens, Skillets, and Casseroles by Better Homes and Gardens
Foodimentary: Celebrating 365 Food Holidays with Classic Recipes by John-Bryan Hopkins
Mastering Sauces: The Home Cook's Guide to New Techniques for Fresh Flavors by Susan Volland is being released in paperback this month
Chocolatology: Chocolate's Fantastical Lore, Bittersweet History, & Delicious (Vegan) Recipes by Angel York and Darin Wick
The Spice Diet: Use Powerhouse Flavor to Fight Cravings and Win the Weight-Loss Battle by Judson Todd Allen
Good Housekeeping Instant Pot® Cookbook: 60 Delicious Foolproof Recipes by Good Housekeeping and Susan Westmoreland
The Everything Healthy Meal Prep Cookbook by Tina Chow
Trap Kitchen by Malachi Jenkins, Roberto Smith and Kathy Iandoli
Dingle Dinners: From the Chefs of Ireland's #1 Foodie Town by Trevis Gleason (released in Ireland in September)
The Cookery School: Donnybrook Fair by Niall Murphy (released in Ireland in November)
The Low-FODMAP 6-Week Plan and Cookbook: A Step-by-Step Program of Recipes and Meal Plans. Alleviate IBS and Digestive Discomfort! by Suzanne Perazzini
The Veginner's Cookbook: The Ultimate Starter Guide for New Vegans and the Veg-Curious by Bianca Haun and Sascha Naderer
The Newlywed Cookbook: Favorite Recipes for Cooking Together by Williams Sonoma
Hippie Food: How Back-to-the-Landers, Longhairs, and Revolutionaries Changed the Way We Eat by Jonathan Kauffman
Raw and Radiant: 130 Quick Recipes and Holistic Tips for a Healthy Life by Summer Sanders
The Breakfast Bible: 100+ Favorite Recipes to Start the Day by Kate McMillan
Canada
The Complete Plate: 120 Recipes · 30 Meals · A Stronger, Healthier, Happier You by Lauren Klukas features meal plans for a caloric diet of 1,500, 2,000, and 2,500 calories, and demonstrates that weight maintenance, and weight loss, can be achieved through the science behind a balanced diet that meets both nutritional and caloric demands. It features 30 daily meal plans with each day perfectly balanced to provide 100 percent of your macro and micro nutrient needs, based on current daily recommended intake (DRI) values. The 90 recipes range from an indulgent Coconut and flax seed French toast to a Creamy corn, ham, and roast pepper chowder, and include additional snacks so that readers are satiated and energized throughout the day.
Instant Favourites: Over 125 Easy Recipes for Your Electric Pressure Cooker by Mia Bachmaier and Mike McColl features more than 100 recipes from morning to night including soups, sides, mains, pasta, desserts, sides plus vegan/vegetarian options for Meatless Mondays. Here you will find tips and tricks from two professional chefs (and busy parents) for getting the most out of your pressure cooker.
UK
Classic: Delicious, No-fuss Recipes from Mary's New BBC Series by Mary Berry shares a brand-new collection of recipes from her landmark new BBC One series. These recipes are wonderfully simple but utterly dependable – everyone can enjoy cooking and eating, no matter their time, budget or confidence.
Vegan 100: Amazing, Healthy Recipes from Avant Garde Vegan by Gaz Oakley is bold, vibrant and gorgeous. The emphasis in Gaz's 100 tempting vegan recipes is first and foremost on flavor. From Deep purple soup to Sage and smoked chilli "dog", it's all incredible-tasting food that just happens to be vegan. Delectable, beautiful and packed with dishes that are good for you, this is like no other vegan cookbook.
The Fragrant Pantry: Floral Scented Jams, Jellies and Liqueurs by Frances Bissell shows us how the scent and flavor of flowers can be used like that of an herb or a spice to add magic to a range of dishes. In these pages you will find recipes for preserves as diverse as Myrtle-scented figs, Peach and lavender mostarda, and Cucumber and lemon gin. This book also has instructions on how fresh edible flowers or floral extracts can be used to create exquisite preserves.
Eat Happy : 30-Minute Feel Good Food by Melissa Hemsley presents quick and easy dishes featuring supermarket ingredients and designed to see you through the whole week – tempting breakfasts to family dinners and lunches, as well as party food, snacks, baking, desserts, drinks, and simple, healthier versions of takeaway favourites. Amongst the 120 brand-new recipes are Roast carrots with pomegranate molasses and pistachios, Coconut chocolate clusters and Ginger fruit loaf. These are delicious alternatives and satisfying treats that encourage even the most time-poor cook to take pleasure in healthy fast food that puts taste first.
Well Being: Recipes and Rituals to Realign the Body and Mind by Danielle Copperman shares over 200 food recipes and 30 beauty recipes, divided into time-specific sections, taking you through the day from morning to evening, with each section offering harmonising practices and recipes for specific feelings, moods and situations. With tips on food and mindful living, Danielle guides you through simple rituals such as breathwork (Pranayama), meditation and yoga postures, and offers delicious, all-natural recipes.
Solo: The Joy of Cooking for One by Signe Johansen presents eighty fabulous recipes for happy solo cooking. Beautifully photographed and designed, the cookbook includes a range of tasty and uncomplicated no-cook fast food and one-pot dishes to transform your daily routine. Signe shows how to make big batch recipes that you can reinvent and enjoy throughout the week. There's also a chapter with more adventurous recipes for when time is on your side. Packed with advice for keeping a streamlined larder and tips for late-night fridge foraging, this title will inspire you to cook delicious food, every day.
The Modern Vegetarian: Food Adventures for the Contemporary Palate by Maria Elia shares food that will stop you in your tracks with recipes full of sensational flavours, colours and textures – stunning, imaginative vegetarian dishes that taste fantastic. The vegetables are, of course, the stars of her show, and Maria showcases the astounding versatility of her favourites.
Posh Pancakes: Over 70 Recipes, from Hoppers to Hotcakes from Quadrille brings you over 70 recipes from around the world for this simple, quick meal on a plate. Breakfast, brunch, lunch, dinner and dessert, the dishes include Chinese pancakes with duck and hoisin sauce, spicy Mexican hotcakes with avocado and chilli, classic English pikelets, as well as the quintessential French crêpes Suzette.
Sweden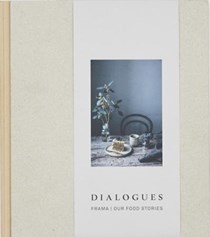 Dialogues Frama Our Food Stories by Frama Design Studios and Our Food Stories is a celebration of the relationship between people, great design and the food they love. Frama and Our Food Stories have a huge passion for good design and interiors and this, combined with exciting recipes, is the combination for something very special. The book explores three distinct dialogues: how natural and built environments impact on our daily lives; through tasty recipes, the food traditions and culinary rituals that inherently connect us with our lifestyles and past, present and future; and the power of the creative, their voice and how we respond to design. Though a series of case studies, interviews, 19 delicious recipes and curated images, the dialogues of Frama and Our Food Stories take the reader on a journey of concept and design that epitomizes the design studio and what they admire and evoke in their creative world.
Australia
Lunch Box: 70+ Healthy Meals, Snacks, and Treats for on the Go by Pete Evans promises no more soggy sandwiches, no more unhealthy and expensive trips to the school canteen! Pete Evans solves your lunch box dilemmas for school and work with more than 70 simple, healthy options.
Adam Liaw's Asian Cookery School by Adam Liaw is a reprint of Adam's highly sought after cookbook which fetches hefty sums even for used copies. I have been trying to obtain a copy of this book for years so I am happy to see it being re-released.
Bliss Bites: Vegan, Gluten- and Dairy-Free Treats from the Kenko Kitchen by Kate Bradley is a celebration of the taste and flavor sensations that are possible with dairy and refined sugar-free snacks. Kate Bradley, author of bestselling book and successful blog, Kenko Kitchen, returns with a collection of over 50 gluten-free, vegan and plant-based recipes – some savory, most sweet, all inventive and delicious.
Perfect Simple: Inspired Eating from a Nordic Kitchen by Simon Bajada embraces the clean, fresh flavours of modern Scandinavian cuisine to provide a compelling new blueprint for the way we eat now. Drawing on the traditional ingredients and contemporary preparations of Denmark, Sweden, Finland, Iceland and Norway – as well as taking inspiration from further afield – this book is a celebration of nourishing, vegetable-centred food that is simple to prepare, sometimes surprising and, above all, truly satisfying.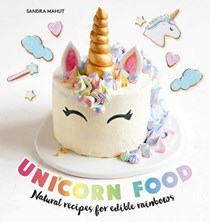 Unicorn Food: Natural Recipes for Edible Rainbows by Sandra Mahut urges you to add technicolour sparkle and fairytale magic to your plates. And it's all deliciously natural – no nasty e-numbers or preservatives, just beautiful food colourings made from berry juices and vegetables.
New Zealand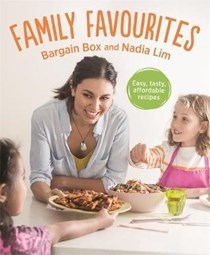 Family Favourites: Easy, Tasty, Affordable Recipes by Nadia Lim and Bargain Box shares easy to prepare and value-packed recipes that include not only hearty dinners but also irresistible sweet treats. You'll find fresh ideas for kiwi classics with a twist, pizza and pasta, burgers, Mexican and Asian-inspired dishes, and much more. Portion sizes are generous enough to satisfy the largest appetite, and with a whole section dedicated to using up leftovers, you'll stretch your grocery budget that little bit further. Whether you're looking for a quick mid-week dinner or a healthier takeaway substitute, you're sure to find meals the whole family will love.