Autentico – Rolando Beramendi
January 21, 2018 by Jenny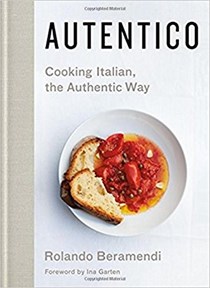 When I first picked up Rolando Beramendi's Autentico: Cooking Italian, the Authentic Way, I was instantly reminded of why Italian food is loved worldwide: simple elegance.
Rolando is an importer and connoisseur of the finest ingredients from Italy which is reflected beautifully in this book, his guide to Italian food. Manicaretti, his company, is a frequent winner of awards and his products are well respected by many in the culinary field.
The chef's "chef", Rolando tackles the classic dishes such as Spaghetti cacio e pepe and presents them in an authentic way, peeling back layers of adaptations to reach the authentic recipe. He perfectly manages to share decades, if not century old, recipes while yet making them feel modern and fresh.

A stunning Lattice of zucchini and toasted pistachio; Panettone bread pudding; or Fennel braised in Chianti are a few dishes that will wow and impress even your Italian mother-in-law. This title is not only a cookbook but an education in the beauty of Italian ingredients and cuisine.
I love the classic Italian cookbooks that are on my shelf, but Autentico has now taken the primo spot in my Italian section. It is not only the beautiful photographs in this book, it is the overall feeling of quality from the narrative, to the profiles of purveyors to the rustic perfection of the dishes shared, that make it so special. This chef loves Italian food and magically casts a spell on readers as well.
Rolando has a few events scheduled in the US to celebrate this book (as it should be celebrated) and we have added them to our Calendar. Special thanks to the publisher, St. Martin's Press, for sharing the following recipe with our members today and for providing three copies of Autentico in our contest below. Enter the contest and win a copy for a friend, but buy the book now – you will not regret it.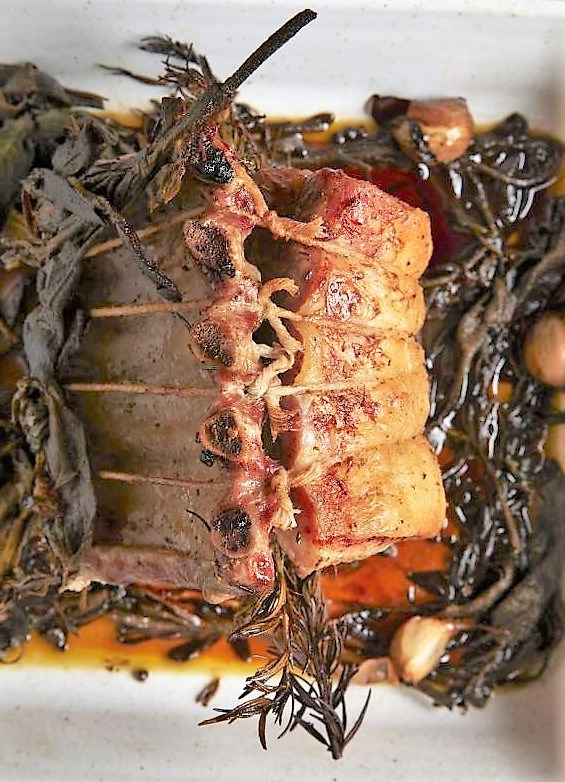 Oven-roasted pork (Arista di maiale al forno)
Add this recipe to your Bookshelf (click the blue +Bookshelf button).
Ingredients
1 4-pound bone-in pork loin or rib roast
4 garlic cloves, finely chopped
2 teaspoons wild fennel pollen or finely crushed fennel seeds
2 teaspoons cracked Tellicherry black peppercorns
1 teaspoon fresh rosemary
1 teaspoon chopped fresh sage leaves
q.b. fine sea salt
q.b. cooking extra-virgin olive oil
10 rosemary sprigs, for the pan
10 sage sprigs, for the pan
20 bay leaves, for the pan
1 head pink or regular garlic, cloves broken apart but not peeled, for the pan
q.b. robust extra-virgin olive oil, for the pan (*see note)
Directions
To prepare the roast: Ask your butcher to make a crack between each vertebrae (my butcher flips the roast over so it is bone-side up and uses his huge butcher cleaver). If I am at home, I use a very sharp chef 's knife, and with the help of a rubber mullet or a hammer, I tap between each of the chops until I hear a crack. Once you split the ribs, flip the roast over again, and trim away and set aside some of the fat. Finally, flip the rack to a stand-up position and, using a very sharp knife, begin boning the filet to remove it entirely in one piece. Use the tip of the knife to make a series of incisions and cuts in the meat without piercing all the way though.
Using a mortar and pestle, mash the garlic, fennel pollen, pepper, rosemary, sage, and salt. Add the olive oil until a thick paste forms.
Using your hands, rub the mixture on the inside of the bone rack, and all over the arista. If you have any left over, rub some on the outside bone rack as well.
Using cooking twine, tie the meat back to the rack, wrapping between each rib to make it easier for you to slice and keep the arista tight and whole. Wrap in plastic wrap and refrigerate for at least 8 hours or up to overnight.
Preheat the oven to 400°F (200°).

In a large baking dish, combine the rosemary sprigs, sage, bay leaves, and garlic. Cut the reserved pork fat into cubes and scatter over the top. (If you don't have enough fat for the size of the rack, drizzle with additional cooking extra-virgin olive oil.)
Tranfer the arista to the baking dish and roast until a thermometer inserted into the center of the rack reads 130°F (55°C), about 40 minutes. Remove from the oven, cover with aluminum foil, and set aside to rest for 20 minutes.
Cut the string as you slice, leaving the others tied up if you are not serving the whole arista. Drizzle with pan juices and robust extra-virgin olive oil and serve warm. I like to save the bones to make Rosticciana.
Note: q.b. stands for quanto basta which, in Italian, means "as much as is needed" or "as much as is enough"

Recipe excerpted with permission from Autentico by Rolando Beramendi (St Martin's Griffin, 2017) Photographs Laurie Frankel.
The publisher is offering three copies of this magnificent book to EYB Members in the US. One of the entry options is to answer the following question in the comments section of this blog post.
Which recipe in the index would you try first?
Please note that you must be logged into the Rafflecopter contest before posting or your entry won't be counted. For more information on this process, please see our step-by-step help post. Be sure to check your spam filters to receive our email notifications. Prizes can take up to 6 weeks to arrive from the publishers. If you are not already a Member, you can join at no cost. The contest ends at midnight on March 2nd, 2018.