The "Cluck Team" on fried chicken
May 28, 2014 by Jane
Fried chicken: whether you love it extra-crispy or cold on a picnic, you're sure to find your favorite style of this iconic American food in Lee Brian Schrager and Adeena Sussman's new cookbook, Fried & True. This cookbook takes us on a journey to find the best regional fried chicken and side dish recipes. Mr. Schrager is the founder of the South Beach and New York Wine & Food Festivals, and Ms. Sussman is a food writer and recipe developer who has co-authored a number of cookbooks, including several with with Food Network host Ellie Krieger.
You can enter our contest for a chance to win one of three copies of Fried & True.
The authors of Fried & True are happy to share a bit of insight into the development of this cookbook. Without further ado, here is their story:
Writing a book about fried chicken was a pure pleasure for both of us. Lee's longtime love of the subject–it's been his favorite since childhood–coupled with Adeena's obsession of all things crispy and crunchy dovetailed into a perfect partnership. We only felt lucky that we would be the ones to gather the date into one downright delicious volume. Our only concern was whether there was enough variety of styles, flavors, and preparations to fill a cookbook; what we found in the end was that narrowing them down was the challenge. Just around the time we joined forces with our amazing photographer, Evan Sung, to form the "Cluck Team," we realized that we were in the throes of a full-on fried chicken revival. Like burgers, pizza, and tacos before it, fried chicken was now being explored for both its cultural significance and culinary potential.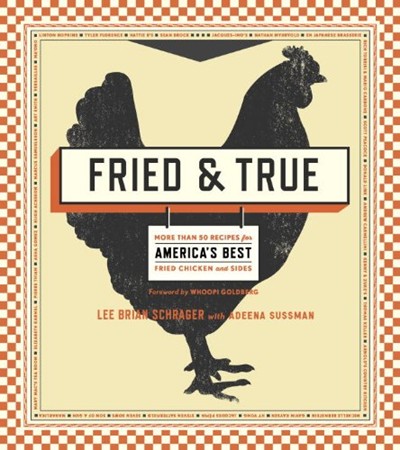 From coast to coast we found regional specialties that blew us away, reflecting influences from Asia, Africa, India, Europe, the Middle East-and beyond. All we had to do was ask, and everyone–from Michelin-starred chefs with three-day brines and molecular food hacks to passionate home cooks with lovingly preserved, hand-scrawled recipe cards–opened their kitchens and shared their well-honed recipes with us. As we delved deeper into the subject, secrets revealed themselves to us: how cooks in New Orleans insist on using chilled chicken and "clapping" the additional flour off the dredged birds, both steps undertaken to ensure maximum shattering crispness; how Asian-style fried chicken captivates with mouthwatering sauces ranging from a buttery sriracha topper to a sauce for wings made with a Pan-Asian pantry's worth of Asian condiments; and, perhaps most significantly, just how simple fried chicken is to prepare with the humblest of ingredients on hand.
Flip through Fried & True and you'll find an incredible five-seeded schnitzel with caper mayonnaise, created just for us by Yotam Ottolenghi, the author of cookbook phenomenon Jerusalem. There's amazing Japanese chicken tenders, marinated in soy and garlic before a dredge in potato starch, a quick fry, and a squeeze of lemon. And there's an amazing dark-meat fried chicken-and-biscuit sandwich, complete with sage-scented sausage gravy, that we discovered from Karl and Sarah Worley, the incredibly talented owners of Nashville's Biscuit Love Truck. These recipes may seem incredibly different, but they-along with the other 55 chicken recipes and nearly 30 sides-are made with love by true American artisans. Their passion made our job incredibly easy, as well as incredibly delicious.
Photo of Lee Schrager by Evan Sung; photo of Adeena Sussman by Mira Zaki