Andrea Slonecker eggs us on with her latest cookbook
March 25, 2014 by Jane
Eggs have experienced a resurgence recently, with the latest science promoting egg consumption as part of a healthy diet and a growing trend for urban dwellers to raise chickens. Andrea Slonecker's new cookbook, Eggs on Top, explores the countless ways that eggs can elevate a dish. We asked Andrea to discuss the book, egg trends, and her favorite way to make an egg. 
You can win a copy of Eggs on Top by entering our contest.
——————————————– 
EYB: For many years eggs were a forbidden food for anyone trying to lose weight or be heart-healthy. There now is a completely opposite nutritional view with eggs seen as a great well-balanced addition to any diet. Do you think you could have written this book 10 years ago?
The fact is that eggs have been a staple food for people around the world for thousands of years, and I'm not interested in writing books to appeal to fad diets. In terms of their nutrient density and their satisfying flavor and richness, eggs are one of nature's most perfect foods. Oh, yeah, the question…yes, a book on eggs could have been written 10 years ago, regardless of fad dieters' avoidance of them. After all, Marie Simmons published her wonderful book The Good Egg in 2000, and it won a James Beard Award. But, there are other factors that make this particular twist on eggs relevant now: The rise in urbanites keeping backyard chicken coops, the increased availability of high-quality eggs from humanely raised hens, and the restaurant trend of putting eggs on things.
EYB: Please state your case for using organic, cage-free eggs wherever possible.
This is an excerpt from the book:
Every Saturday, I buy my eggs for the week from a jolly old farmer in bright red suspenders at the Portland Farmers' Market. His name is Marvin. Covered by a patio umbrella in the rainy months, I can count on seeing Marvin's folding table each week, draped in a hen-and-egg tablecloth and haphazardly stocked with eggs from the hens, ducks, quail, and geese raised on his Dancing Chicken Farm in La Center, Washington, just across the Columbia River. I can tell from his photo books of his birds and their stomping grounds–a brooder, green pastures, and the nesting coop–that they sure have reason to dance. And proof is in the eggs: They are exceptionally fresh, usually harvested that morning or the day before he brings them to market. I can't wait to get them home and poach one to put on something, anything; maybe a farro salad for lunch. My favorite part is that when I cut into the egg, the silken yolk gushes out, becoming a rich, radiant sauce that moistens the grains.
Sometimes out of convenience, I buy eggs at my neighborhood grocery store, and those are quite good too. With our increasing demand for high-quality eggs from humanely raised hens, the choices at supermarkets are changing for the better.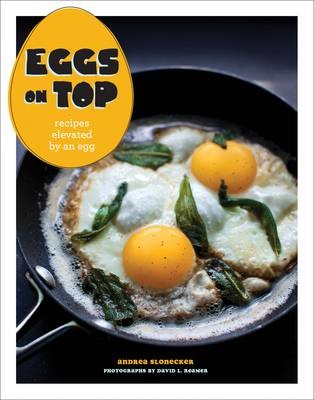 EYB: Do you have any idea how many eggs you used while developing the recipes in this book?
No idea! Hundreds!
EYB: Were there any recipes that you tried that really just did not work with an egg on top?
I tried baking an egg inside of a portobello mushroom cap, like a sunny-side up stuffed mushroom…it was just a totally ridiculous idea.
EYB: Did you encounter any surprises of dishes where you hadn't anticipated how great a contribution the egg would make?
The most unexpected recipe is probably the fried green tomato salad with scrambled eggs on top. It's fried green tomatoes on top of a fresh heirloom tomato salad, all topped with silky scrambled eggs, done in the French style. It sounds weird, but the eggs act as a rich and luxurious sauce and it totally works. It's one of my favorite actually.
EYB: What are your personal favorite and least favorite methods of cooking eggs?
It's hard to choose just one preparation, because I do love them in so many ways, but my go-to is probably poaching. I love the look, texture, and yolky ooze effect of a well-poached egg. My least favorite preparation is definitely the egg white omelet-the yolks are the best part, IMHO!
EYB: Your first and second cookbooks have been single subject books (pretzels and eggs) – do you plan to carry on exploring more specialist areas of cooking?
I'm currently working on two new books – one about picnics and one about beer – both single subjects. So, yes! The thing I love about focusing on a singular topic is that it gives me the ability to dive deep into that subject. There was a time when the cookbook market wanted one book to learn "how to cook everything," but now many people are looking for experts to teach them how to cook one thing in the best possible way.
EYB: And finally, what dish in your book would convert someone who thinks they don't like eggs?
That's funny…the photographer on the book, David Reamer, showed up to day 1 of the photo shoot and immediately confessed that he didn't like eggs. By the end of several days of photographing and eating eggs on top of things, he was converted to what I'd call an egg appreciator: perhaps he didn't love them, but I did catch him thoroughly enjoying an egg dish or two. I think it was the eggs on top of pizza that got him.