A spoonful of sugar
September 21, 2022 by Darcie
I grew up far north (and west) of the Mason-Dixon line, the historical demarcation between North and South in the United States. I married a Southerner and lived in the South for many years, so I absorbed a lot of Southern cooking culture (although I never developed a charming accent, much to my chagrin). One thing my husband noted as a crucial difference between Northern and Southern cooking was in the sweetness level of various foods. In the South, if you order iced tea it comes sweet, no questions asked. However, in the North you have to specify whether you want it sweet or not. The opposite is true concerning cornbread: in the South it is almost always made with no sugar, while in the North cornbread is usually sweet and more cakelike.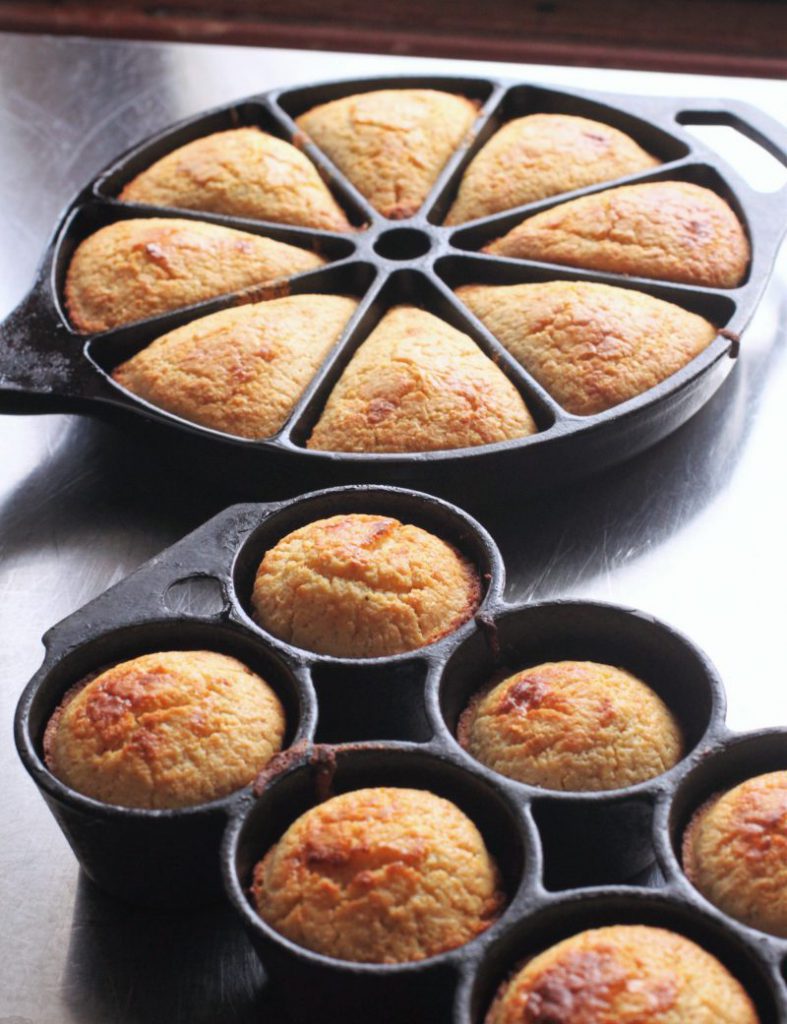 The explanations for this difference range from climate to cost to tradition. While we never had any arguments over which way to make cornbread in our house, it was one of the few things my husband decided he wanted to take over because I hewed to my Yankee upbringing, adding sugar to my cornbread, and he wanted it to be more like the kind he grew up eating. He found a traditional Southern recipe and began to make cornbread to accompany Southern meals like a pot of pinto beans or barbecued pork shoulder, where it was all but a requirement.
Traditions, however, have a way of slowly and gradually changing. After he made the recipe a few times, a curious thing happened: the cornbread became sweeter and sweeter. At first, he added a mere tablespoon of sugar, "just to punch it up a bit," he said. That was followed by another, and yet another. Did my husband develop a taste for the sweet life because of the Northern style of cornbread I had been making? I am not sure, but we are both happy with the hybrid cornbread that we developed. It is neither Northern or Southern, but contains elements of both. We make it in a cast iron pan and with more cornmeal than flour, like they do in the South, but with a few tablespoons of sugar, more egg, and a bit of sour cream thrown into the batter. Here's to creating your own tradition.
Middle ground cornbread
1 generous cup (5 ounces/145 g) coarse yellow cornmeal
3/4 cup (3.5 ounces/100g) all purpose flour
3 tablespoons sugar
1 1/2 teaspoons baking powder
1/2 teaspoon baking soda
1/4 teaspoon salt
4 ounces (112 g) unsalted butter, melted and divided
3 large eggs, separated
1 1/2 cups (350 ml) buttermilk
2 tablespoons sour cream
Preheat oven to 425 degrees F. At the same time you start mixing the cornbread, place a 9-inch cast iron skillet into the oven to heat.
Measure dry ingredients into a large bowl and stir to blend. In a large measuring cup, whisk together 3 ounces (85 g) of the melted butter and the egg yolks until smooth. Whisk in the sour cream, then the buttermilk and egg whites until well combined (mixing the yolks and butter together first helps keep the mixture emulsified; you can skip this step if pressed for time). Add the wet ingredients to the dry ingredients and stir briefly, just until no dry spots remain (you might still have a few small lumps). The batter should be thick but ooze; if it is stiff, gently stir in a few tablespoons of water.
Carefully remove the hot skillet from the oven and add the remaining butter to the skillet, swirling to coat the bottom of the pan (it will sizzle). Pour the batter into the pan, spreading it to the edges. Return the pan to the oven and bake for 25-35 minutes, until the top is golden brown and a cake tester inserted in the center comes out with no more than a few crumbs. Let the cornbread rest in the pan for a few minutes before serving.
We like to make this in two segmented cast iron pans to maximize the crispy edges. If you do this, you may need additional butter to coat the pans.