Why butter temperature matters
August 2, 2022 by Darcie
As someone who loves to bake, I find that many of my favorite recipes begin with at least one stick of butter. Whether the butter is straight from the freezer, needs to come out of the fridge, or should be tepid depends on what I'm making, as the temperature of the butter will greatly affect the outcome of the baked good. Eater's Dayna Evans explains why the temperature is so important in a primer about this surprisingly tricky subject.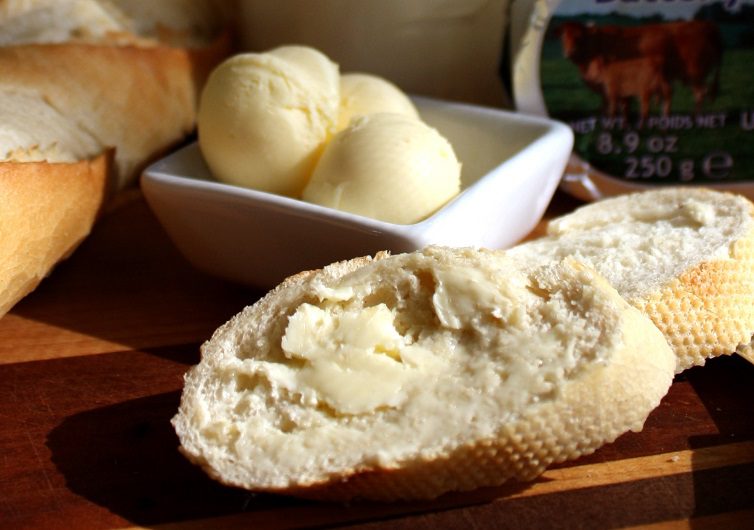 For cookies, most recipes call for room temperature butter to be creamed with sugar. This allows air to be incorporated into the mixture, and the temperature of the butter here is crucial, explains Jesse Szewczyk, author of Cookies: The New Classics. "Room temp butter is able to hold onto air," Szewczyk says. "You can mechanically shove air into it by creaming." If the butter is too warm, however, it won't be able to hold onto that air, which is why Szewczyk recommends against the oft-used trick of softening refrigerated butter in a microwave, because the butter "skews between melted and softened," reducing its ability to capture the air and resulting in a denser cookie.
Pie crusts require cold butter to keep the fat separated from the flour, essential for creating flaky layers. For this reason, some people go the extra step of using frozen butter, but that can pose a problem. Lisa Ludwinski, author of Sister Pie, says that butter "is harder to work with when it's frozen — you could potentially be elongating the process," which could lead to overworking and thereby toughening the dough.
The article also provides pointers from Kristina Cho, author of Mooncakes and Milk Bread, about using butter in baking bread and ends with a caveat about avoiding the temptation to use browned butter in everything – even though it does taste really, really good. Browning the butter changes the water content and that can screw up the proportions of liquid in a recipe, so it's best not to use it unless you are confident about how that will affect the final texture of the product you are baking.