The last two weeks: Adding books to your Bookshelf, Food Season is back at The British Library and more
May 6, 2022 by Jenny
For our new members, we want to review adding books to your Bookshelf. A member asked recently why the US edition of a UK book was not listed in the Library. It was but was linked to the edition we indexed. Here's an example of how it works: Claudia Roden's Mediterranean: Treasured Recipes from a Lifetime of Travel is the US issue of the UK book Med: A Cookbook which is the edition we indexed. In order for the member to add the US book to her Bookshelf, she would need to add the ISBN to Import Books, under the My Bookshelf tab (because searching for the book by the US title or ISBN would not provide a result as the title is linked to the UK master). Importing the ISBN would result in the book being added to the member's Bookshelf. The other alternative is to search by the author name and filter the results by date published and this will appear: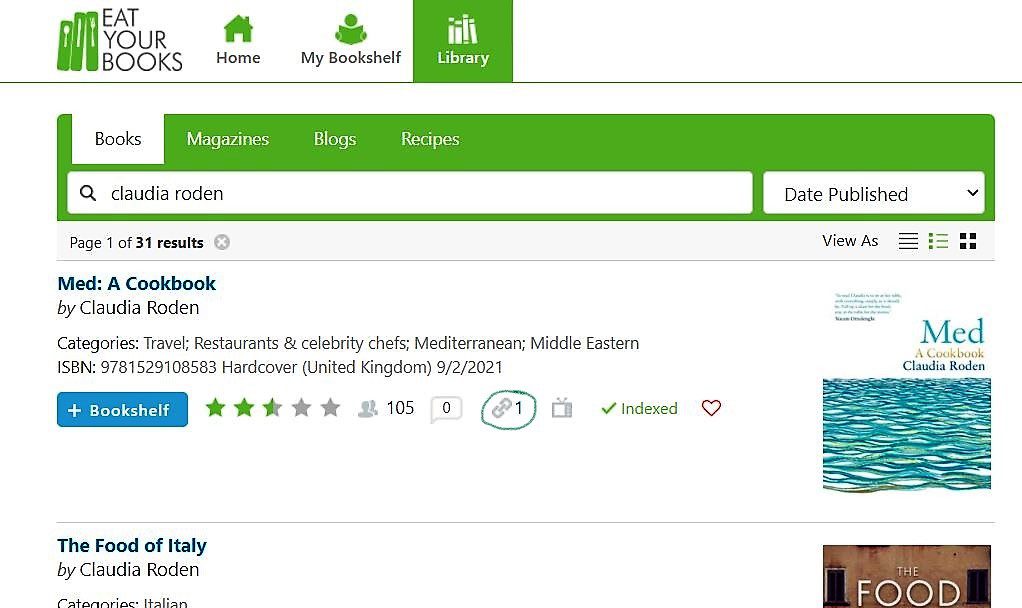 The member would then click on the link symbol circled in the photo above which would result in the following: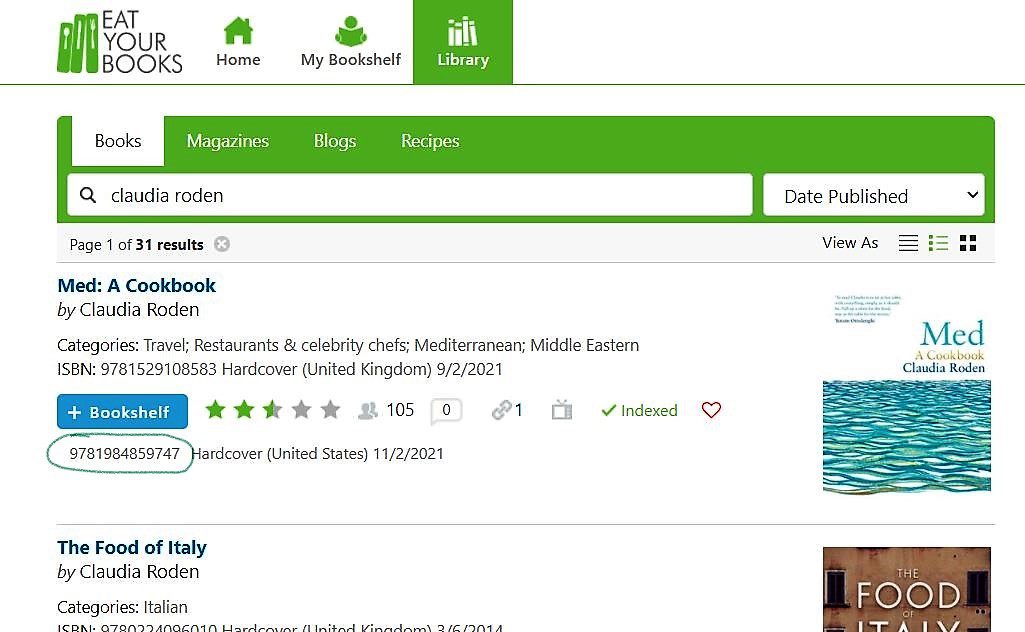 Then the member can click on the ISBN for the US title and bring up the record to add the book to their Bookshelf. For more on book results see our Help section.
Another helpful post that we keep updated with new features is our Ideas on how to make EYB work better for you.
---
The British Library's Food Season is in full swing and I have added those events, both online and live at the library on our calendar. Also note the addition of Cookbook.hu in Hungary on our Cookbook Store Page.
The last two weeks on Eat Your Books
Since our last roundup, Darcie has written these articles:
Darcie's weekly food news antipasto is shared every Sunday and the tag #foodnews brings up these information-packed posts from the most current to the first one. Darcie can be followed on Instagram at darcie_bakes.
Since our last roundup, I have posted the following:
Please be sure to check our Calendar which has been recently updated this week. My Instagram is thecookbookjunkies.
Jenny and the EYB Team
Recently Indexed Titles
Our team of member and pro indexers are working hard indexing titles, both new and old. Below are just a few highlighted titles. A reminder: newly indexed titles will always show up at the top of the EYB Library and your Bookshelf so you will always know which titles have just been indexed. Recent indexed magazines can be found here. For information on member indexing, please see this roundup with more details.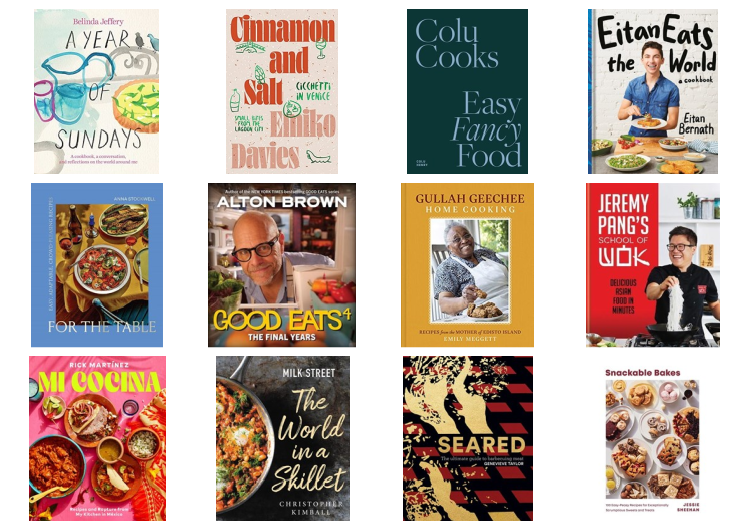 Member Photo of the Week
Blueberry lemon bundt cake from Sweet Paris: Seasonal Recipes from an American Baker in France (page 71) by Frank Adrian Barron submitted by member ToPieFor
Be sure to enter our giveaway for this spectacular book and check out Frank's last few events in NYC.
Have you uploaded any of your own photos yet? Learn more! Please remember to update your profile with your Instagram name if you would like to be tagged in any photos that we share!
Featured Online Recipe
Tibetan vegetable noodle soup (Thukpa) from Kavey Eats by Kavey Favelle from Taste Tibet: Family Recipes from the Himalayas by Julie Kleeman and Yeshi Jampa
Add Kavey Eats blog to your bookshelf for 485 additional recipes
EYBDigital Previews
Recently, we uploaded our 1,334th EYBDigital Preview where a selection of full sample pages are available including the titles below.
Learn more about EYBDigital Previews.
Note: To learn why you cannot add all EYBDigital Preview recipes to your Bookshelf, please read this Help page.

---
The cookbook giveaway roundup shares all current giveaways.