May 2021 New Cookbook Review
May 25, 2021 by Jenny
We have almost made it through half of 2021. I was talking with a publicist recently and we were discussing with amazement about the power of the cookbook buying public. We weren't sure if we are just busier because publishing is booming or if working from home enables us to work longer.
I, myself, have never had a commute while working for EYB – unless you count the steps from my bedroom to my office but many people who normally commute to their place of employment are still working from home. Those folks don't have to get up earlier to catch a train or drive into work, they are probably eating lunch at their desks because there isn't anyone to go out with (or any place to go if there were but that is and will be changing as more eateries open up) and they are not rushing out of the office to catch that same train or beat the traffic. Cookbook sales are exploding. More people are cooking at home (2020 is the year the bread making population grew by leaps and bounds) and more of us are looking for an escape away from the stresses of these last eighteen months and finding that in a beautiful cookbook.
Take a look at the 2021 cookbook preview post especially August through November and that compilation doesn't include every single book being released. I scroll that post often and my mouse wheel is wearing down as is my fingerprint on my scrolling finger – maybe I should switch up fingers and then I can rob a bank and leave no prints!
May's cookbooks are cocktail/mocktail heavy (as is most of 2021 – we all could use a drink whether it be alcoholic in nature or just a delicious beverage) and outdoor cooking titles are starting to spring up. There are also many vegetable/vegan options and a few books that whisk us away to Vietnam, the seashore, the Middle East and the French countryside.
If you would like to order any of these titles, using our affiliate links below or the BUY BOOK button on the book details page, will help to support EYB and our indexing efforts (as well as help us to include worldwide options in some promotions). Please remember to click here before any online shopping Amazon USA * Amazon Canada * Amazon UK * Book Depository. Please remember your local bookstores during this trying time as well.
If there is an

available for a cookbook, look for the orange icon in the blurb. Clicking on that icon will take you directly to the preview. Lastly, if events are planned for particular books/authors, I have included a link. Be sure to check our Calendar frequently.
To jump to a particular country's listing, please click on the links below.
UNITED STATES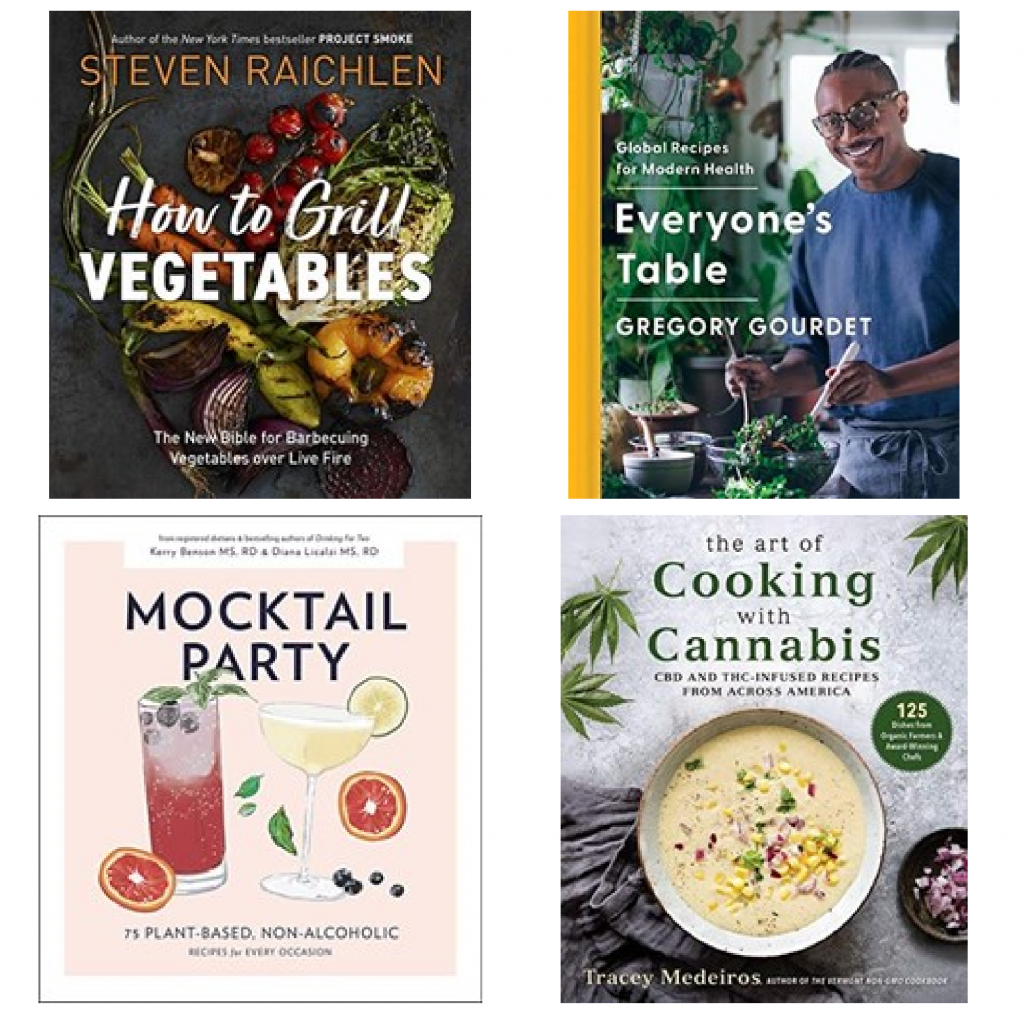 Everyone's Table: Global Recipes for Modern Health by Gregory Gourdet and J. J. Goode: I have loved Gregory since I first watched him compete on Top Chef. His cooking left a lasting impression in both the 12th and 17th season and I'm loving watching him as a judge/diner on this year's Top Chef based in Portland. His debut cookbook is filled with dishes inspired by global flavors with a nod toward health. The chef speaks openly about his battle to sobriety and how that influenced him to take stock of the damage he had done to his body. While he admits he is not a doctor or nutritionist, he found revamping his diet to one that contained foods based on nature worked for him. Vegetarian, seafood and meat dishes are included here along with a chapter on sweets. Some recipes are time and labor-intensive but they are an investment in your health and enjoyment. Especially after the last 18 months, taking some time to prepare a sauce ahead or secure an ingredient or two for a beautiful, delicious meal, is a small price to pay for enjoyment.
The Art of Cooking with Cannabis: CBD and THC-Infused Recipes from Across America by Tracey Medeiros is a valuable resource for new inspiration and excitement surrounding cannabis, food, and responsible consumption. Tracey Medeiros introduces the reader to dozens of organic farmers, award-winning chefs, artisans, and food producers who are leading the green revolution by doing their part to demystify cannabis and its culinary use. Individual profiles contain stories from the book's contributors who come from rural and suburban communities and bustling cities across this nation. These folks have generously shared their personal struggles and successes which have led them to understand the many health and wellness benefits of the cannabis plant and its important role in society.
How to Grill Vegetables: The New Bible for Barbecuing Vegetables over Live Fire by Steven Raichlen: (Hardcover & Paperback) America's grilling guru offers a primer for how to grill vegetables – with lots of creative flavors and techniques – whether you're eating main dishes that highlight vegetables, or you're rounding out the barbecue menu with grilled garden-fresh sides. Not a vegetarian book, but vegetable-forward (and with vegetarian and vegan adaptations).
Mocktail Party: 75 Plant-Based, Non-Alcoholic Mocktail Recipes for Every Occasion by Diana Licalzi and Kerry Benson: Developed by two registered dietitians, the non-alcoholic drink recipes are nutritious and made with all-natural ingredients with minimal sugar that you can easily find at any grocery store. The book also features valuable information about the benefits of an alcohol-free lifestyle, tips for sustainable mixology, and advice for ordering mocktails at a restaurant or bar.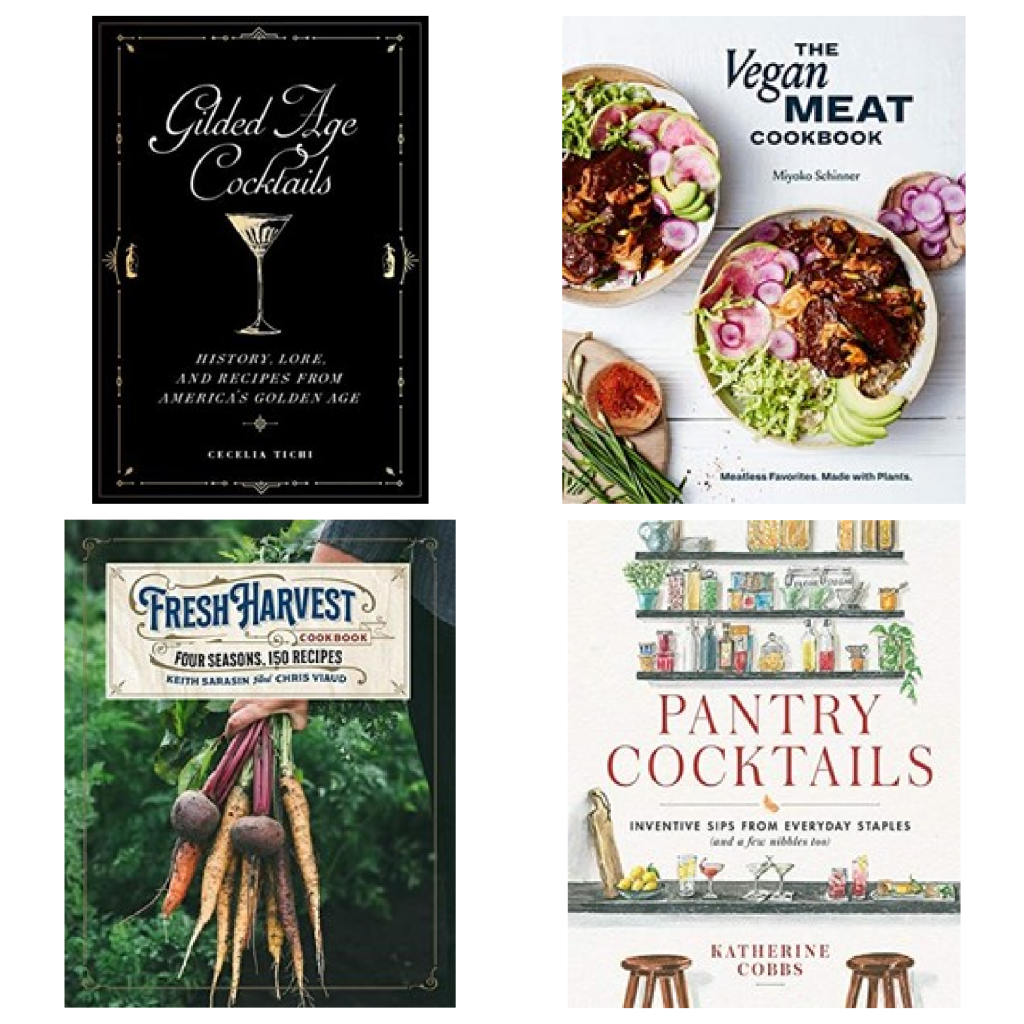 The Vegan Meat Cookbook: Meatless Favorites. Made with Plants. by Miyoko Schinner: More than 100 hearty, succulent, people-pleasing meals featuring vegan meat, from comfort food classics and speedy weeknight dinners to global flavors and showstoppers, plus recipes for DIY vegan meats (28 types) and cheeses are included here.

Pantry Cocktails: Inventive Sips from Everyday Staples (and a Few Nibbles Too) by Katherine Cobbs: We all want to be the type of host who can put together a tasty meal or a delicious appetizer for unexpected company by creatively using the odds and ends from our pantry or fridge. That same improvisational approach can be applied to home bartending with impressive and tasty results. Knowing how to enlist the everyday basics cluttering up your kitchen, like condiments, jams, pickles, and sauces, means you can craft inventive, flavorful cocktails on the fly, satisfying cravings and fulfilling your guest's requests.
The Fresh Harvest Cookbook: Four Seasons, 150 Recipes by Keith Sarasin and Chris Viaud features over 150 recipes that champion locally sourced products. Each chapter is organized by a season, with recipes for breads, snacks, salads, soups, entrees, and desserts, letting you create entire menus for family and friends. Learn about preserving, canning, and fermenting, ensuring that you get the most out of every season.
Gilded Age Cocktails: History, Lore, and Recipes from America's Golden Age by Cecelia Tichi: This delightful little black book takes the reader back to the decades following the Civil War when inventions that were intended to make our life "easier" came to be. The author offers a tour of the cocktail hours of the Gilded Age, in which industry, innovation, and progress all take a break to enjoy the signature beverage of the age. This title reveals the fascinating history behind each drink as well as bartenders' formerly secret recipes. Though the Gilded Age cocktail went "underground" during the Prohibition era, it launched the first of many generations whose palates thrilled to a panoply of artistically mixed drinks. If you like a dash of history with your cocktail of choice this is the book for you. I am enjoying it immensely.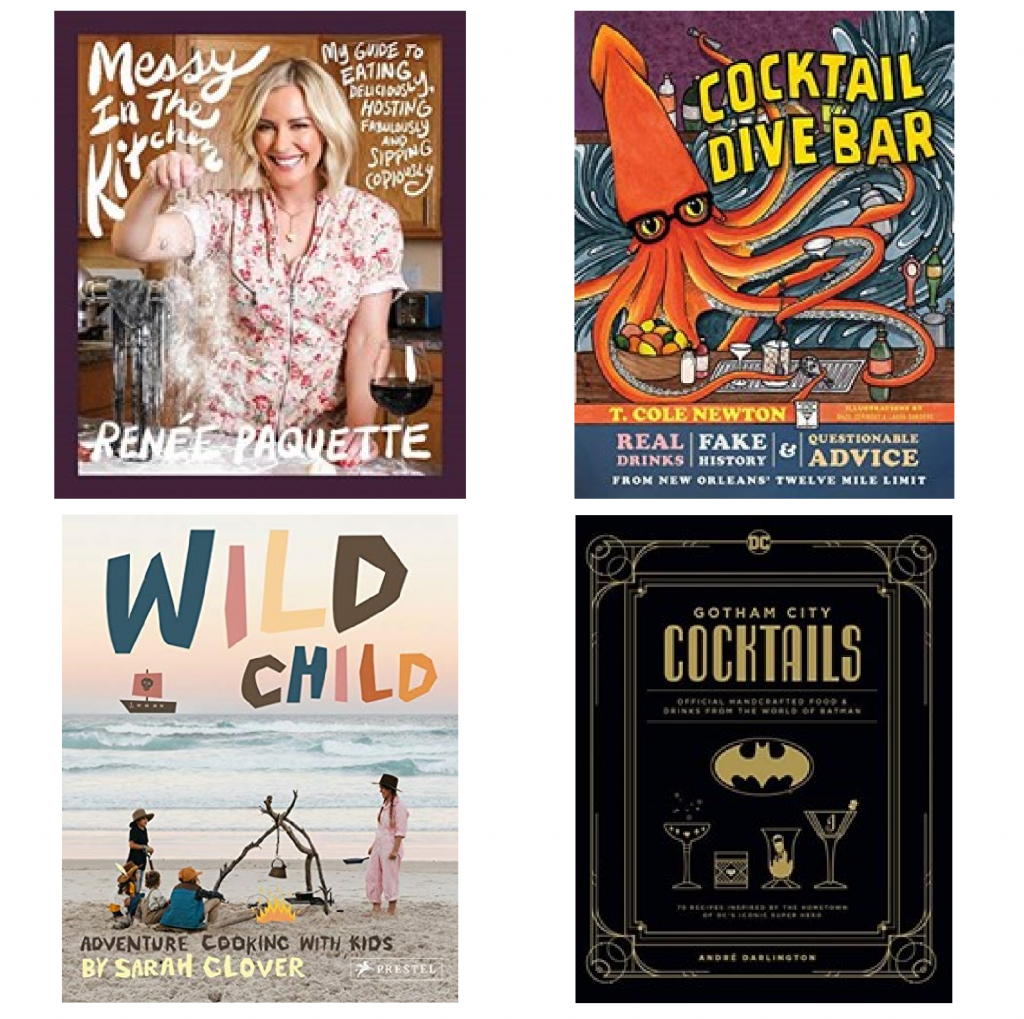 Cocktail Dive Bar: Real Drinks, Fake History, and Questionable Advice from New Orleans' Twelve Mile Limit by T. Cole Newton, the owner and proprietor of the beloved Louisiana bar Twelve Mile Limit, brings classic and original cocktail recipes to life with a combination of colorful invented histories and real stories, alongside advice drawn from his experience as a young bar owner in the Crescent City.
Gotham City Cocktails: Official Handcrafted Food & Drinks From the World of Batman by André Darlington: Based on the colorful heroes, villains, and locations of Gotham City, this compendium of delectably enticing cocktails takes readers on a trip through the home of the Dark Knight. Featuring a collection of sophisticated libations, this unique book contains seventy recipes for delicious handcrafted cocktails, as well as a curated selection of tasteful bar bites to pair with the beverages.
Messy In The Kitchen: My Guide to Eating Deliciously, Hosting Fabulously and Sipping Copiously by Renée Paquette, a Canadian-American television host and personality, shares an array of over sixty feel-good, feel-fancy meals, including appetizers, sides, salads, soups, and cocktails, (and the playlists to accompany them), to inspire a new generation of home cooks. Full of Renee's passion for cooking, readers will be inspired and empowered to toss the take-out menus, put together a guest list, set the table, roll up their sleeves, and dare to get a little messy in the kitchen!
Wild Child: Adventure Cooking With Kids by Sarah Glover: In her first cookbook, Sarah showed the world how liberating, satisfying, and easy it is to cook beautiful healthy food outdoors. In this title, she brings kids of all ages into the mix, proving that they too can take part in collecting, preparing, and cooking campfire meals the whole family can enjoy. Filled with gorgeous landscape photography from across the Australian continent, this stylish yet down-to-earth cookbook encourages families to embrace the outdoors, teaches young chefs valuable techniques and life skills, and proves once again that everything tastes better cooked over an open flame.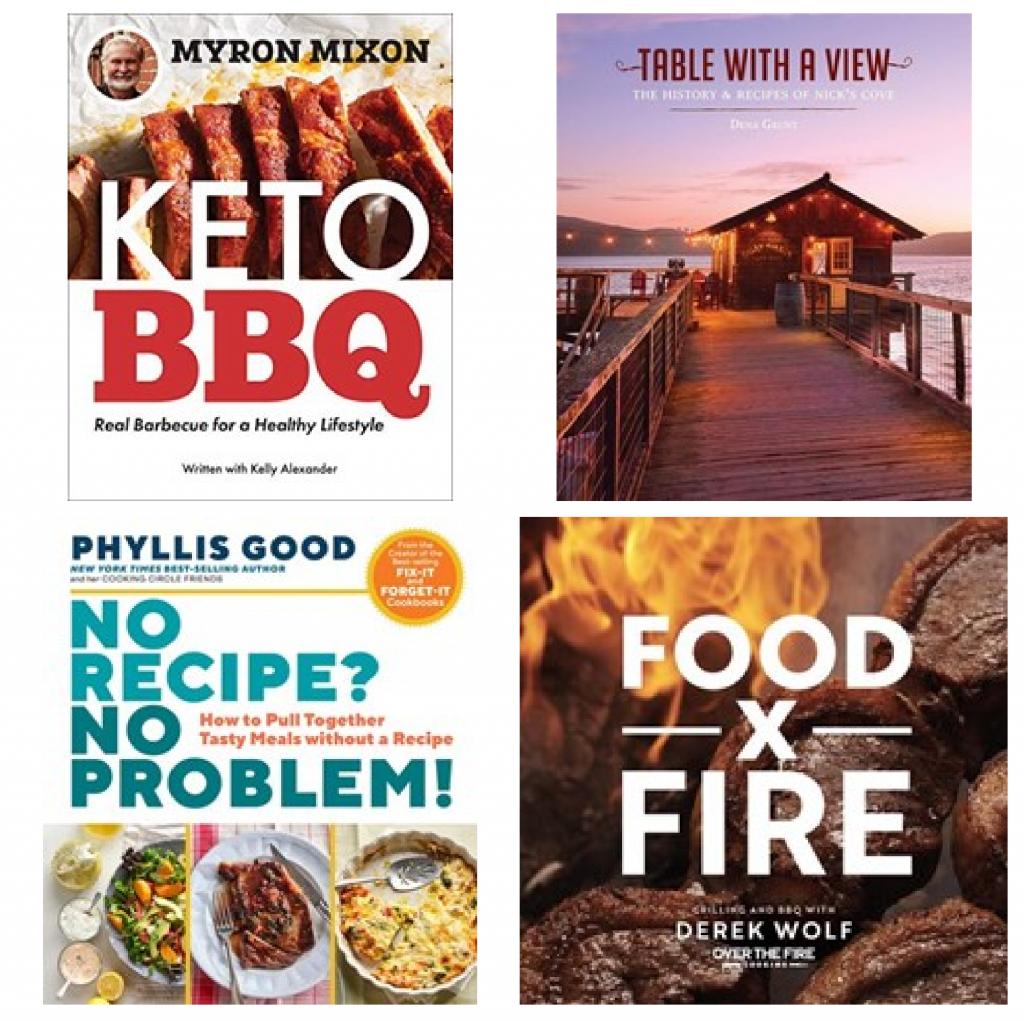 Keto BBQ: Real Barbecue for a Healthy Lifestyle by Myron Mixon shares recipes that helped one of the kings of barbecue lose over 100 pounds and maintain that loss for over two years. Mixon shares a series of real and simple changes you can make to your diet while still enjoying barbecue and other Southern foods in a healthier way.
Table with a View: The History and Recipes of Nick's Cove by Dena Grunt: Nick's Cove, perched alongside beautiful Tomales Bay, opened its doors in the 1930s and has been a Northern California destination ever since. This title celebrates the historic restaurant, bar, and inn's award-winning cuisine, which features fresh seafood, locally sourced meats, and seasonal produce from their on-site farm and garden, the Croft. Inspired by the area's serene natural beauty and abundant resources, the restaurant's dishes reflect the perfect combination of comfort and refinement, embracing an elegant approach to hearty farm-to-table cuisine.
Food by Fire: Grilling and BBQ with Derek Wolf of Over the Fire Cooking by Derek Wolf: Discover the secret to great flavor: using hardwoods and charcoal to grill. Join live fire cooking expert Derek Wolf, creator of the popular website and social media handle Over the Fire Cooking, for an exploration of techniques and recipes built around the fire. Whether you're a beginner or an experienced live fire enthusiast, you're sure to learn something new.

No Recipe? No Problem!: How to Pull Together Tasty Meals without a Recipe by Phyllis Good, author of the Fix-It and Forget-It fame and her circle of friends who love to cook are here to help. Her latest cookbook offers tips, tricks, and inspiration for winging it in the kitchen. Each chapter offers practical kitchen and cooking advice, from an overview of essential tools and pantry items to keep on hand to how to combine flavors and find good substitute ingredients, whether it's sheet pan chicken, vegetables, pasta, grain bowls, or pizza for tonight's dinner.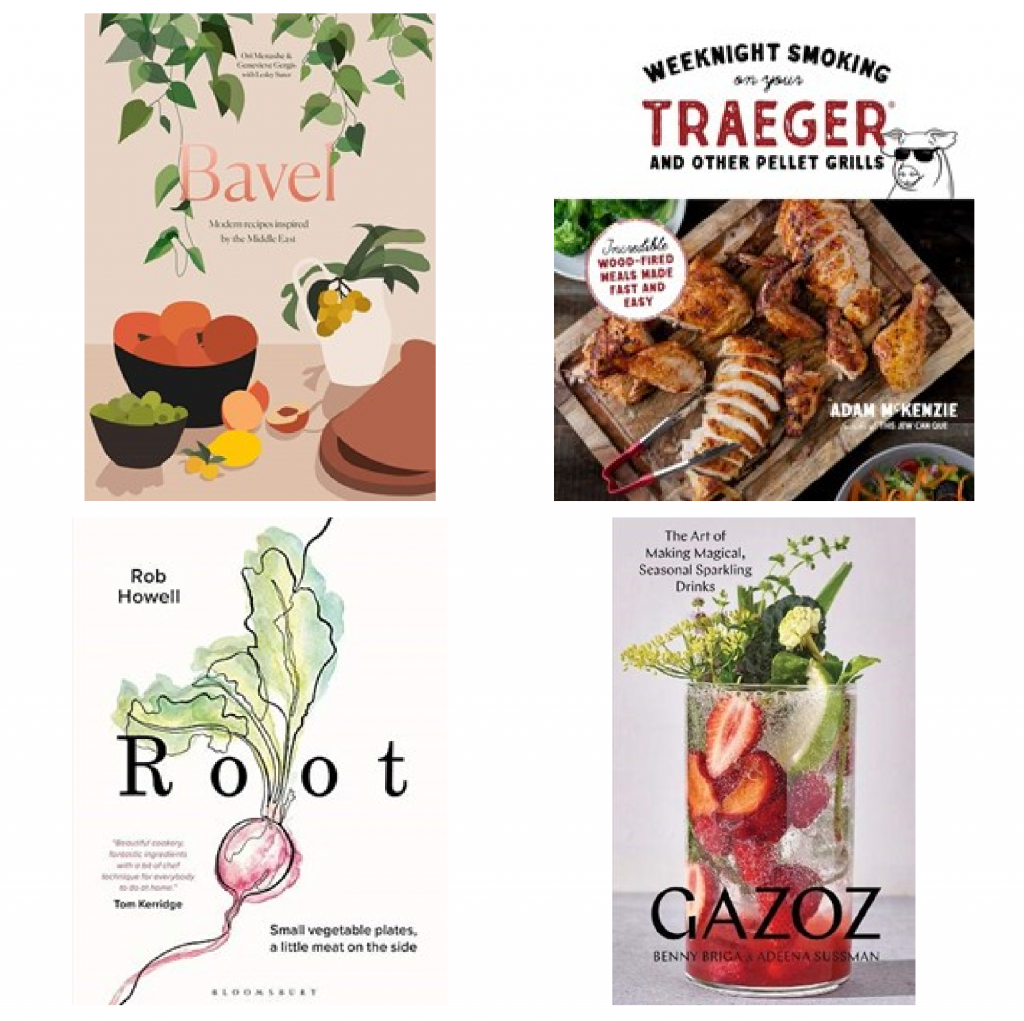 Gazoz: The Art of Making Magical, Seasonal Sparkling Drinks by Benny Briga and Adeena Sussman: Artisanal, healthy, fresh, foraged, sometimes fermented, and always photogenic – that's gazoz. Once a product only of the street stalls of Israel, gazoz, the delicious sparkling soda drink, is growing in popularity the world over. Made with soda water; natural fruit syrups; and fresh fruits, herbs, and spices, it's a drink that's equal parts feel good and good for you. In eight chapters covering the base recipes for the drink – whether made with fruit, vegetables, herbs, or even chocolate – readers will learn to make gazoz at home and also to customize the recipes with seasonal ingredients.
Weeknight Smoking on Your Traeger and Other Pellet Grills: Incredible Wood-Fired Meals Made Fast and Easy by Adam McKenzie: It's easier than ever to enjoy your favorite smoky flavors whenever you want, even on your busiest weeknights. Adam McKenzie is here to show you how to master your Traeger® for meals that are fuss-free and packed with flavor. Teacher by day, king of the grill by night, Adam has learned all the tips and tricks to make Traeger® cooking fit into anyone's busy life.

Root: Small Vegetable Plates, a Little Meat on the Side by Rob Howell was released in the UK March and in the US this month. With a focus on sustainability and using the very best of ingredients, Rob showcases over 100 recipes from the award-wining Bristol waterfront restaurant for you to mix and match at home, creating greedy feasts for family and friends – or even just for yourself! Although not central to the book, meat and fish recipes abound to satisfy even the hungriest of carnivores, and the desserts are not to be missed. There is something for everyone within these pages.
Bavel: Modern Recipes Inspired by the Middle East by Ori Menashe and Genevieve Gergis (with Lesley Suter): from Ori and Genevieve, the acclaimed chefs behind the wildly popular Los Angeles restaurants Bestia and Bavel, comes a gorgeous cookbook featuring personal stories and more than 85 recipes that celebrate the diversity of Middle Eastern cuisines. Their first cookbook Bestia focused on the dishes served at Bestia – mainly Italian cuisine with Middle Eastern influences. (The Kindle version of Bestia is 2.99 and if you do not own it, you need to.) Bavel, pronounced bah-VELLE, the Hebrew translation of "Babel" is a metaphor for the myriad of cultural, spiritual, and political differences that divide us. The food of Bavel tells the many stories of the countries defined as "the Middle East." These recipes are influenced by the flavors and techniques from all corners of the region, and many are inspired by Menashe's Isreali upbringing and Gergis's Egyptian roots. Bavel celebrates the freedom to cook what we love without loyalty to any specific country, and represents a world before the region was divided into separate nations. This philosophy speaks to me on a deep level. There is so much babble of late about keeping foods authentic and a lack of forgiveness with regard to who is allowed to cook certain cuisines. No one is allowed any rope to change up recipes to make them their own without that rope pulling taut to restrict that creativity. Bavel is the type of book that embraces differences and the result is a truly beautiful collection of recipes that little pieces of the world can take credit for and enjoy. I am truly enamored by this book – its spirit, content and beauty.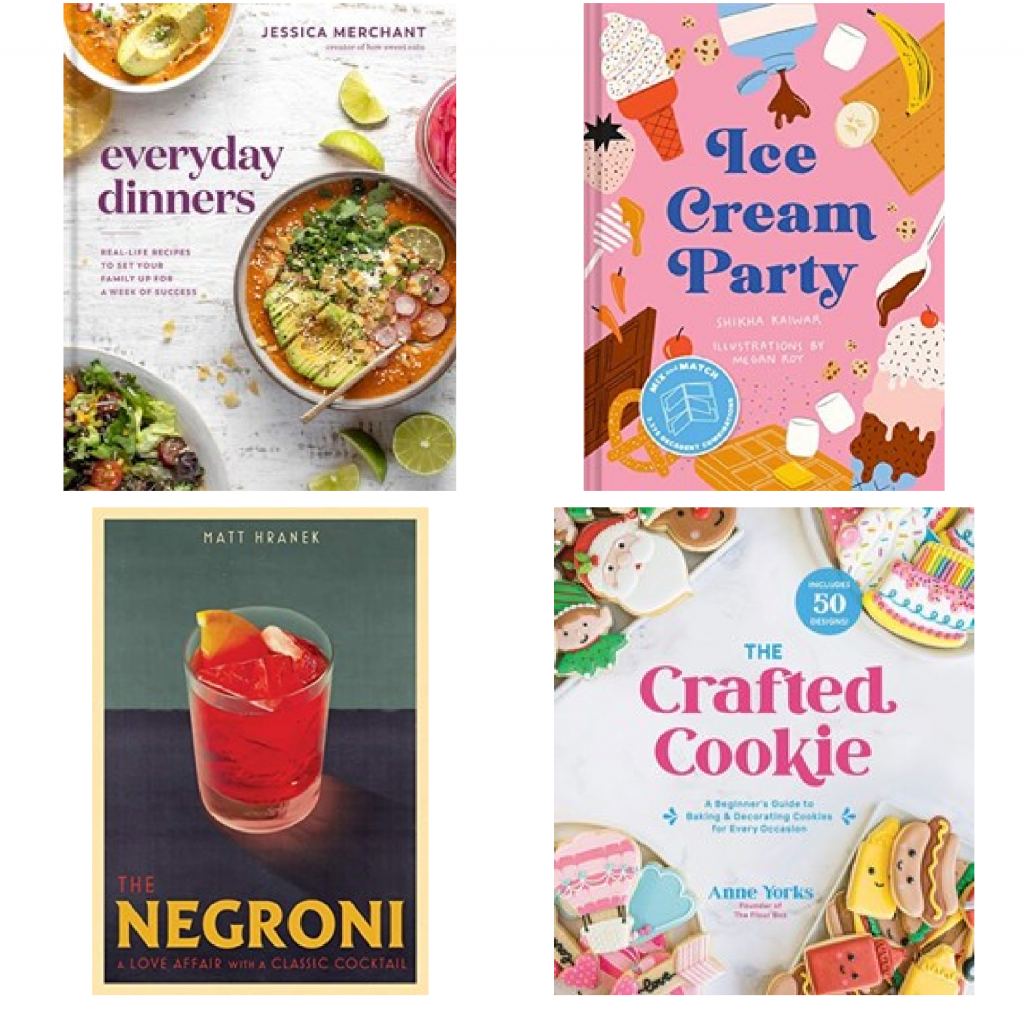 The Crafted Cookie: A Beginner's Guide to Baking & Decorating Amazing Cookies for Every Occasion by Annie Yorks, the illustrious cookie artist behind the celebrated The Flour Box with 1.5 million Facebook followers is here to teach you to decorate professional quality cookies at home. Cookie decorating has reemerged as a trendy, accessible hobby for home bakers, and this book helps them master frosting with royal icing right in their own kitchens! Look for a Quick Bites and giveaway soon. (Update: publication date moved to June 1st.)

The Negroni: A Love Affair with a Classic Cocktail by Matt Hranek: A century ago the cocktail achieved perfection when, according to legend, Count Camillo Negroni asked his bartender in Florence to stiffen an Americano by replacing the soda water with gin. The world never looked back. With its cosmically simple 1:1:1 ratio, its balance of bitter and sweet, its pleasant kick, its aura of sophistication, the Negroni has bewitched cocktail lovers ever since. Perhaps none more so than Hranek, who intones this love song to his favorite drink and offers a curated collection of recipes, both the classic and dozens of variations, deviations, and delicious reinterpretations.
Everyday Dinners: Real Life Recipes to Set Your Family Up for a Week of Success by Jessica Merchant, the blogger behind the wildly popular site How Sweet Eats, has been a trusted resource for her readers and home cooks for years, and she now turns her attention and sparkle to the world of meal prepping to create quick weeknight dinners. This is a meal prep book for busy families trying to get dinner cooked and on the table in thirty minutes. Along with plant-based, one pot, and slow cooker recipes, Jessica also includes weekly dinner plans, ideas, tips and tricks, and even a forty-five to sixty minute meal prep game plan for the weekends to keep cooking easy and quick on busy weeknights.
Ice Cream Party: Mix and Match to Create 3,375 Decadent Combinations by Shikha Kaiwar is a simple cookbook in the form of a board book filled with endless ways to enjoy a sweet frozen treat. Indulge in thousands of sweet combinations! With three categories of recipes – cookies and crusts, ice creams, and toppings – to build unique and delicious frozen desserts, this fun book encourages readers to mix and match different selections in any and every way possible to create fresh, new tastes.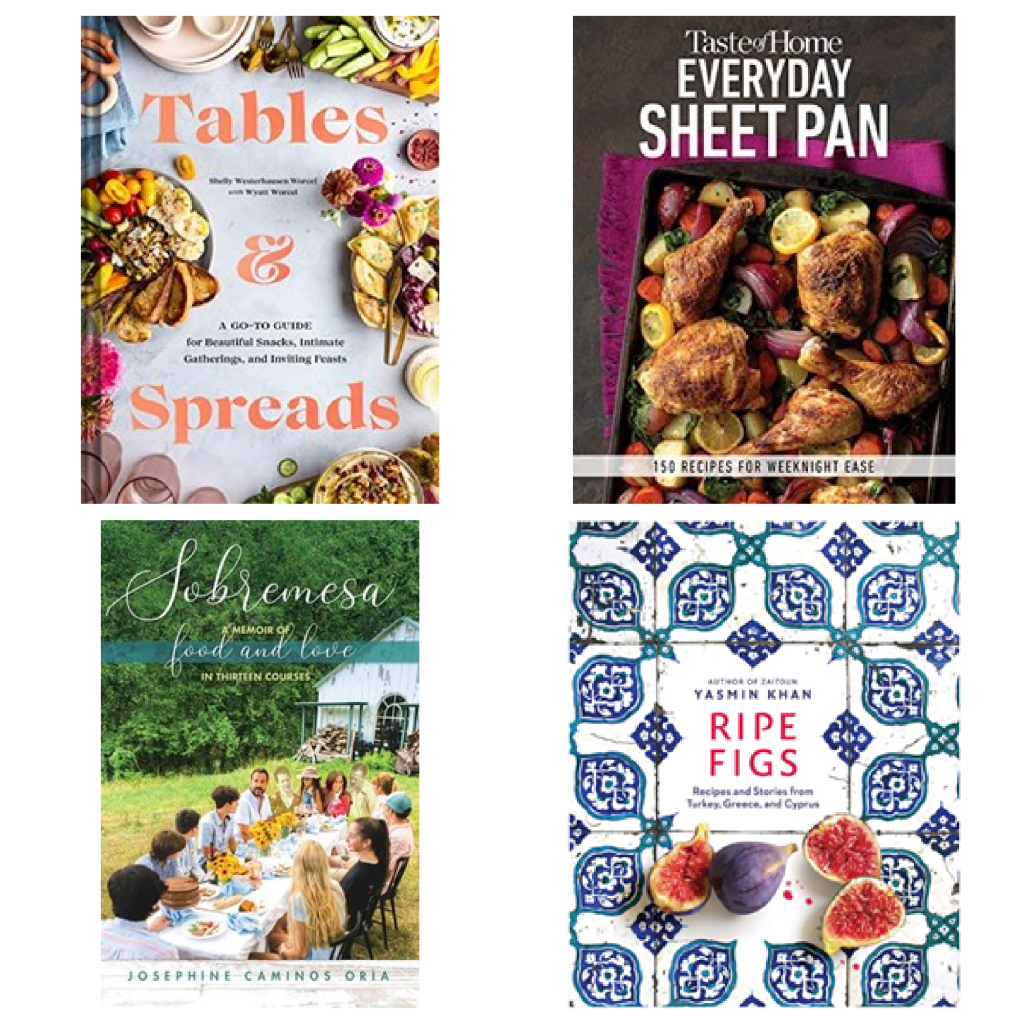 Ripe Figs: Recipes and Stories from Turkey, Greece, and Cyprus by Yasmin Khan, the author of Zaitoun and The Saffron Tales, is back with her compelling storytelling and stunning images to bring the Mediterranean to our kitchens. Yasmin breaks down borders and delivers the cuisine of Greece, Turkey and Cyprus with approachable recipes for the home cook that still reflect the exotic, fresh flavors of these lands. Start with Sweet tahini swirls or Cardamom egg toast for breakfast. Have a light lunch of any number of tasty salads, bean dishes or a Hot yogurt and spinach soup. Veiled rice and spiced chicken will make any dinner a special occasion. The bonus is that Ripe Figs has a beautiful desserts section with offerings of Citrus cake, Chocolate, orange and olive oil mousse, or a stunning Raspberry and pomegranate roulade. This title is one that will not gather dust on your bookshelf but will be splattered with lovely stains from use.
Tables & Spreads: A Go-To Guide for Beautiful Snacks, Intimate Gatherings, and Inviting Feasts by Shelly Westerhausen Worcel is a resourceful stylist with more than 60 easy-to-prepare recipes plus behind-the-scenes insight into creating a beautiful, inviting table for every occasion, including tips on choosing a theme, styling your food in creative ways, and achieving that "wow factor" with linens, flowers, music, and more. Complete with timelines, shopping lists, diagrams, and more, this book includes all the tools you need to make every meal delicious and unforgettable.
Sobremesa: A Memoir of Food and Love in Thirteen Courses by Josephine Caminos Oria, the author of Dulce de Leche, shares some of Josephine's most memorable tableside chats "sobremesas" that provided the first-generation Argentine-American the courage to leave the safe life she knew and start over from scratch. This multigenerational story of a daughter's love and familial culinary legacy serves up, in 13 courses, the timeless traditions that help Josephine navigate transformational love and loss.
Taste of Home Everyday Sheet Pan: 150 Recipes for Weeknight Ease by Taste of Home Editors: Grab your favorite sheet pan, a handful of ingredients and serve up a tasty one-dish meal that promises to become a new staple in your home. Taste of Home Everyday Sheet Pan is packed with 150 oven-fresh recipes—each a snap to prepare with ingredients you likely have in the kitchen already. From quick breakfasts and savory dinners to speedy snacks and impressive desserts, you'll find dozens of busy-day favorites perfect for cozy meals, as well as impressive menus ideal for weekend guests.
The Perennial Kitchen: Simple Recipes for a Healthy Future by Beth Dooley is more than a farm to table cookbook. Beth explains how to stock the pantry with artisan grains, heritage dry beans, fresh flour, healthy oils, and natural sweeteners. She offers pointers on working with grass-fed beef and pastured pork and describes how to turn leftovers into tempting soups and stews. She makes the most of each season's bounty, from fresh garlic scape pesto to roasted root vegetable hummus. Woven throughout the recipes is the most recent research on nutrition, along with a guide to sources and information that cuts through the noise and confusion of today's food labels and trends

Pizza Czar: Recipes and Know-How from a World-Traveling Pizza Chef by Anthony Falco: In this Falco's comprehensive first book, the legendary pizza czar, teaches us everything we need to know to make pizza wherever we are, drawing from his singular experience opening pizzerias around the globe. It is fun, vibrant and a pizza lover's dream. Anthony has an event on June 10th at Kitchen Arts & Letters.

The No-Fuss Family Cookbook: Simple Recipes for Everyday Life by Ryan Scott: The Emmy Award–winning celebrity chef (and dad) knows well that family life can be a very hectic business – stressing over mealtime shouldn't add to the madness! This collection comes straight from his home kitchen's regular rotation into yours. Reflecting Ryan's colorful personality and practical approach, the recipes are kid-friendly and packed with clever hacks and pro tips for getting meals on the table (and cleaning up) quickly.
Booze Cruise: A Tour of the World's Essential Mixed Drinks by André Darlington provides a guided tour through more than forty of the globe's most vibrant cocktail locales. Each city stop is packed with insider intel on the current scene, local history, easy food-and-drink recipes, and tasting notes. Travel the globe with a drink in every port! The author has an event on June 23rd at Book Larder.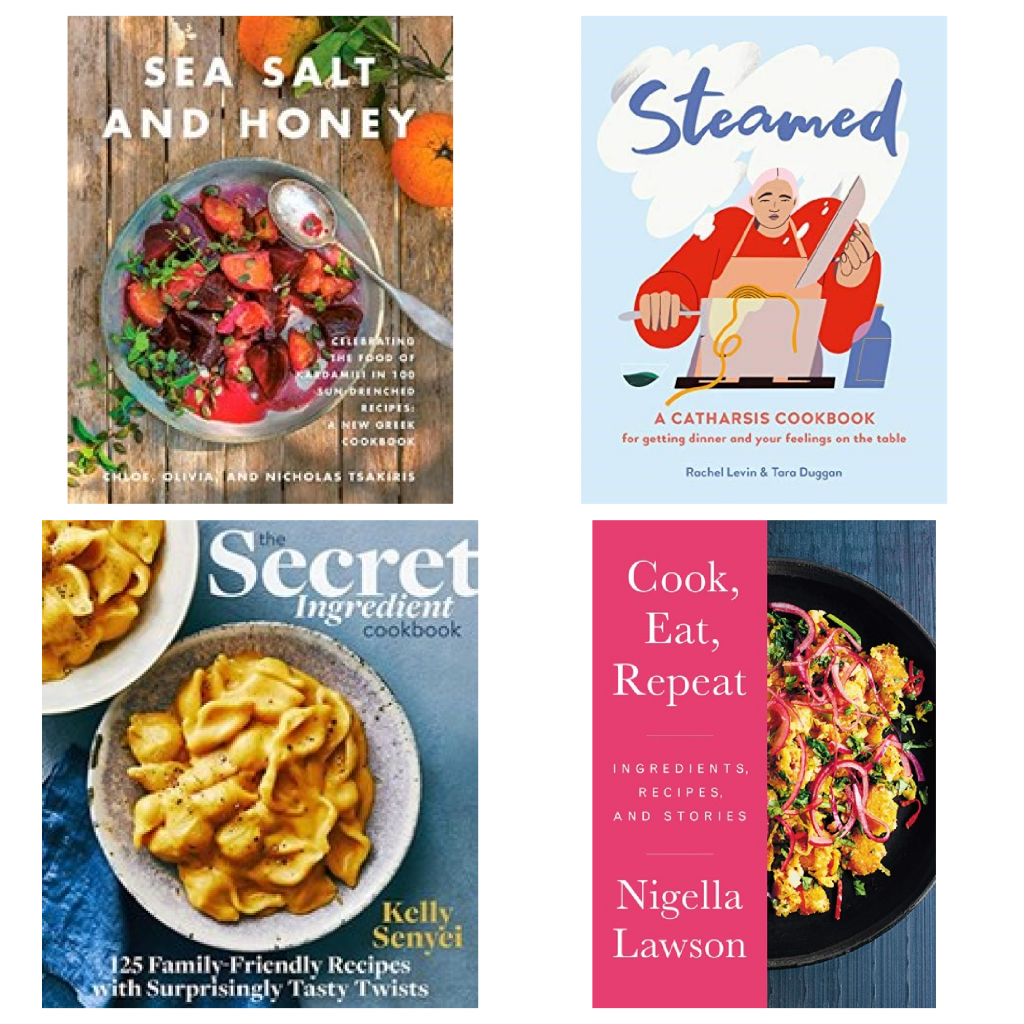 Sea Salt and Honey: Our Greek Way of Life Through 100 Sun-Drenched Recipes by Nicholas, Chloe, and Olivia Tsakiris is a delightful ode to the rustic lifestyle of Tsakiris' birthplace. Though America has been home for the last thirty years, he felt himself irresistibly drawn back to his homeland after his two daughters and co-authors, Olivia and Chloe, were grown. The family now live almost full time on the Mani coast, in a little house nestled in the Taygetos foothills close to Kardamili – a village of roughly 450 residents, where a walk across town takes five minutes. Join the Tsakiris' family as they grow their own food and cook delicious meals while sharing family stories.
The Secret Ingredient Cookbook: 125 Family-Friendly Recipes with Surprisingly Tasty Twists by Kelly Senyei, founder of the food site Just a Taste, has garnered millions of fans with a delicious hook – every one of her recipes has a secret ingredient, something totally unexpected that takes a dish from common to extraordinary. Some of the 125 tried-and-tested recipes are surprisingly simple, like her Vanilla bean drop doughnuts made with Greek yogurt, or the Sweet and tangy baked chicken wings made with blackberry jam. The book is filled with recipes that you will use time and again to bring something new and exciting to the table.
Steamed: A Catharsis Cookbook for Getting Dinner and Your Feelings On the Table by Rachel Levin and Tara Duggan, acclaimed food writers, offer fifty funny and flavorful dishes to work out frustration and rage. Whip, pound, grate, and grind your way to culinary catharsis with this irreverent cookbook for when you need to get dinner and your feelings on the table.
Cook, Eat, Repeat: Ingredients and Stories by Nigella Lawson released in the UK last October has hit the US shelves. This is a delicious and delightful combination of recipes intertwined with narrative essays about food, all written in Nigella's engaging and insightful prose. Whether asking 'What is a Recipe?' or declaring 'Death to the Guilty Pleasure', Nigella's wisdom about food and life comes to the fore, with tasty new recipes.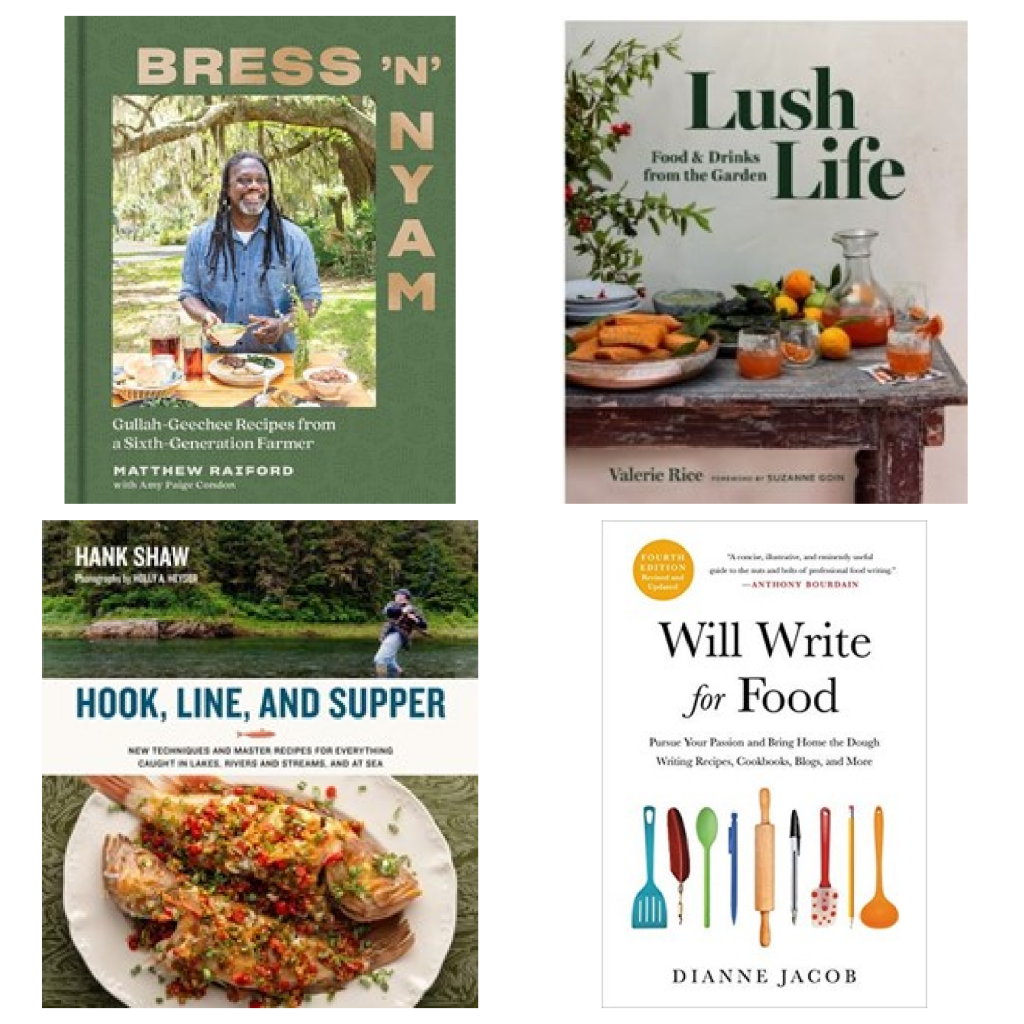 Lush Life: Food & Drinks from the Garden by Valerie Rice brings together the author's favorite seasonal recipes for entertaining, family meals, snacks, and much more, including cocktail recipes and wine advice. Rigorously home tested and gorgeously photographed this title is a California dream of a cookbook that will inspire readers to grow their own, cook it fresh, and pour a beverage.
Bress 'n' Nyam: Gullah-Geechee Recipes from a Sixth-Generation Farmer by Amy Paige Condon and Matthew Raiford shares more than 100 heirloom recipes from a dynamic chef and farmer working the lands of his great-great-great grandfather. Raiford pays homage to this cuisine that nurtured his family for seven generations in this culinary representation of the ocean, rivers, and rich fertile loam in and around the coastal South. The book is on my wish list! The author has a number of events planned.
Will Write for Food: Pursue Your Passion and Bring Home the Dough Writing Recipes, Cookbooks, Blogs, and More by Dianne Jacob draws on her over 20 years of experience to teach you how to take your passion from the plate to the page. With tips for crafting your best work, getting published, and turning your passion into cash, Jacob will transform you from starving artist into well-fed writer. Whether you've been writing for years or are just starting out, this updated edition of a classic offers what you need to know to succeed and thrive. Dianne has scheduled events to promote this updated reprint.
Hook, Line and Supper: New Techniques and Master Recipes for Everything Caught in Lakes, Rivers, Streams, and at Sea by Hank Shaw, award-winning food writer, angler, commercial fisherman and cook at the forefront of the wild-to-table revolution, provides all you need to know about buying, cleaning, and cooking fish and seafood from all over North America. You'll find detailed information on how best to treat these various species from the moment they emerge from the water, as well as how to select them in the market, how to prep, cut and store your fish and seafood. Shaw's global yet approachable recipes include basics such as fish and chips and smoked salmon; international classics like Chinese steamed fish with chiles, English fish pie, Mexican grilled clams, and Indian crab curry; as well as deeply personal dishes such as a Maine style clam chowder that has been in his family for more than a century. It also features an array of fish and seafood charcuterie, from fresh sausages and crispy skin chips, to terrines and even how to make your own fish sauce.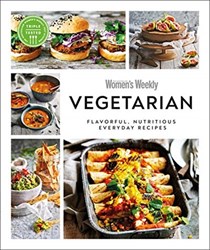 Vegetarian: Flavorful, Nutritious Everyday Recipes by Australian Women's Weekly: Vegetarian cooking has never looked so good, with more than 80 fresh and exciting recipes to add to your repertoire. Australian Women's Weekly shows you how to get the most out of everyday vegetarian cooking to maximize your flavors and enjoy something new.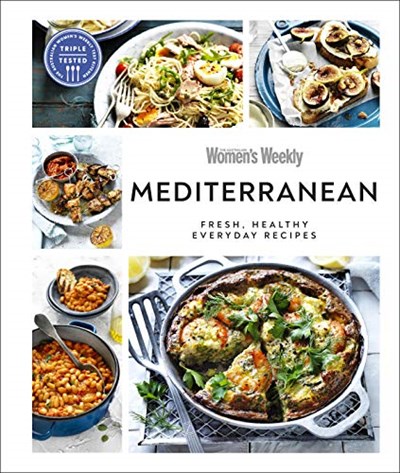 Mediterranean: Fresh Healthy Everyday Recipes by Australian Women's Weekly: Embrace the Mediterranean way of eating with the Australian Women's Weekly Mediterranean cookbook. With more than 90 recipes to add to your repertoire, create delicious and healthy everyday Mediterranean meals that the whole family will love.
Other titles of interest:
CANADA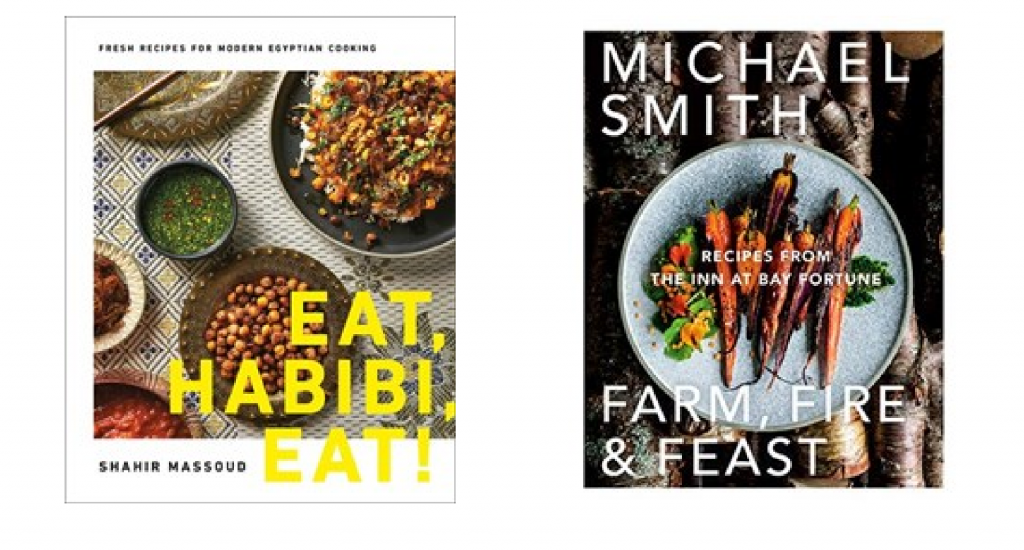 Eat, Habibi, Eat!: Fresh Recipes for Modern Egyptian Cooking by Shahir Massoud: Discover innovative, flavor-packed recipes for Middle Eastern dishes, inspired by author Massoud's Egyptian upbringing in this beautiful book. From home-friendly adaptations of street foods and casual everyday staples, to new interpretations of traditional recipes, Eat, Habibi, Eat! (eat, my love, eat!) encourages you to explore delicious new dishes at home. The recipes themselves are simple, straightforward, and easy to follow.
Farm, Fire & Feast: Recipes from the Inn at Bay Fortune by Michael Smith is a culinary celebration of relaxed, world-class meals from Canada's east coast. Prince Edward Island, known for its miles of beaches, lighthouses, farmland, and seafood, is a destination for travelers and food-lovers alike. The award-winning chef saw The Inn at Bay Fortune, Prince Edward Island's legendary country inn on an eight-acre farm by the seaside, as the perfect location for his fire-inspired cooking that embraces fresh and local flavours and ingredients – from fishermen and farmers – enjoyed family-style at long feast tables. Now, a reservation to experience Smith's unique FireWorks Feast is one of the most sought-after in Canada. Since many of us are unlikely to ever snag a reservation, we can at least virtually experience this beautiful location and food through the photographs and recipes in this gorgeous book.
UNITED KINGDOM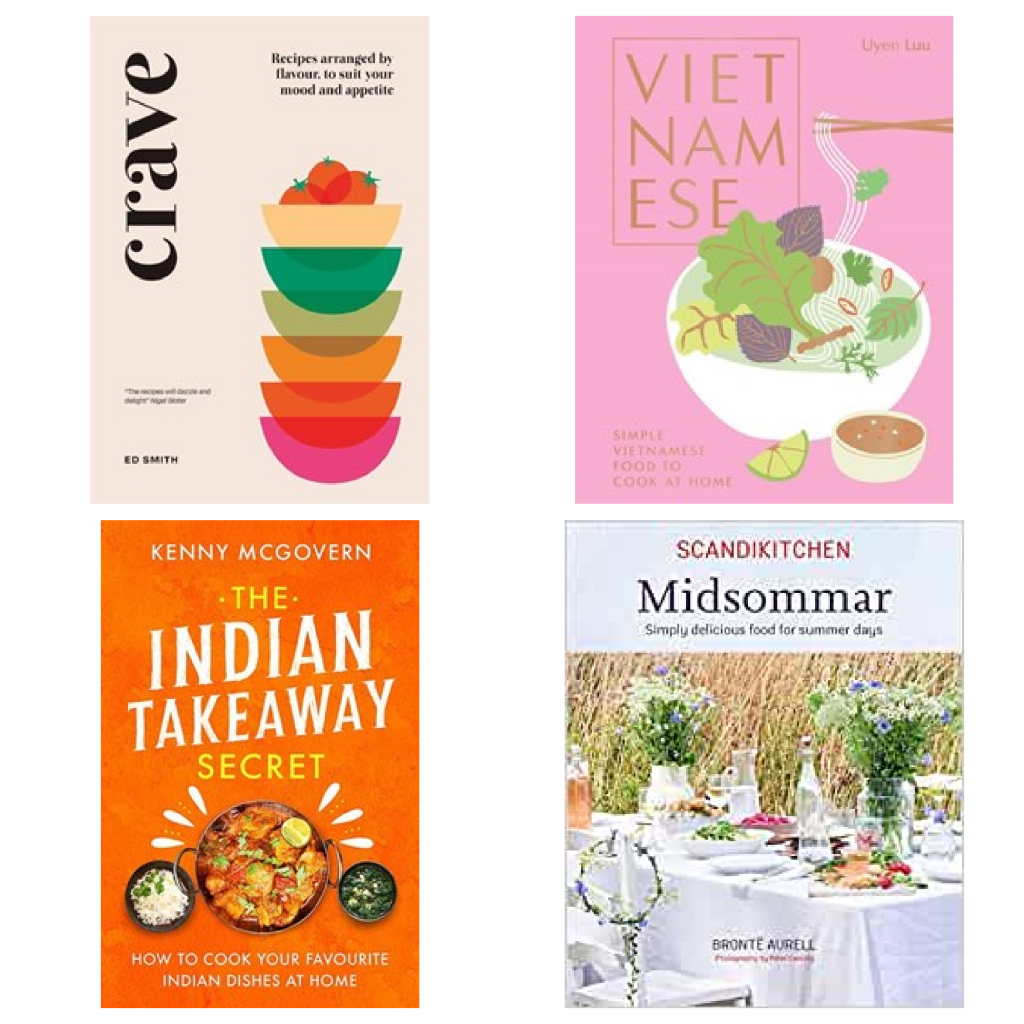 Vietnamese: Simple Vietnamese Food to Cook at Home by Uyen Luu demonstrates that Vietnamese food is just as easy to whip up as a bowl of pasta – all you need is a good bottle of fish sauce and a little enthusiasm! She shares 80 of her tastiest recipes – some traditional, some with a modern twist – using ingredients that are available at your local supermarket. Shaking beef with watercress salad and tomato rice, a mix and match section on assembling Bánh mì, and Singapore fried noodles with purple sprouting broccoli are some examples of what you will find here along with a dessert chapter! We will have a promotion soon.

Crave: Recipes Arranged by Flavour, to Suit Your Mood and Appetite by Ed Smith is all about cravings. Ed helps his readers home in on the flavors they're craving by organizing his recipes within six cleverly conceived flavor profiles, ranging through main dishes to puddings: fresh and fragrant; hot and spicy; tart and sour; curried; rich and savory; and (best of all) creamy and cheesy. Loaded with craveable recipes there is something for everyone no matter what you fancy. Promotion coming soon.

ScandiKitchen: Midsommer: Simply Delicious Food for Summer Days by Bronte Aurell, owner of the ScandiKitchen Cafe in London, brings her famous flair to over 65 Scandinavian-style recipes that perfectly capture the joy of summer eating.
The Indian Takeaway Secret: How to Cook Your Favourite Indian Dishes at Home by Kenny McGovern. The author's obsession with recreating takeaway and fast food dishes over the years has led him to the belief that Indian cooking is perhaps the greatest example that variety really is the spice of life. His latest work is a meticulously researched love letter to Indian cooking, containing delicious examples of traditional Indian cooking and street-food style dishes alongside popular recipes honed and developed largely in the UK, as well as the fusion food offered in many Indian restaurants today.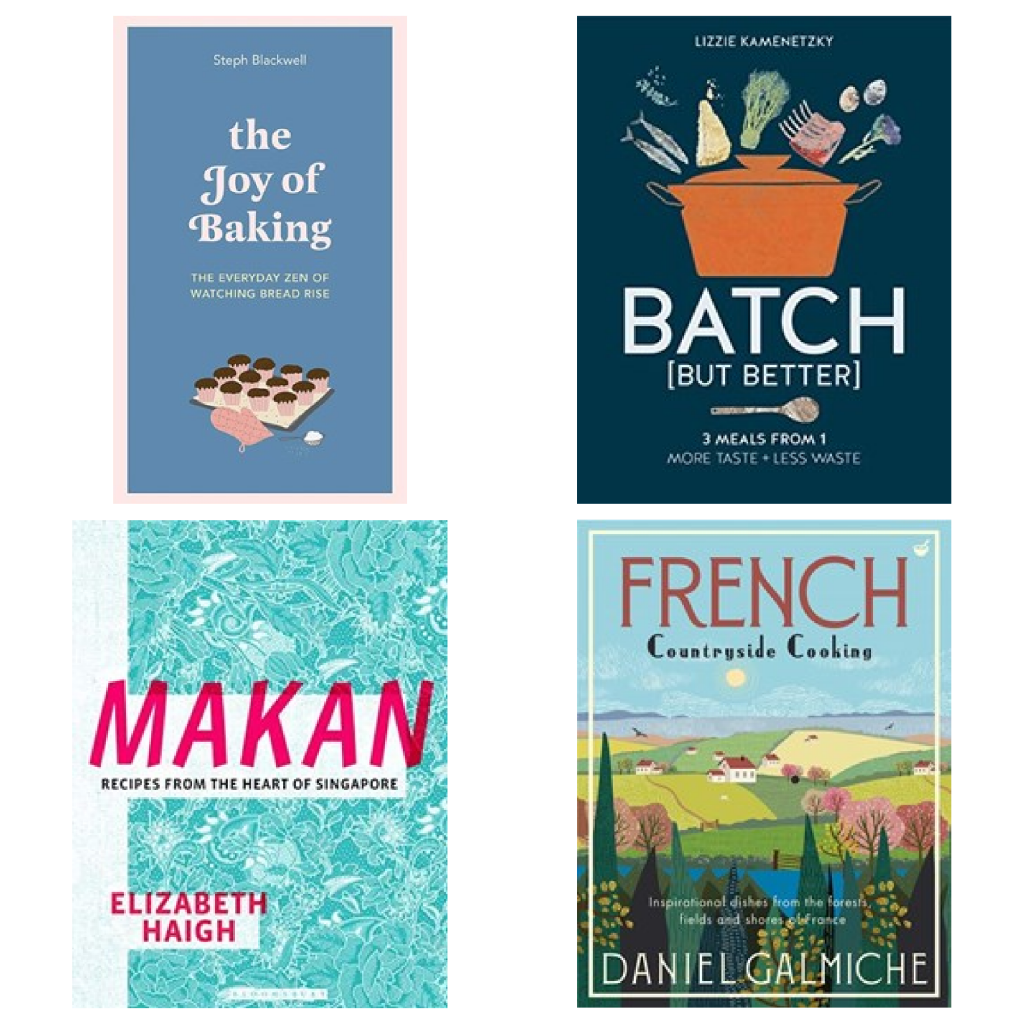 French Countryside Cooking: Inspirational Dishes from the Forests, Fields and Shores of France by David Galmiche: The multiple-Michelin-starred chef presents a fresh approach to French cooking. Taking inspiration and ingredients from meadow and orchard, from field to forest, and from river to sea, each recipe takes authentic French rural classics and elevates them to sophisticated dishes, full of flavour and easy to create at home.
The Joy of Baking: The Everyday Zen of Watching Bread Rise by Steph Blackwell: The 2019 GBBO finalist helps us to rediscover the simple joy of baking and elevate your hobby to a whole new level with simple tips and techniques to make every bake a rewarding and uplifting experience. Offering practical tips and techniques, as well as 25 delicious recipes, this book will not only help you achieve better bakes, it will also show you how to transform your hobby into a restorative, replenishing activity.
Batch But Better: 3 Meals From 1: More Taste + Less Waste by Lizzie Kamenetzky shows how easy it is to transform one meal into three – saving you time and money and reducing waste. For every recipe cooked from scratch, Lizzie provides ideas for two more fuss-free dishes. From vegetable-based dishes to fish, meat and also desserts, this book will not only help you save time in the kitchen, spend less and avoid waste, but also cook simple, good-for-you meals that you really want to eat.
Makan: Recipes from the Heart of Singapore by Elizabeth Haigh: The author is a Singaporean-born chef who competed on MasterChef in 2011 and went on to win a Michelin star at the Hackney-based restaurant Pidgin. She has since launched Kaizen House a creative space where chefs and eaters can gather through residencies and other events as well as her own restaurant Mei Mei in Borough Market. In Makan, her debut cookbook, she draws together recipes that have been handed down through many generations of her family, from Nonya to Nonya, creating a time-capsule of a cuisine. Growing up, it was through food that Elizabeth's mum demonstrated her affection, and the passion and love poured into each recipe is all collated here; a love letter to family cooking and traditions. I want to make every dish in this book – all I need is more hands and time.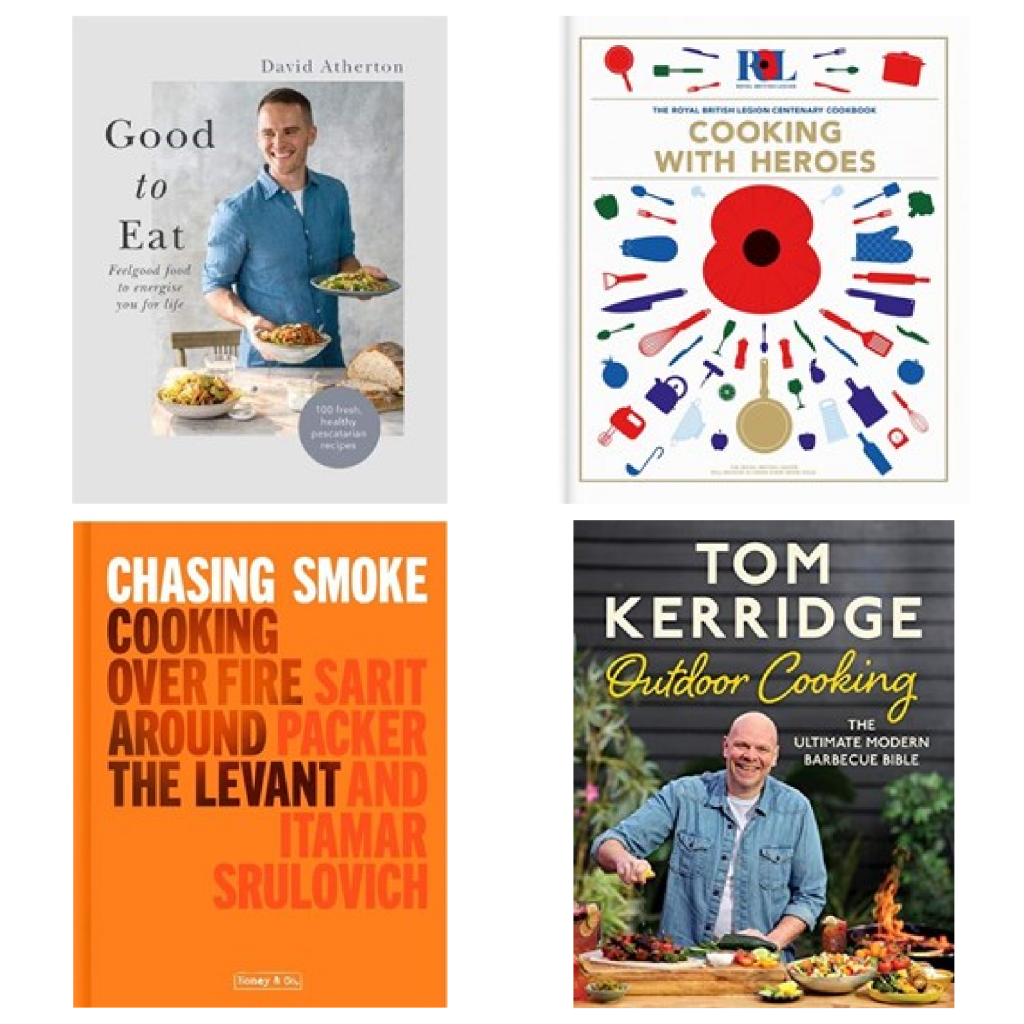 Honey & Co: Chasing Smoke: Cooking Over Fire Around the Levant by Sarit Packer and Itamar Srulovich: This husband and wife team could write a book about boiling water and I'd be in line to buy it. Their work is nothing short of spectacular. For their latest title, Sarit and Itamar have focused on cooking with fire. They have been chasing smoke their whole lives as they state "where there's smoke, there's fire. Where's there's fire, there is delicious food to share, and friendships, and memories to make." Grab this book and make some memories of your own. The couple have events in the US and UK scheduled.
Good to Eat: Feelgood Food to Energise You for Life by David Atherton: The 2019 GBBO winner delivers a book that indulges our craving for baked goods, filling foods and sustaining meals but leaves us feeling good. With a few simple tweaks – like using root veg to minimise the use of sugar or trying a plant-based alternative – you can enjoy what you love to eat while nourishing your body. Food is one of the longest relationships of our lives and what we put on the plate should be more important than what we are leaving off it. With 100 exciting new recipes, Atherton promises fresh and filling suppers, sweet treats with a healthy spin, hearty salads to pick and mix, soups and more.
Cooking with Heroes: The Royal British Legion Centenary Cookbook: To celebrate the centenary of The Royal British Legion, some of the world's bestselling celebrity chefs – including Jamie Oliver, Ainsley Harriott, Cyrus Todiwala, Melissa Helmsley and the Hairy Bikers – have teamed up with acting or former members of the military to create this unique cookbook. Researched, cooked and written by the Armed Forces and their high-profile supporters, this high-quality hardback book focuses on 100 regions in which The Royal British Legion has been active over the past century, including all corners of the British Isles, the Commonwealth and beyond. As well as profiles of 100 military heroes and heroines specific to each region, as nominated by The Royal British Legion, it features 100 delicious and authentic regional recipes that you'll want to try at home.
Tom Kerridge's Outdoor Cooking: The Ultimate Modern Barbecue Bible by Tom Kerridge: The Michelin-starred chef shares his huge passion for barbecue and outdoor cooking in this timely new book. He takes simple ideas like burgers and grills, and creates the ultimate version with over 80 recipes that are stunningly delicious. Tom will be at Topping and Company in Bath on June 25th.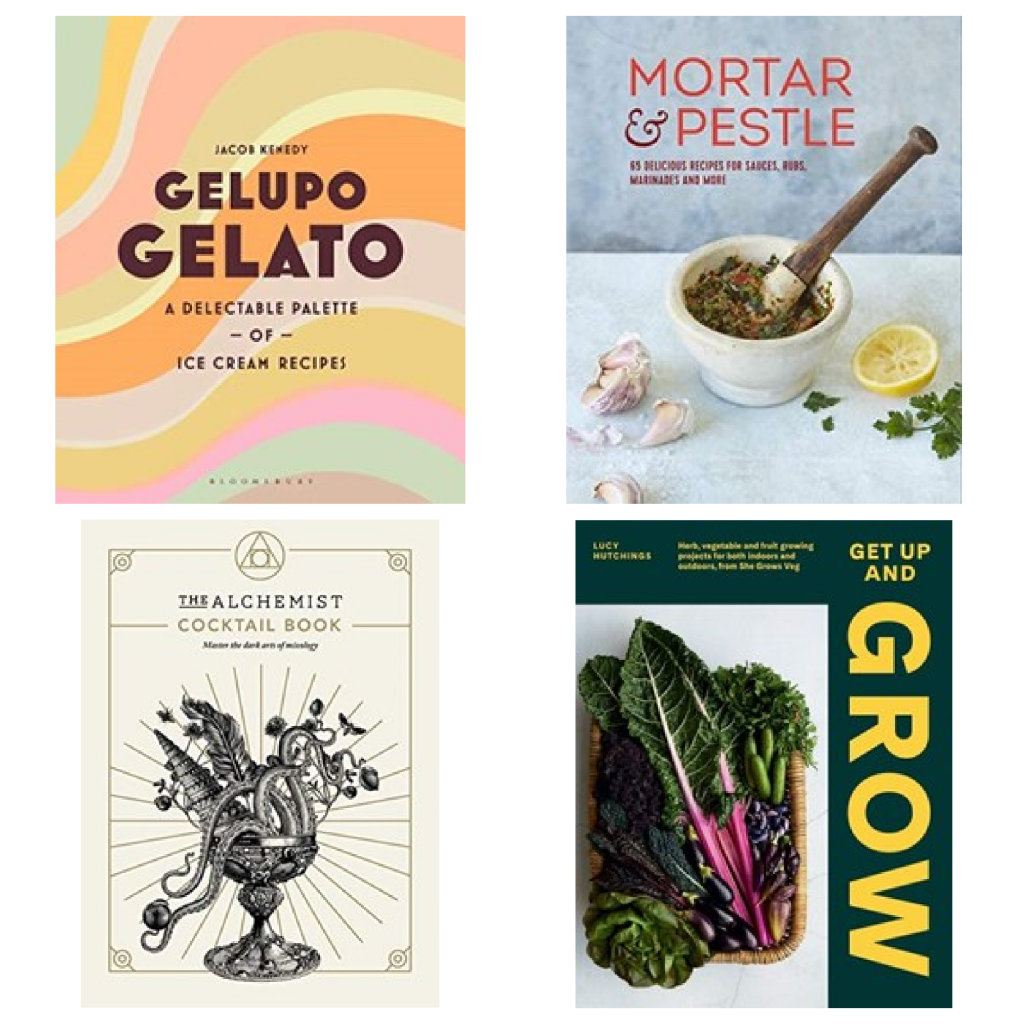 Gelupo Gelato: A Delectable Palette of Ice Cream Recipes by Jacob Kenedy presents a rainbow spectrum of simple, sophisticated gelato recipes from tangy Lime Sherbet to fruity Peach & Blood Orange, creamy Marron Glace, and decadent Chocolate & Whisky. There are also definitive recipes for a classic granita (like grown-up slushie), barely-melting semifreddo, ice cream cake, profiteroles, ice cream cones and brioche buns – as well as the only chocolate sauce you'll ever need and a tip sheet for pairing flavours.
The Alchemist Cocktail Book: Master the Dark Arts of Mixology by The Alchemist contains 100 spell-binding, crowd-pleasing cocktails.
Work some magic at home with these original cocktail recipes from everyone's favourite experimental bar, The Alchemist. Elevate your mixology skills and bring some creativity to your bar cart with unique and show-stopping tipple time recipes, from their iconic Caramelised Rum Punch and Smokey Old Fashioned, to new takes on the cocktail classics.
Get Up and Grow: Herb, Vegetable and Fruit Growing Projects for Both Indoors and Outdoors, from She Grows Veg by Lucy Huthings: In this truly innovative book the author proves that vegetable gardening doesn't always require outdoor space. Through clever uses of space and containers, understanding of growing conditions and a unique, design-led approach, Lucy showcases how anyone can grow pretty much anything in their back garden, courtyard, balcony or kitchen.

Mortar & Pestle: 65 Delicious Recipes for Sauces, Rubs, Marinades and More by Valerie Aikman-Smith brings you an array of enticing recipes from around the world, all of which employ a mortar and pestle to bring creative seasoning and exciting new techniques to your home cooking.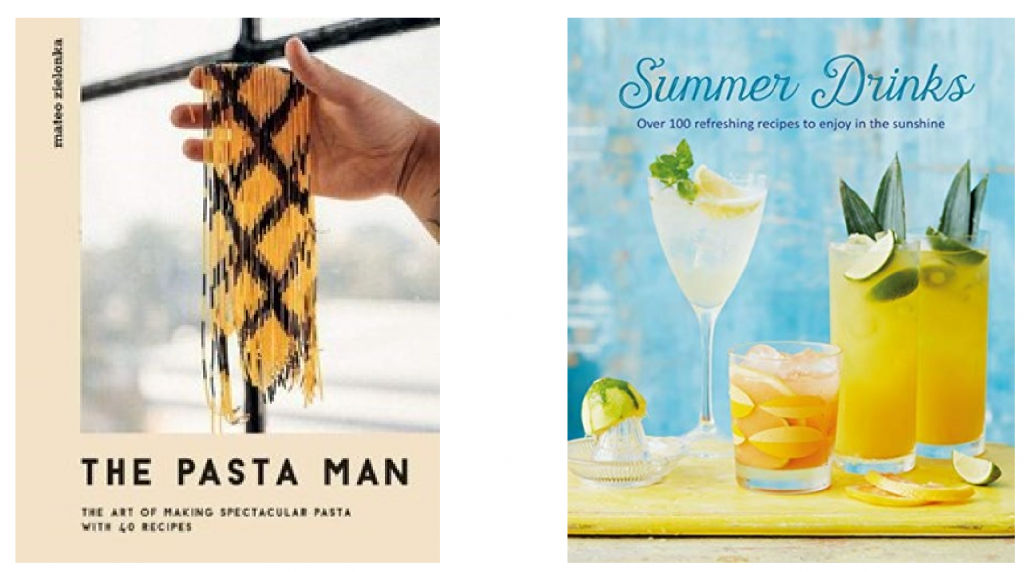 The Pasta Man: The Art of Making Spectacular Pasta with 40 Recipes by Mateo Zilonka: Striped, spotted, red and green and yellow, black and white, Mateo makes the most spectacular, most original pasta you've ever seen. With over 173,000 Instagram followers loving his pictures and therapeutic videos of pasta-rolling, Mateo's pasta is prettier than a picture. Now in his debut cookbook he reveals for the first time how you too can make his incredible, beautiful creations. With step-by-step "how to" sections guiding you through various shapes and effects, from spots and stripes, to 2-, 3- and even 4-colour farfalle (using all natural colouring), lasagne sheets and pappardelle, ravioli, tortellini and other spectacular filled pastas, he then offers over 40 recipes for using the pasta you've just made. All the recipes are illustrated with stunning photographs.

Summer Drinks: Over 100 Refreshing Recipes to Enjoy in the Sunshine by Ryland Peters & Small: In the warmer months when the days are long and the evenings roll in slowly, there's nothing better than fixing a cool drink. From fruity and fresh to fierce and frozen, here you'll find an array of tasty tipples perfect for every summery occasion. If you're in the mood for dining al fresco, why not rustle up a zesty Caipirinha or minty Mojito for one to start the evening. And when the weekends play host to a livelier gathering, simply prepare a pitcher of Sangria to share or take refuge from the heat of the day with an ice-blended wine Frosé or a Strawberry Daiquiri. Whether you need a cocktail to impress or a mocktail to refresh, this vibrant collection is sure to inspire.
AUSTRALIA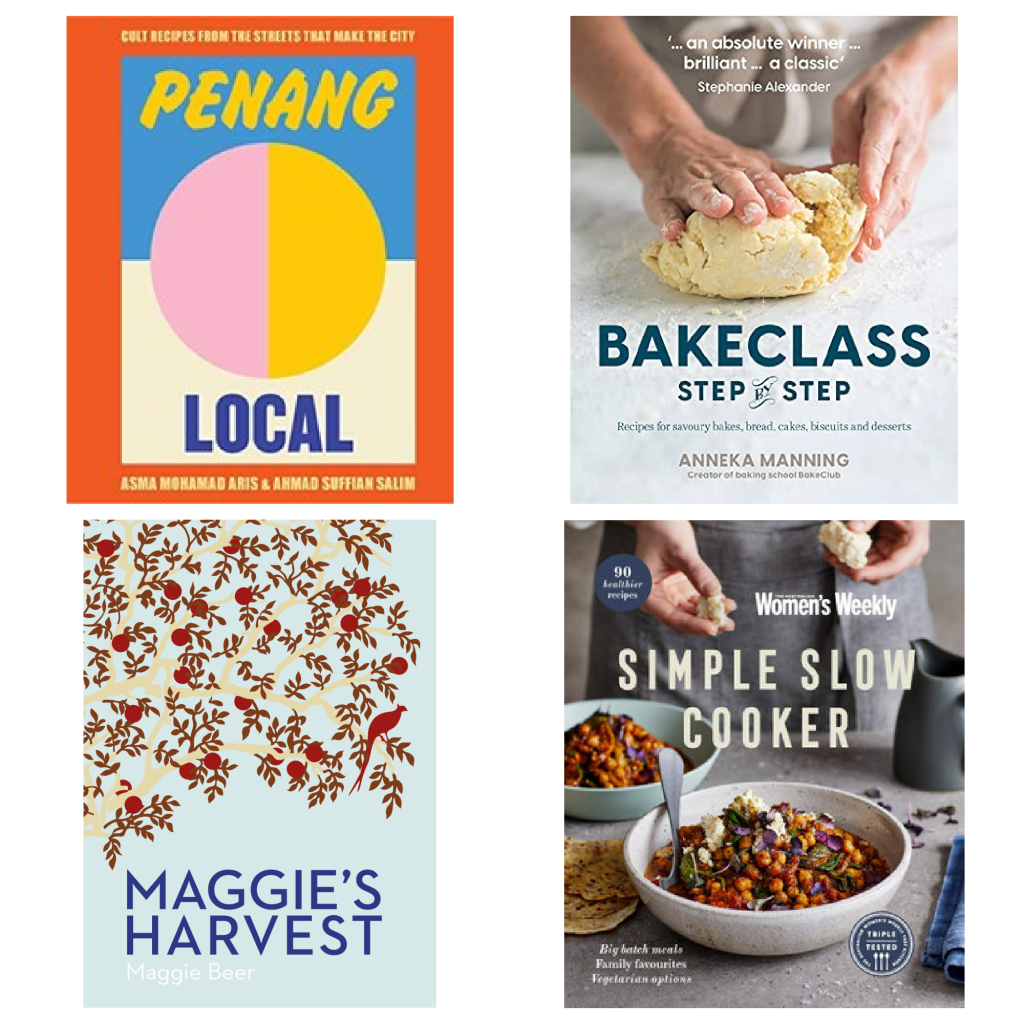 Penang Local: Cult Recipes From the Streets That Make the City by Asma Mohamad Aris and Ahmad Suffian Salim: Penang is an explorer's dream and a food-lover's paradise. It's the nasi lemak or kaya toast eaten for breakfast, served with a hot cup of kopi 'O' (black coffee), at one of the city's bustling food courts. It's the rejuvenative laksa after a morning's sight-seeing, followed by a cooling cendol in the afternoon heat. It's the char kuey teow prepared in a flash at one of the many late-night hawker stalls, washed down with local beer. Like the island itself, Penang Local celebrates the traditional cuisine that is cherished by locals and fervently adored by visitors, while embracing the multicultural influences that continue to shape this vibrant and historic food scene. Penang Local is packed with delicious yet approachable recipes, so you can recreate the magic of Penang at home.
BakeClass: Step by Step: Recipes for Savoury Bakes, Bread, Cakes, Biscuits and Desserts by Anneka Manning is being re-released in Australia this month. This baking book progressively builds the home cook's skills and confidence through technique-based lessons and delicious recipes. Whether you're a beginner or already baking with confidence, Anneka will guide you through a unique step-by-step lesson sequence to help you master the 10 fundamental mixing methods that provide the foundation for all baking recipes. This must-have reference features over 90 sweet and savoury fail-safe recipes that will help you become the baker you want to be.
Maggie's Harvest by Maggie Beer is being reprinted this month. For those who do not own this marvelous title now is your chance to snap it up. This book brings together over 350 of Maggie Beer's signature recipes, detailed descriptions of her favourite ingredients and inspiring accounts of memorable meals with family and friends. Remember we have a complete recipe index of every Maggie Beer recipe.
Simple Slow Cooker: Big Batch Meals, Family Favourites, Vegetarian Options by Australian Women's Weekly: Slow cooker meals are an easy way to get dinner on the table. With this method of cooking, you can throw all the ingredients into a slow cooker and let it do the work or you. Just prep, set and forget. Cook any of the delicious slow-cooked stews, curries, casseroles, tagines, soups and more from this book and you'll be sure to impress your family and friends with your amazing culinary skills.
Titles being released in Australia this month include: