Baking with Licker – Worldwide Cookbook Giveaway – Quick Bites
October 4, 2020 by Jenny
Enter to win one of two copies of Baking with Licker: Home Baking with Asian Accents with Jason Licker in our worldwide giveaway below.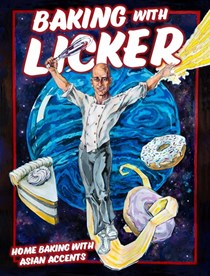 Baking with Licker: Home Baking with Asian Accents by Jason Licker is the jet-setting pastry chef's second cookbook. Lickerland, his first book, was reviewed by me in 2018 and was geared more toward professional high-end creations.
In this offering, Jason brings his style and baking prowess to more homespun desserts with a few elaborate offerings thrown in for good measure such as a Thai tea opera cake or Banana and soy éclair. Calamansi poppy seed cake, Furikake focaccia, and Thai tea rolls are a few additional examples of the Asian accented desserts that you can easily create at home.
The photographs in the interior of this book are magnificent and the precision and detail in the recipe presentation are as well (see page 32 of the preview for an example). Jason's books do not disappoint and are ideal for the baker who wants to create unique flavor combinations and not settle for the mundane. The novice baker can easily follow his detailed driven recipes and the experienced baker will love the innovative twists that make this baking cookbook extraordinary.
Our

takes you inside this beautiful book. I have set out below a recipe for our members to try now from that preview.
---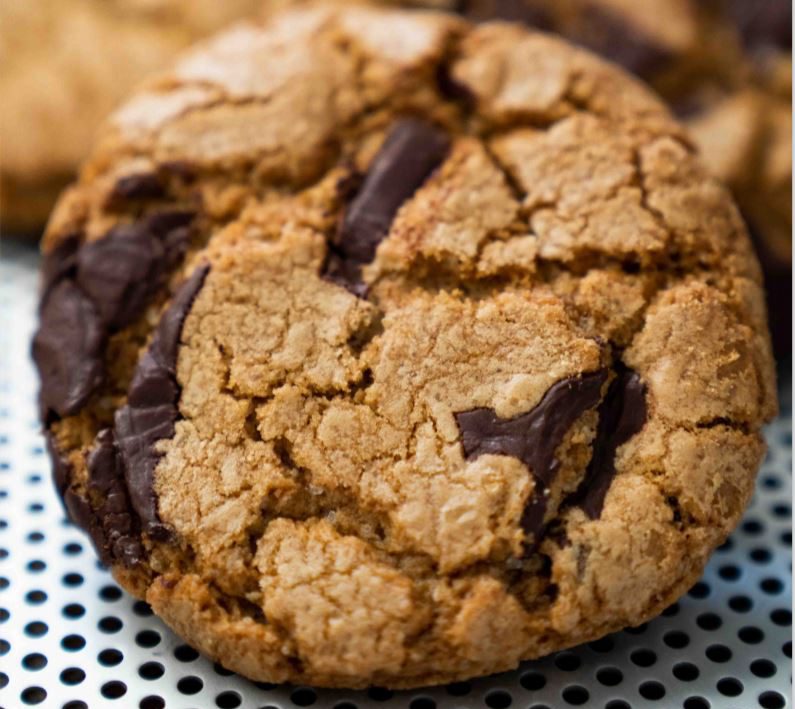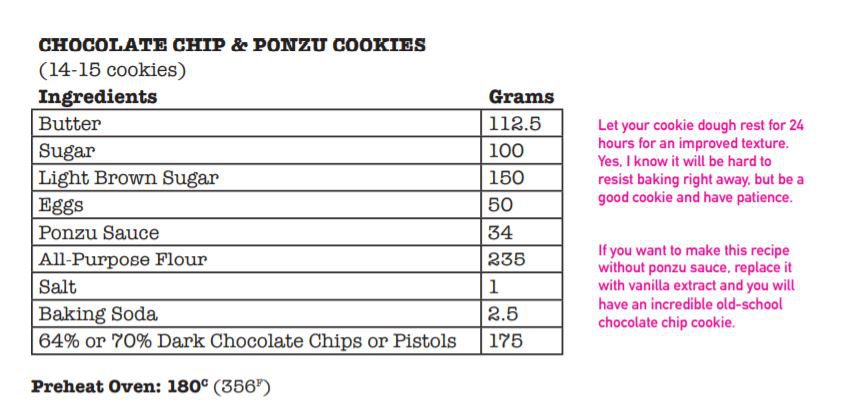 In a stand mixer with the paddle attachment, beat the butter, sugar, and brown sugar for 10 minutes until the mixture is light and creamy. Every few minutes, use a spatula to scrape down the sides of the bowl to ensure a uniform mixture.
Combine the eggs and ponzu sauce in a small-sized bowl. Add this into the butter and sugar mixture in three increments. Once again, scrape down the sides of the bowl to ensure a uniform mixture.
Add the all-purpose flour, salt, and baking soda slowly, so that you gradually incorporate these dry ingredients until they are just combined into the mixture. Finally, scrape down the sides of the bowl to ensure a uniform mixture.
Mix in the chocolate chips and then remove the cookie dough from the stand mixer. Place the dough in a medium-sized bowl and chill it overnight.
When you are ready to bake, weigh out 50g chunks of dough and roll them into balls. Place them on a parchment paper-lined cookie sheet, but do not push the cookie dough down. Just make sure you leave enough space between balls, as these cookies will spread out on their own.
Bake at 180C (356F) for 15-18 minutes. Halfway through, turn the tray from back to the front so that they are evenly baked. You will know the cookies are done when they have a slightly dark outer edge and a golden-brown center.
Remove the cookies from the oven and either transfer to a wire rack or allow them to completely cool on the cookie sheet.
I, personally, think that everyone needs to learn more about this fascinating pastry chef and asked Jason to complete a "Quick Bites" for us.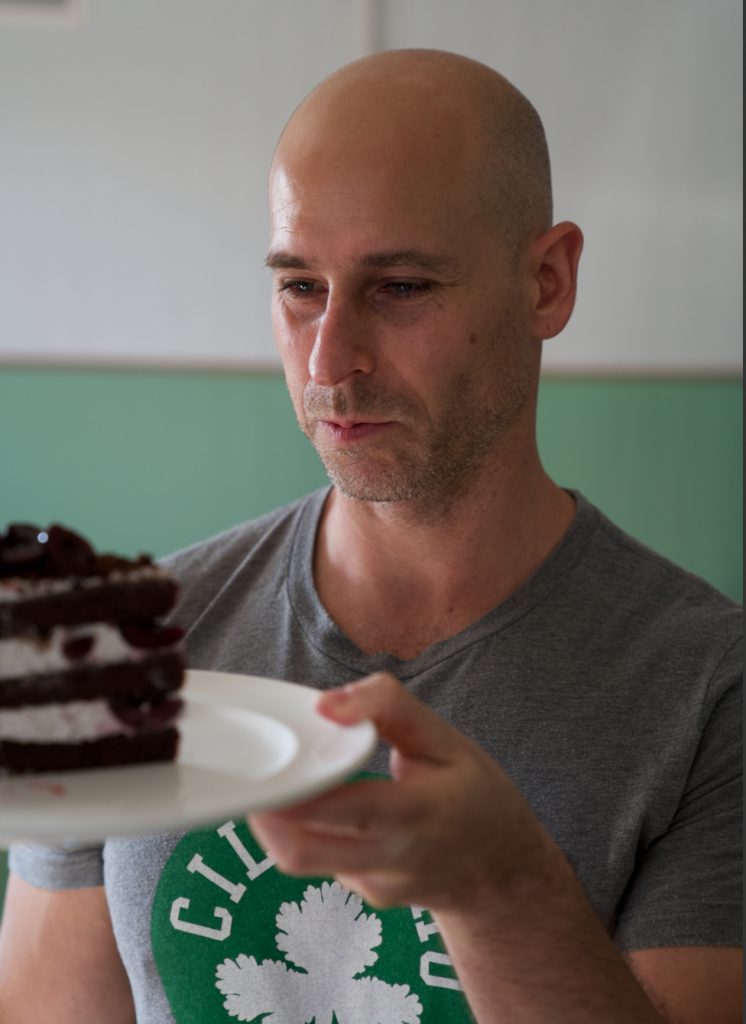 Jason's passion for pastry, life, and travel has taken him across the globe for a true culinary experience. His first internship was at Union Square Café in New York while training at the French Culinary Institute's Pastry Arts Program.
Offering to work for free at first, Jason earned a pastry cook position in the world-renown Jean Georges Restaurant, an experience which prepared him for his first Pastry Chef position at Metrazur for Charlie Palmer at the age of 23. Jason then opened The Shore Club in Miami Beach where he was promoted to Executive Pastry Chef overseeing all Food and Beverage Outlets including Nobu Miami Beach, where Jason was first exposed to Asian Cuisine.
Q: What first triggered your interest in cooking? Your first cooking memory?
I always have had a love affair with food. As a young kid, I was a human vacuum cleaner. I ate anything that came my way. I would eat cookies, donuts, and hamburgers as if it was the last day on earth. I find it ironic that I became a Pastry Chef and barely eat sweet now.
My first cookie memory is with my mother. We tried to make low salt, low fat, low sugar banana bread. It was horrible. I mean, it was pretty much inedible. Was quite funny. But, practice makes perfect and we eventually baked up something yummy. Those were the moments that ignited my passion for pastry.
Q: If you had to describe your cooking style, what would it be?
My cooking style is all about balancing your palate. I like sweet, sour, salty, and bitter notes along with multiple textures and temperature differentials to create a memorable dessert.
Q: Are you a cookbook collector?
I am a cookbook collection, but most of my books are in storage. Since I have been traveling for work the past three and a half years, I am pretty much homeless. I have my books boxed up in storage until I finally settle down have a place to call my home. I will need a few massive bookshelves for sure.
Q: What is the best part of your job? Do you sometimes feel like working with food all day keeps you from wanting to get creative in the kitchen?
The best part of my job for me is just having the chance to create dynamic desserts and serve them to people. I feel that food is such a big part of the world that it truly shows who are you and where you come from. In my case, I have lived in Asia for over a decade, so you will see a huge Asian influence in my desserts. There is nothing like making something and touching someone's heart with your creation.
Q: What is your go-to for a quick dinner?
Chipotle is my go-to dinner. Lol, yes, I love that place. It is just good. I have a severe weakness for tacos, chips, and all the salsas.
Q: What projects are you working on?
I am sitting back and seeing how things unfold right now in the world. My utmost priority is my health and my family members' health. As soon as things start to resemble normal, I will be flying around the world making sweets. For the first time, I am actually considering opening my own concept. Stay tuned!
Special thanks to the author who is offering two copies of his latest book in our worldwide giveaway. Entry options include answering the following question in the comments section of this blog post.
Take a look at the Table of Contents in the preview pages 10-11 and leave a comment about which recipe you would like to try.
Please note that you must be logged into the Rafflecopter contest before posting or your entry won't be counted. For more information on this process, please see our step-by-step help post and this forum post. Once you log in and enter your member name you will be directed to the next entry option – the blog comment. After that, there are additional options that you can complete for more entries. Be sure to check your spam filters to receive our email notifications. Prizes can take up to 6 weeks to arrive from the publishers. If you are not already a Member, you can join at no cost. The contest ends at midnight on March 24th, 2021.
a Rafflecopter giveaway