Kindle Unlimited Savings in Preparation for Prime Day
September 29, 2020 by Jenny
All my pleasure reading is done on my Kindle. In March of this year, I signed up for Kindle Unlimited and have read over 230 books with most of them being unlimited titles.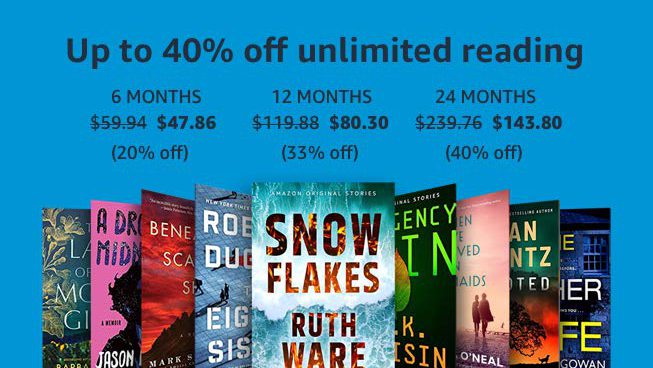 With Kindle Unlimited you can borrow up to ten books (from those books in the unlimited library) at a time to read for the normal price of 9.99 a month. You read the borrowed copy and then return it. (Every week just as there are Kindle deals for cookbooks, there are also big sales on fiction and other non-fiction literature books.)
With Prime Day coming up October 13th (look for our Prime Day deals post that will be added to our usual Kindle Deals post), Amazon is offering up to 40% off of the normal Kindle Unlimited charge (9.99 a month) when you buy in a bundle – 6 months, 12 months or 24 months at one time. I just added the 24-month option to my account and saved myself $95 over the two-year period. As much as I love to read, Kindle Unlimited is a real money saver.
Why am I sharing this with you cookbook lovers? Because very often there are many cookbooks available to borrow with Kindle Unlimited. You can test out a book before pulling the trigger on a hard copy (or even a Kindle copy). For cookbooks, I must have physical hard copies, but I make an exception when a book that has been on my radar is on sale for a bargain for the Kindle version. Many times I'll buy a 1.99 Kindle version of a cookbook before I decide to buy the print copy. The bonus here is that the Kindle version then is always available to me in the oft chance we all get to travel again or my physical copy of Amá (2.99 right now) is buried under a tower of cookbooks.
If you love to read, you might wish to take advantage of these savings and if you do, please use our Amazon link (US) if you decide to sign up or upgrade your regular Kindle Unlimited account as we will earn a small commission. See other early Prime Day deals here.
For Canada and the UK, please use our affiliate links: Amazon.ca and Amazon.co.uk. I am unable to determine if this same deal is available in other regions as I must be a resident of that region to sign in but I believe there are some early Prime Day deals available across the board and some "prep" tips as well.