Great British Chef's fascinating Signature Series
September 23, 2020 by Darcie
Have you ever come across a recipe you would like to try, but you hesitate because the cost of the ingredients is high and you are afraid you might waste the precious food because you aren't sure of the technique? Having the recipe creator at your side to show you the steps to perfecting the dish would be one way to assuage your fears and allow you to experiment a bit more boldly. That is exactly what you get with Great British Chef's Signature Series videos and recipes.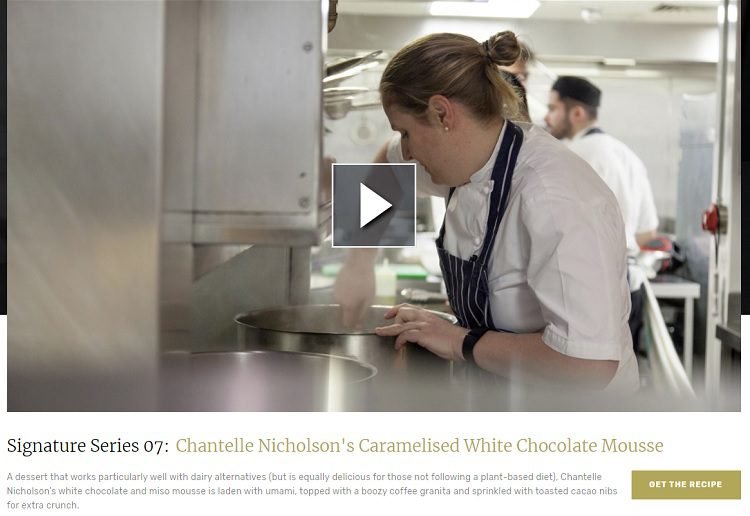 The videos and accompanying recipes are available to members of the Great British Chef's Club at either the Silver or Gold levels. There is a mix of styles, ingredients, and courses in the recipes, which range from Ivan Tisdall-Downes' barbecued lobster with foraged herbs to Chantelle Nicholson's caramelized white chocolate mousse to Alan Stewart's tromboncino squash. Currently there are 13 videos in the Signature Series, with a new video and recipe combination added each week. The videos range in length from about 7 to 9 minutes each, short enough to watch all in one go but long enough to provide fulsome instructions.
Because my sweet tooth always wins, the first video I watched was the caramelized white chocolate mousse that chef Chantelle Nicholson demonstrates. I have been baking for many years, but I learned a couple of things straight away. First, I realized that when I toasted my white chocolate before, I was not allowing it to develop its maximum flavor because I was pulling it out before it colored much, afraid that it would become bitter. After watching the video, I understood that I could toast it longer and make the caramelized flavor more pronounced.
The second takeaway I had was regarding xanthan gum, which Nicholson uses to stabilize the aquafaba meringue. She explains that xanthan gum is activated by motion, a fact that I had never learned in other recipes. This knowledge allowed me to better understand another recipe I have on my 'to try' list that instructs you to use a blender to add xanthan gum without explaining why that is important. I had assumed the blender was used to distribute the xanthan gum more evenly, but now I know the real reason for the technique and won't skip this step like I was tempted to do before.
Watching the video helped me understand this recipe more completely, and seeing how the chef scooped out the mousse for plating was a much better way to learn it than merely reading instructions in a recipe. I will be definitely be returning to Great British Chefs for more of these videos.