January 2020 – New Cookbook Review
January 22, 2020 by Jenny
Here we are in a new decade! I am busy updating our post looking forward to cookbooks in 2020 and working on judging cookbooks again this year for James Beard. I kept thinking after the holidays that things would slow down a bit but I was wrong! I'm not complaining, it is cookbooks after all!
This month offers a small selection of releases and many of those being health-related. There is absolutely nothing wrong with healthy titles but I look forward to the months with baking books and juicier selections. Many of this month's releases I haven't had a chance to review – but you can always click the title for more information on the book record.
Be sure to follow us on social media (buttons located on right lower sidebar on the home page). If you would like to order any of these titles, using our affiliate links (right beneath the social media buttons) or the BUY BOOK button on the book details page, will help to support EYB and our indexing efforts (as well as help us to include worldwide options in some promotions). Most of our titles are released in multiple regions and are available locally and through worldwide sellers such as the Book Depository that make global titles available to more members with free international shipping.
If there is an

available for a cookbook, look for the orange icon in the blurb. Clicking on that icon will take you directly to the preview. Also, please note that author events are indicated at the end of each paragraph where applicable. (Events).
United States
Everything Chocolate: A Decadent Collection of Morning Pastries, Nostalgic Sweets, and Showstopping Desserts by America's Test Kitchen is a chocolate-covered collection of more than 180 foolproof recipes that showcase the treasured dessert ingredient – from delicious morning baked goods and pick-me-up treats to rich after-dinner delights for special occasions. The perfect book for Valentine's Day!
Big Flavors from Italian America: Family-Style Favorites from Coast to Coast by Cook's Country pays homage to the generous, gutsy, red-sauced family-style cooking born in Italian-American kitchens from coast to coast, with 130 tested-to-perfection recipes that bring the best of the best to your table.
Ultimate Veg: Easy & Delicious Meals for Everyone by Jamie Oliver is being published in the US this month. First published in August of last year in the UK, it is a gorgeous book filled with intriguing recipes as is most often the case with Mr. Oliver.
Eat for the Planet Cookbook: 75 Recipes from Leaders of the Plant-Based Movement That Will Help Save the World by Gene Stone and Nil Zacharias features 75 recipes from some of the world's greatest plant-based chefs, businesses, and influencers.
Other titles of interest:
United Kingdom
Eat Green: Delicious Flexitarian Recipes for Planet-Friendly Eating by Melissa Hemsley offers over 100 brilliant recipes that focus on sustainable easy-to-buy ingredients. These are inspiring, no-fuss dishes that put flavour first. They champion some of our most-loved veg – broccoli and carrots, mushrooms and tomatoes – and bring in meat and fish as optional extras. Spices and grains are used with care, and again and again, so you stop using one-off ingredients and kitchen waste is kept to a minimum.
Lose Weight & Get Fit: 100 High-Flavour Recipes for Dieting and Fitness by Tom Kerridge focuses on bold flavours and big portions, so you'll never go hungry and you'll always feel satisfied. Recipes include Quick black dhal; Steak tacos with burnt corn salsa; Charred mackerel and potato salad; Lamb bhuna; Blueberry meringue sundaes and many more. At the back of the book, you'll find a fantastic bonus chapter with a workout that will help you get started with a healthier lifestyle, no matter where you're at now.
Keeping It Simple: Easy Weeknight One-Pot Recipes by Yasmin Fahr is inspired by the author's column for Serious Eats, One-Pot Wonders, Yasmin sets out to arm readers with sneaky gems and low-key showstoppers that work every time, and a promise that they will learn at least one new move (if not a good few) to up their skills in the kitchen. The ultimate goal is to get dinner on the table quickly, but also to create something truly delicious as a weeknight reward. Why order a takeaway when you can throw together Miso-ghee chicken thighs with roasted radishes or Rigatoni with crispy prosciutto, broccolini, parm and chili flakes in 20 minutes? And when you can cook it all in one pot, clean-up is a breeze. Enter to win a copy of this title here.

Events
The Japanese Table: Small Plates for Simple Meals by Sofia Hellsten is a beautiful book that celebrates the author's love of Japan with the simple recipes that are the backbone of Japanese home cooking. Based on the ichijuu-sansai tradition – which literally means 'one soup, three dishes' – uncomplicated, delicious small plates are served with steamed rice and can be enjoyed at any time of day. Each ingredient is treated like royalty, and recipes include Onigiri, Clear shiitake soup, Soy-pickled eggs and Sweet miso cod.
Other titles of interest:
Australia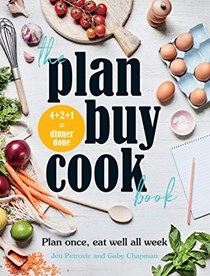 The Plan Buy Cook Book: Plan Once, Eat Well All Week by Jan Petrovic is your guide to beating the daily dinner grind while saving time, money, food waste – and your sanity. Plan with the 4+2+1 formula (which will cut your weekly cooking time in half), along with seasonal meal-plan suggestions and handy tips on how to store food. Buy with a guide to pantry and fridge essentials, how to shop and save, and eliminating food waste. Cook with more than 80 simple, healthy and delicious recipes that even fussy eaters will love, from fast pad Thai to eat-and-freeze tagines, fresh BBQ salads and speedy sides.