The New Pie – Promotion
March 23, 2019 by Jenny
On February 1st, I shared a
preview and interview
with the authors of
The New Pie: Modern Techniques for the Classic American Dessert
. As you will learn from the interview, Chris Taylor and Paul Arguin are pie gods. Today we are thrilled to share an
EYBDigital Preview
and giveaway for this amazing book! Please note,
The New Pie
is our baking selection for May in our
EYB Cookbook Club
.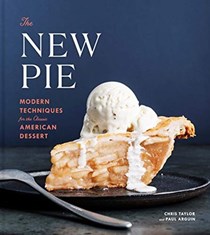 I will share some details from my earlier preview but first I will add that I have had this book for two months now and I am as in love with it as the first moment I cast my eyes upon it. The honeymoon is not over. Do not let that gorgeous apple pie on the cover falsely lead you to believe that this is just a "pie cookbook". While that is one stunning apple pie, there is nothing typical here. These are not your grandmother's pie recipes. This book features high octane pies that are both delightful and refreshing using traditional techniques and modern tools. The photography is stunning, the detailed instructions are invaluable, and the pie recipes are everything. Flaky crusts, creamy fillings, swirling whipped cream, and torched meringues like no others you have come across before. This is the new pie and this is the pie book you will want on your bookshelf. There are so many unique and interesting recipes that I guarantee that even the most experienced pie baker will be impressed. How about a Toffee cream with crunch or a Clemenza's cannoli or even a Caramel popcorn pie? And what really cut the butter into my flour was the showpiece pies chapter – Strawberry chocolate cosmos! Bubbling butterbeer! Oh my! I have made the
Peanut butter checkerboard
pie (or most of it). The link will take you to the photograph and my notes. You will want to make this pie, my son is asking when I'm making it again. The
authors' events
are on our calendar so please check to see if they are in your area. Our
takes you inside this pie-tacular title and features the following
As stated on the final page of the preview, the recipes above are reprinted from The New Pie: MODERN TECHNIQUES for the Classic AMERICAN DESSERT. Copyright © 2019 by Chris Taylor and Paul Arguin. Photographs copyright © 2019 by Andrew Thomas Lee. Published by Clarkson Potter, an imprint of Penguin Random House, LLC. We appreciate the publisher's help in allowing us to share the preview as well as for providing three copies of this book in our giveaway below.
The publisher is offering three copies of this book to EYB Members in the US. One of the entry options is to answer the following question in the comments section of this blog post.
Which recipe in the index would you try first?
Please note that you must be logged into the Rafflecopter contest before posting or your entry won't be counted. For more information on this process, please see our step-by-step help post and this forum post. Once you log in and enter your member name you will be directed to the next entry option – the blog comment. After that, there are additional options that you can complete for more entries. Be sure to check your spam filters to receive our email notifications. Prizes can take up to 6 weeks to arrive from the publishers. If you are not already a Member, you can join at no cost. The contest ends at midnight on May 14th, 2019.