Tortellini at Midnight – EYBD Promotion
March 19, 2019 by Jenny
Now with
EYBDigital
, if you buy a print book within the promotional period, for the first time you will have access to the full EYBD cookbook wherever you can access EYB – on vacation, at work, in the grocery store, etc. In addition to the digital book, all the features of EYB will be included in the access, at no cost to the book purchaser. For more information see our
EYBD Page
.
• Recipe search
• Bookmarks
• Recipe ratings and reviews
• Photo upload (personal photos of dishes cooked)
• Shopping lists
We are pleased to share a promotion for our next EYBD Book,
Tortellini at Midnight: and Other Heirloom Family Recipes from Taranto to Turin to Tuscany
by Emiko Davies.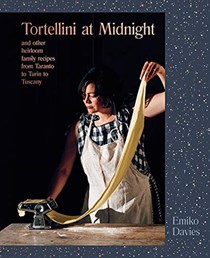 Emiko's writing has held me in its seductive grip since I
reviewed
her first book,
Florentine
. I found serenity in her words and recipes. Her second title,
Acquacotta
(a celebration of the traditional cuisine of a lesser known part of Tuscany, the Silver Coast) was equally as brilliant. I would think that one would not be able to continue to create such beauty time and again, but I would be wrong. Emiko's latest is perfection with vivid storytelling, stellar photographs and recipes that will inspire and lure us into the kitchen.
Tortellini at Midnight
is a book that will be handed down to children or gifted to those we truly love. There is an old-world quality and elegance to the actual pages of the book. Couple that with the exquisitely written narrative, stunning photography and rustic but elegant recipes and you have a book destined for deserved accolades. The first recipe that I made from the book was the Pasta con la ricotta (photo above) a dish that took the time needed to cook the pasta, but resulted in a delicious and comforting meal. From the title, to the paper the book is captured upon, to its glorious content,
Tortellini at Midnight
is magic. Emiko is touring,
check our calendar
to see if she is in your area. Our
takes you inside this beautiful book and features the following
If you order this title before our promotional period ends, register
here
(be sure you have a photo of your receipt or screenshot from your online order ready to upload). Once your purchase has been verified, this button
will appear on the book on your Bookshelf next to the title and will take you to the digital access for this gorgeous book.
Below are screenshots showing how these features will appear.
Special thanks to the publisher, for working with us to bring this exclusive incentive to our members as well as for providing three copies of in our giveaway below.
The publisher is offering three copies of this book to EYB Members in the US, UK, AU and NZ. One of the entry options is to answer the following question in the comments section of this blog post.
Which recipe in the index would you try first?
Please note that you must be logged into the Rafflecopter contest before posting or your entry won't be counted. For more information on this process, please see our step-by-step help post. Be sure to check your spam filters to receive our email notifications. Prizes can take up to 6 weeks to arrive from the publishers. If you are not already a Member, you can join at no cost. The contest ends at midnight on May 16th, 2019.