101 Things to Do with a Bundt® and Bundt® Pans Giveaway
August 17, 2019 by Jenny
Title:
101 Things to Do with a Bundt® Pan
Author:
Jenny Hartin
About the author:
 I have always loved words and have written stories, essays and even entire manuscripts. I started up The Cookbook Junkies about twelve years ago and began writing cookbook reviews for Tastebook (now Taste) and other sites. A little over three years ago I approached Jane about joining the amazing team here at EYB and she and Fiona said yes!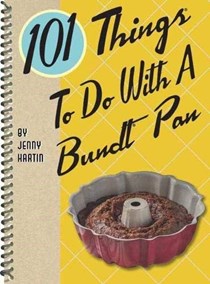 After posting a few Bundt® cakes on social media, publisher Gibbs Smith approached me about writing this book. There were days when I spent a great deal of time cursing my decision to work out 101 recipes using the Bundt® pan. But thanks to friends who tested recipes for me and even sent me their own recipes to use, I was able to complete this book while working full time here at EYB. It is a title filled with ideas for breads, cakes, desserts and even savory dishes utilizing your Bundt® pan. Some of the savory ideas would work well for a baby or bridal shower and perhaps this book, a Bundt® pan and some ingredients such as vanilla or high-quality cocoa powder would be a nice hostess gift. If you love Bundts®, you should enjoy this book. Our
takes you inside this title and features the following
This second set of four photos shows the Turkey meatloaf with cranberry glaze made by Doreen, the Chocolate chip scone cake made by Judy, the Brown bread made by Robin and the Cream cheese pound cake made by Judy.
There is only one original Bundt® pan and that pan is made by Nordic Ware. Last year, I shared an article entitled the birth of the Bundt® which provides a history of this company.
In my helpful hints section, I recommend for all cake recipes using a liberal spray of a flour-based cooking spray and for savory recipes I recommend applying a non-stick cooking spray. I have always prepared my pans in this way and have had no issues. Nordic Ware, however,
recommends never
 using a nonstick spray
because those sprays can leave a residue. I apparently have been very careful in cleaning my pans and have not experienced this. To be sure, please make note of
Nordic Ware's advice
as follows:
Before baking, prepare the pan using one of the following methods:
 Apply a BAKING spray, which is a spray that has flour in it already, such as "Baker's Joy" or "Pam for Baking".
 Apply a thin coating of solid vegetable shortening (such as "Crisco"), then dust the surface lightly with flour.
 Apply a thin coating of softened butter, then dust the surface lightly with flour.
To celebrate the publication of 101 Things to Do with a Bundt® Pan, Nordic Ware is providing three members with one of their anniversary pans as pictured below. This pan is my to go and hangs on my wall in the kitchen by my baking island. My second favorite pan is the Elegant Party Bundt®. Nordic Ware has great prices on their website and the following incentives apply: Free shipping with a $35 purchase, 20% off with a $50 purchase and 30% off with a $100 purchase.
The publisher is offering 3 copies of this book and Nordic Ware is offering 3 anniversary Bundt® pans to EYB Members in the US. One of the entry options is to answer the following question in the comments section of this blog post.
Which product at Nordic Ware would you most like to try?
Please note that you must be logged into the Rafflecopter contest before posting or your entry won't be counted. For more information on this process, please see our step-by-step help post and this forum post. Once you log in and enter your member name you will be directed to the next entry option – the blog comment. After that, there are additional options that you can complete for more entries.
Be sure to check your spam filters to receive our email notifications. Prizes can take up to 6 weeks to arrive from the publishers. If you are not already a Member,
you can join at no cost
. The contest ends at midnight on
October 27th, 2019.
a Rafflecopter giveaway