May 2019 Cookbook Review
May 27, 2019 by Jenny
Here in the US, Spring releases are almost behind us and now we begin the anticipation of Fall cookbooks. Between now and then there will be plenty of cookbooks to keep us lovers happy until then. Below you will find a brief summary of titles that I have had the pleasure of reviewing. If I am not in possession of the book, you may click on the book record for more information. For some UK/AU/NZ books, I have added a blurb even if I have not received the book yet.
Before we leap into May, I would like to highlight several backlist titles. I've been drawn to baking titles more so than ever. Today's flashback will share information on three beautiful cookbooks:
A few housekeeping reminders for new members:
Now let's talk about this month. Check the blog frequently as promotions are planned for many titles and be sure to follow us on social media (buttons on right lower side bar on the home page – photo right). If you would like to order any of these titles, using our affiliate links (right beneath the social media buttons) or the
button on the book details page, will help to support EYB and our indexing efforts (as well as help us to include worldwide options in some promotions). Most of our titles are released in multiple regions and are available locally and through worldwide sellers – the Book Depository make more of these titles available to more members with free international shipping.
I have been tagging books as EYB Picks: USA Pick, UK Pick, Canada Pick, Australia Pick, and New Zealand Pick. These search links will direct you to books that are favorites. I will continue to add these designations as I come across beloved titles or new additions to the library.
USA
Pesto: The Modern Mother Sauce: More Than 90 Inventive Recipes That Start with Homemade Pestos by Leslie Derene Lennox has me imaging the many uses of pesto (in all its variations) for more than just pasta. Adding a pesto to a sandwich, roasted potatoes, soups and more can add new life to your weekly menu and turn the ordinary to the extraordinary. Events
Genuine Pizza: Better Pizza at Home by Michael Schwartz is a vibrantly illustrated guidebook for creating unforgettable pies at home. With this cookbook, Schwartz makes the pizza process approachable and fun, giving the reader the tools they need to make better pizza and then encouraging them to experiment. First providing a clear and simple view of the fundamentals – with detailed step-by-step methods for making the best pizza doughs – Schwartz then empowers home cooks to mix and match ingredients, playing with different sauces, cheeses, meats, vegetables, and more, to build pies both classic and innovative.
Tasting Table's Cooking with Friends: The Bible for Entertaining Today by Geoff Bartakovics is the first cookbook from TastingTable.com, whose delicious content inspires more than three million foodies daily, features recipes for the new style of entertaining where everyone pitches in. This title is just what the entertainer needs to plan, prepare and host a fantastic dinner party. Gorgeous photographs and packed with inspiration it also would make an ideal hostess or bridal shower gift.
Whole Hog BBQ: The Gospel of Carolina Barbecue with Recipes from Skylight Inn and Sam Jones BBQ by Sam Jones and Daniel Vaughn breaks down everything you need to know about barbecue from building a pit to recipes for sides, sauces and more. Let your inner pitmaster go whole hog!
Vegetables Unleashed: A Cookbook by José Andrés and Matt Goulding is just what you would expect from the humanitarian chef – thoughtful, beautiful and filled with delicious recipes from salads to beverages and all things in between. Austin grill corn soup, Meyer lemon éclair, and Pa amb tomàquet (tomato bread) are just three of the recipes I have marked to make. Andrés makes humble tomato bread look like a dish I'd pay $25.00 to enjoy. Events
Pok Pok Noodles: Recipes from Thailand and Beyond by Andy Ricker and JJ Goode is further proof that Ricker is the master of Thai cuisine. The book is filled with recipes from Noodle soup with fish balls to Dry stewed beef noodles and everything in between. I am all about noodle dishes lately and have dozens of recipes already marked to try! Events
The Recipe: Classic Dishes for the Home Cook From the World's Best Chefs by Josh Emett is brilliant. Filled with gorgeous photography and "the recipe" for each dish presented – it is a must-have. This is the type of book I crave – familar but reaching – beautifully done and a reference to turn to repeatedly.
Just Peachy by Belinda Smith-Sullivan is an EYBD title. Buy this book before the promotional period ends and receive digital access to same. For more information see our giveaway and promotion post.
Madhur Jaffrey's Essential Indian Instant Pot Cookbook by Madhur Jaffrey delivers recipes from the grande dame of Indian cuisine transformed for the Instant Pot® Beef oxtail in a bazaari north Indian red sauce, Chicken stewed in a light sauce with potatoes and cauliflower, and Indian-Chinese pork chops are just a few examples of the recipes here.
Little Green Kitchen: Simple Vegetarian Family Recipes by David Frenkiel and Luise Vindahl is an EYBD title being released in the US, Australia and UK. Buy this book before the promotional period ends and receive digital access to same. For more information, please see our promotion and giveaway post.
Southern Smoke: Barbecue, Traditions, and Treasured Recipes Reimagined for Today by Matthew Register is an EYBD title. Buy this book before the promotional period ends and receive digital access to same. For more information, please see our promotion and giveaway post.
Tel Aviv: Food. People. Stories. A Culinary Journey by Haya Molcho and Nuriek Molcho left me feeling satiated by its stories, dishes and photographs. Beautifully done, this is a book to lose yourself in as you experience the city through the eyes of the authors.
Spiced: Unlock the Power of Spices to Transform Your Cooking by America's Test Kitchen Editors is on its way to me and unfortunately I won't have it until later this week. This title is a guide to using spices in a more authorative way with six simple techniques that will provide more bang for your buck. With instructions for toasting spices, creating rubs and more, it is sure to be a resourceful guide to seasoning.
Cooking with Miss Quad: Live, Love, Laugh, and Eat by Quad Webb-Lunceford delivers Southern comfort with a touch of the reality star's personal twists. My earlier article shares some information about this book.
Perfect Pan Pizza: Square Pies to Make at Home, from Roman, Sicilian, and Detroit, to Grandma Pies and Focaccia by Peter Reinhart is not only a pizza lover's dream but any cook will be able to pull bits and pieces (marmalades, sauces and more) from this title to level up their cooking. Events
The Huckle & Goose Cookbook by Anca Toderic and Christine Lucaciu provides sixteen weeks of simple, thoughtful, seasonal recipes for home cooking. All of the recipes integrate family traditions, good ingredients, and a use-up-everything-in-your-fridge approach. The authors, who are the founders of the Huckle & Goose meal planning service, give you the tools to make home cooking accessible, simple, and enjoyable all in a beautifully photographed and thoughtful cookbook.
The Smart Baby Cookbook by Lauren Cheney is an EYBD title. This book provides a blueprint for your child's nutrition and brain health. Doctor-approved and parent-tested, this title helps you give your young one a head-start for a healthy life, beginning with the best first foods, through to finger foods and family meals. Buy this book before the promotional period ends and receive digital access to same.
The Keto for One Cookbook by Dana Carpender is an EYBD title. Here you will learn how to make 100 delicious dishes for every meal of the day – perfectly proportioned and macro-balanced. Buy this book before the promotional period ends and receive digital access to same.
Black Sea by Caroline Eden is an EYBD title. Buy this book before the promotional period ends and receive digital access to same. It is a beautiful book filled with the captivating writing the author is known for and delicious recipes and photographs to inspire. For more information and a chance to win a copy of this book, please see our promotion post.
BBQ&A with Myron Mixon: Everything You Ever Wanted to Know About Barbecue by Myron Mixon will be the novice or experienced griller's go-to reference for all things barbecue. Sit down with Mixon and learn from a master.
California: Living + Eating: Recipes Inspired by the Golden State by Eleanor Maidment is a stunner filled with inspirational photos and recipes that are tempting, approachable and west coast inspired.
The Teen Kitchen: Recipes We Love to Cook by Emily Allen and Lyla Allen shares 75 recipes to encourage teens to get into the kitchen and cook. Asian slaw lettuce wraps, Pumpkin wonton raviolis and PB&J breakfast bars are a few examples of the dishes you will find here.
Bazaar: Vibrant Vegetarian Recipes by Sabrina Ghayour was published in the UK last month and now here in the US in May. The latest from Sabrina is spectacular and we are hoping to cover it in our EYB Cookbook Club this summer.
Delicious Places: New Food Culture, Restaurants and Interiors takes a look at the world of food across the globe in a stunningly photographed journey. From the pink hued walls of the Pink Zebra in Kanpur, India to the Mosquito Supper Club in New Orleans, this title brilliantly transports you to places we can only dream about.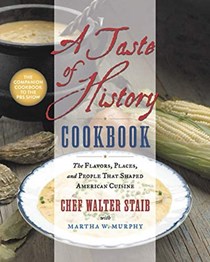 A Taste of History Cookbook: The Flavors, Places, and People That Shaped American Cuisine by Walter Staib provides a look into 18th and 19th century American culinary history. Sharing over 150 recipes that were featured in the Taste of History television series, readers will want to recreate these dishes in their modern-day kitchens. Tucked within the recipes there are fascinating history lessons that introduce the people, places, and events that shaped our unique American democracy and cuisine.
Other titles of interest:
Canada
Coconut Lagoon: Recipes from a South Indian Kitchen by Joe Thottungal is an EYBD being released in Canada this month and is coming to the US in September. Buy this book before the promotional period ends and receive digital access here at EYB. The restaurant chef shares the recipes that has made his restaurant a huge success. Look for a full promotion in September.
The Prairie Table: Suppers, Potlucks & Socials: Crowd-Pleasing Recipes to Bring People Together by Karlynn Johnston offers a touch of retro design and a serving of comfort food. I love the homey feel of this book – the Pyrex ladened dishes and recipes for classics with new twists. Karlynn is the blogger who wrote Flapper Pie, a book filled with vintage desserts for the modern cook.
Peace, Love and Fibre: Over 100 Fibre-Rich Recipes for the Whole Family by Mairlyn Smith breaks down exactly what fibre is, and why it is such an important part of a healthy life. Marilyn covers all the basics, using her trademark sense of humor and enthusiasm. You'll learn how fibre positively impacts your blood sugar levels and gut health, and how it reduces the risk of certain types of cancer.
United Kingdom
The Greek Vegetarian Cookbook by Heather Thomas showcases an array of delicious vegetarian recipes from breakfast to dessert. Drawing inspiration from all over Greece, the book simplifies this hugely popular cuisine with easily achievable, nourishing recipes that appeal to vegetarians and meat-eaters alike. Introductions to each recipe often provide additional information on ingredients and serving suggestions and many suggest variations to the dish itself. Please remember Eat Your Book members receive 30% off Phaidon titles when using the link provided.
Breakfast: The Cookbook by Emily Elyse Miller Please shares recipes from around the world for the most important meal of the day. The author is the founder of The Breakfast Club and here she shares her extensive research on how breakfast is approached worldwide. Please remember Eat Your Book members receive 30% off Phaidon titles when using the link provided. A promotion will be coming soon on this beautiful book.
Wildness: An Ode to Newfoundland and Labrador by Jeremy Charles and Zita Cobb is a stunning celebration of the bounty of the Atlantic coast, and a dazzling debut from one of Canada's star chefs. This title shares more than 160 recipes spotlight the local fare: cod, shellfish, moose, game, wild edibles, and more. Charles has written a story to accompany each recipe, along with essays about the people and landscape that define his remarkable approach to modern coastal cuisine. Please remember Eat Your Book members receive 30% off Phaidon titles when using the link provided.
Andalusia: Recipes from Seville and Beyond by José Pizarro is being published in the UK and AU this month and will be released next month in the US when we will have a full promotion and giveaway. This is an EYBD title and if you buy the book within the promotion period you will receive digital access here at EYB.
Tin Can Cook: 75 Simple Store-cupboard Recipes by Jack Monroe brings together seventy-five recipes that you can rustle up from tinned and dried ingredients. If you've ever struggled to make a dish because the recipe calls for an exotic ingredient you've never heard of, then this is the book for you. Jack does away with the effort; all her dishes are exciting and new, but you won't have to look further than your local supermarket to make them.
GreenFeast: Spring Summer by Nigel Slater is the green follow-up to Eat, packed full of short, doable and fast vegetable recipes that are usefully divided into In the frying pan, In the hand, On the hob and Puddings. Greenfeast: Autumn, Winter will follow in October 2019.
Skinny Pasta: 80 Flavour-Packed Recipes of Less Than 500 Calories by Julie Azzarello features a mix of timeless classics and contemporary interpretations, the recipes focus on fresh, healthy and nutritious ingredients, plus many are vegan, vegetarian, gluten- and dairy-free.
Skinny Desserts: 80 Flavour-Packed Recipes of Less than 300 Calories by Kathryn Bruton shares a collection of delectable sweet dishes that includes the things we all know and love – crème brûlée, citrus tarts, cheesecakes, meringues, ice cream, souffles and éclairs – but with clever minor adjustments so each classically calorific recipes is under 300 calories per portion.
The Burger Book: Banging Burgers, Buns and Sauces to Cook On or Off the BBQ by Christian Stevenson is not only about beef burgers – it is packed with burger recipes covering options for fish, chicken, veggie, vegan, pork, and lamb. It covers buns, sauces, sides and all the delicious BBQ flavors and madcap shenanigans that you've come to expect from DJ BBQ and his crew.
The Zero Waste Cookbook: 100 Recipes for Cooking without Waste by Giovanna Torrico and Amelia Wasiliev shares ideas and inspiration to use up those edible bits leftover from our meal prep. Leftover orange slices from brunch can be transformed into a cake and those potato peels from Sunday's roast dinner into a hearty soup. These recipes and more along with lovely photography make this book a must have.
Gelato Messina: The Recipes by Nick Palumbo is being released in paperback this month having previously been published in 2013. The book is split into two sections: one features basic recipes along with step-by-step instructions and technique tips on how to make the foundation flavours commonly used in Gelato Messina's work and the second showcases Gelato Messina's spectacular gelati cakes and mini-creations.
The Joyful Home Cook by Rosie Birkett is a collection of resourceful and delicious recipes steeped in a fundamentally practical way of approaching home cooking; returning to basics, minimising waste, following the seasons and keeping things simple to create effortless meals packed with flavour.
Fire Islands: Recipes from Indonesia by Eleanor Ford (co-author of Samarkand) is being released in the UK this month and coming to the US in November. I've ordered this title but haven't received it as of yet.
The Island Kitchen: Recipes from Mauritius and the Indian Ocean by Selina Periampillai shares 80 simple recipes for everything from quick mid-week suppers to large rum-fuelled gatherings, and beautiful food photography and illustrations. This is another title I've ordered but haven't received. These books are my vacation without having to pay for airfare and a hotel!
The Beauty Chef Gut Guide: Glowing Skin and Wellbeing Begins in the Belly by Carla Oates is a practical companion to the author's acclaimed book, The Beauty Chef. It is a compelling resource for people who want to better understand the science underpinning the link between gut and skin health. This 28-day program includes information on the importance of gut functionality, weekly meal plans for repairing and reprogramming your gut, and 60 recipes.
Charred: The Complete Guide to Vegetarian Grilling and Barbecue by Geneieve Taylor offers up over 70 original, exciting recipes to cater for all your veggie BBQ needs.
Coffee Sapiens: Innovation Through Understanding by Adria Ferran is the ultimate guide to the world's most popular hot beverage – from Ferran Adrià's elBullifoundation and Lavazza. Please remember Eat Your Book members receive 30% off Phaidon titles when using the link provided.
Green: Veggie and Vegan Meals for No-fuss Weeks and Relaxed Weekends by Elly Curshen shows how to easily vary veggie and vegan dishes to suit your fancy, with ingenious options to make a meal speedy and simple or a bit more special. For those wanting to eat more plant-focused meals, this title offers over 100 easy recipes developed for either weekdays or weekends, so you're covered for all days and occasions.
Other titles of interest:
Australia
Little Green Kitchen: Simple Vegetarian Family Recipes by David Frenkiel and Luise Vindahl is an EYBD title. Buy this book before the promotional period ends and receive digital access to same. For more information, please see our promotion and giveaway post.
The Low Carb Kitchen is an easy guide to help you implement a low carb diet. In it you'll find healthy and straightforward recipes that celebrate real food that's the protein found in meat, fish, nuts, and seeds, as well as vegetables of all colours.
Street Food Vietnam: Noodles, Salads, Pho, Spring Rolls, Banh Mi & More by Michael Nguyen presents street food from banh mi to fresh herb infused stir-fries. Learn the subtle finesse that distinguishes a Hanoi style pho from its southern relative. This title shares photography of each dish.
The I'm-So-Hungover Cookbook: Restorative Recipes to Ease Your Pain by Jack Campbell shares restorative recipes for loaded fries, bacon burgers, luscious ramen, spicy tacos, mini pizzas and buffalo wings.

Slow Cooker Central Family Favourites by Paulene Christie shares 200 new classics the whole family will love.
New Zealand
Magnolia Kitchen: Inspired Baking with Personality by Bernadette Gee is a lovely book filled with recipes from the baker behind the Magnolia Kitchen. Bets (Bernadette) is celebrated not only for her gorgeous cakes but also for her macarons, doughnuts, brioche, gourmet s'mores and many more mouth-watering treats. In her first cookbook she shares her journey and her widely sought-after recipes so that you can enjoy the deliciousness at home. With step-by-step instructions for cake decorating and making macarons, and a full range of allergy-friendly recipes, this is a must-have book for anyone interested in baking and eating. I ordered this book in April and received it mid-May and it's spectacular. However, it looks like the publication date is listed differently on various sites as April, May and June. No matter, it is a must have book!