Sugar Rebels – EYBDigital Promotion
April 16, 2019 by Jenny
Now with
EYBDigital
, if you buy a print book within the promotional period, for the first time you will have access to the full EYBD cookbook wherever you can access EYB – on vacation, at work, in the grocery store, etc. In addition to the digital book, all the features of EYB will be included in the access, at no cost to the book purchaser. For more information see our
EYBD Page
.
• Recipe search
• Bookmarks
• Recipe ratings and reviews
• Photo upload (personal photos of dishes cooked)
• Shopping lists
We are pleased to share a promotion for our next EYBD Book,
Sugar Rebels: Pipe for Your Life – More Than 60 Recipes from Instagram's Kween of Baking
by Nick Makrides. Get your piping bags ready and set them to stun!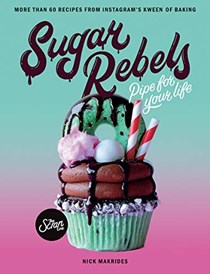 If you scroll through Nick Makride's
Instagram account
you will be greeted with a technicolor parade of dessert photos from neon blue macarons to multi-hued cakes and cupcakes. The same vibrant photographs are reflected in Nick's debut title
Sugar Rebels
. Over 60 recipes with step-by-step picture tutorials from crumb coating to obtaining a majestic swirled topped cupcake are packed inside this gorgeous book. Here you will find tips and inspiration to decorate like a pro baker – think high octane Wilton decorating. Want to be the coolest baker at the bake sale? Make Nick's Choc cherry cola or Galaxy space time cupcakes and set the tongues to wagging. Everyone will want to know your secrets. Nick reminds me of a slightly hipper
Adriano Zumbo
(and I adore Zumbo!). The
author is touring in Australia and the US
in support of this title. Our
takes you inside this title and features the following
If you order this title before our promotional period ends, register
here
(be sure you have a photo of your receipt or screenshot from your online order ready to upload). Once your purchase has been verified, this button
will appear on the book on your Bookshelf next to the title and will take you to the digital access for this sugar-coated masterpiece of a book.
Below are screenshots showing how these features will appear.
Special thanks to the publisher, for working with us to bring this exclusive incentive to our members as well as for providing three copies of Sugar Rebels in our giveaway below.
The publisher is offering three copies of this book to EYB Members in the US, UK, AU and NZ. One of the entry options is to answer the following question in the comments section of this blog post.
Which recipe in the index would you try first?
Please note that you must be logged into the Rafflecopter contest before posting or your entry won't be counted. For more information on this process, please see our step-by-step help post. Be sure to check your spam filters to receive our email notifications. Prizes can take up to 6 weeks to arrive from the publishers. If you are not already a Member, you can join at no cost. The contest ends at midnight on July 1st, 2019.