A New Way to Food – EYBD Promotion
February 5, 2019 by Jenny
Now with EYBDigital, if you buy a print book within the promotional period, for the first time you will have access to the full EYBD cookbook wherever you can access EYB – on vacation, at work, in the grocery store, etc. In addition to the digital book, all the features of EYB will be included in the access, at no cost to the book purchaser. For more information see our EYBD Page.
• Recipe search
• Bookmarks
• Recipe ratings and reviews
• Photo upload (personal photos of dishes cooked)
• Shopping lists
We are pleased to share a promotion for our next EYBD Book, A New Way to Food: 100 Recipes to Revamp the Way You Eat and Change Your Relationship to Food by Maggie Battista. The author's events are shared on our calendar.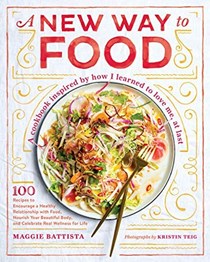 Maggie Battista delivers far more than a cookbook in her latest work. Yes, she shares more than 100 mostly wholesome, mainly dairy-free, plant-based, and always refined sugar-free recipes that helped her find her way to good health, lose 70 pounds, and rid herself of years of chronic aches and pains but she also shares honest and touching narrative that will resonate with many of us. While we may not have weight issues or chronic pain, most of us have felt that we were not enough. This book lovingly teaches us to find our beautiful potential and that we deserve to feed and nourish ourselves, emotionally and physically.
The recipes here cover breakfasts, quick lunches, and nourishing dinners, and offer healthy updates on comfort foods and date night dinners. With a focus on plant-based eating, some meat dishes are also included. Also shared are Maggie's guides to meal planning, recipes for pantry staples and much more. Beautiful photographs are sprinkled throughout and while it does guide you to a new way to food, it is a stunning cookbook that anyone can appreciate. Pick up a copy for someone you love for Valentine's Day!
Our
takes you inside Maggie's latest and features the following
If you order this title before our promotional period ends on May 30th, 2019, register here (be sure you have a photo of your receipt or screenshot from your online order ready to upload). Once your purchase has been verified, this button
will appear on the book on your Bookshelf next to the title and will take you to the digital access for this gorgeous book.
Below are screenshots showing how these features will appear.
Special thanks to the publisher, for working with us to bring this exclusive incentive to our members as well as for providing three copies of in our giveaway below.
The publisher is offering five copies of this book to EYB Members in the US and Canada. One of the entry options is to answer the following question in the comments section of this blog post.
Which recipe in the index would you try first?
Please note that you must be logged into the Rafflecopter contest before posting or your entry won't be counted. For more information on this process, please see our step-by-step help post. Be sure to check your spam filters to receive our email notifications. Prizes can take up to 6 weeks to arrive from the publishers. If you are not already a Member, you can join at no cost. The contest ends at midnight on April 2nd, 2019.