Tasting Paris by Clotilde Dusoulier
April 16, 2018 by Jenny
Clotilde Dusoulier, the beloved author of the blog Chocolate & Zucchini, has a new exciting cookbook out this month. T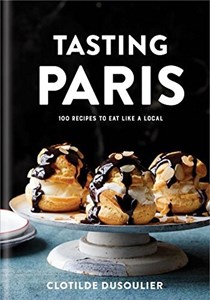 asting Paris: 100 Recipes to Eat Like a Local shares more than 100 recipes, including both classic and contemporary dishes, as well as 125 evocative photographs that will charm readers.
Clotilde is a native Parisienne, who as I mentioned, is the voice behind the blog, Chocolate & Zucchini, which has been going strong for fifteen years. This wonderful resource for recipes and Paris inspiration is indexed for our members.

C&Z was one of the first sites that I followed when I started reading blogs religiously. The lure of Paris and Clotilde's enchanting writing and recipes kept me coming back for more. Her previous titles are on my bookshelves and are indexed for our members.
Tasting Paris features recipes that include iconic bistro and brasserie fare such as Steak with peppercorn sauce or decadent pastry, as well as newer dishes that reflect the way Parisians eat today think a Moroccan orange salad, Rice and ginger soup or a Turkish lamb flatbread. I love the global flavors you will find here nestled in between the classic Parisian dishes which makes this book even more enjoyable for me.
The food photography is inspirational and those of Paris will spark wanderlust. Whether you want to picnic along the Seine, shop the open-air markets, or seek out the best street food like a local, Tasting Paris has you covered. Throughout the book, Clotilde is our culinary guide to finding the best baguette and what to look for in obtaining the perfect Paris croissant. For those of us who have been to the city of light and dream of returning, we can recreate the flavors of this captivating city in our own kitchen with the delightful recipes here.
Clotilde has a few events planned which we have placed on our calendar and we will continue to update as more are confirmed.
Our EYB Book Preview will give you a closer look inside of this beautiful title and our EYB Recipe Preview shares the following recipes:
Special thanks to Clarkson Potter for sharing the material for our EYB Book Preview as well as for providing three copies of Tasting Paris in our giveaway below (US only) – Eat Your Books is providing one copy worldwide, outside the US.
The publisher is offering three copies of this book to EYB Members in the US and Eat Your Books is providing one copy worldwide. One of the entry options is to answer the following question in the comments section of this blog post.
Which recipe in the index would you try first?
Please note that you must be logged into the Rafflecopter contest before posting or your entry won't be counted. For more information on this process, please see our step-by-step help post. Be sure to check your spam filters to receive our email notifications. Prizes can take up to 6 weeks to arrive from the publishers. If you are not already a Member, you can join at no cost. The contest ends at midnight on May 29th, 2018.