Just a French Guy Cooking – EYBD Book and Promotion
September 6, 2018 by Jenny
Now with EYBDigital, if you buy a print book within the promotional period, for the first time you will have access to the full EYBD cookbook wherever you can access EYB – on vacation, at work, in the grocery store, etc. In addition to the digital book, all the features of EYB will be included in the access, at no cost to the book purchaser. For more information see our EYBD Page.
• Recipe search
• Bookmarks
• Recipe ratings and reviews
• Photo upload (personal photos of dishes cooked)
• Shopping lists
We are pleased to share a promotion for our third EYBD Book, Just a French Guy Cooking: Easy Recipes and Kitchen Hacks for Rookies by Alexis Gabriel Ainouz, today on its publication day.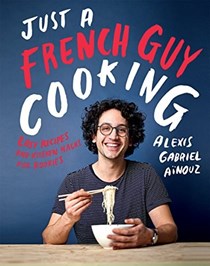 Just a French Guy Cooking journals the cooking exploits of Alex who just wants us to have fun cooking. His wildly popular You Tube channel has nearly 800,000 subscribers mainly due to his endearing style and his passion for food. There are 90 of his favorite recipes in his wonderfully photographed debut book that will appeal to those wanting to learn how to cook and those, like myself, that appreciate another (youthful) approach to the classics.
You will enjoy his enthusiam for teaching with sections entitled: "French crepes, you can do this", "Four ways to instantly upgrade ramen" or "12 dried herbs that will make you a chef". Those portions of the book along with the countless hacks and tips sprinkled throughout make this title a delightful and informative cookbook. His spirit is contagious and I find myself nearly at midnight fighing the urge to head to the kitchen to make a crepe.

The novice cook will find value in this highly accessible book as will the seasoned cook. I admit, even with decades of cooking experience (yikes), that I can appreciate a fresh approach to cooking the classics and learning new dishes that will become classics. Alex is a fountain of useful information. The author has a few events added to our calendar.
Our
will take you inside this title which takes a fun and approachable look at French cuisine. This preview highlights the following recipes in
:
If you have already bought Just a French Guy Cooking: Easy Recipes and Kitchen Hacks for Rookies or do so before December 5th, 2018, register here (be sure you have a photo of your receipt or screenshot from your online order ready to upload). Once your purchase has been verified, this button
will appear on the book on your Bookshelf next to the title and will take you to the digital access for this gorgeous book. Below are screenshots showing how these features will appear.
Special thanks to Quadrille Publishing for working with us on this special feature as well as providing three copies of this book in our giveaway below. Just a reminder Copenhagen Food: Stories, Traditions and Recipes by Trine Hahnemann will be released on October 2nd, 2018 and is a part of our EYBD program as well. The preview for this title is located here
The publisher is offering three copies of this book to EYB Members in the US, UK, AU and NZ. One of the entry options is to answer the following question in the comments section of this blog post.
Which recipe in the index would you try first?
Please note that you must be logged into the Rafflecopter contest before posting or your entry won't be counted. For more information on this process, please see our step-by-step help post. Be sure to check your spam filters to receive our email notifications. Prizes can take up to 6 weeks to arrive from the publishers. If you are not already a Member, you can join at no cost. The contest ends at midnight on October 23rd, 2018.