The biggest food trends of the past 40 years
August 25, 2018 by Darcie
We spend a fair amount of time researching and reporting on food trends here at EYB. No matter how frivolous, they are reflected through the subject matter of new cookbooks. However popular they may be at the time, the very nature of trends is that they fade away. A review of yesterday's trends invokes nostalgia – and sometimes puzzlement – but in either case it's always interesting. Food & Wine Magazine takes us on a tour of the 40 biggest food trends of the past 40 years, highlighting once wildy popular dishes in the US that have now (mostly) fallen out of favor.
First on the list is quiche, which had its heyday in the 1970s. A one-two punch of Julia Child introducing US diners to the dish and the 1975 edition of Joy of Cooking devoting significant space to the recipes made this the go-to main course to serve at dinner parties. By the mid-1980s, the fervor for quiche died down, although it has remained a brunch menu stalwart.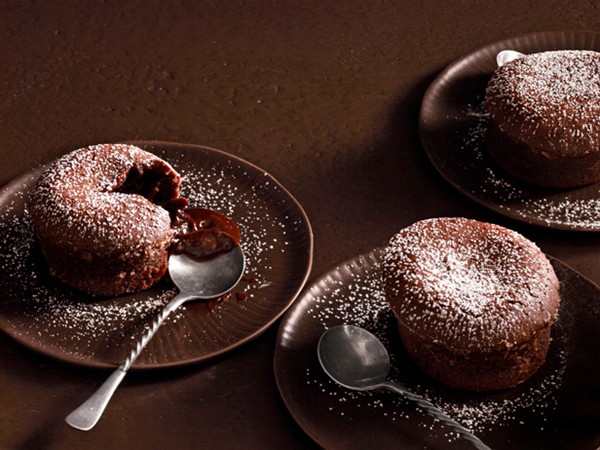 One item from the early 1990s that still seems to be going strong is molten chocolate cake. When Jean-Georges Vongerichten put it on the menu at his NYC restaurant JoJo, diners went wild. It quickly spread to other restaurants and is now ubiquitous on dessert menus everywhere from mom-and-pop places to large chain restaurants.
More recently, kale has stolen the spotlight. This 'superfood' rocketed to stardom based not only on its nutritional bona fides, but also due to a superb marketing effort. Chefs have transformed the hearty green into everything from chips to smoothies.
In the age of Instagram, food trends seem to be more for visual appeal than culinary quality, as witnessed by the unicorn rainbow craze and over-the-top ice cream and milkshake concoctions. It's hard to predict what the next 'big thing' will be – or which new social media program will be the most important influencer of the trend.
Photo of The Neelys' molten lava cakes from Food Network Magazine