Always Delicious – Our latest EYBD title
August 23, 2018 by Jenny
We are very excited to announce our latest addition to our EYBDigital library of titles and our first New Zealand title! Always Delicious: Favourite Recipes from the New Zealand Listener by Lauraine Jacobs is a beautiful book set for publication next month on September 24.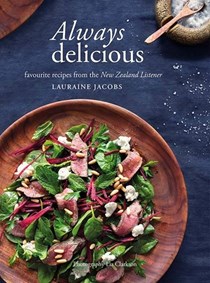 Lauraine is one of New Zealand's leading food writers, best known for her long-running weekly food column in the New Zealand Listener. In Always Delicious she has assembled over 100 of her favourite recipes, chosen from at least 700 that have featured in the column over the years. Illustrated with beautiful photography from Liz Clarkson, this is an elegant, inspiring cookbook that deserves a place in every kitchen around the world.
Chicken dumplings with braised broad beans, lemon and mint, Chocolate cupcakes with salted caramel sauce (on the agenda for this weekend) and Star anise marinated beef are a few examples in the range of dishes here. In each chapter, a "Food Talk" essay is shared on that particular subject providing tips for cooking success. This book hits all the notes for me: lovely photographs, tempting recipes with the bonus of Lauraine's vast knowledge and beautiful writing, as well as providing the reader with a taste of New Zealand that can be dished up in our own kitchens.
If you pre-order or order before December 31st, 2018, you will receive digital access to Always Delicious here at EYB. The Buy Book link goes to the publisher's website since the book is not yet available through our regular vendors. As a courtesy to our members, the book's publisher Potton and Burton, will apply a $15 credit on freight charges to addresses outside of New Zealand for all orders. No code is necessary.

Please check out our
which gives you a look inside this stunning book. Lauraine's events have been added to our calendar and will be updated as they are solidified.
I have recently ordered several of Lauraine's titles including Taste Baking with Flavour and The New Zealand Baker: Breads, Cakes and Pastries and have several others on my wish list. The baking books are spectacular and I'm eager to add her library of titles to my collection.
Preorder Always Delicious now and be sure to add Kiwi Baker at Home to your cart. Dean Brettschneider co-authored books with Lauraine and it is sure to be a winner too!