July 2018 Eat Your Books Cookbook Club Summary
July 23, 2018 by Jenny
We have an incredible community here at Eat Your Books that has flowed into our Eat Your Books Cookbook Club and Sweet Eat Your Books Cookbook Club, places where we share our successes and fails in cooking and baking from specific cookbook titles. Here on the site our recipe notes feature – completed by members and our indexers – help share issues and tips. Checking the notes section on a recipe for any errata that may have been reported by the publisher or discovered by a member is always a wise idea.
This month we have been working through: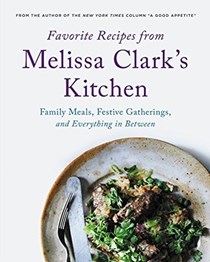 And, desserts are still being churned out in
our second group
working through Ottolenghi's
Sweet
.
Our future month selections are re-shared at the end of this post and all club posts are tagged
#EYBCookbookClub
if you are looking for a particular post.
The photos below are just a few of the beautiful shots our members have been sharing; visit each group for more inspiration. Do not forget to also upload your photos and add your notes to your bookshelf at Eat Your Books. Instructions on uploading your photos and links to other helpful articles can be
found here
.
On that note, Eat Your Books has been sharing your photos on our
Instagram
feed. If you would like to be tagged in your lovely photos, update your bio here at EYB to include your social media handles. You can edit your bio on your Profile page, accessed from the menu under your username at top right. When we choose photos, we can then check your bio for your Instagram handle.
Other members have expressed an interest in following the members that make such beautiful food! Also, if you would like your EYB username shown when we post your photos in this monthly roundup, please add your username to your Facebook posts.
A few announcements before we share some highlights from this month's options:

Please make sure you have entered all our giveaways. More great giveaways will be added soon.
Every week new
and
books are being added. Find out more here. We recently just announced our newest feature Eat Your Books Digital – see our post for more information.
Please consider nominating Eat Your Books for a Saveur blog award. More information can be found on this post. Deadline July 25th. You are able to nominate every day, multiple times a day. We appreciate your consideration.

Every Sunday, I compile a post of Kindle cookbook deals so be sure to check those for bargains!
Now to this month's highlights:
I made Melissa Clark's crispy salt and pepper pork a few weeks ago and it was great. I did adapt it a bit and left a recipe note. My sad photo can be found here. Now that we are moved into our new home (finally) and are a few weeks away from being unpacked, I plan on participating more in the clubs. Late next month, I will begin tackling Modernist Bread and posting once a month with my progress.
Christine M made the Spicy black beans with chorizo & jalapeños from Favorite Recipes From Melissa Clark's Kitchen. She states: "Left out jalapeños, cilantro and hot sauce because husband does not care for those, the spice from the chorizo, as well as the flavors of the cumin and oregano, made this flavorful enough. I did the fried eggs sunny-side-up because that is how we like them. This was really easy to make and very good, and I would make this again." Christine, please remember to upload your photo here at EYB.
Becky L made the Deviled Egg Salad with Anchovies, Smoked Paprika, and Tomato (Favorite Recipes From Melissa Clark's Kitchen p 73. She states: "I cheated – I've tried and tried and I just don't like anchovies. But a trick I learned from my dad is to swap in capers for the brininess without the fishiness. I did that here and it was amazing! This is definitely one I'll be making again!" Becky, don't forget to upload your
photo here at EYB
.
Lisa S made an online recipe of Jacques Pépin for
garlic chicken breasts
and they look great. Lisa, please remember to upload your photo
here at EYB.
Nicole K made the Little Gem Salad with Cheddar Vinaigrette and Pistachio Granola on page 25 of Matt Jenning's Homegrown. "This is the second time I have made this dish and it is filling enough for an entree. It is quite literally one of the best salads that I have ever eaten. If you only ever make one thing from this book, let it be this. Although, the Farmstead Mac and Cheese is also pretty incredible." Nicole, please remember to upload your photo
here at EYB
as well.
Yvette B. Tonight's yummy dinner was beef rib-eye steaks with chanterelle (and oyster) mushrooms from the Home Grown cookbook. It was also supposed to served with bearnaise sauce, but THAT was a fail. Twice!" Yvette, upload your photo here on EYB and make a note about what you think happened with the sauce.
There are many other wonderful photos in the group.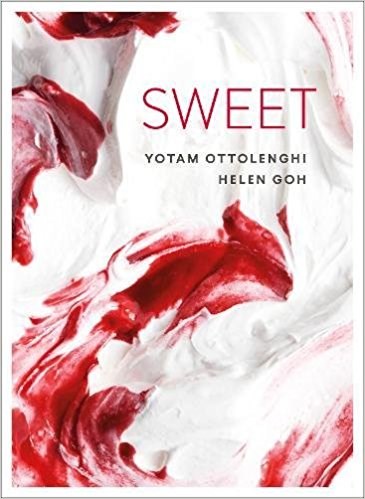 Eat Your Books Sweet Cookbook Club
Sweet – Ottolenghi
This month multiple people made the Blueberry and Almond Cake. The photo below is shared by member JudyK.
Recap of our future selections:
You will note for the next three months, we are offering additional options so that even more members can participate. From August through October, our vegan option will be Vegan 100: Over 100 Incredible Recipes from Avant-Garde Vegan (see our giveaway and review here) or any online vegan recipe.
August
September
October
Come join us!