Jenny v. Modernist Bread – Emile Henry Giveaway
May 13, 2018 by Jenny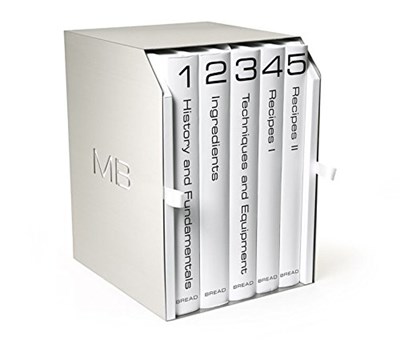 A little over a year ago I shared with you The Making of a Cookbook Collector, the story of how my love of cooking and baking blossomed into a full blown obsession. While I have always been a fearless cook and baker, I've never deeply delved into the art of creating bread. Sure, I have baked a loaf or two, but my goal is to learn everything about bread from the starter to the shaping – to the perfect crumb and crust – and that is where Modernist Bread: The Art and Science by Nathan Myhrvold and Francisco J. Migoya comes into play.
Modernist Bread is a guide to the science of bread baking (see this article for more information) and follows in the footsteps of Modernist Cuisine which is also indexed for our members. Modernist Cuisine shares science-inspired techniques for preparing food that ranges from the otherworldly to the sublime and our
shows a brilliant look inside. For those who want to begin exploring these sets, the Modernist Cuisine at Home is a perfect stepping stone. The Cooking Lab is working on their next project – Modernist Pizza and I am hoping for a Modernist Pastry set soon!
Back to bread, our
provides a beautiful look inside Modernist Bread and each volume of the five book set is indexed as follows:
At the moment, we are in house limbo. We will finally have our house on the market this coming week and if all goes well, we will be moving within the next two months or sooner. When I am in my new home, I will begin my deep exploration of bread using Modernist Bread and a number of wonderful products from Emile Henry including this gorgeous Bread Cloche.
Founded in 1850, and located in Marcigny, a small town in the province of Burgundy, France, Emile Henry has established a worldwide reputation for manufacturing the finest quality ceramic ovenware, gourmet cooking products, and bakeware products. Still owned and operated by the Henry family, the company today manufactures all of their new cooking products from Burgundy clay using their proprietary High Resistance Oven Ceramic state-of-the-art manufacturing process.
Their products are not only beautiful but durable. Specifications are as follows:
Burgundy clay evenly and slowly diffuses cooking heat to the very center of the cooking dish. Food is cooked evenly, which brings out the flavors and aromas. Burgundy clay has superior heat retention properties which keep food hot and more flavorsome when resting on the dining table or on a kitchen sideboard.
All Emile Henry products are direct freezer-to-oven. They exhibit extraordinary thermal shock properties. They go under the broiler and in the microwave.
Emile Henry products do not chip or crack easily. One can cut directly on the surface without scratching or damaging the product.
The surfaces do not trap and hold baked on or burnt food. Cleaning is remarkably easy. All Emile Henry products can go in the dishwasher.
There is no lead or cadmium in their products, all of the glazes meet California Prop 65, and all of the products are 100% food safe. Offered in a large variety of colors, the glazes will not craze, discolor or fade over time.
All Emile Henry products carry a limited household ten (10) year warranty against breakage due to defective workmanship.
There are certain brands that signify class and craftsmanship and Emile Henry is certainly one of those. I love the Bread/Potato Pot and use it often to make roasted potatoes – so easily to flip the pot instead of using a spatula to turn potatoes over to roast evenly and not to mention the stunning factor when serving as these gorgeous products go from oven to tabletop in style. Emile Henry's Baquette and Bread Cloche are going to accompany me on my journey through bread baking and I hope that you will follow along.
This is a project I am extremely excited to begin and I feel that working my way through Modernist Bread will be the equivalent of a culinary course in bread. The team behind Modernist is offering me their support and I hope that you will also cheer me along. Those who live nearby may be the recipient of loaves of incredibly fresh baked bread! All my posts on this series will be tagged #modernistbread.
To celebrate this project, Emily Henry has generously offered one of our members a beautiful Bread Cloche for your baking needs. To enter scroll down to our giveaway which consists of the cloche only, please support our sponsors for these giveaways by completing all the entries where you can.
Emile Henry is offering one cloche to EYB Members in the US. One of the entry options is to answer the following question in the comments section of this blog post.
Which Emile Henry product would you like to try first?
Please note that you must be logged into the Rafflecopter contest before posting or your entry won't be counted. For more information on this process, please see our step-by-step help post. Be sure to check your spam filters to receive our email notifications. Prizes can take up to 6 weeks to arrive from the publishers. If you are not already a Member, you can join at no cost. The contest ends at midnight on July 9th, 2018.
Special thanks to Emile Henry for providing me with two of their stunning products for my Modernist Bread project and for providing a cloche in this giveaway. I own Emile Henry products and highly recommend this brand for its quality, craftsmanship and beauty.
I purchased Modernist Bread for purposes of this project and this set of books is not a part of the giveaway.