A Table in Venice by Skye McAlpine
April 20, 2018 by Jenny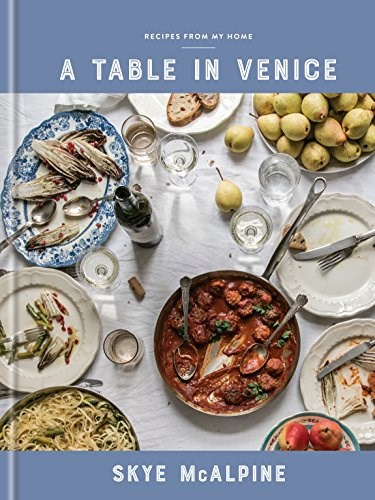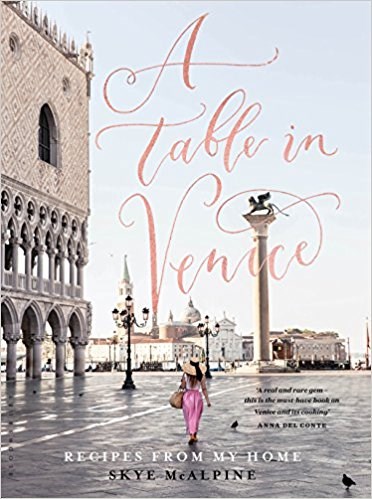 A Table in Venice: Recipes from My Home by Skye McAlpine is an enchanting book that ferries the reader away to the canals of Venice adorned with a canopy of swaying laundry and faded buildings of brick. The book was released in the US, Canada and UK (US and Canadian cover to left, UK to the right) in March.

In this debut book from the voice behind the website, From my Dining Table, Skye delivers traditional Venetian dishes as well as her take on the classics. The magic of the floating city is brought to life in stunning photographs and charming storytelling. With 100 irresistible recipes (with measurements in weight and volume), 150 photos, and evocative essays, A Table in Venice is a testament to the author's affection for this storied city. Food is the best storyteller and Skye's interpretation of Venice is one that everyone will enjoy experiencing.

I fell in love with this title from the moment I first opened it. The author begins with a chapter on Sweet Breakfast Recipes that house such delights as Cardamom and cinnamon rice pudding tartlets and a show stopping Chocolate and orange ricotta breakfast cake. The chapters continue with Vegetable Recipes from the Rialto Market, Classic Lunch Recipes, Recipes for a Venetian Aperitivo, Fish and Game from the Venetian Lagoon and ends, as all Italian (or any, for that matter) cookbooks should, with Desserts and Sweet Treats. I have made a few recipes that were so wonderful that they were sampled before I could take photographs which is only more incentive to create them again. My new golden rule – only cook when no one is home or perhaps leave no food unattended.

I know it is still early in the game but this book will be one of my favorite books of 2018. Skye has a few events planned which are available on our calendar. She will be at Eataly in New York when Jane and I will be there for the James Beard award dinner. I am looking forward to meeting Skye for breakfast that morning as we won't be able to make it to the event. Skye, be prepared. I'm bringing a book plate for you to autograph for my copy.
We found this wonderful article on Skye and her London home where we spied Ruffoni cookware above her hob. Skye is a woman after my own heart. Let her capture your heart with her Venice.
Our
will give you a closer look inside this beautiful title and our
shares the following recipes:
Special thanks to Clarkson Potter for sharing the material for our EYB Book Preview as well as for providing two copies of this book in our giveaway below for US members, Bloomsbury, the UK publisher, for providing two copies for members in the UK and Appetite by Random House for suppying one copy for our Canadian members.
The publishers are offering five copies of this book – two to members in the US, two to members in the UK and one member in Canada. One of the entry options is to answer the following question in the comments section of this blog post.
Which recipe in the index would you try first?
Please note that you must be logged into the Rafflecopter contest before posting or your entry won't be counted. For more information on this process, please see our step-by-step help post. Be sure to check your spam filters to receive our email notifications. Prizes can take up to 6 weeks to arrive from the publishers. If you are not already a Member, you can join at no cost. The contest ends at midnight on June 3rd, 2018.