First, We Brunch by Rebecca Wellman
June 25, 2018 by Jenny
Anthony Bourdain said something to the effect that society will always have a need for brunch and if things took a wrong turn in his career, he could go back to a brunch gig. People love brunch. Why? Because there is something for everyone. We can have our choice of a sweet or savory entree (or both!). Brunch can be breakfast fare or more hearty choices such as fried chicken or steak. I also think that the fact that it is encouraged (and acceptable) to have an alcoholic beverage at 10:30 am on a Sunday morning may play a factor here as well.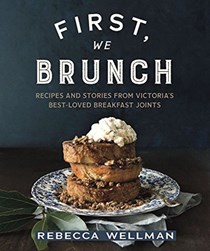 First, We Brunch: Recipes and Stories from Victoria's Best-Loved Breakfast Joints by Rebecca Wellman is a beautiful book devoted to brunch. Paging through the title you will find lovely photographs of food, people and the restaurants featured as well as profiles of same.

I knew I would love this book for many reasons: It's not only brunch recipes but restaurant brunch recipes with the bonus of those restaurants being in Canada. But what I loved from the first crack of the spine was the epigraph that reads, "I'm a simple woman. I like handsome, bearded men and breakfast food," So do I, Rebeccca, so do I.
First, We Brunch shares recipes that range from a mountain of Honey-orange waffles with candied pecans from Hide + Seek Coffee; Zambri's Spaghetti e aglio olio peperoncino with fried egg; to Pulled pork pancakes from the Jam Cafe. And let us not forget, the libations such as Olo's Wake up in the dark or Vis á Vis Once upon a swizzle. Also included are tips and recipes from the author, such as how to make poached eggs and instructions on seasoning a pan.
First, We Brunch is a perfect book for the breakfast or brunch lover, restaurant cookbook fan and/or just regular folks who love inspirational recipes. Special thanks to the publisher, Touchwood Editions, for sharing the recipe below as well as providing copies of this magnificent book in our giveaway below.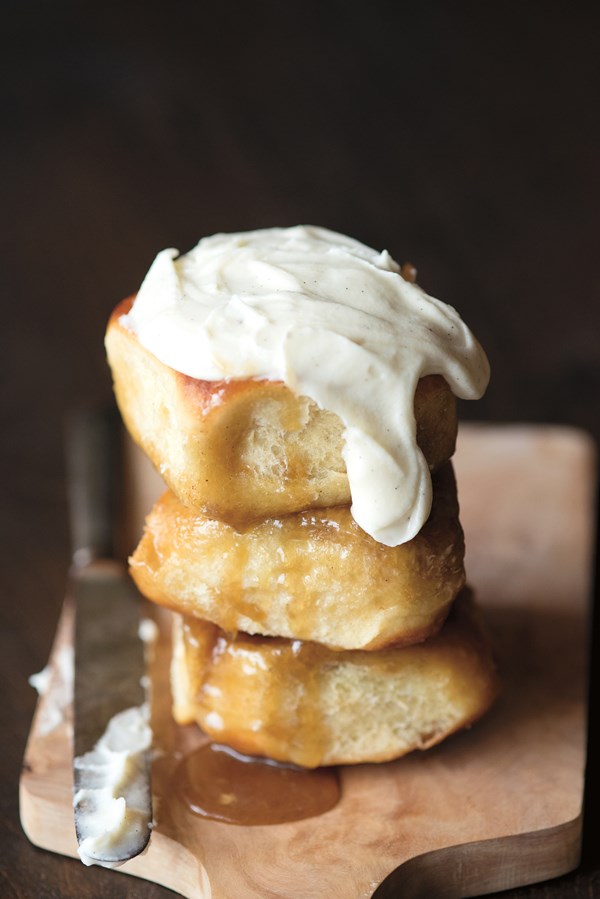 Marina brioche cinnamon buns
Add this recipe to your Bookshelf (click the blue +Bookshelf button).
Makes 24
Ah, these cinnamon buns are to die for. They are the epitome of the gooey, sweet but not too sugary, beautifully raised buns that make you close your eyes when you eat one. Or two. This recipe makes a lot, but don't worry-they'll be gone before you know it.
This recipe can be made by hand or in a mixer with the hook attachment.
Sponge
3/4 cup unbleached bread flour
1 Tbsp instant yeast
3/4 cup whole milk, lukewarm
Dough
6 large eggs, lightly beaten
4 3/4 cups unbleached bread flour
3 Tbsp granulated sugar
1 3/4 tsp kosher salt
3/4 cup unsalted butter, at room temperature
2 Tbsp unsalted butter
Cinnamon Sugar
1 cup granulated sugar
1 cup brown sugar, packed
1 Tbsp ground cinnamon
Sugar Base
1 cup unsalted butter,
at room temperature
1/2 cup granulated sugar
1/2 cup brown sugar, packed
1/2 cup golden corn syrup
1 tsp pure vanilla extract
1/4 tsp kosher salt
Cream Cheese Frosting
1 1/4 cups plain full-fat cream
cheese, at room temperature
1 tsp pure vanilla extract
Seeds of 1 vanilla bean
or 1/4 tsp more vanilla extract
1/2 cup unsalted butter, at room temperature, cut into 1-inch pieces
2 cups icing sugar
To make the sponge
Place the flour and yeast in a large bowl (or in the bowl of a stand mixer). The milk should be between 89°F-100°F. Stir in the milk until fully combined. Cover the bowl with plastic wrap and let sit on the counter for 30-45 minutes, or until the sponge rises and falls when you tap the bowl.
To make the dough
Add the eggs to the sponge and whisk until smooth. In a separate bowl, stir together the flour, sugar and salt. Add this to the sponge and mix until all the ingredients are fully combined and there are no dry spots or chunks. Cover loosely with a clean dish towel and let the mixture rest in the bowl on the counter for 5-10 minutes. Turn the dough out onto a lightly floured surface and, with clean hands, gradually mix in the 3/4 cup of butter about 1 Tbsp at a time, fully incorporating each addition before adding more.
Continue kneading dough for about 10 minutes more, until the dough is very smooth and soft and not too sticky too handle. Add a small amount of flour if the dough is too sticky. Drape a clean tea towel over the dough and let it rest on the counter for 10-15 minutes.
To make the cinnamon sugar
While the dough is resting, mix together the granulated sugar, brown sugar and cinnamon in a medium bowl. Set aside.
To make the sugar base
In a medium bowl and using a hand mixer, or in the bowl of a stand mixer fitted with the paddle attachment, cream together the butter, both sugars, corn syrup, vanilla and salt for about 5 minutes, until light and fluffy. Divide the sugar base between two 8-inch square pans, spreading the base evenly and loosely across the bottom of both pans.
To bake
Melt the 2 Tbsp butter. Roll the dough out on a clean, lightly floured surface into a large rectangle, about 1/4 inch thick. Brush it with the melted butter and sprinkle the cinnamon sugar mixture evenly overtop.
Starting at a long side, roll up the dough, firmly but not tightly, into an even log. Cut the log into 24 pieces.
Place the cinnamon buns, slightly spaced out, on top of the sugar mixture in both pans.
Cover the pans lightly with clean dish towels and let the cinnamon buns rise on the counter for about 45 minutes, until they are about double in size.
Preheat the oven to 350°F.
Bake the cinnamon buns for 20-30 minutes, until golden and fully baked. When a toothpick inserted into the doughy part of a bun comes out clean, remove the pans from the oven and set them on a wire rack to cool.
To make the cream cheese frosting
While the buns are cooling, make the frosting.
Using a stand mixer fitted with the paddle attachment, or a bowl and a hand mixer on medium speed, beat the cream cheese, vanilla extract and vanilla bean seeds for about 3 minutes, until light and fluffy. Add the butter, one piece at a time and mixing well between additions, and continue to mix until well combined. Turn the speed of the mixer to low and add the icing sugar, 1 cup at a time, mixing well between additions. Continue beating until smooth and fluffy. The icing can be spread over warm or cooled cinnamon buns, or stored in an airtight container in the refrigerator for up to 3 days. Bring the icing to room temperature and beat until fluffy before spreading on the cinnamon buns.

Recipe and photo courtesy of TouchWood Editions. Recipe by The Marina Restaurant; excerpted from First, We Brunch by Rebecca Wellman © 2017
The publisher is offering three copies of this book to EYB Members in the US and Canada. One of the entry options is to answer the following question in the comments section of this blog post.
Which recipe in the index would you try first?
Please note that you must be logged into the Rafflecopter contest before posting or your entry won't be counted. For more information on this process, please see our step-by-step help post. Be sure to check your spam filters to receive our email notifications. Prizes can take up to 6 weeks to arrive from the publishers. If you are not already a Member, you can join at no cost. The contest ends at midnight on August 14th, 2018.