Featured Cookbooks & Recipes
April 27, 2018 by Christine
EYB wants to make your cooking life easier. Our main focus has always been indexing cookbooks and magazines so you can efficiently search your own collection instead of paging through individual indexes. We also aim to keep members up to date on the best new titles being published. Our latest feature, EYB Book Preview, allows you to view an extract from a growing number of titles, sometimes in advance of publication date. These Previews are full pages that give a great "feel" for each book. They are shown exactly as they appear in the physical cookbook including layout, style, font, photography, and, of course, a sampling of recipes!

Below you'll find our latest EYB Book Previews, plus GIVEAWAYS, and more!
Member Photo of the Week:
Crème Brûlée Cookies from Modern French Pastry: Innovative Techniques, Tools and Design by Cheryl Wakerhauser
Photo submitted by MCRossi. Have you uploaded any of your own photos yet? Learn more!
Featured Online Recipe: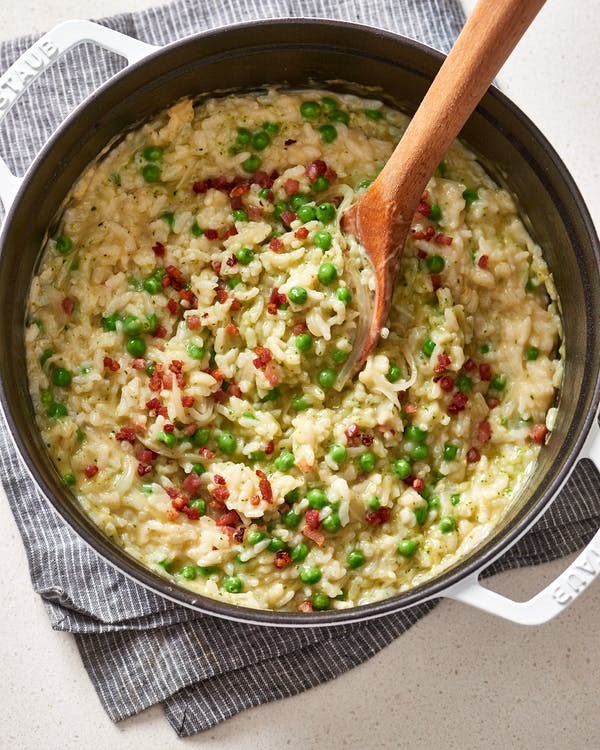 How To Make Easy Oven-Baked Risotto from indexed site The Kitchn
EYB Book Previews For Pre-Release Titles:
A selection of full sample pages are available for the following cookbooks soon to be published. Click the book cover or the EYB Book Preview link to view.
Learn more about EYB Book Previews.
3 recipes from Fire Food: The Ultimate BBQ Cookbook by Christian "DJ BBQ" Stevenson
Available for pre-order. Release date: May 1, 2018.
3 recipes from So French So Sweet: Delectable Cakes, Tarts, Cremes and Dessertsby Gabriel Gaté
Available for pre-order. US release date: May 15, 2018
More EYB Book Previews:
A selection of full sample pages are available for the following cookbooks. Click the book cover or EYB Book Preview link. Individual recipes from already indexed titles can be added to your EYB Bookshelf now.
Learn more about EYB Book Previews.
3 recipes from Lickerland: Asian-Accented Desserts by Jason Licker
3 recipes from Finding Fire: Cooking at Its Most Elemental by Lennox Hastie
4 recipes from Green Burgers: Creative Vegetarian Recipes for Burgers and Sides by Martin Nordin
4 recipes from Open Sandwiches: 70 Smørrebrød Ideas for Morning, Noon and Nightby Trine Hahnemann
3 recipes from The Curry Guy: Recreate Over 100 of the Best Indian Restaurant Recipes at Home by Dan Toombs
10 recipes from Round to Ours: Setting the Mood and Cooking the Food: Menus for Every Gathering by Laura Jackson and Alice Levine
3 recipes from Tuscany: Simple Meals and Fabulous Feasts from Italy by Katie & Giancarlo Caldesi
3 recipes from Feasting: A New Take on Jewish Cooking by Amanda Ruben
6 recipes from Lagom: The Swedish Art of Eating Harmoniously by Steffi Knowles-Dellner
4 recipes from Igni: A Restaurant's First Year by Aaron Turner
8 recipes from Hazana: Jewish Vegetarian Cooking by Paola Gavin
7 recipes from I Love India: Recipes and Stories from City to Coast, Morning to Midnight, and Past to Present by Anjum Anand
8 recipes from Vegan 100: Over 100 Incredible Recipes from Avant-Garde Vegan by Gaz Oakley
7 recipes from The Tivoli Road Baker: Recipes and Notes from a Chef Who Chose Baking by Michael James with Pippa James
8 recipes from JapanEasy: Classic and Modern Japanese Recipes to (Actually) Cook at Home by Tim Anderson
11 recipes from Le French Oven by Hillary Davis
Cookbooks with GIVEAWAYS!
Each of these featured titles has a current giveaway. Click the blue button for more information on how to enter. For titles that also have an EYB Book Preview, click on the orange EYB Book Preview button to view the available full sample pages.
5 recipes from Hong Kong Diner: Recipes for Baos, Hotpots, Street Snacks and Moreby Jeremy Pang
Enter the Hong Kong Diner GIVEAWAY! (US, UK, NZ, AUS only)
4 recipes from Catalonia: Recipes from Barcelona and Beyond by José Pizarro
Enter the Catalonia GIVEAWAY! (US, UK, NZ, AUS only)
4 recipes from The Art of the Pantry: Save Time and Money with 150 Delicious Meals Using Everyday Ingredients by Claire Thomson
Enter The Art of the Pantry GIVEAWAY! (US, UK, NZ, AUS only)
3 recipes from The Southern Cast Iron Cookbook: Comforting Family Recipes to Enjoy and Share by Elena Rosemond-Hoerr
Enter the Stargazer skillet and The Southern
Cast Iron Cookbook GIVEAWAY! (US only)
8 recipes from Herbs: Delicious Recipes and Growing Tips to Transform Your Foodby Judith Hann
Enter the Herbs GIVEAWAY! (US, CAN, UK only)
4 recipes from Beautiful Bundts: 100 Recipes for Delicious Cakes and More by Julie Anne Hession
Enter the Nordic Ware Bundt Pan and Beautiful Bundts
GIVEAWAY! (US/CAN only)