March 2018 – Cookbook Roundup
March 27, 2018 by Jenny
Are you ready for another fantastic year of cookbook releases? Surrender and order additional bookcases because 2018 is gearing up to be just as exciting, if not more so, than 2017. My preview-palooza post contains a breakdown by month of cookbook titles and is updated frequently.
Please make sure you have entered all our giveaways, there are some exciting promotions coming up for great cookbooks and products such as: Stargazer cast iron, Ruffoni, Emile Henry, Mauviel, Le Creuset, Anolon and Nordic Ware and I'm working on many more. What is better than a cookbook giveaway? A cookbook and cookware giveaway!
Have you joined our cookbook clubs? Read our latest summary and come have fun with us cooking and baking!
We launched our EYB Book Preview and EYB Recipe Preview on Friday. Find out more information on this new exciting feature here. Look for links to books this month that have EYB Book Preview.
Every Sunday I compile a post of Kindle cookbook deals be sure to check those out for bargains!
Now let's talk about this month. Over 100 titles are featured here today. Check the blog frequently as promotions are planned for most of these titles and be sure to follow us on social media (buttons on right lower side bar on the home page). If you would like to order any of these titles using our affiliate links (right beneath the social media buttons) you will help to support EYB and our indexing efforts. Each author that has events scheduled has a link at the end of the book blurb. I am loving the spirit of the books that are being released – gatherings, family, friends, community and experiencing the cuisines of cities and countries around the world.
US
Bake from Scratch: Artisan Recipes for the Home Baker edited by Brian Hart Hoffman is the second compilation book featuring all the glorious recipes from issues of the very popular magazine, Bake from Scratch, which is indexed for our members. The first compilation volume is also indexed and even though the recipes are in the magazines, I am someone who must have the magazines each month as well as needing to own the gorgeous cookbooks. Each magazine has enough recipes to qualify for a cookbook in itself and everything I have made from these titles has been spot on perfect. Planned events.
Shaya: An Odyssey of Food, My Journey Back to Israel by Alon Shaya is no ordinary cookbook. It is part memoir detailing the chef's culinary growth, the foundation of which is based in his heritage and worldwide experiences. Sharing more than one hundred recipes that range from Roasted chicken with harissa, Marinated soft cheese with herbs and spices; Buttermilk biscuits; to Whole roasted cauliflower with whipped feta. This book is greatness in every sense of the word – the writing, photographs, recipes – it will surely be an award winner. Enter our giveaway and read more about this book on our promotion. Planned events.
Wild Honey and Rye: Modern Polish Recipes by Ren Behan was released last year in the UK and is being released in the US this month. For more information, please see our promotion and giveaway post. I love this book!
A Table in Venice: Recipes from My Home by Skye McAlpine is being released in the US and UK this month. This gorgeous book takes readers to Venice to share in cooking traditional Venetian dishes as well as the author's take on classics. The stunning photography and beautiful storytelling will bring this lovely city to life. With 100 irresistible recipes, 150 photos, and evocative essays, this title is a love letter to this storied city that will bring the beauty of its cuisine into our kitchens. I am in love with this title. Recipes range from delicate baked goods to Pheasant and radicchio lasagna. Planned events.
Risotto and Beyond: 100 Authentic Italian Rice Recipes for Antipasti, Soups, Salads, Risotti, One-Dish Meals, and Desserts by John Coletta, Nancy Ross Ryan and Monica Kass Rogers is the bible to rice cookery. Coletta, famed Chicago chef, shares his expertise on this staple of northern Italy. These 100 authentic dishes bring the full range of Italian rice cooking into the home kitchen, from familiar dishes such as arancini, crochettes, risotti, and rice pudding to more unusual offerings such as rice salads, soups, fritters, bracioli, and gelatos. This book is another stunner and we are working on coupling our promotion for this book with an equally stunning Ruffoni risotto set.
How to Taste: The Curious Cook's Handbook to Seasoning and Balance, from Umami to Acid and Beyond–with Recipes by Becky Selengut outlines the underlying principles of taste, and then takes a deep dive into salt, acid, bitter, sweet, fat, umami, bite (heat), aromatics, and texture. You'll find out how temperature impacts your enjoyment of the dishes you make as does color, alcohol, and more. The handbook goes beyond telling home cooks what ingredients go well together or explaining cooking ratios. You'll learn how to adjust a dish that's too salty or too acidic and how to determine when something might be lacking. It also includes recipes and simple kitchen experiments that illustrate the importance of salt in a dish, or identifies whether you're a "supertaster" or not. Each recipe and experiment highlights the chapter's main lesson. Planned events.
Vegetarian Viet Nam by Cameron Stauch is brilliant. In the years the author spent living and cooking in Vietnam, Cameron learned about a tradition of vegetarian Vietnamese cuisine that is light and full of flavor. Based on recipes devised over centuries by Mahayana Buddhist monks, the dishes in this debut title make use of the full arsenal of Vietnamese herbs and sauces to make tofu, mushrooms, and vegetables burst with flavor like never before. With a lavishly illustrated glossary that helps you recognize the mushrooms, noodles, fruits, and vegetables that make up the vegetarian Vietnamese pantry, this cookbook will unlock an entire universe of flavor to people who want healthy, tasty, and sustainable food. Cameron is a delight to speak with and I wish I could get to one of his talks to listen to his culinary stories from the various corners of the world in which he has lived. Read more about this title in our promotion and enter to win a copy. Planned events.
The Flavor Matrix: The Art and Science of Pairing Common Ingredients to Create Extraordinary Dishes by James Briscione and Brooke Parkhurst is an intriguing title that will have you rethinking your approach to cooking. With color charts, the authors combined experience and knowledge, this is a book that take your culinary exploration to the next level. Planned events.
Ultimate Pound Cakes: Classic Recipe Collection by Phyllis Hoffman shares over 85 recipes that will give you a treasure trove to choose from for years to come. Holidays, special occasions, or weeknight suppers, these test-kitchen approved, home-baked cakes are always a welcome surprise for family and friends. They also make fabulous gifts. Hoffman Media has set the standard for periodicals that defy the odds during a tumultous time for magazines and the link – they continue to bring it. This cookbook follows that course set by Bake from Scratch – inspirational with beautiful photographs.
If you want to take a food tour of Austin from your own kitchen, Paula Forbes' The Austin Cookbook: Recipes and Stories from Deep in the Heart of Texas is your ticket. Everything bagel kolache – that's all you need to know – it just gets better from there. Paula's book and selection of recipes will ignite a spark to get thee to Austin pronto. Planned events.

The Taartwork Pies Cookbook: Grandmother's Recipe, Granddaughter's Remix by Brittany Bennett delivers innovative flavor combinations for both sweet and savory pies all while creating works of art. Pie art is all the rage right now and this book delivers with stunning photography and crave-worthy pie offerings. A peek at her website will give you an idea of the level of creativeness that lies within these pages and our EYB Book Preview will let you look inside this book.
The European Cake Cookbook: Discover a New World of Decadence from the Celebrated Traditions of European Baking by Tatyana Nesteruk is a stunner from the blogger who brings Ukrainian, Russian and Eastern European recipes, which were passed down from her parents, alongside her own recipes inspired by the Italian, French and Asian cuisines. In her debut cookbook she celebrates European baking with a gorgeous selection of cakes. Planned events.


First We Eat: Good Food for Simple Gatherings from My Pacific Northwest Kitchen by Eva Kosmas Flores is the popular blogger's second cookbook that is even more breathtakingly inspirational. Her first title, Adventures in Chicken, shares a selection of recipes that will revamp your chicken for dinner routine. But here in First We Eat, Eva has found her stride with a book that delivers not only gorgeous recipes and photographs but a stronger reflection of her life in the Pacific Northwest with seasonal recipes taken from one year in her kitchen. Eva is also a partner in First We Eat, a series of food based travel workshops around the world. Be sure to check out Eva's book in our EYB Book Preview.
The One-Bottle Cocktail: More than 80 Recipes with Fresh Ingredients and a Single Spirit by Maggie Hoffman is organized by spirit – vodka, gin, agave spirits, rum, brandy, and whiskey – each chapter offers fresh, eye-opening cocktails like the Garden Gnome (vodka, green tomato, basil, and lime), Night of the Hunter (gin, figs, thyme, and grapefruit soda), and the Bluest Chai (rye whiskey, chai tea, and balsamic vinegar).
Bring It!: Tried and True Recipes for Potlucks and Casual Entertaining by Ali Rosen is the book all entertainers need for any time of year. We are often asked to bring a dish to share at potlucks or family gatherings and Ali has the answer to "what can I bring?". This title is one of our options in our Eat Your Books Cookbook Club for June. Ali got her start in food very young, cooking beside her grandmother and shadowing along at restaurants in Charleston, SC, where she grew up. Now living in New York City, she is is continuing her exploration in cooking via the potluck route and what a great reminder on how we can entertain with less stress – by getting everyone involved. Planned events.
Feasting: A New Take on Jewish Cooking by Amanda Ruben delivers a new take on the Jewish feast with modern, interesting recipes for any gathering. The Melbourne restaurateur offers up a range of delicious Jewish staples and new recipes to enjoy any day and shares a special Jewish holiday section as well. Very approachable recipes and menus that anyone can appreciate and master are shared here.


The L.A. Cookbook: Recipes from the Best Restaurants, Bakeries, and Bars in Los Angeles by Alison Clare Steingold shares 100 collected and curated recipes from the most talked-about kitchens in LA, many available for the very first time. Just as Austin, above, takes the reader into the heart of that city's food scene, this title immerses us in the varied and fascinating cuisine of Los Angeles.

Souk: Feasting at the Mezze Table by Nadia Zerouali and Merijn Tol is an invitation to gather around the table and enjoy the beautiful food of Lebanon. Feast on the varied recipes and take in the stunning photography while you delve into personal stories and reminiscences of the authors. Eating in the mezze style is all about the conversations – the experience of enjoying the friends and family around you.
Tasting Paris: 100 Recipes to Eat Like a Local by Clotilde Dusoulier is a captivating culinary tour of this favorite food destination featuring recipes that span iconic bistro and brasserie fare as well as newer dishes that reflect the way Parisians eat today. I love Clotilde's work and am anxious to see this title. Clotilde is one of the authors that we have a complete recipe index for.
Simply Citrus by Marie Asselin is a beautifully photographed book that contains 60 recipes using a variety of fresh citrus fruits, including lemons, pomelos, oranges, limes, mandarins, kumquats, grapefruit, and citrus products such as yuzu juice, orange blossom honey, and preserved lemons. Marie's EYB Book Preview is available.
Chloe Flavor: Saucy, Spicy, Crunchy, Vegan by Chloe Coscarelli showcases new approaches to veganism with dishes like Maple bacon Benedict, Hawaiian teriyaki-pineapple burger, and Cajun jambalaya with scallion biscuits. These dishes are playful, colorful, and supremely tasty. Best of all, she's made them as fast and as easy as possible because that's exactly how she likes to cook. Vegans will delight in Chloe's creativity.

The Perfect Cake: Your Ultimate Guide to Foolproof Classic, Unique, and Modern Cakes for Any Occasion by The Editors at America's Test Kitchen offers a comprehensive collection of recipes for any cake you can imagine from better-than-the-rest yellow cake layers for birthday parties to fanciful creations and elegant holiday desserts. Here you will find the perfect recipe in this definitive guide to cake baking opening with a valuable chapter of mix-and-match layer cakes, frostings, and fillings, allowing anyone to find just the combination they're looking for. The following chapters traverse a range of styles, touching on easy crowd-pleasers, sky-high stunners, American classics, holiday cakes, charming minature cakes, and more.
Food52 Any Night Grilling: 60 Ways to Fire Up Dinner (and More) by Paula Disbrowe coaches you through the fundamentals of cooking over fire so the simple pleasure of a freshly grilled meal can be enjoyed any night of the week – no long marinades or low-and-slow cook times here. This book goes way beyond your standard burgers and brats,
Pheasant, Quail, Cottontail: Upland Birds and Small Game from Field to Feast by Hank Shaw covers a range of small game animals such as rabbits, hares and squirrels. You'll find detailed information on how best to treat these various species in the kitchen, how to select them in the market, as well as how to pluck, clean and hang wild birds.
Andrea Fazzari is a Tokyo based photographer and writer who specializes in portraiture, travel, and the culinary world. In her stunning book, Tokyo New Wave: 31 Chefs Defining Japan's Next Generation, with Recipes showcases the new talent of Tokyo's vibrant food scene brilliantly. Profiles of 31 chefs are featured along with portraits, interviews and recipes. The photography is outstanding and is the heart of this title along with city scenes. The soul lies in the interviews and recipes that deliver a glimpse into Tokyo and those who are shaping the future of one of the world's most dynamic food cities. Read more about this book in our promotion and enter our contest to win a copy.
The Pretty Dish: More than 150 Everyday Recipes and 50 Beauty DIYs to Nourish Your Body Inside and Out by Jessica Merchant shares 150 brand-new recipes, party ideas and menus, killer playlists, and inventive beauty projects from the How Sweet Eats blogger. Planned events.

Bars, Taverns, and Dives New Yorkers Love: Where to Go, What to Drink by John Tebeau is filled with charming original illustrations, celebrating fifty of the Big Apple's storied taverns, legendary dives, and bars and the drink recipes that will inspire you to become a regular. For cocktail enthusiasts and those seeking the most real New York watering holes, this is a comprehensive guide to the city's legendary bars, taverns, and dives across all five boroughs, featuring stories, insider tips, and delicious cocktail recipes.
The Perfect Scoop, Revised and Updated: 200 Recipes for Ice Creams, Sorbets, Gelatos, Granitas, and Sweet Accompaniments by David Lebovitz is a revised and updated edition of the best-selling ice cream book, featuring a dozen new recipes, a fresh design, and all-new photography. This comprehensive collection of homemade ice creams, sorbets, gelatos, granitas, and accompaniments from New York Times best-selling cookbook author and blogger David Lebovitz emphasizes classic and sophisticated flavors alongside a bountiful helping of personality and proven technique.
Dinner's in the Oven: Simple One-Pan Meals by Rukmini Iyer is a comprehensive guide to creating tasty and quick one pan meals for any time or day of the week. With 75 satisfying one pan meals, there is something for all your friends and family to enjoy.

Crusts: The Ultimate Baker's Book by Barbara Elisi Caracciolo shares more than 300 recipes from expert and artisan bakers, covering breads, croissants, flatbreads, pizzas, and pies. From loaves to pastries, pizza to pie, this title covers it all! Between its elegantly designed covers, you'll discover: 300+ recipes from artisan bakers around the world; gluten-free, Paleo, vegetarian, and vegan recipes; complete how-to sections on making your own dough, bread, and pizzas with easy-to-follow instructions; helpful tips and techniques from expert bakers and chefs; culinary histories behind your favorite loaves and pastries; an illustrated catalog of more than 100 grains from around the world and throughout time.
Coconuts & Collards: Recipes and Stories from Puerto Rico to the Deep South by Von Diaz is a recipe-packed memoir of growing up Latina in the Deep South. The stories center on the women in Diaz's family who have used food to nourish and care for one another. Inspired by her grandmother's 1962 copy of Cocina Criolla (the Puerto Rican equivalent of the Joy of Cooking) Diaz celebrates traditional recipes while fusing them with her own family history and a contemporary southern flair.

For the Love of the South: Recipes and Stories from My Southern Kitchen by Amber Wilson shares 100 delectable, accessible, and easy-to-make recipes for Southern classics, and mixes them with delightful family anecdotes, which convey the popular blogger's love and respect for her roots.


Flatbread: Toppings, Dips, and Drizzles by Anni Daulter takes a fresh approach to serving these staples with a collection of recipes, including various types of flatbreads, that tempt the taste buds with dips, drizzles, and creative toppings to make appetizers, main courses, and desserts.
Kevin Belton's New Orleans Kitchen by Kevin Belton and Rhonda K. Findley is the chef instructor's third title featuring recipes based on Creole NOLA cuisine. An EYB Book Preview is available for this book and we will be sharing a full promotion soon.
Julep: Southern Cocktails Refashioned by Alba Huerta and Marah Stets is a tribute to the spirits and drinking traditions of the South through a leading barwoman's glass, with 80 recipes and 80 photos.

Jerky: The Fatted Calf's Guide to Preserving and Cooking Dried Meaty Goods by Taylor Boetticher and Toponia Miller is a beautifully photographed cookbook dedicated to homemade jerky from the founders of San Francisco's Fatted Calf Charcuterie, with 40 easy-to-follow recipes perfect for home canners and preservers; hunters; followers of a paleo, keto, or high-protein diet; fans of dehydrators; or anyone looking to explore the centuries-old craft of drying meat.


OJAS: Modern Recipes and Ancient Wisdom for Everyday Ayurveda by Kehar Nira adapts the 5,000-year-old practice for the contemporary home, offering a thorough introduction to the Ayurveda lifestyle and 75-plus recipes organized by the Ayurvedic calendar.
The Beer Pantry: Cooking at the Intersection of Craft Beer and Great Food by Adam Dulye and Michael Harlan Turkell shares 75 recipes that will elevate the food you eat with your craft beer from "pub grub" to chef-driven beer cuisine. Learn about the six distinct flavor profiles of craft beer (Crisp & Clean, Hoppy & Bitter, Malty & Sweet, Rich & Roasty, Fruity & Spicy, and Sour, Tart, & Funky), and how to marry each of them with food. Complete with beer recommendations that come with each recipe, this book is a treasure trove of ingeniously simple beer-inspired cuisine.

Pepper: From Around the World: Stories & Recipes by Erwann de Kerros and Bénédicte Bortoli introduces the vast varieties of pepper, showing how the origins and quality of the pepper we use directly affect the enjoyment of our food. Featuring more than 50 flavorful varieties, including white and black Penja peppercorns, the Tellicherry, the Batak berry, and more, the book depicts the unique colors and shapes of different berries and peppercorns in beautiful detail, alongside flavor profiles, suggestions for uses, and botanical analysis. Stunning photographs depict de Kerros's adventures sourcing pepper from Nepal, Cameroon, Indonesia, and Ethiopia, and acclaimed French chefs Didier Edon and Olivier Arlot contribute more than 40 recipes, all employing pepper. With more than 200 photographs and botanical drawings, this is the definitive guide to one of the most significant spices.
Parties Around a Punch Bowl by Kimberly Whitman introduces the lively, rich history of the punch bowl, from India to England & Europe to the American South and beyond. There are a dozen festive party ideas organized around a punch bowl: an Easter Egg Hunt, a classic Blue and White Party, a Bar Cart Party, a Fall Gathering, a Holiday Breakfast Coffee, and more. Recipes for both alcoholic and nonalcoholic punches, plus recipes for what to serve with it are the center of each celebration. Kimberly's expert hostess tips are scattered throughout. A variety of punch bowls, bases, and glasses featured in the book will send readers out shopping for their own special style.
Platters and Boards: Beautiful, Casual Spreads for Every Occasion by Shelly Westerhausen shares the secrets to creating casually chic spreads anyone can make and everyone will enjoy (and envy). Organized by time of day, 40 contemporary arrangements are presented with gorgeous photography, easy-to-prepare recipes, suggested meat and drink pairings, and notes on preparation and presentation. Helpful advice includes tips on portioning, picking surfaces and vessels, pairing complementary textures and flavors, plus a handy chart featuring board suggestions for a variety of occasions (from holiday parties to baby showers).
Short Stack Vol 32: Yogurt by Molly Yeh pushes past the parfaits and breakfast bowls to show yogurt's ability to enhance everything from bread (see the yogurt pita recipe) to pasta (in a delicious take on mac and cheese) to pastries (hello, blueberry-labne scones).
Saladish: A Crunchier, Grainier, Herbier, Heartier, Tastier Way with Vegetables by Ilene Rosen teaches us the author's way of cooking the saladish way. It starts with an unexpectedly wide range of ingredients, such as Japanese eggplants, broccoli rabe, shirataki noodles, Bosc pears, and chrysanthemum leaves. It emphasizes contrasting textures-toothsome, fluffy, crunchy, crispy, hefty. And marries contrasting flavors – rich, sharp, sweet, and salty. Toss all together and voilà: an irresistible symphony that's at once healthy and utterly delicious.

The All-New Fresh Food Fast: 200+ Incredibly Flavorful 5-Ingredient 15-Minute Recipes by the Editors of Cooking Light offers 200 brand-new recipes using 5 ingredients or less, in 15 minutes or less – or both. It is jam-packed with fresh, easy-to-make recipes that are guaranteed to get dinner on the table faster. Every food category is covered, from breakfast, soups, main-dish salads, and sandwiches to fish and shellfish, meats and poultry as well as sides and desserts.
Wild Bread: Sourdough Reinvented by MaryJane Butters completely reinvents the concept of healthier-for-you, naturally fermented sourdough. Until now, sourdough was perceived as too much work and sour-tasting, artisan-style-only loaves. In Wild Bread, her quick and easy 1 minute 2x/day technique demonstrates the use of eight different types of flours for each bread featured–everything from gluten-free brown-rice flour to quinoa to common white to heirloom whole wheat – for a whopping 295 recipes and 475 photographs.

Super Loaves and Simple Treats: Modern Baking for Healthier Living by Melissa Sharp reveals the secrets behind their positively-good-for-you breads, buns, cakes, cookies, and more from the owner of Oxford's hit bake shop Modern Baker. This book is a reprint of her Modern Baker title issue last year.

Giada's Italy: My Recipes for La Dolce Vita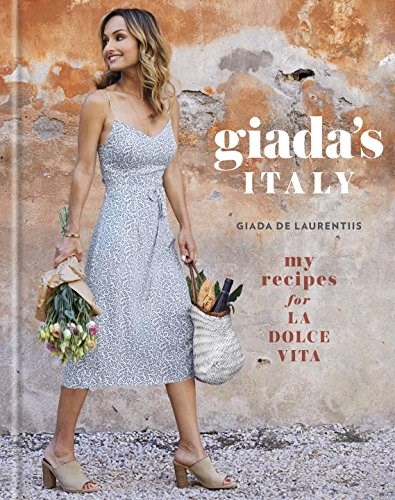 by Giada De Laurentiis s a lavish exploration of her food roots and the lifestyle traditions that define la bella vita, with the contemporary California twist that has made her America's most beloved Italian chef. This may be my favorite title in her colllection. Planned events.
Other titles of interest include:
Canada
Bakeland: Nordic Treats Inspired by Nature by Marit Hovland is stunning, inspiring and all those over-used words that we all over-use. Marit is a Norse graphic designer, baker, and photographer behind the popular Instagram account and blog Borrow My Eyes. Bakeland is a remarkably innovative homage to the beauty of the world around us that will delight lovers of baking, crafting, nature, and all things Scandinavian. There are fifty desserts and 140 mind blowing photographs. You can take a peek at the book using our new EYB Book Preview feature.
Canadian Living: Essential Mediterranean Flavours by Canadian Living shares a collection of more than 90 favourite Tested-Till-Perfect recipes inspired by Mediterranean cuisine and tailored to Canadian families. In this compact, budget-friendly edition, there are soups and salads, appetizers and mains, pasta and rice recipes – plus desserts. The recipes include easy weeknight friendly meals and elegant dishes for entertaining, along with fundamentals such as homemade pasta that let home cooks develop their own specialties.

Canadian Living: Essential Easy Cottage Cooking by Canadian Living shares the best cottage meals that are relaxed, unfussy and easy to prepare quickly. Cottagers tell us they want to spend less time in the kitchen and more time enjoying the outdoors, while still serving tasty and healthful dishes. As in the title directly above, 90 recipes have been Tested-Till-Perfect.

Sweet Bake Shop: Delightful Desserts for the Sweetest of Occasions by Tessa Sam features over 75 whimsical and enchanting treats and desserts perfect for every day and special celebrations. Included are reliable, delicious, and easy-to-make recipes to create dreamy cakes and cupcakes.

UK
A Table in Venice: Recipes from My Home by Skye McAlpine is being released in the US and UK this month. This gorgeous book takes readers to Venice to share in cooking traditional Venetian dishes as well as the author's take on classics. The stunning photography and beautiful storytelling will bring this lovely city to life. With 100 irresistible recipes, 150 photos, and evocative essays, this title is a love letter to this storied city that will bring the beauty of its cuisine into our kitchens. I am in love with this title. Recipes range from delicate baked goods to Pheasant and radicchio lasagna. Planned events.

The Natural Baker: A New Way to Bake Using the Best Natural Ingredients by Henrietta Inman combines the author's core ingredients of wholegrain flours, less-refined sweeteners and good fats with what she calls her magic ingredients – those extra, natural, wholesome ingredients which transform her recipes and make them shine. Using incredible fresh fruits and vegetables, herbs, spices, flower waters, nuts and seeds, she creates delicious, unique bakes that will make you smile. As a trained pastry chef, Henrietta balances the flavour, quality and texture of classic pâtisserie with the natural goodness of simple wholefoods, with outstanding results. These 80 easy-to-follow sweet and savoury recipes take in every occasion from breakfast right through to supper and dessert, with plenty of joyous cakes, breads, brownies and biscuits along the way.
Robata: Healthy Japanese Home Grilling by Silla Bjerrum is one of the first to cover robata cooking. Robata means 'fireside cooking' and takes its name from a type of charcoal grill commonly used in Japan to cook skewered morsels of fish, shellfish, meat and seasonal vegetables. This book contains 80 recipes ranging from nibbles to meat, fish and vegetarian main courses to pickles and desserts. The author is a robata expert and has authored Simply Japanese. In this accessible book, she offers recipes to make at home, as well as an educational element covering sourcing, preparation, tools and instructions for grilling robata on a traditional BBQ. There is also a DIY guide to building your own authentic Japanese robata.
Feasts from the Middle East by Libanais Comptoir is a celebration of authentic Middle Eastern food packed with over 100 deliciously fresh, fragrant and flavourful dishes, inspired by the souks of Lebanon. Whether you're after breakfast with a twist, a quick-fix lunch, or a sumptuous spread fit for a gathering of your loved ones, this title is packed with vibrant food photography throughout and recipes you can easily make, eat and share in your own kitchen, lovingly created by Tony Kitous, founder of the Comptoir Libanais restaurants, and the Comptoir chefs.
The Brick Lane Cookbook by Dina Begum captures London at its multifaceted, chaotic, crazy best. Brick Lane is a street in east London and is the heart of the city's Bangladeshi-Sylheti community and is famous for its many curry houses. The author has been visiting Brick Lane since childhood. Here, she celebrates the diverse food cultures of Brick Lane: from the homestyle curries she grew up eating to her luscious and indulgent bakes inspired by the many cafes, from Chinese-style burgers to classic Buffalo wings, from smoothie bowls to raw coffee brownies. Contributors include street food traders and restaurants including Beigel Shop, Blanchette, Chez Elles, St Sugar of London, Cafe 1001 and Moo Cantina.
The Missing Ingredient: The Curious Role of Time in Food and its Flavour by Jenny Linford is about what makes good food, and the first book to consider the intrinsic yet often forgotten role of time in creating the flavours and textures we love. Written through a series of encounters with ingredients, producers, cooks, shopkeepers and chefs, exploring everything from the brief period in which sugar caramelises, or the days required in the crucial process of fermentation, to the months of slow ripening and close attention that make a great cheddar, or the years needed for certain wines to reach their peak, the author shows how, time and again, time itself is the invisible ingredient. From the patience and dedication of many food producers in fields and storehouses around the world to the rapid reactions required of any home cook at the hob, this book allows us to better understand our culinary lives.
In Venice: Four Seasons of Home Cooking, Russell Norman returns to Venice to immerse himself in the authentic flavours of the Veneto and the culinary traditions of the city. His rustic kitchen – in the residential quarter of the city where washing hangs across the narrow streets and neighbours don't bother to lock their doors – provides the perfect backdrop for this adventure, and for the 130 Italian family recipes showcasing the simple but exquisite flavours of Venice. Two of my favorite titles, Polpo and Spuntino, were written by Norman, the latter was the subject of a Friday Flashback feature last year. This title is being released in the UK this month and coming to the US in September.
Nadia and Kaye Disaster Chef: Simple Recipes for Cooks Who Can't by Nadia Sawalha and Kaye Adams is inspired by the duo's hit YouTube series, which was borne out of MasterChef-winner Nadia's frustration with her best friend Kaye's kitchen mishaps. This is a recipe book for the culinary-challenged who want to be able to dish up delicious grub fast and with no hassle. Nadia shows Kaye how to cook family meals such as paella, chowder, and meatballs. Follow her simple steps for yourself and you can sit down on Sunday to a perfect roast dinner, or whip up a pavlova or Victoria sponge for friends and family. Each recipe comes with a cast-iron guarantee: "If Kaye can cook it, you can cook it".


15 Minute Vegan Comfort Food: Simple & Satisfying Vegan Recipes by Katy Beskow is a follow up to her debut title, 15 Minute Vegan. Here she explores how a mindful cooking process is as comforting as the final dish, even when you have just 15 minutes to spare, and offers 100 recipes across five chapters: comfort classics (chocolate chilli, moussaka bowls); sides & bites (corn fritters, speedy samosas); social sharing (mushroom bourguignon, garden biryani); solo recipes (spicy falafel burger, cashew chow mein); and sweet comforts (cherry pot pies, jam sponge pudding).
Breakfast is Served by Mitchell Beazley is a lovely book filled with a variety of breakfast and brunch items from all over the world. Enjoy Bibingka, a little cake from the Philippines or Ful medames from Egypt, a dish made from fava beans or Pumpkin tarts from Canada – this book will guide you around the globe. This title would be a great hostess gift and would be perfect to use for a global brunch party.
National Trust Classic British Cooking by Sarah Edington is a collection of Britain's very best national and regional dishes. With over 300 recipes, it includes both timeless favourites and forgotten gems. It covers everything from soups and fish dishes to sauces and sides, from vegetable and meat courses to puddings, breads and jams.
Open Sandwiches: 70 Smørrebrød Ideas for Morning, Noon and Night by Trine Hahnemann covers everyone's favorite Danish food: smørrebrød. There are so many variations on the classic open sandwich, with ideas for every season and every taste. We all know about pickled herring and smoked salmon on a slice of dark, dense rye bread, but Trine introduces us to lots more fresh, seasonal creations, as well as ideas for making use of leftovers like roast chicken, and refreshing sweet recipes such as simple sliced fruit on homemade seeded bread. This title will be released in the US in July.

The Lazy Weekend Cookbook: Relaxed Brunches, Lunches, Roasts and Sweet Treats by Matt Williamson provides recipes ideal for any occasion – whether it is a lazy breakfast in bed, a healthy brunch, a leisurely roast dinner, or a quick Sunday supper. The book includes chapters on Breakfast, Brunch, Long Lunches, Roasts, Barbecue, Picnics, Easy Dinner Parties, and Bakes.
Prawn on the Lawn: Fish and Seafood to Share by Rick & Katie Toogood is a modern collection of quick, fresh, healthy, and delicious fish and seafood recipes. The recipes are split into an enticing selection of cold and hot tapas, larger plates, sides, desserts, and cocktails. From their signature prawn on the lawn dish to succulent scallop ceviche, beetroot-cured salmon, or razor clams with nam jim, to crab ratatouille – it's all delicious and guaranteed to be a hit. Enter our promotion for a chance to win a copy of this title, open to our members in the UK.

Plants Taste Better: Delicious Plant-Based Recipes, From Root to Fruit by Richard Buckley is a series of practical examples for cooking plants carefully and with skill at home, taking into consideration the raw ingredient itself, the craft traditions that surround it and the culinary principles of fine cookery. It is not necessary to cook every recipe or to cook every part of every plate of food, but he hopes the idea that plants can be cooked with grace will permeate through everything you produce and will influence the way that you look at plants from that point onwards.

The Occasional Vegan by Sarah Philpott contains 70 simple, affordable and delicious recipes, which will appeal whether you are a newcomer or a long-time vegan, keeping you well-fed and healthy. Sarah Philpott's recipes are accompanied by the story of her journey to becoming a vegan.
Well Seasoned: Exploring, Cooking and Eating with the Seasons by Russell Brown and Jonathan Haley is a complete guide to seasonal living with fantastic recipes that make the most of Britain's seasonal ingredients every month of the year. Dive for scallops, fish for mackerel, and hunt for mushrooms – and learn how to cook them. Structured month by month, this title features the finest and freshest natural ingredients that are available throughout the year and how to make the most of them. Perfect for anyone interested in living a holistic, seasonal life.
Cheese & Dairy: River Cottage Handbook No.16 by Steven Lamb is a thorough, accessible guide, where the key ingredient is milk. Lamb shows you exactly what to do to take it from its liquid form to a wide range of dairy products, from clotted cream to a washed-rind cheese. There are also plenty of gorgeous recipes that make the most of cheese and other dairy goods – as you'd hope, they involve such pleasures as dunking carbs into a pot of melty cheese; biting down on a delicate cheese wafer; or whipping up the best ever cheesecake. With an introduction by Hugh Fearnley-Whittingstall and plenty of helpful photographs, this book is the indispensable guide to crafting and enjoying cheese and other dairy products.
River Cottage Baby and Toddler Cookbook by Nikki Duffy is a book about feeding children, but these recipes are for adults too. Nikki doesn't think there should be any sharp distinctions between `baby food', `children's food' and `grown-up food'. It's a spectrum the whole family can be on, the food each person eats becoming a little more sophisticated and seasoned as they mature.

Low Carb Express: Cut the Carbs with 130 Deliciously Healthy Recipes by Annie Bell offers a speedy update to this diet, revolving around fresh seasonal ingredients. Every recipe lists the carbohydrate and protein values and can be made in 30 minutes or less.


Biscuiteers Book of Iced Gifts: 60 Unique Collections to Ice at Home by Biscuiteers is a beautiful book that shows how easy it is to bake, ice and assemble your own delicious biscuits and cakes at home. Bake a wreath for your door; baubles for the tree; candles for a birthday cake; and favours for a wedding. Whatever you're celebrating, with the award-winning Biscuiteers by your side, you can create perfect biscuit gifts for every special moment.
ScandiKitchen Summer: Simply Delicious Food for Lighter, Warmer Days by Brontë Aurell, owner of the popular ScandiKitchen Café, brings her famous flair to over 65 traditional Scandinavian recipes which perfectly capture the joy of summer eating. Vibrant recipes, beautiful photographs and tempting recipes will make this book a go-to this summer.
Other titles of interest:

Ireland

Karl Henry's Healthy Living Handbook: Ireland's Favourite Trainer Helps You to Lose Weight, Get Fit and Stay Well by Karl Henry is an encouraging, practical, affordable and sustainable plan that will help you achieve lasting changes in your well-being.
Brian McDermott's Donegal Table: Delicious Everyday Cooking by Brian McDermott is being released in Ireland this month. McDermott has built a national reputation as a chef on one simple belief – that tasty, healthy food based around traditional recipes and local produce is something every family can make and enjoy. As one of twelve children growing up in Burt in County Donegal, the focal point of the family was always his mother's kitchen table, and that childhood memory of the family coming together and connecting over her home cooking continues to inspire Brian as he shares his own passion for food with others. Whether it's cooking freshly-caught mussels for the fishermen at Greencastle pier or sharing his skills with others at his cookery school, Brian loves to celebrate the best of his home county's warmth and traditions.
Australia
Sticky Fingers, Green Thumb: Baked Sweets that Taste of Nature by Hayley McKee celebrates the use of vegetables, edible flowers and herbs in her incredible baked desserts. This title includes recipes such as Spiced parsnip and willow blossom cake; Sweet pea and green tea cake; and Hibiscus brownies and lemon. Broken into five chapters: Real Baking Know-how; Vegetables in Baked Desserts; Herbs in Baked Desserts and Edible Flowers, each section includes a handy flavor wheel and gardening tips and tricks. It is a beautiful book being released in the US, UK and AU.

Little Korea: Iconic Dishes and Cult Recipes by Billy Law contains the most popular Korean dishes eaten everyday on the streets and in homes across the nation. No kitchen gadgetry or trickery is required – this is food with a singular mission: to deliver maximum flavour and texture in a simple way. Billy Law's books are always immediately ordered – they are innovative and fun. This title will be released in July in the US.
New Zealand

ESSENTIAL Volume Two: Sweet Treats for Every Occasion by Annabel Langbein will be released on March 19th – look for our full promotion on that date. Annabel's books are always workhorses in the kitchen and also boast lovely photographs. Annabel shares, "In this book I have sought to bring you the best of everything I know and love from the sweet kitchen," says Annabel. "I don't have time for fancy techniques, hard-to-find ingredients or longwinded procedures. On these pages you'll find classic recipes made simpler, indulgent recipes tweaked to be lighter and healthier, and loads of exciting brand-new recipes, plus an encyclopaedia of tips and tricks that I've gathered over the years." A promotion is coming soon. Planned events. Be sure to enter our giveaway to win a copy of this book.


South Africa


Île de Païn : Anytime by Liezie Mulder takes us through a day in the life of the author's iconic Knysna restaurant, île de paÏn. For every time of day, and every craving in between, there is a meal to nourish, delight, energise and celebrate the craft of good cooking. For Liezie, all the world's a feast – her dishes are inspired by places she's travelled to, her childhood and family heritage, whether it's Bali or Israel or America and beyond. She tells the stories and meticulously guides us through making a range of recipes that, most importantly, always respect the ingredients. Quivertree does beautiful books and we will be featuring more of their titles.