February Cookbook Roundup
February 22, 2018 by Jenny
We are two months into 2018 and already I'm excited about the cookbooks that will be published this year. My 2018 Preview Post is updated frequently and I predict this will be another amazing year for cookbooks.
February marks the ushering in of the Spring cookbook season in the northern hemisphere, with a mix of titles that focus on health, special diets as well as restaurant and celebrity chef books. As always, the monthly roundup shares new major releases from around the world. At the end of each country, I am including a listing of titles that may have been released elsewhere and are now available this month in that region as well as books that may be of interest to certain members but that I have not been able to review as of yet.

If you are planning to purchase any of these books for yourself or as gifts, please use the Buy Book link as we will receive a small affiliate fee that will allow us to index more books. You don't even need to buy the book you clicked from, we get affiliate revenue for anything you buy from Amazon over the next 24 hours after clicking the link. You will find the Buy Book link (pale blue box to the right of +Bookshelf) when you click on the book titles highlighted in this post (or any post) – your support is very much appreciated. Please remember us during your online shopping, you can access our affiliate stores through our links which have been added to our home page on the right sidebar right beneath our social media buttons. Follow us to ensure you catch all the giveaway announcements and cookbook news. We appreciate your support as always.
As books are often released in multiple countries you may wish to browse through the entire roundup (especially as this month's roundup is quite compact). The Buy Book button will show you the options available for online booksellers including Book Depository which offers free shipping worldwide. Look for promotions soon on many of these cookbooks.
US
I am incredibly excited for the release of Between Harlem and Heaven: Afro-Asian-American Cooking for Big Nights, Weeknights, and Every Day by Alexander Smalls and JJ Johnson. Here for the first time over 100 recipes that go beyond just one place and branches far beyond "soul food" to explore the melding of Asian, African, and American flavors. The authors' foundation was a collective three decades of traveling the African diaspora, meeting and eating with chefs of color, and researching the wide reach of a truly global cuisine; their inspiration was how African, Asian, and African-American influences criss-crossed cuisines all around the world.
Black Girl Baking: Wholesome Recipes Inspired by a Soulful Upbringing by Jerrelle Guy leads you on a baking journey, retelling and reinventing food memories using wholesome ingredients. Whole flours, less refined sugar and vegan alternatives make it easier to celebrate those sweet moments. The recipes here are just as tempting as their counterparts but allow us to have control over what we are putting into our body. Jerrelle's photography is stunning as well. Do yourself a favor, buy this book now.
Eating from the Ground Up: Recipes for Enjoying Vegetables All Year Long by Alana Chernila is filled with 100 recipes that showcase the unique flavor and texture of each vegetable. There are dishes that are so fresh and quick that they feel more intuitive than like you're following a recipe. The many tips on selecting, storing, preparing, and enjoying the season's bounty make this book an ideal handbook and celebration in one. Alana does it again, producing a gorgeous book that we will turn to time and again as I do with The Homemade Kitchen and The Homemade Pantry.
Patricia Heaton's Food for Family and Friends: 100 Favorite Recipes for a Busy, Happy Life by Patricia Heaton is a collection of 100 tasty, simple recipes for unforgettable meals and gatherings from the enormously popular star of the ABC sitcom The Middle and Food Network's Patricia Heaton Parties. Though she may be a Hollywood star today, this down to earth, practical Midwesterner likes to have fun entertaining her loved ones and has never forgotten her roots. For more information, check out my review which shares a review and recipe.
Daisy Cakes Bakes: Keepsake Recipes for Southern Layer Cakes, Pies, Cookies, and More by Kim Nelson is gorgeous and filled with recipes like Pork rind crusted cheesecake, Chocolate pillows, and Bacon jam filling with bourbon. Daisy Cakes skyrocketed to fame after her appearance on Shark Tank. If you are a baker, you need to check out this book.
Ultimate Pound Cakes: Classic Recipe Collection by Phyllis Hoffman shares over 85 recipes that will give you a treasure trove to choose from for years to come. Holidays, special occasions, or weeknight suppers, these test-kitchen approved, home-baked cakes are always a welcome surprise for family and friends. This title has the look and feel of the beautiful Bake from Scratch magazines and books.

Simply Vibrant: All-Day Vegetarian Recipes for Colorful Plant-Based Cooking by Anya Kassoff shares simple, everyday recipes in the same signature style of her debut cookbook, The Vibrant Table and her popular blog. This book focuses on easy-to-find ingredients and simple preparations. With practicality in mind, discover ways to make cooking easier and go farther: focus on using in-season produce, learn how to use the parts of produce often thrown in the compost, and discover ways to give new life to leftovers.
Paulie's: Classic Italian Cooking in the Heart of Houston's Montrose District by Paul Petronella celebrates twenty years of restaurant success. Here Paul shares his lifetime of experience in independent restaurant life and dozens of delicious but simple recipes. Paul focuses on dishes that provide maximum flavor while being easy to reproduce at home. They include nostalgic delicacies from his childhood, dishes from his travels across Italy, and classic items off the Paulie's menu.
How to Roast Everything: A Game-Changing Guide to Building Flavor in Meat, Vegetables, and More by America's Test Kitchen is a master class in roasting. This collection includes 295 fresh, inventive recipes that guarantee success. Get recipes for quick weeknight-friendly meals, grill roasting, and learn how roasting transforms fruit to make special (and lighter) desserts. One extensive section covers every step of the process – from shopping to carving – and includes 10 essential roasts, including Weeknight roast chicken and Slow-roasted beef.
A Baker's Year: Twelve Months of Baking and Living the Simple Life at the Smoke Signals Bakery by Tara Jensen documents a year in the life of the Instagram bread-baking sensation as she teaches readers how to bake bread and pies, build the perfect fire to cook with, and live a simple, satisfying life. Here, the author, takes readers month-by-month through the seasons at Smoke Signals for porridge and waffles in winter, crusty bread in spring, pies and pizza in the summer, and celebration cakes for end-of-the-year holidays. Along the way, Tara writes about how to live in a more peaceful world, shares stories from her own life, mourns romances lost, and celebrates the promise of a new relationship.
Weeknight Cooking with Your Instant Pot: Simple Family-Friendly Meals Made Better in Half the Time by Kristy Bernardo, the blogger behind The Wicked Noodle, shares 75 fresh ideas to inspire your cooking routine. As we all know, the Instant Pot® transforms tough meats into tender bites in minutes, allowing you to enjoy your favorite comfort foods on weeknights, not just the weekend. Inspired by her childhood memories gathered around the family dinner table, Kristy's cooking is rooted in tradition with a dash of spice from her global travels and work as a personal chef.

Finding Fire: Cooking at its Most Elemental by Lennox Hastie introduces the curious cook to the possibilities of food when combined with the most basic of cooking techniques, fire. Author Lennox Hastie, of acclaimed Sydney restaurant Firedoor, draws on his international experience to present over 90 recipes that equip readers with the confidence to connect with produce, learn instinct and allow them to take their own journey to master the art of simplicity in cookery over the most natural heat source and ingredient on the planet: fire. This title will be released in the UK in May and was released in Australia last year.
Hot for Food Vegan Comfort Classics: 101 Recipes to Feed Your Face by Lauren Toyota is a bold collection of more than 100 recipes where comfort food collides with vegan cooking. Crispy crabless cakes, Southern fried cauliflower, and Saved by seitan which is used in multiple recipes such as Philly cheesesteaks are examples of the recipes you will find here in this fun cookbook. Lauren is touring to promote her book.
Chocolate Alchemy: A Bean-To-Bar Primer by Kristen Hard makes creating your own chocolate at home accessible to everyone, whether you are an avid cook or simply a chocolate lover. The book is filled with more than 100 innovative recipes that showcase chocolate's complex flavor, from pink peppercorn ginger truffles and hickory-smoked caramels to chocolate oatmeal cream pies and raw almond bark. Step-by-step photographs guide the home cook, but also allow for experimentation and customization.
Cuban Flavor: Exploring the Island's Unique Places, People, and Cuisine by Liza Gershman celebrates the incredible taste of Cuban cuisine and the sites, color, and energy of Cuban culture. To make this incredible volume, Cynthia Carris Alonso, an acclaimed photographer and the author of Passage to Cuba, her Cuban husband, José Luis Alonso, and veteran food photographer Liza Gershman took to the streets of Cuba, photographing the country and stopping in its best paladars along the way. This visually stunning volume features seventy-five authentic Cuban recipes provided by chefs the authors met during their travels. The author has a special site dedicated to this beautiful book.
Ladurée Tea Time: The Art of Taking Tea by Marie Simon shares mouthwatering photography and beautiful illustrations, the leaves of this chic book are steeped with tea-time menus and more than 60 sweet and savory recipes fit for a queen. Wrapped in tissue and packaged within an elegant gift box, this sumptuous guide reveals the secrets of taking tea the Ladurée way and is topped off with a concise history of tea, a guide to the finest tea varieties, and tips on ultimate tea pairings.
Just Add Sauce: A Revolutionary Guide to Boosting the Flavor of Everything You Cook by the Editors at America's Test Kitchen makes sauce your secret weapon. From dolloping on vegetables to drizzling on steak, simmering up curries, and stir-frying noodles, instantly make everything you cook taste better with hundreds of flavorful, modern sauces paired with easy recipes that put them to use in creative, inspired ways.
Instant Pot Italian: 100 Irresistible Recipes Made Easier Than Ever by Ivy Manning offers 100 delicious, sure-to-please recipes for weeknight cooking and beyond. Recipes take advantage of the Instant Pot's many settings, allowing you to perfectly sauté and simmer a variety of dishes with just the push of a button. Includes other hacks and surprises including set-it-and-forget it recipes for focaccia, quick pickles, no-oven-required cakes and cheesecakes, and even DIY ricotta.

Posh Pancakes: Over 70 Recipes, from Hoppers to Hotcakes from Quadrille brings you over 70 recipes from around the world for this simple, quick meal on a plate. Breakfast, brunch, lunch, dinner and dessert, the dishes include Chinese pancakes with duck and hoisin sauce, spicy Mexican hotcakes with avocado and chilli, classic English pikelets, as well as the quintessential French crêpes Suzette. This title was released last month in the UK.
The Alaska from Scratch Cookbook: Seasonal. Scenic. Homemade. by Maya Wilson is filled with 75 delicious, family-friendly recipes that are based on the seasonality of Alaska. There's an abundance of wild berries, so summer recipes are full of them, and to get through the cold winters, she includes hearty soups and pot pies. Her recipes are created for busy families like hers. And of course, she incorporates plenty of the seafood Alaska is famous for: halibut poached in Thai curry, a salmon superfood salad, and local recipes like reindeer sausage and moose shepherd's pie.
Lagom: The Swedish Art of Eating Harmoniously by Steffi Knowles-Dellner was released in October last year in the UK. This month it makes its debut in the US and is an absolutely stunning book. This fresh cookbook offers genuine insight into how Swedes eat and cook with recipes that fit around the seasons, occasions, times of day, and appetite. Eating and cooking in tune with "lagom" means embracing food that is good for body and soul, unfussy, delicious and sustaining, and all in harmony. There is a time and place for every kind of food, and when everything is in equilibrium, you will be content and satisfied.
Vegan in 7: Delicious Plant-Based Recipes in 7 Ingredients or Fewer by Rita Serano was released late last year and is available now in the US. Here, the author demonstrates how cooking vegan doesn't have to be complicated. She offers nourishing and delicious recipes with not a single fake overprocessed vegan burger in sight. Plus, all her recipes are low-fat and free from refined sugars. With chapters broken into Start, Fast, Fresh, Nourishing, Gather, Sweets and Basics, including recipes for nut milk and vegetable broth if you want to take it a step further. Rita eschews obscure ingredients in favour of natural, seasonal and organic produce. Promotion is coming soon.
Vegan 100: Amazing, Healthy Recipes from Avant Garde Vegan by Gaz Oakley was released last month in the UK and is bold, vibrant and gorgeous. Going vegan was the best decision the author ever made. Gaz, aka Avant-Garde Vegan, was once a meat eater and often didn't feel well. Overnight, he decided to go vegan for the health benefits, for his love of animals and to do his part in looking after the planet. He found that, as a trained chef, it was surprisingly easy to get big tastes and colors into vegan dishes without compromise, and he also noticed an improvement in the way he felt. The emphasis in Gaz's 100 tempting vegan recipes is first and foremost on flavor. We are indexing this title to bring you a promotion soon.
A Couple Cooks – Pretty Simple Cooking: 100 Delicious Vegetarian Recipes to Make You Fall in Love with Real Food by Sonja and Alex Overhiser, husband-and-wife bloggers and podcasters offer 100 recipes with an emphasis on easy prep, whole foods, and healthy dishes–and getting into the kitchen together. The authors have events scheduled to promote their book.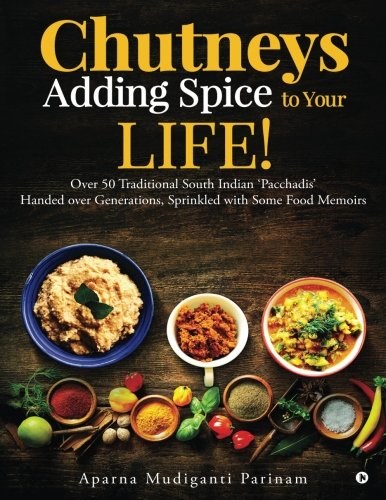 Chutneys – Adding Spice to Your Life!: Over 50 Traditional South Indian 'Pacchadis' Handed over Generations, Sprinkled with Some Food Memoirs by Aparna Mudiganti Parinam is a compilation of over 50 chutney recipes for handed down through the generations. You will transported to a traditional Andhra kitchen, through tangy recipes and food memoirs. Delve deeper to find out how to prepare the iconic 'Kobbari pacchadi', to make a tasty treat with karela/bitter gourd, whip up spicy dips with ordinary ingredients and make some powdered chutneys. We will be indexing Aparna's book and sharing a giveaway soon.
Other titles of interest released this month in the US include:
CANADA
Pure Charcuterie: The Craft and Poetry of Curing Meats at Home by Meredith Leigh is a practical and artistic look at the techniques for curing meat at home both as a creative hands-on craft and as a fantastic and sustainable way to preserve highly valuable food. This accessible, beautiful, visual guide walks the reader through the process of making charcuterie, including sourcing ingredients, clear explanations of charcuterie technique, creative recipes balancing tradition and invention, and smoking meats and building your own smoker.


Whitewater Cooks More Beautiful Food by Shelley Adams is the long awaited fifth book in the bestselling Whitewater Cooks series and is filled with new recipes to inspire fans and delight newcomers to these fabulous cookbooks. Shelley's innate flair for creating and developing recipes have made her famous for turning home cooks into culinary rock stars.
UK
Cherish: Food to Make for the People you Love by Anne Shooter shares the food that the author cooks for her family – the cookbook that her daughters wanted her to write. Full of love and generosity, the recipes are a delicious array of flavours from the Middle East, Eastern Europe and Jerusalem. They come from Anne's Jewish background and the times her family and friends come together to eat, celebrate and feast. I love Anne's Sesame & Spice and this title was worth the wait it is glorious.
Mildred's the Vegan Cookbook: Bright Food, Bold Flavours by Dan Acevedo is bursting with clever ideas for feasts with family and friends, as well as for delicious, simple everyday meals, bringing punchy flavours, satisfying dishes, a dash of urban cool and a refreshing take on the conventional stereotype of vegan food. Time Out declares that 'Only Lady Luck can get a table at Mildreds. It's one of London's coolest vegetarian restaurants.' And now we can enjoy these dishes at home!
Eat Up: Food, Appetite and Eating What You Want by Ruby Tandoh celebrates the fun and pleasure of food, taking a look at everything from gluttons and gourmets in the movies, to the symbolism of food and sex. She will arm you against the fad diets, food crazes and bad science that can make eating guilt-laden and expensive. Filled with straight-talking, sympathetic advice on everything from mental health to recipe ideas and shopping tips, this is a book that clears away the fog, to help you fall back in love with food.
Doctor's Orders: Over 50 Inventive Cocktails to Cure, Revive & Enliven by Chris Edwards and Dave Tregenza delivers classic cocktails and new concoctions to cure whatever ails you along with recipes to create your own syrups, infused spirits and garnishes.
Pasta Reinvented by Caroline Bretherton focuses on healthy alternatives to wheat-based pasta – often gluten-free – and offering recipes for making pasta doughs from scratch, as well as sauces and dishes to enjoy. Eighty protein- and fiber-packed recipes offer you a new generation of dishes to go with the latest evolution of pasta and noodles. It truly is a stunning book. This title is also being released in the US.
Where Chefs Eat: A Guide to Chefs' Favorite Restaurants by Joe Warwick is the third edition of this best selling restaurant guide. Please remember Eat Your Book members receive 30% off Phaidon titles when using the link provided.
Afternoon Tea at Bramble Cafe by Mat Follas, BBC Masterchef winner, shares an enticing collection of recipes for the finest bakes and most irresistible pastries. Both British (Metric) and American (Imperial plus US cups) measurements are included in these recipes which include a scrumptious Coffee and walnut cake, White chocolate and strawberry tiffin and individual Jaffa tarts. This is one gorgeous book.
Everyone Loves Tacos by Felipe Fuentes Cruz and Ben Fordham, the clever guys behind authentic Mexican kitchen Benito's Hat, bring you delicious recipes simple enough to cook up a fiesta in your own kitchen. First there is a chapter of Little Cravings (antojitos), perfect as a pre-cursor or accompaniment to a taco feast. This is followed by a delicious selection of breakfast tacos, followed by chicken, pork, beef, fish and vegetarian options. Lastly, discover the bliss of a sweet taco with recipes such as Chocolate ice cream with agave. A chapter on salsas, relishes and sides rounds out this fun title.
Eat Your Way to a Healthy Heart: Tackle Heart Disease by Changing the Way you Eat, in 50 Recipes and Eat Your Way to Managing Diabetes: Tackle Type-1 and Type-2 Diabetes by Changing the Way You Eat, in 50 Recipes by Dale Pinnock, The Medicinal Chef, are both being released in the UK this month. As heart disease is at epidemic proportions and rising, Pinnock's first title attempts to find out why – and what we can do about it. His approach – using nutrition alongside conventional medicine – is to avoid the foods that may contribute to the problem. The latter title investigates the explosion in diabetes and attempts to find out why and what you can do about it. Both books share recipes along with helpful advice.
Nourish Cakes: Baking with a Healthy Twist by Marianne Stewart shares 50 simple recipes for cakes and bakes, both large and small, focus on nourishing ingredients such as nuts, vegetables, and dried fruit, plus flours such as rye or buckwheat. Many of the recipes are allergy- or intolerance-friendly, using wheat-free flours and unrefined sugars. Each recipe is clearly coded to show you which diet it will suit, along with an index to show you vegan, wheat-free, and dairy-free cakes at a glance. This is a gorgeous book filled with cakes you can make and enjoy without the guilt.
Mezze: Small Plates to Share
by Ghillie Basan features a collection of Mediterranean and Middle Eastern dips, bites, salads, and other small plates to share, to enjoy as appetizers or light meals. At its simplest, mezze can be represented by a bowl of gleaming olives marinated in lemon juice and crushed coriander seeds, or a mixture of roasted nuts and seeds tossed in salt and dried thyme. At its most elaborate, it can be presented as an entire feast comprising a myriad of little colorful dishes, each the bearer of something savory or sweet but always delicious.
Other titles of interest include:
AUSTRALIA
Grow Harvest Cook: From Artichokes to Zucchinis, Gardening Advice, Storage Tips and 280 Delicious Recipes by Meredith Kirton and Mandy Sinclair is the essential guide to planting, nurturing, harvesting and cooking the best seasonal produce available from your own back garden. In the age of the farmers market and the farm produce delivery box, this title re-establishes the vital link between the veggie patch and the plate. The book offers more than 280 recipes and ideas for using up your produce, reinventing the meaning of homemade and celebrating truly good food.
Dinner Like a Boss: Quick, Easy and Healthy Meals for Busy Families
by Katy Holder shares more than 50 recipes that highlight the preparation and cooking times, with easy-to-follow steps and options to vary the recipe, so the one dish can be adapted for different family members. Many of the variations add extra flavour without being overt, meaning this book can be a great way to introduce kids to more complex flavours at a young age. The dishes are nutritionally balanced family meals, covering both meat and vegetarian options (and some sweets, too) that take inspiration from around the globe.
Street Food Asia: Saigon, Bangkok, Kuala Lumpur, Jakarta by Luke Nguyen is being released in paperback in Australia. the UK and the US this month.

NEW ZEALAND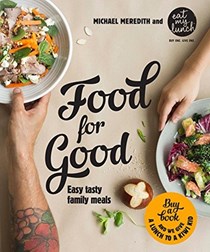 Food for Good: Easy Tasty Family Meals by Lisa King and Michael Meredith is a title that not only shares wonderful recipes, each purchase helps to feed a child. Eat My Lunch is a thriving social enterprise whereby for every lunch ordered they give a lunch to a child in a low-decile school in Auckland, Hamilton and Wellington. Every day volunteers also come in to help make the lunches for the kids early in the morning. Developed by renowned chef Michael Meredith the recipes are delicious, and include dinners as well as salads, wraps, sandwiches, soups, main meals, sweet treats and essentials.