January's Cookbook Club Summary
January 23, 2018 by Jenny
We have been busy working through Smitten Kitchen Every Day, The Zuni Cafe Cookbook and Dorie Greenspan recipes over in the Eat Your Books Cookbook Club, our online cooking group. Desserts are still be churned out in our second group working through Ottolenghi's Sweet (please see our errata sheet for the Americanized version of this book).
Please be sure to tag all your social media posts with the hashtag #EYBCC. The photos below are just a few of the beautiful shots our members have been sharing so be sure to visit the groups for more inspiration.
Our members voted and our cookbook selections for January through March are laid out here. Soon, I will be sharing another poll for April through June selections – be on the lookout for that in the group. If you missed any previous roundups or are looking for other club news, I have tagged them with #EYBCookbookClub.
Lastly, please do not forget to upload your photos to your bookshelf here on Eat Your Books. Information on doing that can be found here and information on how to edit your photos using your cell phone can be found here.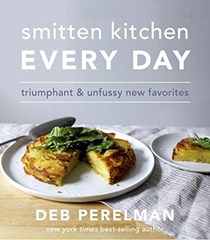 Deb Perelman's Smitten Kitchen Every Day
I am enjoying this book immensely. I made the Cacio e pepe potatoes Anna and the Spaghetti pangrattato with crispy eggs both were incredible. Here is a look at other dishes from this amazing book.
Judy K. made this beautiful Winter squash flatbread with hummus and za'tar above and thought it was delicious. She mentioned that next time she won't be baking it as long. That screams comfort, Judy.
Maree R. made the Grilled squid, chickpeas, chillies and lemon. She writes, "It is an enjoyable mid-summer meal. Plating and photo by my son. No idea why he ignored the chopped parsley I had ready and used basil instead. Ate well, anyway."

Jessica J. made the Crispy tofu and broccoli with sesame-peanut pesto. She states, "This was really yummy. Both kids ate it (they are bizarrely fond of tofu or tow food as they call it. The pesto is delicious, and I made extra. This is a really easy dinner especially if the pesto is already made."
Hayley E made the Feta tapenade tarte soleil from smitten kitchen's blog. She states: "This was wonderful! Great party food, deceptively easy (this took 15 minutes prep. 30 cook) and, whilst mine didn't come out as splendidly as the blog, it's impressive to look at nonetheless. I'll definitely make this again!" Hayley, it's pretty darn impressive!

Sara M made a breakfast win! with Ricotta blini w honey & sea salt. She subbed in lemon zest and dried blueberries for the orange zest and currants.

Yvette B posted, "To my husband's chagrin, I made the Kale Caesar salad. He has proclaimed long and often about his dislike of kale. The after comment? "Turns out I LIKE kale!"

Joan O posted, "I made the Fennel, pear, celery, and hazelnut salad for some of my work lunches this week. It was delicious. I'll be making this one again."




Jane T made the Mini matzo balls with horseradish and herbs. She states, "This was a slight departure from my usual matzo ball routine, since I usually use chicken soup as a base – I still added in some shredded cooked chicken that I had in my fridge, for added protein. It was very rich and flavorful – much more than I'm used to with vegetable broth. The balls were super light and fluffy, not too redolent of horseradish so I'd add more than called if you're looking for more of that bite. Really lovely dish on a cold evening – light and cozy all at once!"

Cheryl P's gorgeous Cacio è Pepe potatoes Anna.

Gary G made the fried barley with a sesame sizzled egg. He stated, "Wish my egg was runnier, but oh well." Looks great to me, Gary.

Marcia R. made this lovely Charred corn succotash.

Christine M made the Smoky sheet pan chicken with cauliflower. "Very easy and very good! I use all thighs here because we like them. Cauliflower is usually pretty bland, but it is good in this dish."

Karen S made the Meatballs marsala with egg noodles and chives. She used ground turkey instead of chicken. "We loved it. Also made the appetizer dish of crushed olives with almonds, celery and parmesan and put it on crusty bread. Loved that too!"
Dorie Greenspan
Several of us made delicious desserts from one of our favorite bakers. For more photos be sure to explore the group.
Lisa S made the Galette des rois from Dorie's Paris Sweets. Such a beautiful result from a very easy recipe. The almond cream is quick to mix together and it's delicious. Frozen puff pastry is great to keep on hand for so many things and just added to the ease of prep here.
The Zuni Cafe Cookbook by Judy Rodgers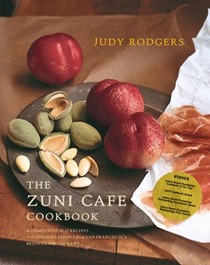 Several members made Judy's famous Zuni Cafe Chicken – including myself. I love this book and was so happy to eat at the restaurant when we were in San Francisco (we had burgers as the chicken had to be ordered in advance!)
Danna C made the Zuni chicken and bread salad. "It was quite good and easier than I thought it would be considering it was a give page recipe."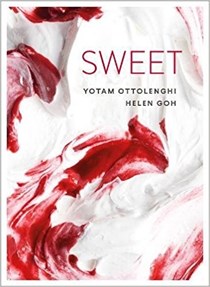 Sweet by Yotam Ottolenghi and Helen Goh
The desserts are still flowing in our Sweet group. Sharing a few highlights today:
Our own Jane Kelly, made the Tahini and halva brownies. She states: "I thought these were very good. The middle pieces were quite soft but I like that in a brownie. I made them in an 8.5 x 11 inch (30×22 cm) pan and that was perfect. I used an espresso halva which gave a great flavor (you can get it and other wonderful halvas from Halvah Heaven). But I would use less tahini next time and do lines and feather rather than large blobs that were difficult to swirl."
Elodee T. made the Pistachio roulade with raspberries and white chocolate. She states, "Loved by all, sliced easily and very little left as people had seconds."
Stanca D made the Fig, orange and mascarpone cheesecake.