Corrections and Notes for the Americanized version of Sweet by Yotam Ottolenghi
December 20, 2017 by Jenny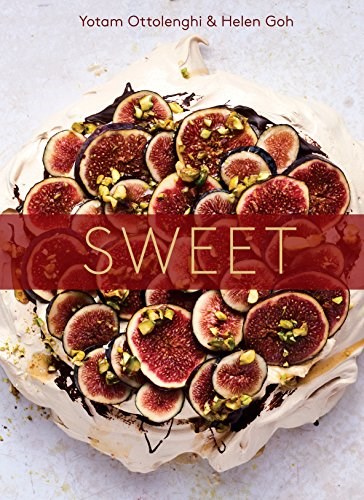 We are baking our way through Sweet over at the Eat Your Books club which we created just for this special book.
As some of you may know, the Americanized version has some errors with regard to conversions and temperatures (only the books that have the Fig pavlova on the cover as shown on the right). The errata sheet has been set out at the bottom of this post. To make things easier I have uploaded a Word document with these corrections to our Eat Your Books group. You can download, print and store the errata sheet in your book by following this link.
Here are instructions directly from the publisher with regard to obtaining a corrected copy:
Please accept our sincere apologies for the errors in your copy of "Sweet" by Yotam Ottolenghi. If you would like a refund or a replacement copy, please send your name, complete street address, city, state and zip (please no P.O. Box address permitted) to this email address: sweet@tenspeed.com.

You will also need to include a proof of purchase by sending us the following:
Photograph of the back of the book, which includes the barcode
Photograph of the copyright page
Photograph of your receipt
If you have a signed edition, please include with your one proof of purchase, a photograph of the page with the author's signature. If you have received this book as gift or have thrown out the receipt, please email us with regard to same.
If you prefer by mail, send your printed photographs and your shipping address to:
Penguin Random House
Attention: Sweet-Customer Service
400 Hahn Road
Westminster, MD 21157
We expect to ship all replacement requests in April. Please call our Customer Service Department at 800-833-3000, if you have an additional questions or you can email us at sweet@tenspeed.com.
Again, our apologies for the error and any inconvenience this may have caused you.
When I stated to Ten Speed Press and Helen Goh, that I would be sharing this information with our community, Helen stressed that this is only for the Americanized version (US/CA) – the UK version appears to be problem free save for a minor typographical error or two. Sweet was chosen as number one cookbook in the world for 2017 and I, totally agree with that distinction, despite the errors in the Americanized version which are being addressed responsibly.
For those who may not be on Facebook, the errata document reads:
SWEET: Updates and Corrections
Oven Temperatures and Baking Times
Due to differences in the convection ovens commonly used in the UK and the conventional ovens typically used in the US, some temperatures may need to be adjusted slightly. Although individual ovens can behave very differently, we suggest the following temperature and time updates:
PAGES 19-20, CUSTARD YO-YOS: Preheat oven to 325°F/170°C. Bake cookies for 25-30 minutes.
PAGE 26, CHOCOLATE CHIP PECAN COOKIES: In step 5, preheat the oven to 375F°/190°C and bake the cookies at that temperature.
PAGE 27, CATS' TONGUES: Bake at 375°F/190°C and use two baking sheets.
PAGES 76 AND 78 SAFFRON, ORANGE, AND HONEY MADELEINES: Bake at 375°F/190°C for 10 minutes.
PAGE 173-175, LOUISE CAKE: Preheat oven to 300°F/150°C; in step 3, increase oven temperature to 325°F/170°C and, in step 6, leave oven temperature at 325°F/170°C.
CHEESECAKES: (updated 12/22)
PAGES 201-202, LIME MERINGUE CHEESECAKE: Decrease oven temperature to 325°F/170°C and increase baking time to 20-25 minutes.
PAGES 203 AND 205, WHITE CHOCOLATE CHEESECAKE: Decrease oven temperature to 325°F/170°C and increase baking time to 60-70 minutes.
PAGES 207-208, PASSION FRUIT CHEESECAKES: Decrease oven temperature to 325°F/170°C in step 1, increase baking times to 25-30 minutes for individual cakes and or 60-70 minutes for one large cake.
PAGES 209-210, BAKED RICOTTA AND HAZELNUT CHEESECAKES: Decrease oven temperatures to 325°F/170°C in step 1 and to 350°F/180°C in step 4, and increase baking time to 20-25 minutes if using a muffin pan.
PAGE 213, FIG, ORANGE, AND MASCARPONE CHEESECAKE: In step 4, decrease oven temperature to 325°F/170°C.
PAGE 216, CHOCOLATE BANANA RIPPLE CHEESECAKE: In step 1, decrease oven temperature to 325°F/170°C and after step 3, decrease the oven temperature to 300°F/150°C.
PAGE 219, APRICOT AND AMARETTO CHEESECAKE: In step 6, decrease oven temperature to 325°F/170°C.
PAGES 221-222, ROASTED STRAWBERRY AND LIME CHEESECAKE: In step 5, decrease oven temperature to 325°F/170°C and in step 7, increase baking time to 55-60 minutes.
PAGE 263, ROLLED PAVLOVA: In step 1, bake at 375°F/190°C; in step 3, decrease oven temperature to 350°F/180°C and bake for 32-35 minutes.
PAGE 299, FROZEN ESPRESSO PARFAIT: Bake at 300°F/150°C.
Corrections
PAGE 42, GINGERBREAD TILES: Step 2 now references baking soda, as per ingredients list.
PAGE 46, ORANGE AND STAR ANISE SHORTBREAD: Butter = 1 cup plus 1 1/2 tbsp/250 g.
PAGE 137, BUTTERNUT, HONEY, AND ALMOND TIN CAKE: "nut-free" symbol removed from legend.
PAGE 187, LEMON AND POPPY SEED CAKE: In step 2, use the whisk attachment (not the paddle) and whisk on medium-high speed.
PAGE 241, CHOCOLATE TART WITH HAZELNUT: Flour = 2 1/3 cups/300 g.
PAGE 341, MIDDLE EASTERN MILLIONAIRE'S SHORTBREAD: Tahini in the Tahini Caramel = 2/3 cup/150 g.