Friday Flashback – Plenty – Diana Henry
November 3, 2017 by Jenny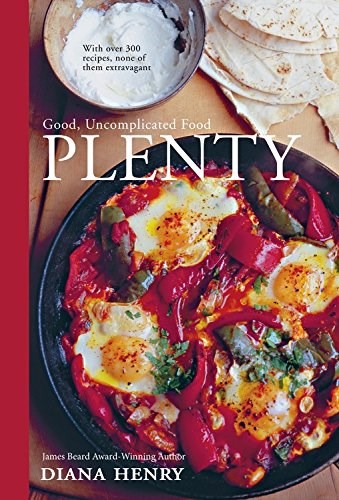 The majority of Diana Henry's work can be classified as good, uncomplicated food with subtle nuances of sophistication and beauty. In Plenty: Good, Uncomplicated Food, the subject of today's Friday Flashback, the beloved author, shares more than 300 recipes with the caveat that none of them are extravagant. I, however, feel that there is more to extravagance than cost factor. Henry's dishes are thoughtful and give off the sense that the cook cares about those whom they are serving.
In June of this year, Plenty was reissued sharing the same content from the 2010 cookbook. This title is a testament that interesting, great food can be had without spending a fortune in time or money. Even leftovers can be re-envisioned into exciting new dishes – a fabulous Greek Chicken, pumpkin, feta and filo pie can be created from the remains of a simple roast chicken.
Henry is the author of ten books including 'Crazy Water, Pickled Lemons', 'Cook Simple', 'Roast Figs, Sugar Snow', 'Food from Plenty', 'Salt, Sugar, Smoke', 'A Change of Appetite', 'A Bird in the Hand' and 'Simple'. We have next Spring to look forward to when How to Eat a Peach will be published. More information on that title can be found in Darcie's article.
Diana is a brilliant writer and her recipes are foolproof, approachable yet lovely enough for a dinner party and sure to please everyone in our circle of family and friends. Her books are full of stunning photographs and many of her dishes have global influences which is another reason I enjoy them so much.
This month the Eat Your Books Cookbook Club is featuring Diana's work as one of our options. I've made many of her recipes over the years. Recently the Korean chicken, gochujang mayo & sweet-sour cucumber and
Parmesan roast chicken with cauliflower & thyme from Simple were crowd pleasers.

My goal for November is to make a few dishes from Plenty. Two dishes marked to make are the Rabbit with mustard and tarragon (although I will likely use chicken) and after Thanksgiving the Chicken and ham pie.
Eat Your Books has 1,859 online recipes indexed from Diana's work and her Telegraph and magazine columns – so pick a recipe and come join us in the Cookbook Club. Don't forget to share your photos at EYB as well, learn how here.